BECOMING WITH WHEAT COMPANIONS: MONTHLY MEET-UPS
Part of 'The Commons: Re-Enchanting the World' project

Event Navigation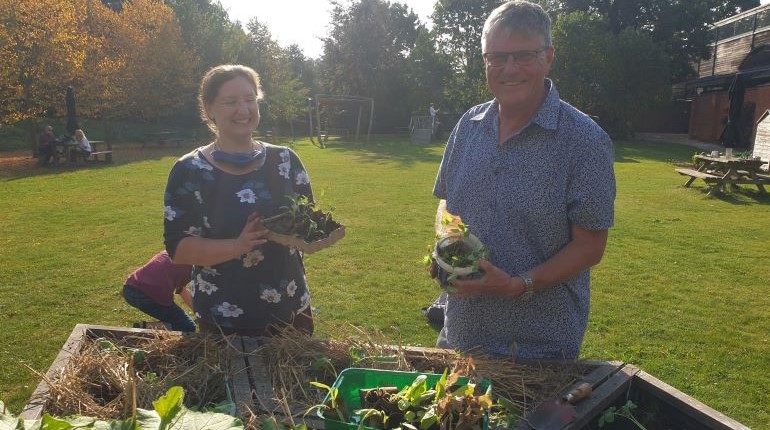 Would you like to be a 'Becoming with Wheat Companion' (BwW)?
As part of 'The Commons: Re-Enchanting the World' project (March 2021 – April 2022), artist and co-curator of the project, Amanda Couch has been cultivating wheat in these raised beds with the Becoming with Wheat Companions, a group of volunteer growers from local allotments, community gardens and museum visitors who work with, advise, care for, and learn from each other, the wheat and any other entities and phenomena in The MERL Garden.
In September, after harvesting the wheat, the Becoming with Wheat Companions planted out winter vegetable seedlings to be used by the group over the winter months.
Part of the legacy for these raised beds will remain in The MERL garden for this spring/summer for cultivation for more monthly meet ups. In this growing cycle, we sowed legumes to enrich the soil: two varieties of broad beans, a mix of nasturtiums, a good companion for the beans, and some common vetch, all of which are edible.
We will now make plans for the winter cereal sowing and do activities such as writing to plants, sharing knowledge and recipes and illustrating them for a pamphlet. We will also be searching for a new home in a community garden or allotment for the winter cereal sowing in October/November 2022.
We are always looking for new members so if you are curious, do come along. Everyone is welcome.
DETAILS
Date: Tuesday 5th July
Time: 3:30 – 4:45 pm
Location: Museum garden – meet by the mobile raised beds
Becoming with Wheat and The Commons: Re-Enchanting the World is supported by Arts Council England and University for the Creative Arts.