'Rough Music' Project with Pete Flood
Young Musicians Wanted For an Exciting New 'Rough Music' Project with Pete Flood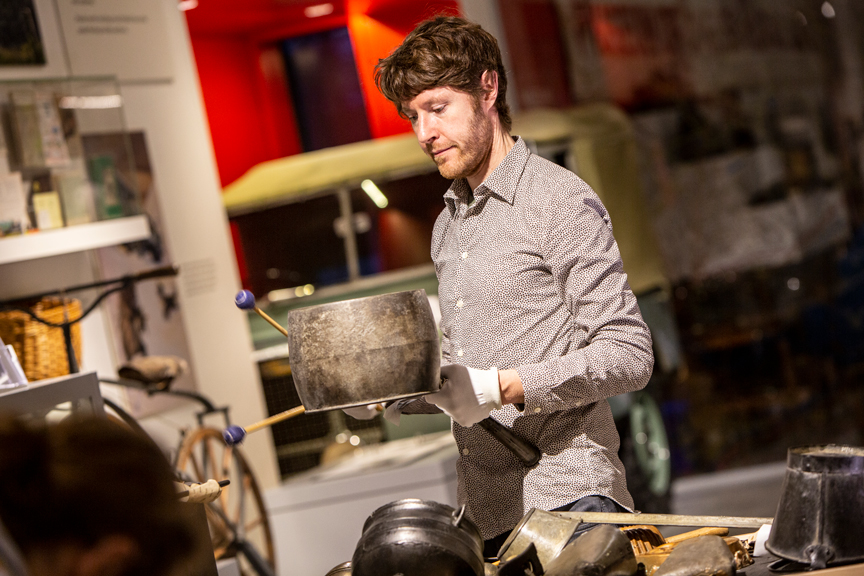 In collaboration with Berkshire Maestros, The MERL is looking for young percussionists, aged 10 to 13, of any level to take part in a collaborative composition project with drummer/composer Pete Flood.
Pete will work with a group of up to 20 players to devise a piece inspired by themes of bullying and marginalisation and informed by the folk tradition of rough music or skimmington, in which communities used pots, pans and other household implements to express social disapproval, often against those that the community considered outsiders. The composition created by Pete and the ensemble will aim to pit the divisive force of skimmington against another facet of good music – the power to bring people together.
Players will need to commit to attend five after-school workshops at the Museum (Weds 4-5.30pm, starting 27th February*) with a final performance on 3rd April to which parents, carers and friends are all invited.
To make this exciting new piece we will need percussionists of all abilities no matter whether your specialism is:
Tuned percussion
Drum Kit
Samba band
Steel pan orchestra
African drums
Tabla
None of the above
All we ask is boundless enthusiasm and the willingness to take risks.
Pete Flood is one of the Folk Musicians in Residence at The MERL. Formerly percussionist/arranger with the award-winning folk big band Bellowhead, he currently teaches at Leeds College of Music, plays drums for Oysterband and Lisa Knapp, and writes music for theatre, dance and radio.
How to apply
To be considered for this exciting project, please explain in no more than 500 words why you would like to take part, what you hope to get out of the project and what you would bring to it.
For further details and to apply, please email Phillippa at merlevents@reading.ac.uk
Please apply by 6th February 2019
blank white text
*Workshop dates:
27th February
6th, 13th, 20th, 27th March
3rd April – final performance