Tales From Beyond the White Door: Written Heritage Conservation – 2
The second in our series exploring the work of The MERL's Paper Conservator
Have you ever reached the far end of the MERL galleries, come across the white door labelled 'Private' and wondered what goes on behind it? In June 2023, our new Paper Conservator, Victoria Stevens ACR, launched a new blog series, inviting everyone 'behind the door' to see how she looks after the papers and books in the MERL and Special Collections archives and library.
The first blog in this new series detailed a picture of change and consolidation of Victoria's new role as library and archive conservator; this second post is all about the collaborations and conservation required to make the collection stable, safe and in a condition that will allow it to be used for research.
A Supportive Community
One of the best things of being a conservator is the community we inhabit: supportive, sharing and enthusiastic to learn as well as to teach. This summer, the MERL conservation studio hosted two very special internships and has seen the development of an especially interesting project for these trainees to work on. The two interns are both at very different stages of their conservation careers: one is a book and paper conservation student at the City and Guilds London Art School who has just completed her second year of studies and is looking to develop her skills in a working studio setting. The second intern is just embarking on her conservation journey; having volunteered at The MERL as part of the Stitch in Time conservation project in Autumn 2022, she returned to gain some valuable pre-conservation training experience in Summer 2023.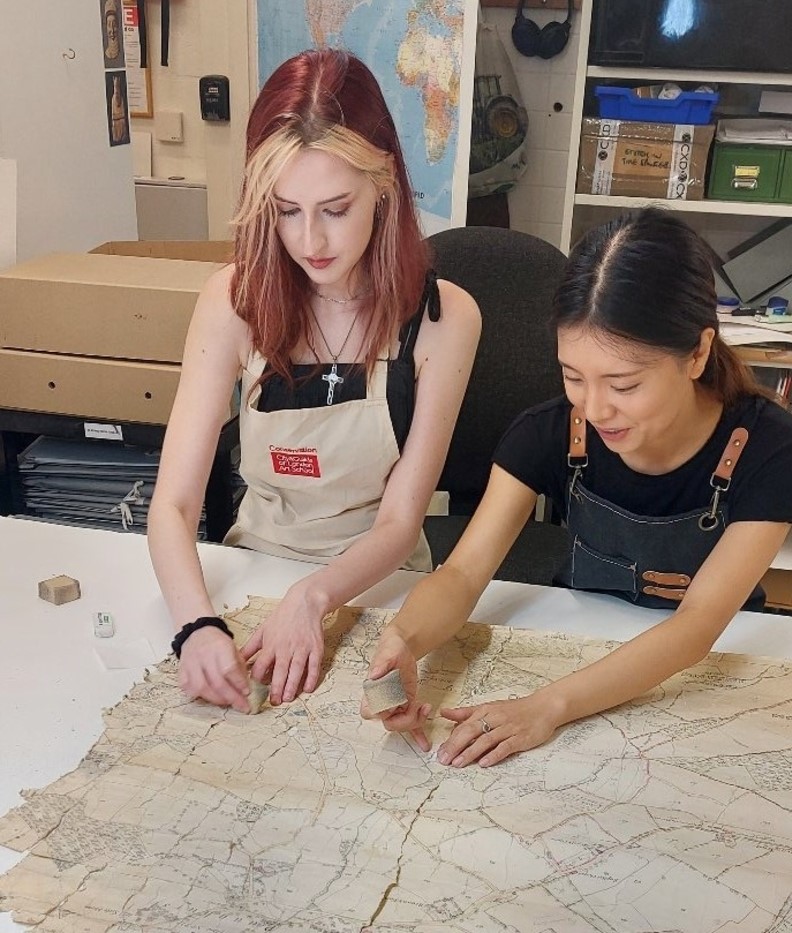 The Wellington Estate Map
Both interns coincided to create a really beneficial and supportive partnership over a very special project. This was an exceptionally large estate map from the Wellington archive – weighing in at almost two metres square – that had been extensively damaged during its life, likely when it was stored after it became obsolete as a working document. The Wellington Estate collection is frequently requested by researchers, and the condition prevented this item from being accessed; as such the archive team had prioritised its repair. The map itself was a heavily annotated series of ordnance survey sheets of the area around Baughurst in Hampshire at the heart of the Wellington estate. The map was textile backed, as is common for these large format items, to provide some protection to withstand rolling and unrolling without risk of tearing. Once no longer in regular use, it had been folded, and stored somewhere that was less than ideal for its long term survival.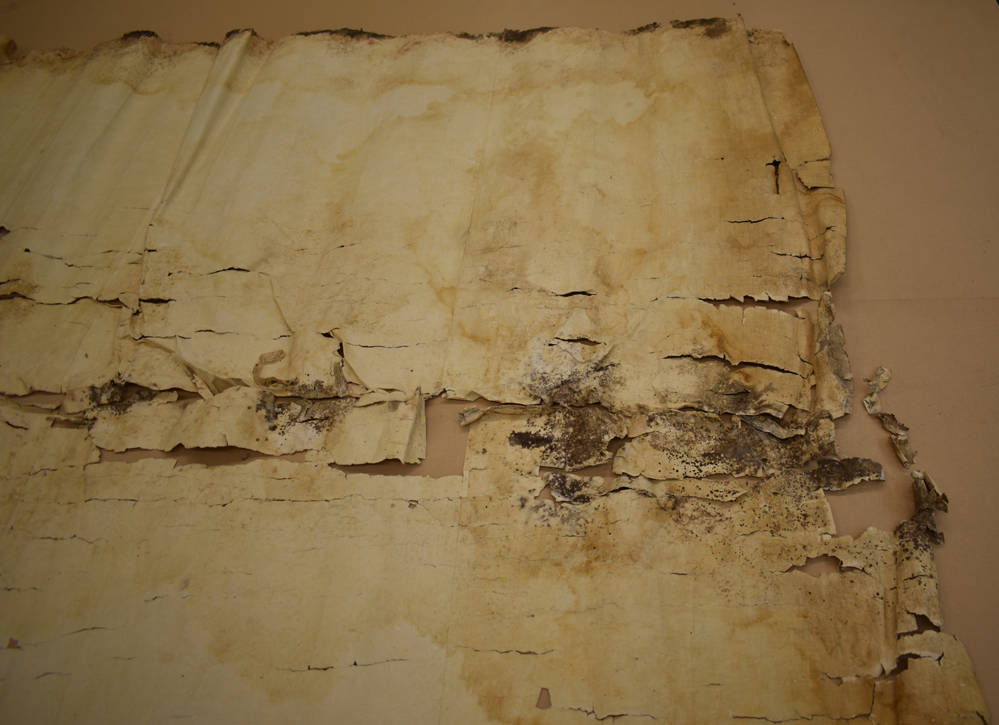 Remember, these items, held so carefully in the MERL archive now, were never seen as important outside their function: as with our own obsolete possessions, they tended to be pushed to periphery of their owners' lives and forgotten once their purpose was no longer current. Whether that storage location was against a damp wall in an outbuilding or in a loft where water was allowed access, the central fold of the map was very damaged indeed: the water damage had created mould, and the mould had weakened and discoloured the paper substantially leading to losses and weakness. When it arrived in the conservation studio, the map itself was in two large sections, with several smaller detached areas vulnerable to further loss and damage through use. The area around the split was a mass of loose, dirty and softened paper, a particularly challenging conservation jigsaw puzzle.
Paper cleaning techniques
When Yeaseul and Jasmine were tasked with its stabilisation and repair, the backing had already been removed by me and the Head of Conservation, Fred van de Geer. This was a very satisfying process, freeing the paper map from the damaged and dirty textile for the first time in probably 100+ years and in so doing, allowing it to be repaired fully and satisfactorily for use in the Reading Room. The first task was to clean years of surface dirt, which causes discoloration and embrittles the paper, reduces media clarity, is unpleasant to handle and attracts mould and pests. This was made more difficult by the fact that it was heavily annotated in pencil: all cleaning processes have to be achieved within the tolerances of the substrate and the media, and in this case, both were compromised. The solution was judicious use of a latex sponge, a type of soft eraser that lifts away handling and storage dirt with minimal abrasive impact to the surface below. Pony hair brushes were also used to remove not only historical dust but also fragments of latex sponge that when re-rolled could cause damage in themselves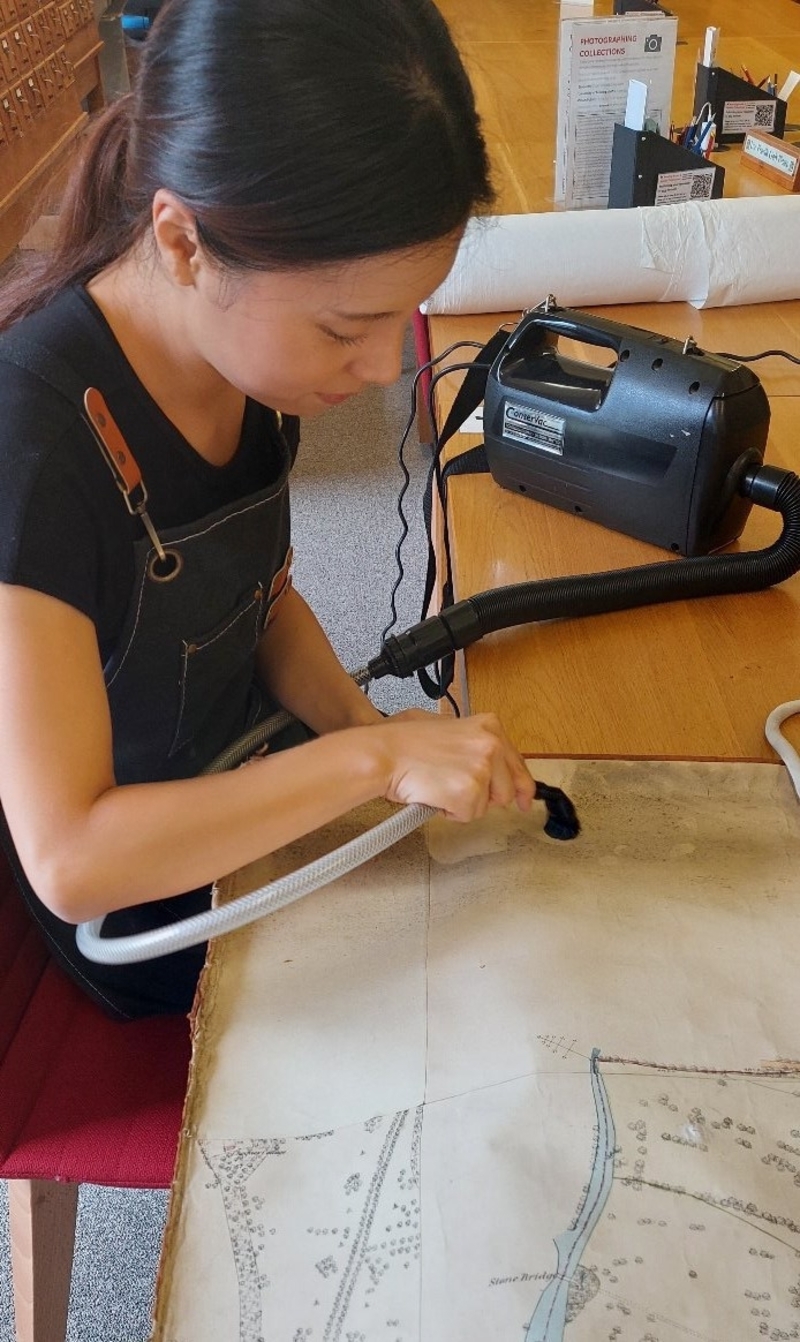 There were extensive peaked pleats cause by the backing restricting and crushing the paper when rolled. These peaks had split the paper fibres, and dirt had become ingrained in the crushed and broken surface. This required more robust measures measures, where the media allowed, and a soft vinyl eraser was used to reduce the impact of this damage. Yeaseul and Jasmine made a great team, working their way around the map in tandem to brighten the appearance and remove the damaging dirt.
The creased and softened paper substrate required a second stabilisation treatment before repair, known as resizing. Paper is given its characteristic crispness and body in part by the size. Size is what holds the ink within the paper and provides resilience against handling and surface abrasion. Although traditionally made from gelatine, the resizing process uses a substance called methyl cellulose. Like paper itself, this is a form of cellulose that is able to be dissolved in alcohol and this solution may be brushed onto damaged and softened paper to reintroduce some of its original strength and resilience.
Careful repairs
Once resized, the map was repaired by Yeaseul and Jasmine. As the paper had many splits and detached areas, these were stabilised on the recto – the media side – using small splints of Japanese paper that were sufficiently thin to be invisible. The Japanese paper used in conservation is made from Kozo, a type of mulberry, that is characterised by its long fibred structure and excellent strength to weight ratio. Aligning the map lines and features was essential to keep its integrity as an object, and by doing this preliminary work on the recto, Yeaseul and Jasmine were able to confidently – and more robustly – repair the map on the verso, or the blank side. This too was repaired using a slightly thicker 100% Kozo fibre Japanese paper, and a very pure form of wheat paste as an adhesive. This creates a clear, flexible and easily removeable bond.
Some of the processes to conserve the map have been recorded in this film, speeded up somewhat from real time!
Finishing touches
Our interns made such great progress in the time they were working at The MERL on this and other projects, learning from the project and each other's practice and experience as well as under staff guidance. Although the work on the map is not yet finished, with the two halves still to reconnect and a suitable housing solution created, the extensive conservation that has been achieved has stabilised it and improved its handling capacity exponentially to the condition it was when it arrived in the studio. Whilst one of our interns has now completed her placement, the other will be continuing to work as a volunteer until the end of the year. We hope they will both be able to help us complete the map; working together with these two future stars of conservation on this rewarding project was such a privilege and a joy, and I would very much like for both of them to have the satisfaction of completing the conservation and transformation of this impressive object together.
Next time in 'Tales from Beyond the White Door':
Disasters and dyes: two very different training sessions for both staff and community groups
Share This Post :