Tales from Beyond the White Door: written heritage conservation
A new blog series exploring the work of The MERL's Paper Conservator
Have you ever reached the far end of the MERL galleries, come across the white door labelled 'Private' and wondered what goes on behind it? Back in October 2022, our new Paper Conservator, Victoria Stevens ACR, invited colleagues and volunteers into the workshop to find out about her work.  Now, through this new blog series, she is inviting everyone 'behind the door' to see how she looks after the papers and books in the MERL and Special Collections archives and library.
It has been a year since I was appointed as the first ever Library and Archive Conservator for the University of Reading's Museums and Special Collections Services, based at The Museum of English Rural Life (The MERL) in June 2022. My return to employment was far less terrifying than my March 2017 leap into the unknown – and, as it turned out, incredibly varied, vibrant and exciting – whirlwind of full-time self-employment. That experience had given me the world, literally, and was everything I ever wanted from my career: lots of travel and consistently incredible conservation projects, allowing me to go places and work with collections that were completely fulfilling and people who were inspiring, making my own decisions and providing the sector, rich and poor, with support and advice in the way I wanted to work. It also allowed me to use my skills voluntarily, building relationships, contacts and parallel engagement opportunities that proved to be so transformative for my working interests. So, after completing two very high-profile projects which were undoubtedly the pinnacle of my self-employed career, I knew, when the opportunity arose to work in a collection I was familiar with in my own home town, the time was right to make another change. My wandering conservator days were coming to an end, it was time to focus on heritage closer to home.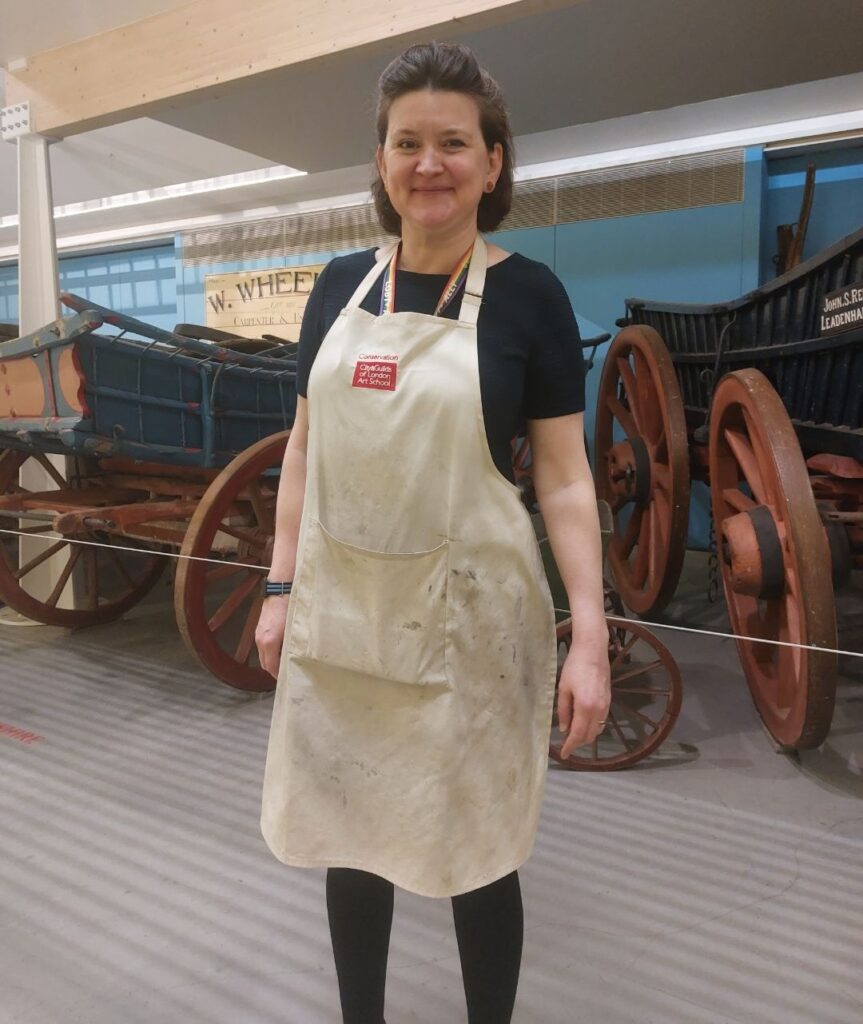 Biscuits, bulbs, beer…and books
The collections at The MERL are incredibly varied. As well as the written heritage items that are part of the main display in the museum galleries, the archives include extensive records of rural industries, farms and farm machinery and agricultural suppliers such as Reading's own Sutton's Seeds. To complement this, the Special Collections materials are particularly strong on publishing and printing, including the Samuel Beckett collection and the Ladybird archive, national business and estate papers such as the Huntley & Palmers archive, another famous local firm, and also an extensive collection of rare book and manuscript items and significant works of art on paper. An incredibly exciting collection to help care for and practically work on, without doubt.
The first year has focused on assessment, and on becoming familiar with how the collection needs to be accessed and used. Working with colleagues in the archives, I have started the mammoth task of a baseline condition assessment of the most high-priority collections. In the Top 10 are the Wellington Estate papers and the photographic negative collections, closely followed by discrete collections in the publishers' archives. There has also been a strong focus on getting to grips with the storage environment: the collection is housed in a combination of purpose-built repositories and retrofitted historical buildings, and understanding the seasonal changes in the indoor environment has been useful for future storage planning. It has also been interesting getting used to responding to display schedules, including undergraduate student projects, and making sure the collection is presented in its best possible condition for research and exhibition.
Image credits
University of Reading, Special Collections. Huntley & Palmer Archive. HP OS 516
The Museum of English Rural Life, University of Reading. Suttons Seeds Ltd. Archive. MERL copy neg. 60/9155
The Museum of English Rural Life, University of Reading. Dann/Lewis Collection. P DX322 P4/9
Community connections through conservation
I have also had some fantastic opportunities to develop my outreach and engagement work, something I was passionate about in my self-employed business. I have contributed to the Museum Studies undergraduate teaching programme and also developed and delivered the recent Conservation for Wellbeing: Kintsugi Conservation programme with Compass Recovery College, a Reading-based mental health and wellbeing charity. I will be delivering more information about this initiative at the Archives and Records Association's (ARA) annual international conference in Belfast in August 2023. There was also the very popular BookFest to tie in with World Book Day, where young visitors made their own paper, ink and books throughout the day.
Participants in the Kintsugi Conservation for Wellbeing sessions
Working with volunteers and interns has also been a focus. A volunteer team have been helping me remove centuries of dirt from collections, and I have a weekly session with a supported work experience placement student through Ways into Work, a Berkshire-based organisation providing opportunities for training and employment for people with additional needs.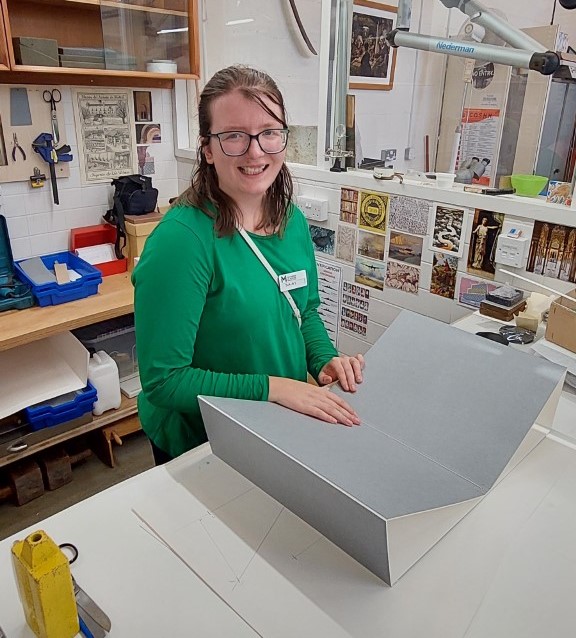 My role at The MERL has been just as exciting, unpredictable and as varied as my self-employment ever was, all without travelling several thousands of miles a year and with the major advantage of an incredibly supportive and inspirational cohort of colleagues to collaboratively care for these wonderful collections. I look forward to sharing some of the individual conservation projects on this blog with you in due course.
Share This Post :