From the cottage to the high street: pottery in The MERL collection

Written by Isabel Hughes
The New Year came with a new season of Channel 4's Great Pottery Throw Down, where each week a group of potters test their skills under the watchful (and often tearful) eye of Keith Brymer-Jones.
Apart from Keith's emotional connection to the works, the programme showcases the triumphs of the amateur potter. That is, skilled people who who earn their living through other sorts of work.
Making pots is notorious for its risks. A piece of work can be ruined when fired or accidentally dropped. The ubiquitous TV eviction process is ruthlessly applied when this happens and contestants are gradually whittled down. 
A cottage industry
The Great Pottery Throw Down is filmed at the Gladstone Pottery Museum in Stoke-on-Trent, an iconic industrial setting of brick sheds and bottle kilns.
Stoke has a long and illustrious history as a centre of industrial-scale manufacture, but like many areas of the country with a pottery tradition, it was originally a location for smaller cottage-based workshops where individuals made pots for everyday use in their local communities. 
One potting family were the Fishleys of Fremington, a village near the town of Bideford in North Devon.
In the late 1950s, as he neared the end of his working life, William Fishley Holland wrote a memoir, Fifty Years a Potter. In it, he described the beginning of his career:
It was in 1902, when I was thirteen, that I came to Fremington Pottery. Since one had to be fourteen before being allowed to work in any workshop or factory, I spent my time helping on any job that I felt I could do; if anybody turned up who looked like a Factory Inspector (though they seldom came to the pottery) I kept out of sight.

When I came to join my grandfather, in 1900, there were four men besides he, his cousin, John Beer, and myself; each having his own particular job. Grandfather did most of the throwing and an old man of seventy turned the wheel. His ballmaker could throw a few small flowerpots. John Beer did the 'fettling' – that is, all that is done to a pot after it leaves the wheel. This work requires years of experience, as it includes handling, finishing, proper drying, then mixing the glaze and glazing the pot besides packing and firing the kiln.
Fishley Holland also named and described the range of pots they made, mainly for local people:
Pipkins, Owlsheads, Gallipots, Butterpots, oval and round baking dishes, and pans from 1d and nothing much over 7d, even with a cover […] Pipkins had handles like saucepans. Owlsheads were so named because of their resemblance to an owl. The casseroles, of course had covers. The gallipots, like a wide breakfast cup, had handles and were used by coach builders for paint.
In The MERL collection we hold a number of pieces of West Country pots and ceramics that were made in the same tradition.
This pot is known as a parting dish. It would traditionally have been used by agricultural workers who could share the same dish at lunchtime when out in the fields. They would have vegetables on one side, Yorkshire pudding on the other, and meat resting on a trivet above. They were also used as cooking utensils.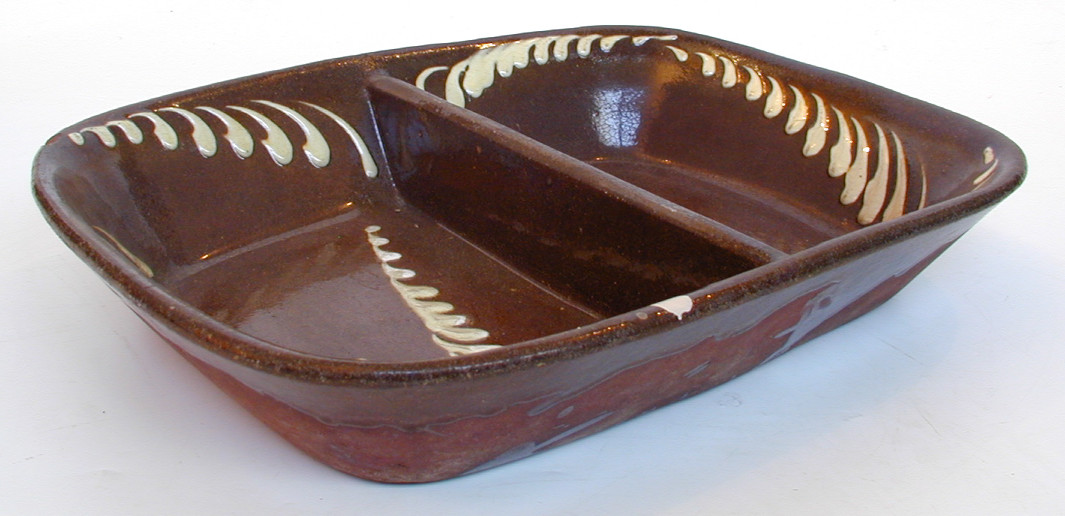 This harvest jug, referred to as the 'barley mow jug', is an example of Barnstaple ware and was made in 1838.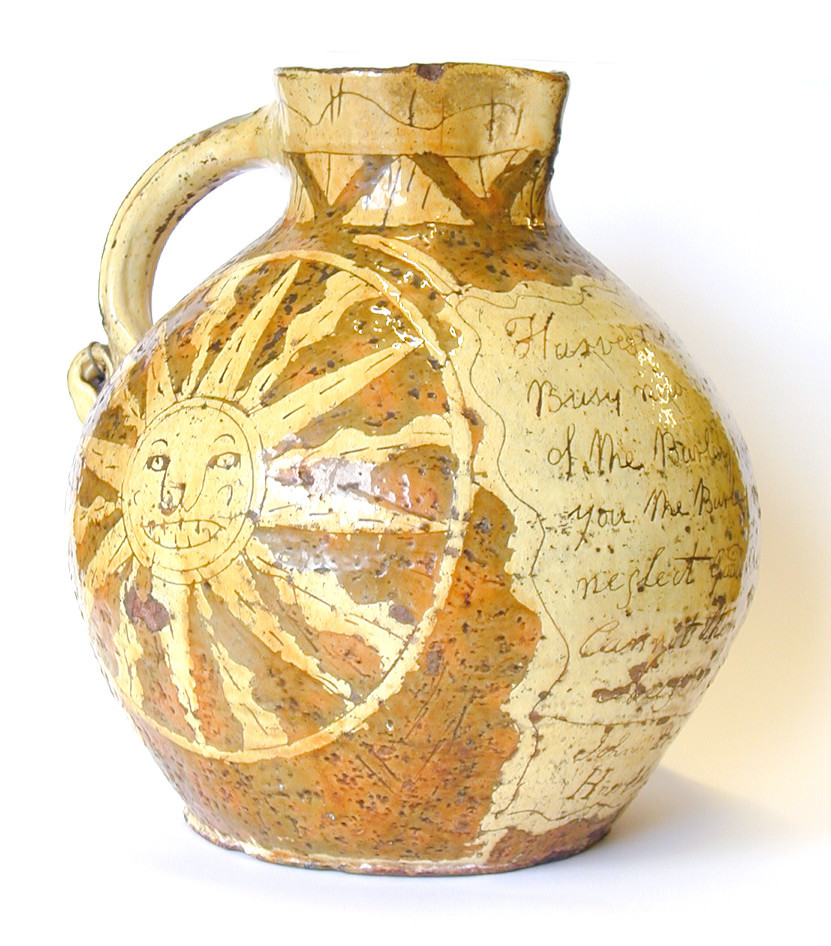 It is an earthenware jug with sgraffito decoration, meaning that its details were scratched into the surface. Jugs like these were made to hold beer or cider for celebrating the harvest having come in, and the decoration features a slightly drunken verse, which reads: 
Harvest is come all
busy now in making
of the Barley mow if
you the Barley mow
neglect of Good ale you
can not then expect'
The ceramic below was made by Fishley Holland himself. The combination of size and form means that this object was probably intended to function as a mug or ceramic tankard. However, due to a lip running around the entire upper rim, this item was described by its owner as a vase. Made by Fishley Holland in Braunton, North Devon, it was collected by the potter Mary Wondrausch as an example of the work of this significant studio pottery.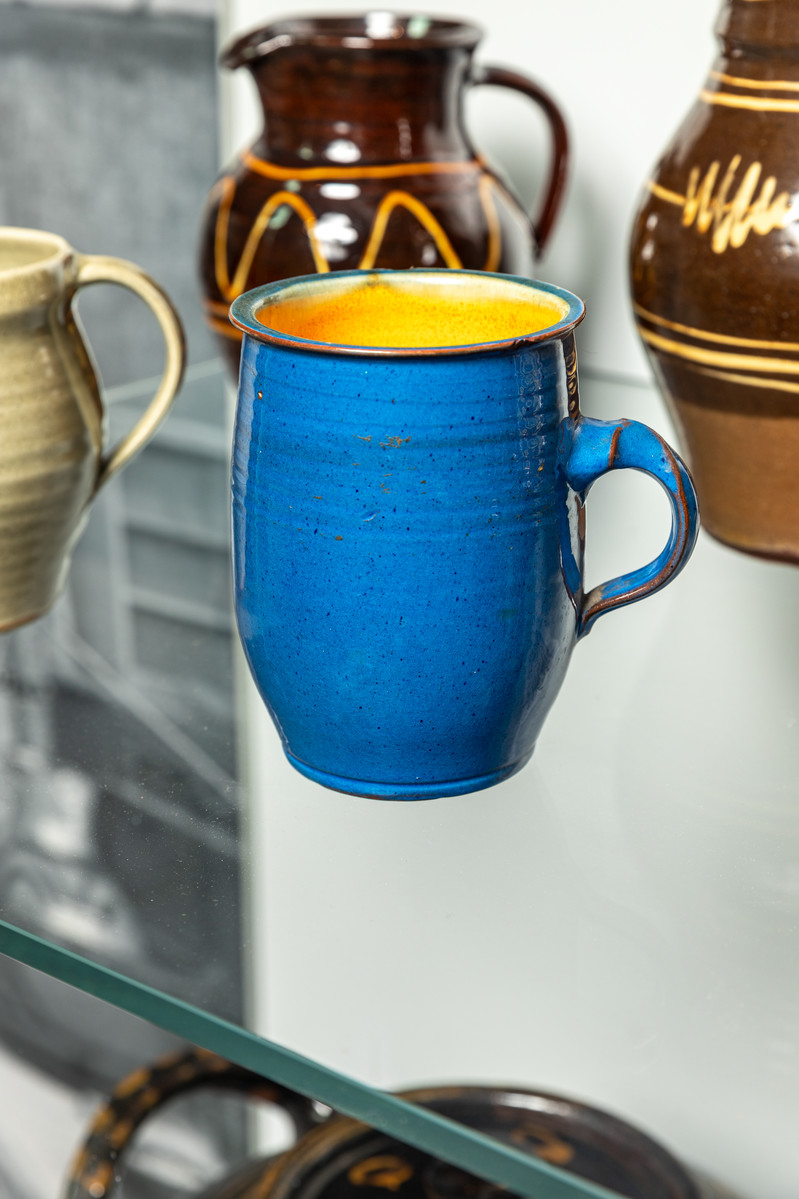 It was when Fishley Holland worked at the pottery in Braunton that he taught the studio potter Michael Cardew how to throw pots. Cardew's work is well-represented in The MERL collection, not least his giant teapot allegedly made for use at country gatherings and acquired for a British Council sponsored exhibition shortly after WW2 (arriving at The MERL in the early 1960s).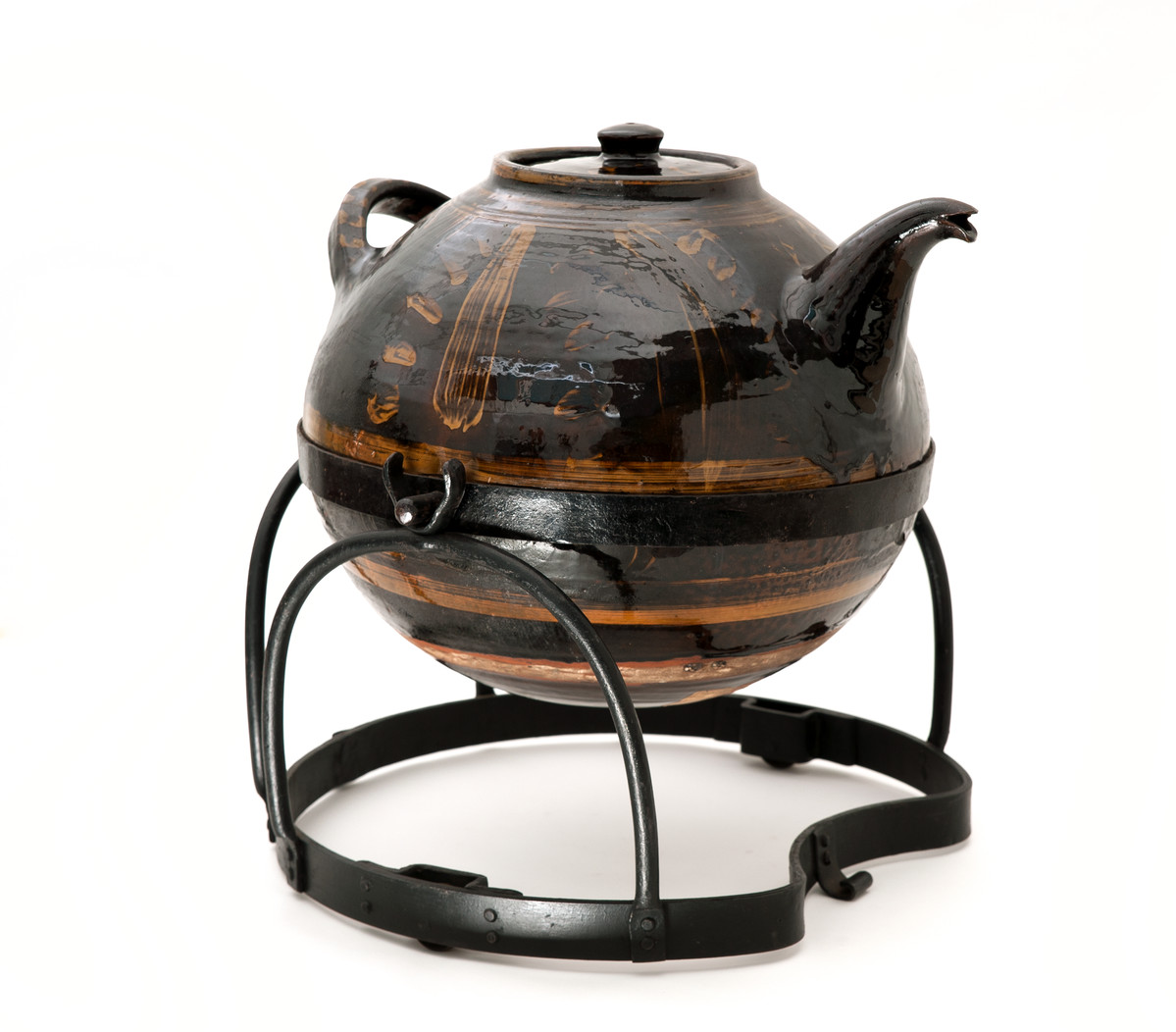 From the home to the high street
Of course, the potteries at Stoke developed into significant manufacturing industries and became the home of a number of world famous companies: Wedgwood, Royal Doulton, Spode, Minton and others.
Like Fremington in North Devon, Stoke benefitted from the close proximity of a good supply of local clay, but the Stoke potteries could also take advantage of a good supply of coal to fire the kilns and the development of the Trent and Mersey Canal which brought china clay needed for bone china up from St Austell in Cornwall. Although many of the making and firing processes were based on those used by Fishley Holland, at Stoke they moved away from hand throwing and used moulds to mass produce work during the 19th century for the aristocracy but also for the growing middle class. Some decoration would still have been applied by hand, but much of the detail was applied using transfers.
In 2008, Roy Brigden, then the Keeper of The MERL, embarked on a project to collect artefacts to show 20th century rural culture, which included hand-thrown studio ceramics. 
One acquisition was by the Sussex-based potter, Ursula Mommens (great-great-granddaughter of Josiah Wedgwood). Mommens was active among the London avant garde of the 1930s, but by the 1960s she was producing functional stoneware tableware.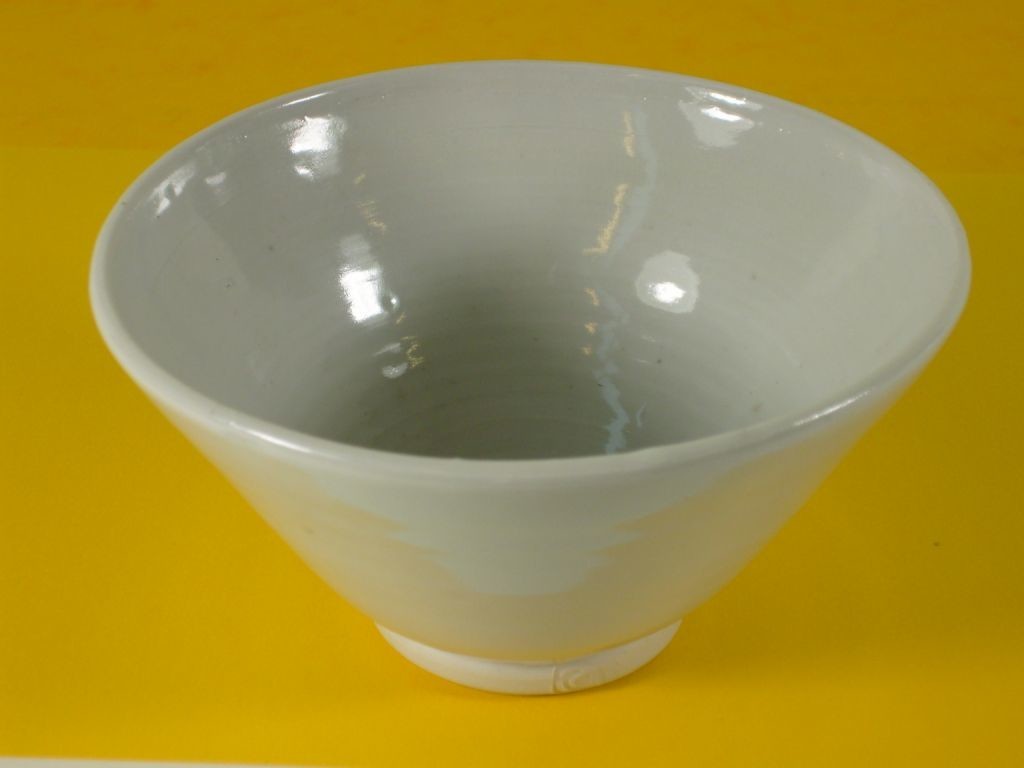 Another object that arrived at this time was a painted vase by the artist Quentin Bell (son of Vanessa and Clive Bell, based in Charleston in Sussex and part of the Bloomsbury set). Made in 1951, the base is inscribed 'GH from QB 1951' and was given as a present by Quentin Bell to Grace Higgens, who worked as a maid, nurse, cook and housekeeper at Charleston, the farmhouse of the Bloomsbury set where Bell grew up.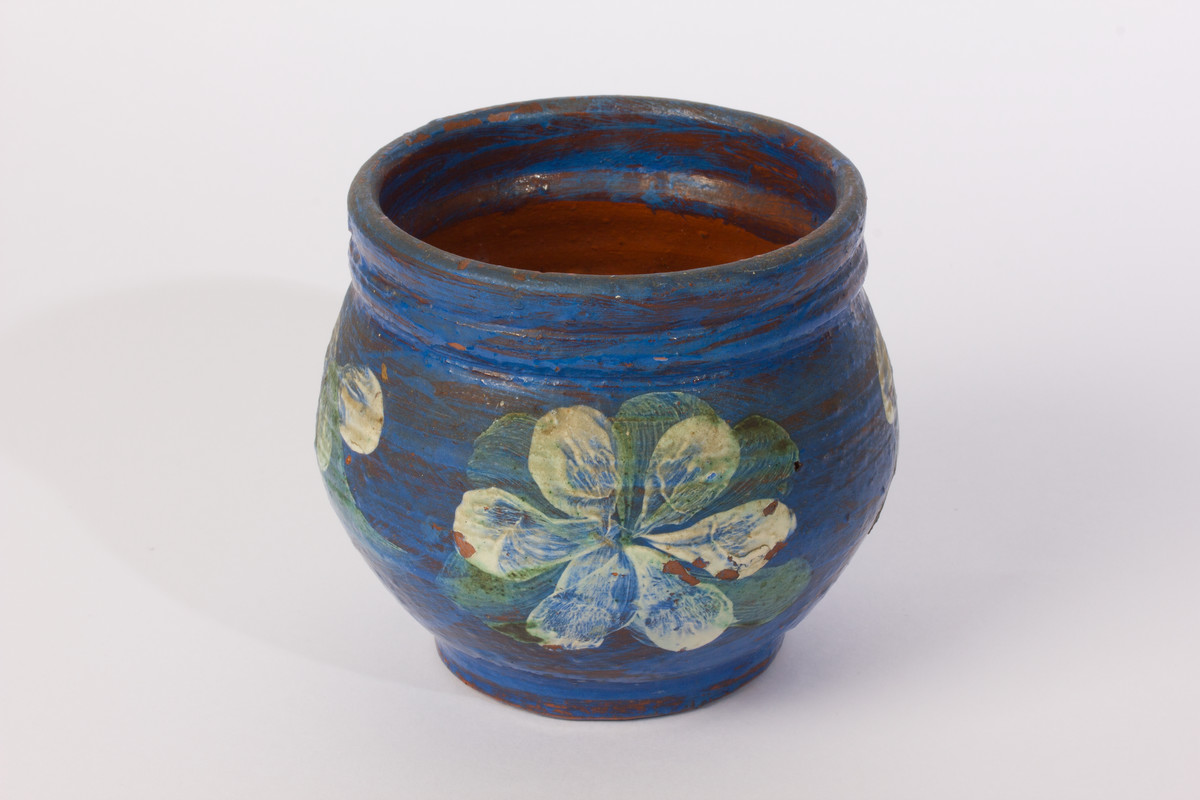 Roy Bridgen was also interested in where and how rural imagery was deployed on everyday objects. In that spirit he acquired parts of a dinner service known as 'The Garden', produced by Wedgwood using motifs developed by the illustrator and war artist Eric Ravilious in 1938 and 1939.
He also obtained two pieces from 'the Nature Study' dinner service series, manufactured by the Stoke firm of Midwinter Potteries. There were designed in 1955 by a young Terence Conran. Conran went on to create the Habitat brand and was the prime mover behind the establishment of the Design Museum in London.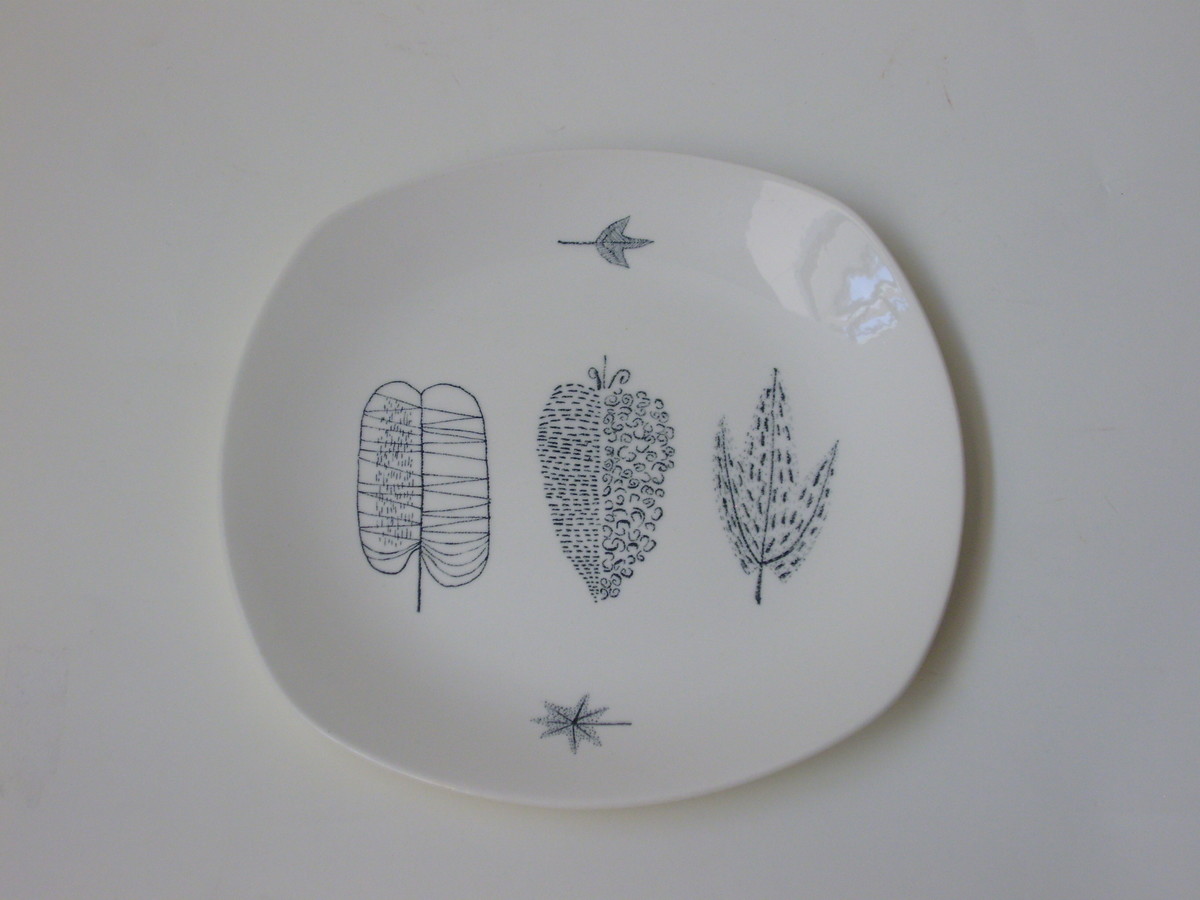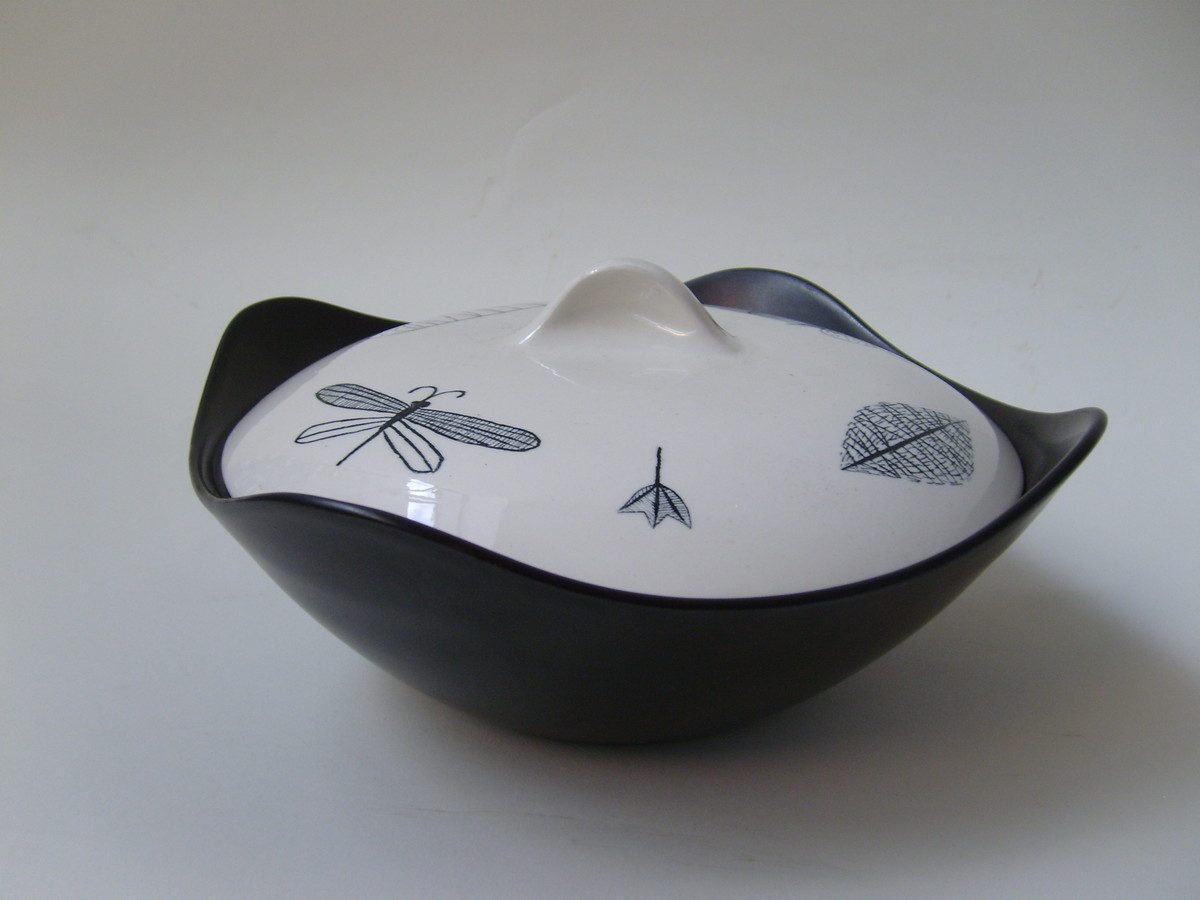 Souvenirs and collectibles
A dinner service like 'the Nature Study' would have represented a great deal of expense, but other pieces from Stoke that have found their way into the The MERL collection (within the theme of 20th century rural culture) were more affordable.
Stoke potteries produced a huge range of souvenir and commemorative cups, mugs and plates. We have examples that were typically bought by holiday makers returning from the countryside.
This blue-glazed pottery milk jug is inscribed with 'The Model Village Bourton on the Water'. It dates from the 1950s and was produced at the model village at Bourton-on-the-Water, Gloucestershire, was built in 1936-7 and is still open today. The model village even contains a model of the model village. Over the years, a variety of souvenir ephemera was produced, including guidebooks, postcards, and pottery mementos such as this.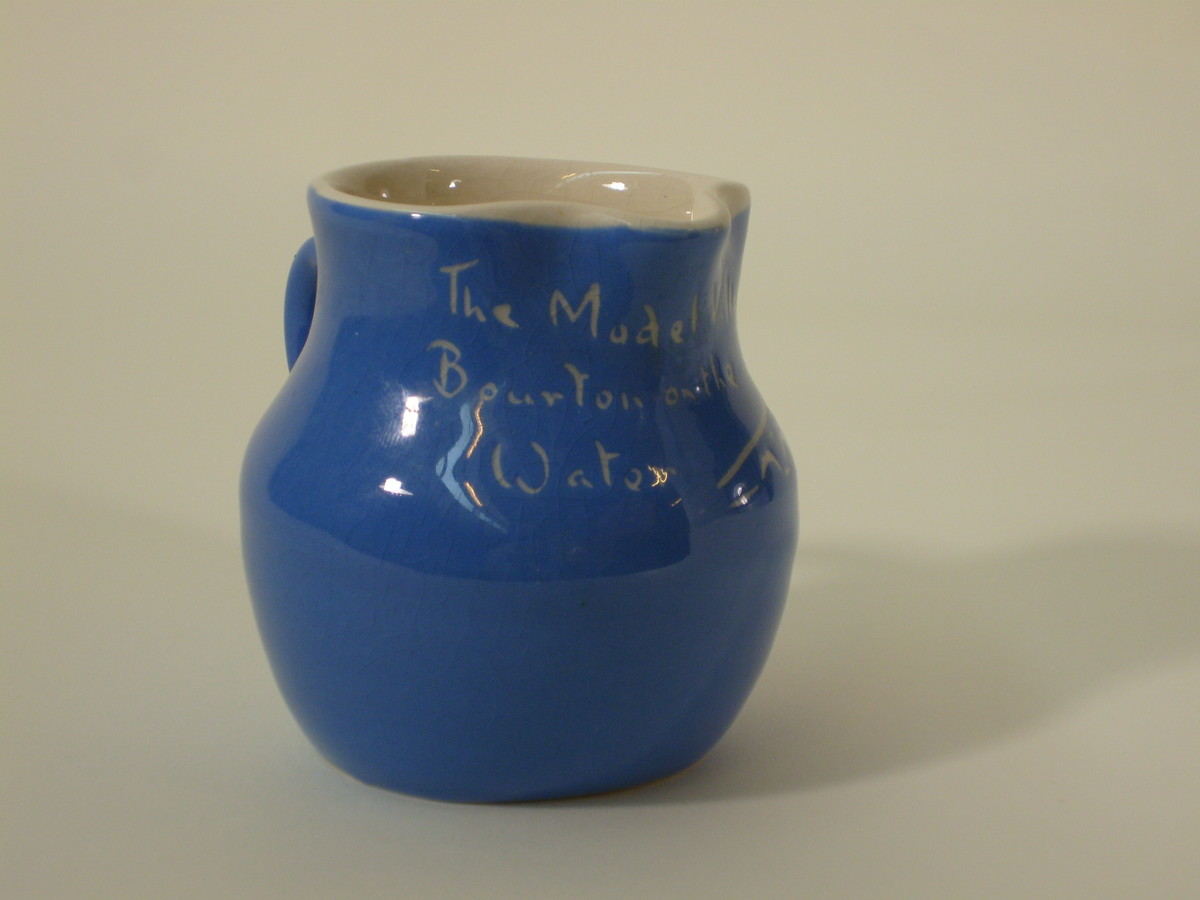 This is the teapot from a three-piece cottage ware tea set, which also includes a sugar bowl and milk jug. The teapot is in the shape of a thatched cottage, with the door and window features in the glaze. It was made by Price Bros Ltd., who were based in Burslem, Stoke-on-Trent. This set was used by the donor in Scarborough, and dates to 1945.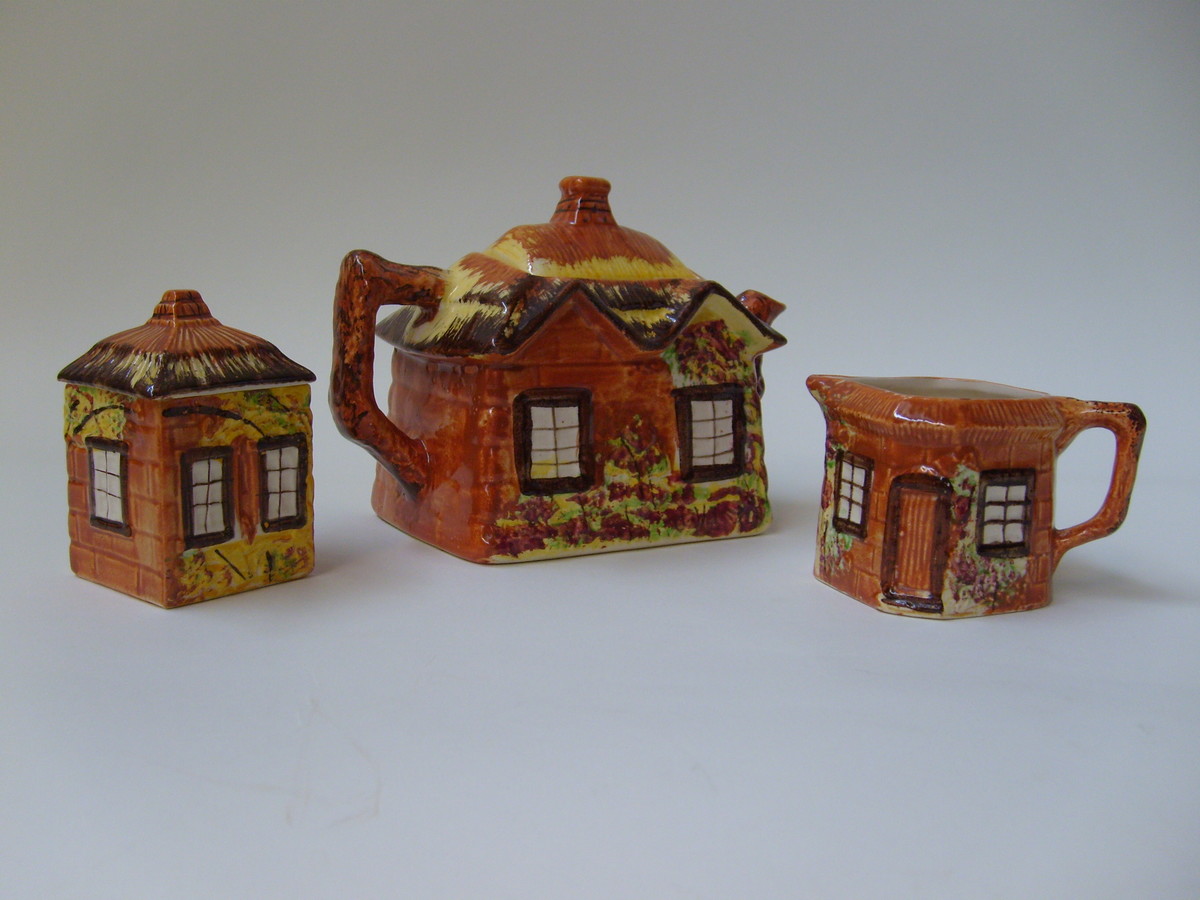 The MERL is the proud owner of 'The Farm Yard', 'The Country Panorama' and 'Haymaking', all produced by Wedgwood in the 1980s. These pieces would come with a certificate of authentication from Wedgwood and would largely be advertised in Sunday Newspaper Supplements as collectors' items. Below, 'The Farm Yard' plate depicts a nostalgic scene from the 1930s or 40s, with a Fordson tractor, horses, and a family in a farmyard.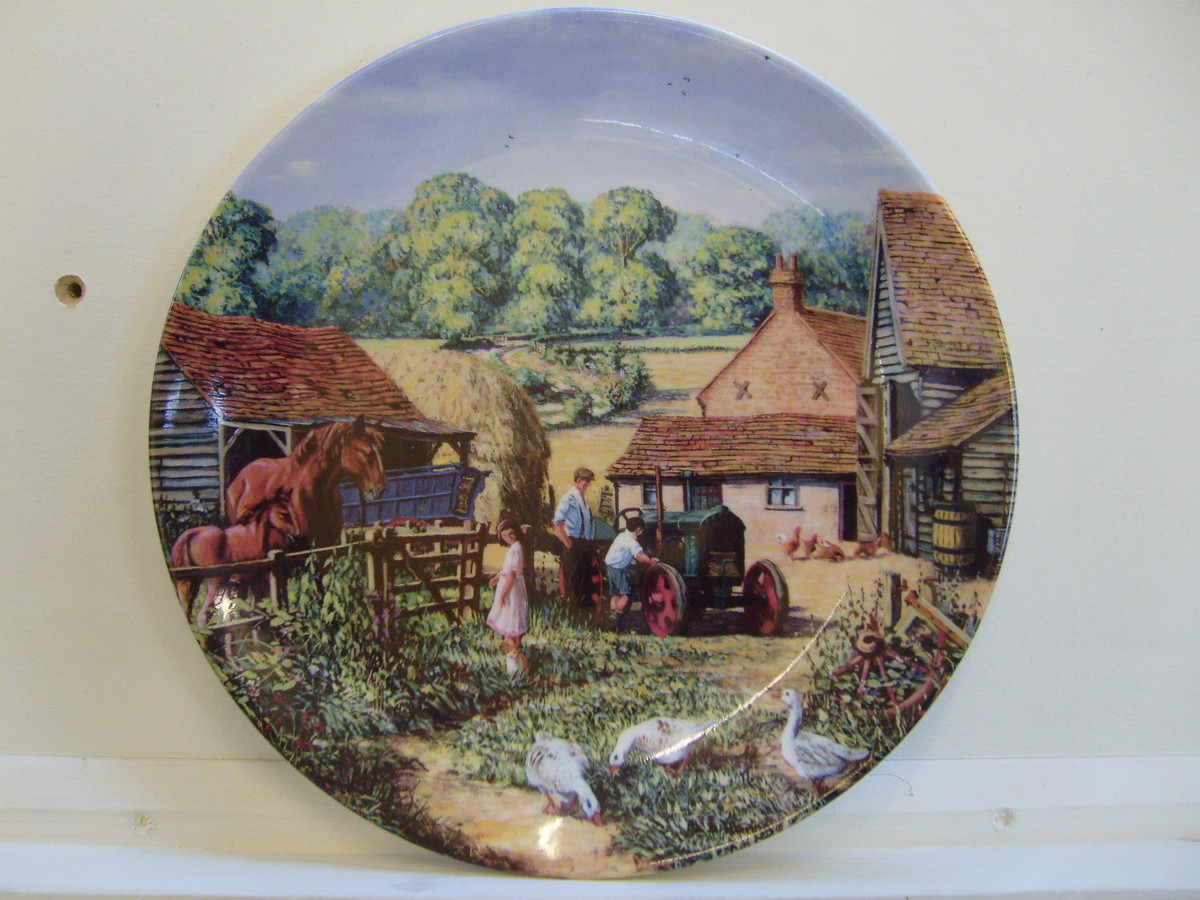 Finally, this Clarice Cliff bowl represents one of the most famous lines produced in Stoke. Cliff worked as a decorator of ceramics for the Middleport company in Stoke, joining the firm in 1916. Her distinctive Art Deco pieces became very popular in the Roaring 20s and are highly collectable today, partly because they are so instantly recognised. This bowl features the Farmhouse style that Cliff created in 1931. The bowl has a base of cream, with the pattern in orange, yellow and green on the inside, and concentric rings of black, orange and yellow on the outside.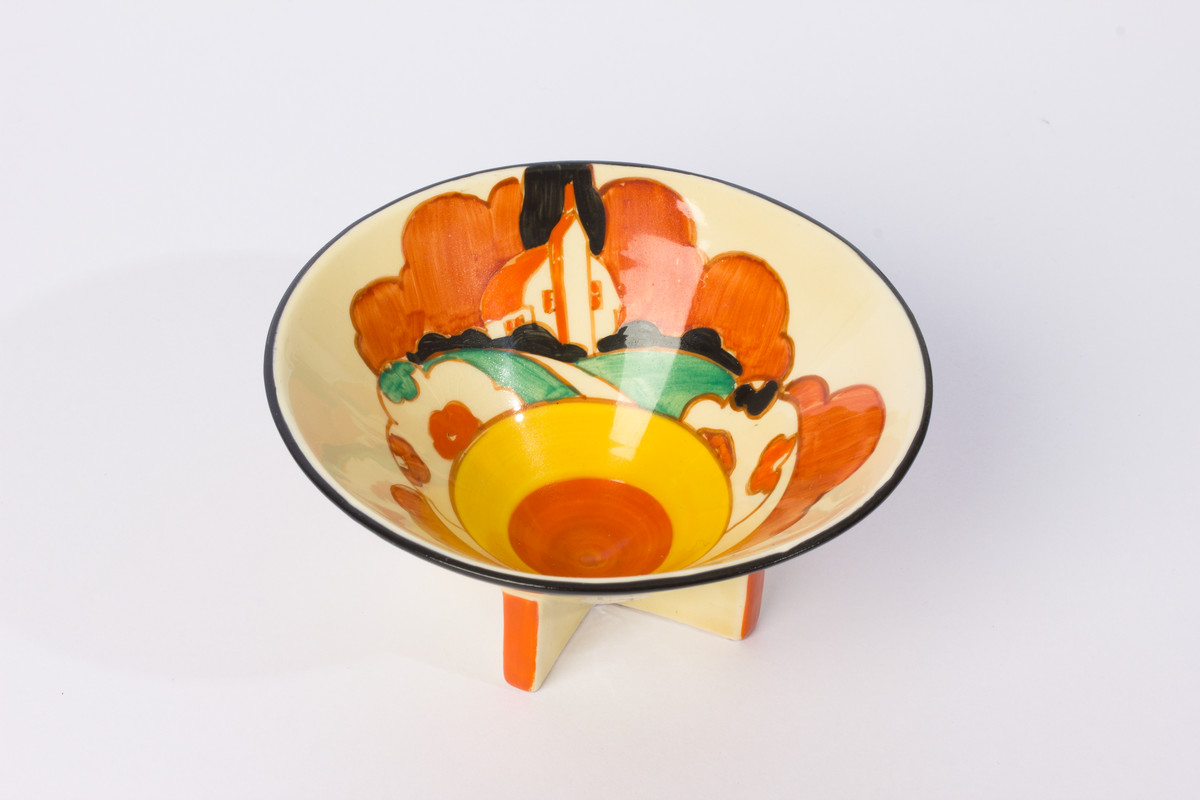 Preserving our national pottery heritage
The MERL's collection of pots is displayed at various points throughout our galleries to illustrate themes of rural life.
At the Gladstone Pottery Museum in Stoke, the authentic setting of brick buildings and imposing bottle shaped kilns is all still there, alongside its unique collection of ceramics, and the largest and most authoritative collection of Staffordshire pottery in the world.
Recently a number of industrial museums like the museum at Gladstone have found a role as atmospheric settings for period dramas: from Peaky Blinders to Call the Midwife.
This has come to a head at Stoke with a proposal for the museum to operate as both a museum and regularly as a film set. We wait to see how things will develop.
Share This Post :