Have Yourself a MERLy Little Christmas: a Christmas special
Last Christmas we gave you some socks. And this year (to save you from tears) we've brought music and collections together again, not only to prepare you for the festive season, but to share some Simply Wonderful (Christmastime) objects and images from our collection, set to the music of all your favourite Christmas songs.
Put your Christmas jumper on, and let's dive in.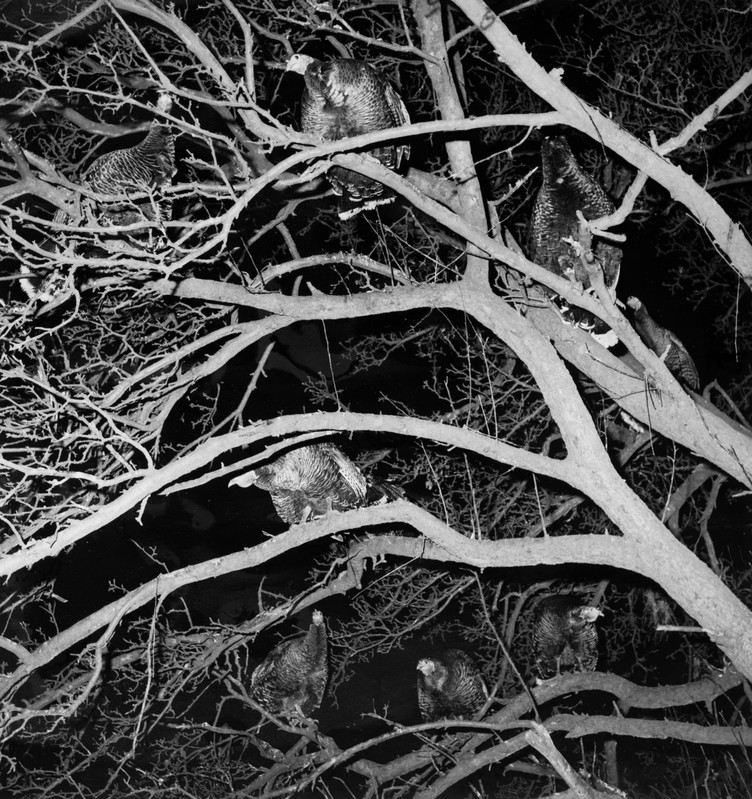 Ding Dong Merrily on High (Anonymous)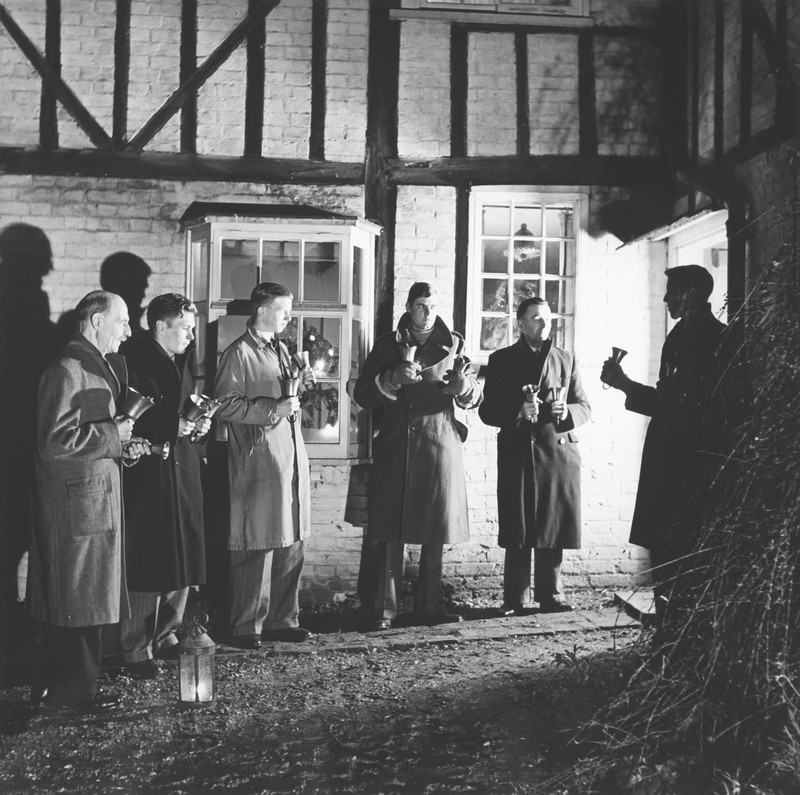 What Christmas song is complete without the sound of bells ringing in the background? The answer: none of them.
Handbells—like the ones used by the carolers in this photograph—were first invented in the 17th century as a quieter alternative to 'changing the bells', which allowed bell ringers to practice changing the order of the bells that were rung in church towers. Changing the bells is a remarkably complex process, combining music, mathematics and physics, and requiring a good ear as much as excellent timing. There is a lot in play to ensure the bells are tuneful.
This photo was taken outside the Paper Mill House, a very old mill on the River Ribb in Hertford. The handbells have belonged to the church since 1870, and we imagine have been well used by many-a-caroler in that time. Handbell ringing groups have existed since the instrument's invention, though the earliest group on record was associated with Lincoln Cathedral (from around 1612).  Modern handbell teams ring recognisable music with melodies and harmony, as opposed to the mathematical permutations used in change ringing. This is a huge reason behind their popularity at Christmas time.
Mistletoe & Wine (Cliff Richard)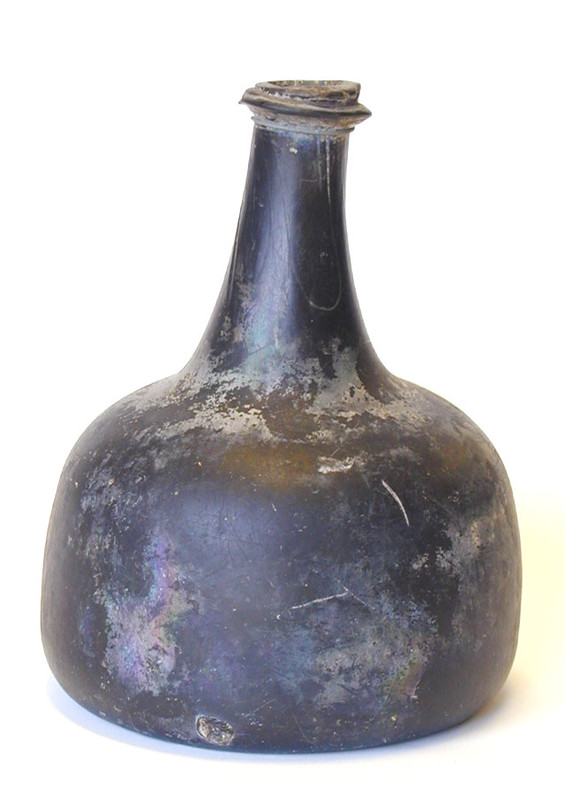 Whilst Cliff Richard has had three Christmas number ones, the one that inspires the cosiest image has to be 'Mistletoe & Wine'.
This bottle from our collection probably dates from 1780-1800[i] (predating Cliff, if you can believe that). It was found amongst a large collection of bottles of 'horse potions' which were uncovered during the demolition of a blacksmith's forge in Great Shelford.
The bottle, sadly empty now, is made of mid-green glass, which was typically used for wine and champagne in the late 1700s. It is thought that green glass is used to prevent sunlight from turning red wine into vinegar. It might not be true, but is it worth the risk of finding out?
God Rest Ye Merry Gentlemen (Anonymous)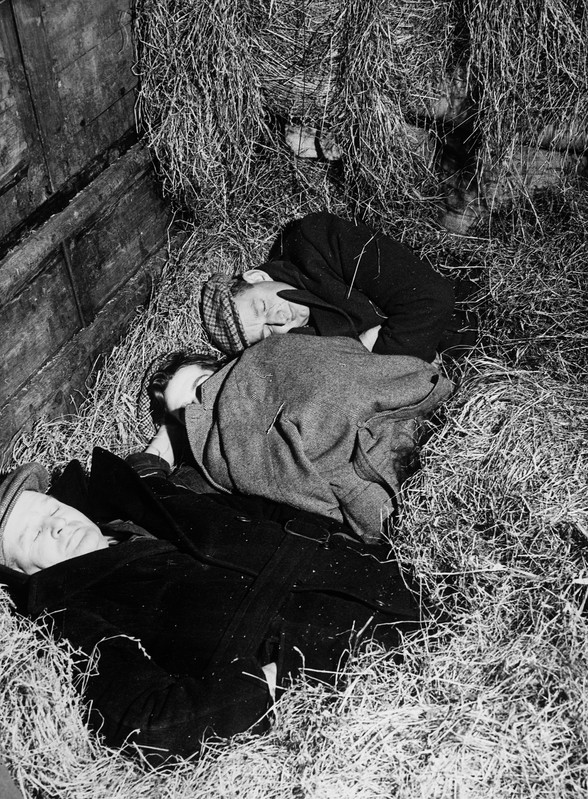 God rest these merry gentlemen: the Drummonds—father and son—and a Mr McGregor.
Whilst three wise men travelling at Christmastime might sound a little déjà vu, these men weren't following a star, but a wheel of cheese. They were on their way to The Dairy Show of 1950, joined by farmers from across the British Isles. Special trainlines were provided for by many of the country's largest railway operators, enabling agriculturalists from even the most remote of regions to make the journey.
The 1950 Dairy Show was the 64th in the show's history. According to newspapers[i], a highlight attendee was a 'lovely little Jersey Cow' sent in by none other than Winston S. Churchill (yes, that one).
Whilst there were supposed to be 900 cows entered into competition, the paper was dismayed to report that only 293 cows made the journey, sadly hindered by 'atrocious weather […] casualties […] and the appalling conditions in which farming has been carried out in the past few months'.
On a good year, The Dairy Show exhibited livestock, butter, cheeses and all the latest innovations in contemporary machinery. There were competitions for milking, but the most important prize of all was best cow of the year. It has been suggested this show was the precursor to the progressive trend towards selection of stock for productive traits rather than purely for physical appearance. The birth of the absolute unit, if you will.
Step Into Christmas (Elton John)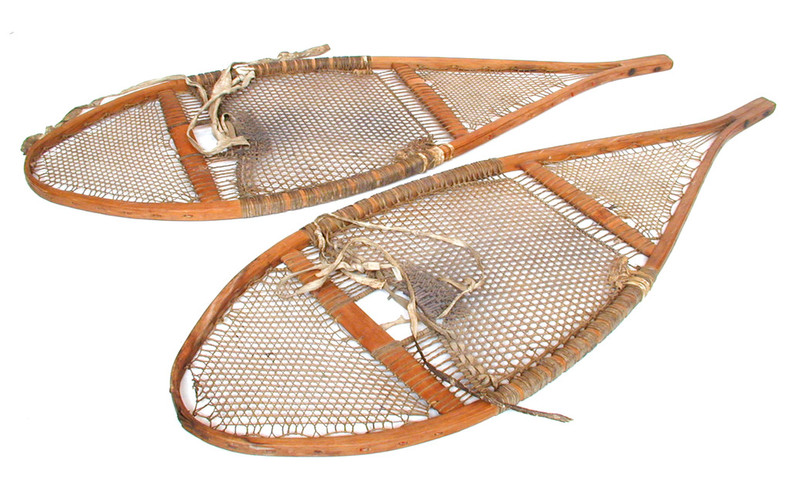 Stepping into Christmas requires the right kind of shoes. Whilst Elton John might choose something a little more glittery, these snowshoes would probably be more useful should he face a snowstorm.
These snowshoes from our collection are made from wood frames (possibly ash). The surface is formed from a stretched webbing of woven gut, strengthened in some parts by leather thongs. The shoes would have been attached to regular shoes or boots by the very thin straps.
The pair belonged to Mr Dick Lewis, a gamekeeper on the Copes Estate in Bramshill, Hampshire, in the 1930s and 1940s. They were probably made in Northern Ontario or Quebec by Indigenous people and sold to settlers in the area.
The key to discerning where a snowshoe is from often lies with the nature of the netting and the general shape of the frame[i]. British troops in Canada used snowshoes in 18th century military engagements and throughout the War of 1812. Lots made their way to the UK after the conflict.
All I Want For Christmas Is Ewe (Mariah Carey)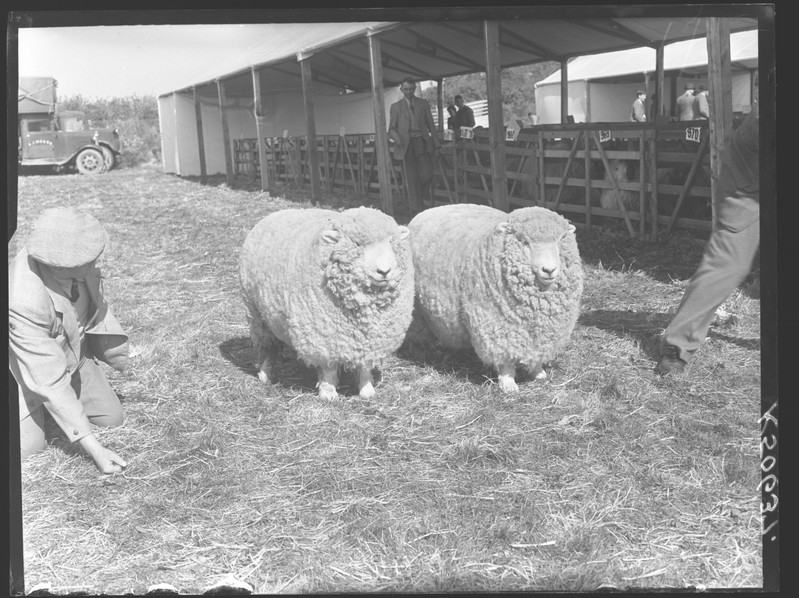 When you see a picture like this, you realise it's no coincidence that Mariah Carey refers to her loyal fan base as 'Lambs'.
These ewes are Devon Closewools, a breed which appeared in the 1800s from a cross of Exmoor Horns and Devon Longwools. By the time this photo was taken in 1953, there were around 229,000 Closewools in England, with almost all of them located in Devon. This represented the biggest population of any one breed in the county at the time[i].
These two were owned by A.L. Lerwill of Brinsworthy, North Molton, Devon, although this has been disputed. Not much is known about A.L. Lerwill but according to the other records we hold, this farmer was remarkably successful at rearing sheep that could hold competitive titles such as 'Supreme Champion' and 'Best Yearling'.
Could Mariah do that? Probably.
Let it Snow, Let it Snow, Let it Snow (Dean Martin)

What's more unique than a snowflake? Well, how about a horse brass with a snowflake design?
According to the National Horse Brass Society[i], over 2,000 horse brass designs have been found across the UK, although it is very likely that each is different depending on its maker.
Horse brasses have been traced to as far back as ancient Rome and Persia, where they would have adorned horses used for military purposes. They were known as Phalera and were used both as forms of protection and demonstrations of pride. Images of gods and nocturnal symbols were cast into bronze as a tribute to deities that might protect both horse and rider in battle.
Horse brasses like these became popular in England during the 1700s and had a steady popularity right until the end of the First World War, where they would adorn workhorses in both rural and urban areas. Influences of superstition informed much of the design, but also saw the inclusion of images that represented the horse owner's occupation. Farmers could be represented by agricultural items, flora, or fauna, whilst other trades might be represented by churns or barrels. Landed Gentry would often have their heraldic symbols cast into brass.
With the decline of horses in working life, the horse brass became somewhat obsolete too. Despite this, they have become popular collectors' items and you will find many in country pubs across the country. These brasses come from a large collection whose origin is shrouded in mystery.
Hard Candy Christmas (Dolly Parton)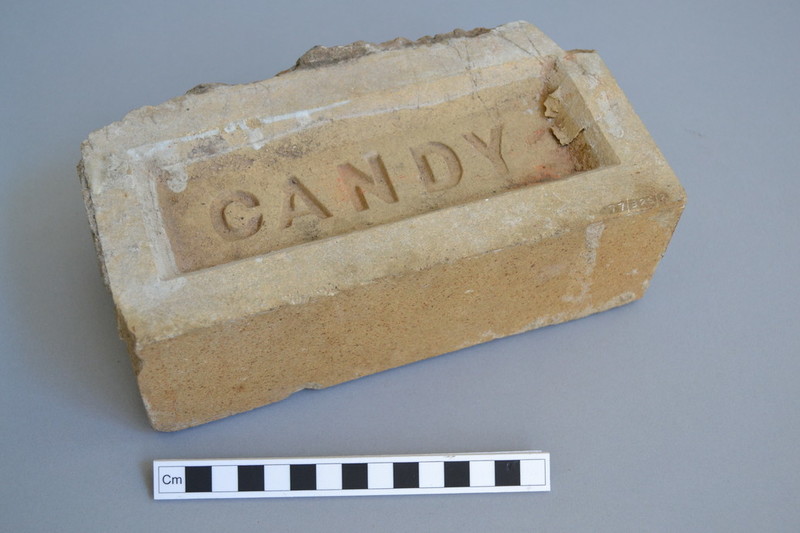 Nothing says Christmas like the idea that life can be hard but sweet at the same time. Well, other than maybe Dolly Parton.
This pale-coloured brick, with the word 'CANDY' stamped in the centre, was found at a demolition site at the junction of Church Street and Letcombe Street in Reading. The demolition was met with local sorrow in 1969[i], amidst fears of losing not only architectural history but the stories of the people who lived in the homes for many years. An argument was made that the poor people living in these dilapidated houses should have their houses restored, not demolished. As the brick in our collection attests, the demolition work would proceed and was undertaken in the early 1970s.
Candy and Co. Ltd., established in 1850 by Frank Candy, operated as a tile manufacturer in Newton Abbot in Devon. In their early years, Candy and Co. were famous for their extremely hard ornamental bricks. They won several large contracts both for bricks (which were used by the Government in dock construction) and for their tiles (used by the London General Omnibus Co. in their new bus stations).
In their later years, Candy and Co. turned their focuses more towards pottery, producing fireplace, wall and floor tiles. The company then moved into the new market for bathroom and kitchen tiles and the company continued until the 1990s when, after receivership, the business was sold and sold again. 1998 would mark the company's final 'Hard Candy Christmas', as the factory doors closed for the final time that November.
While Shepherd's Watched Their Flocks (Anonymous)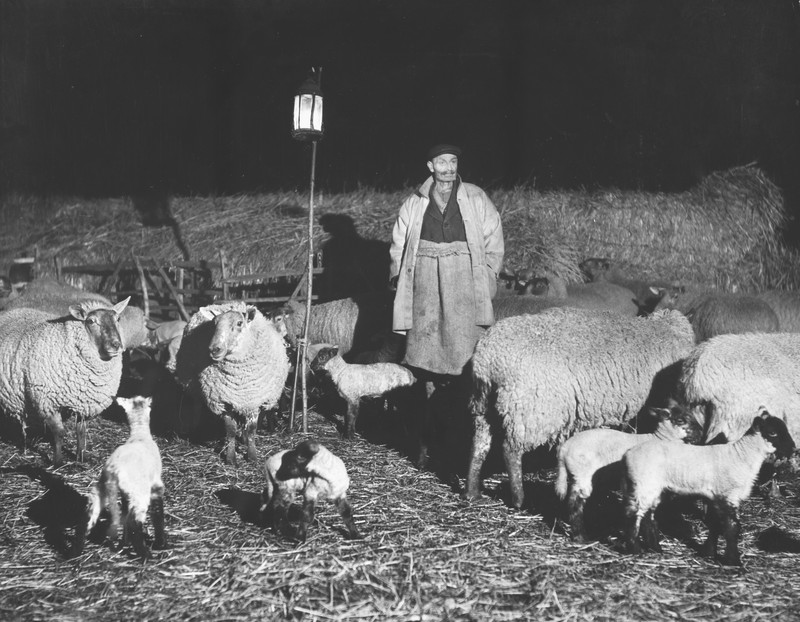 Lambing is the most stressful time of year for shepherds. Having a successful lambing season can be vital to their livelihood, but many different threats pose significant risks (as they have done for millennia): from sickness, to predators, and birthing issues. 
Today we are familiar with images of sheep in warm barns, but some shepherds had to brave the cold and stay with their flocks in the fields in winter. They would either spend the evening in caravans or huts. And before then, they may well have taken comfort in a thorny bush to keep warm as well as spot potential predators.
In this photograph, Arthur Rush (aged 70) takes care of his flock during a winter lambing season. It was reported that Arthur never shaved his beard during lambing season as it helped keep out the cold. In 1960, his image was featured in a publication showing his devotion to his flock which evidently impressed a reader in Australia.[i] Arthur received a number of delicious Australian foods as well as a shaving stick for Arthur to fix his facial hair!
Driving Home for Christmas (Chris Rea)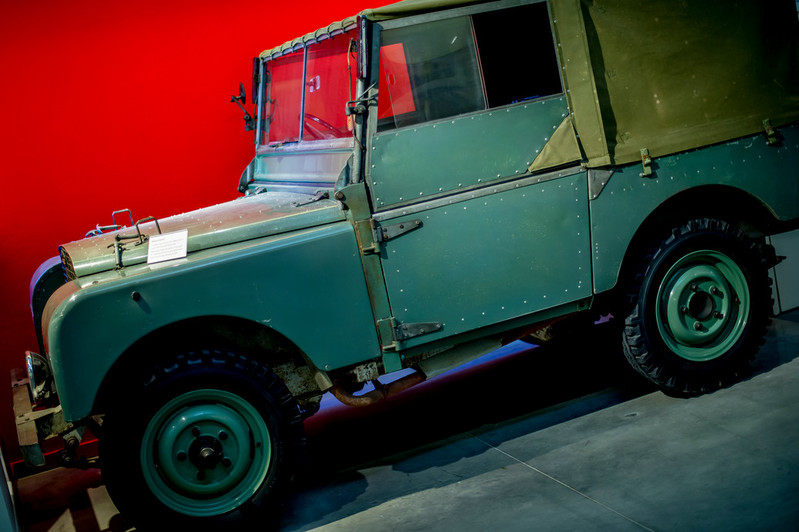 In agriculture, few cars have been as reliable as the Land Rover.
The Land Rover was created to be readily used for fulfilling a variety of agricultural tasks, including the transportation of tools and animals, all whilst allowing the driver to traverse often difficult rural landscapes in any weather. Since its creation in 1948, the Land Rover has gone through many transformations and ventured much further into urban areas.
On 29th April 1949, Ivor Norris, a farmer from Avonmouth, near Bristol, took delivery of this Series One 80″ Land Rover. It was supplied by Windmill & Lewis of Clifton, Bristol. Ivor traded in a 1.5 litre SS saloon for the Land Rover so that he could tow a trailer to the mill at Avonmouth Docks where he collected biscuit waste for his cattle. In the mid 1960s, he and his wife moved to a farm in a village on the Mendips. He developed glaucoma and had to stop driving, but he still used it around the farm (primarily for fencing). And during the winter months, the vehicle was kept in his workshop, swathed in West of England sacks.
Whilst there are a fair few modes of transport in The MERL collection, this would very likely be the best to get you home for Christmas.
We Wish You a Merry Christmas (Anonymous)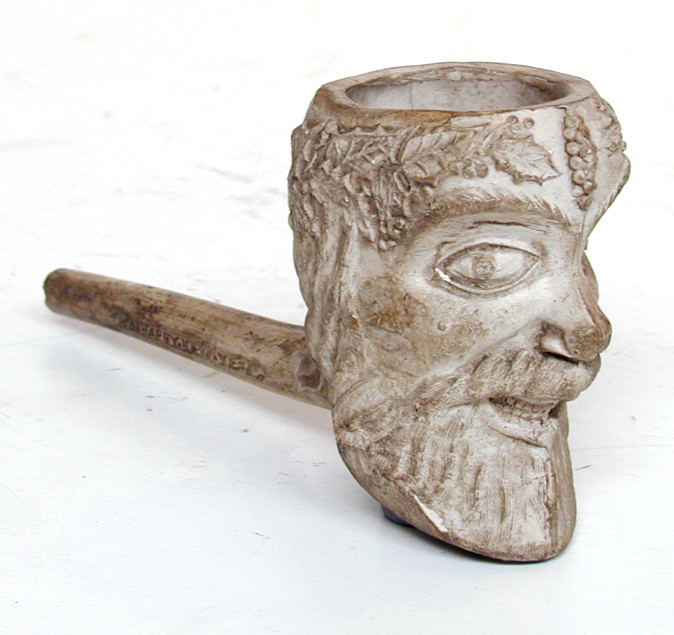 This novelty pipe dates from the early 19th Century and comes from Mere in Wiltshire. The stem is inscribed with 'A Merry Christmas' on one side and 'A Happy New Year' on the other. The bowl of the pipe is decorated with a smiling face of a man adorned with a crown of holly, ivy and berries. This character is most likely a representation of 'Old Christmas' who would later morph into the Father Christmas figure we recognise today.
Not only would this cheerful spirit be accompanied by plentiful food and drink, but he also had a merry gang of supporters such as the Lord of Misrule, Wassail, Plum Pudding and the Lord of Twelfth Night, all of whom would help make the Christmas period a joyful one. It's also worth noting his favourite way to travel was not a sleigh pulled by reindeer, but in fact a 'Yule Goat'.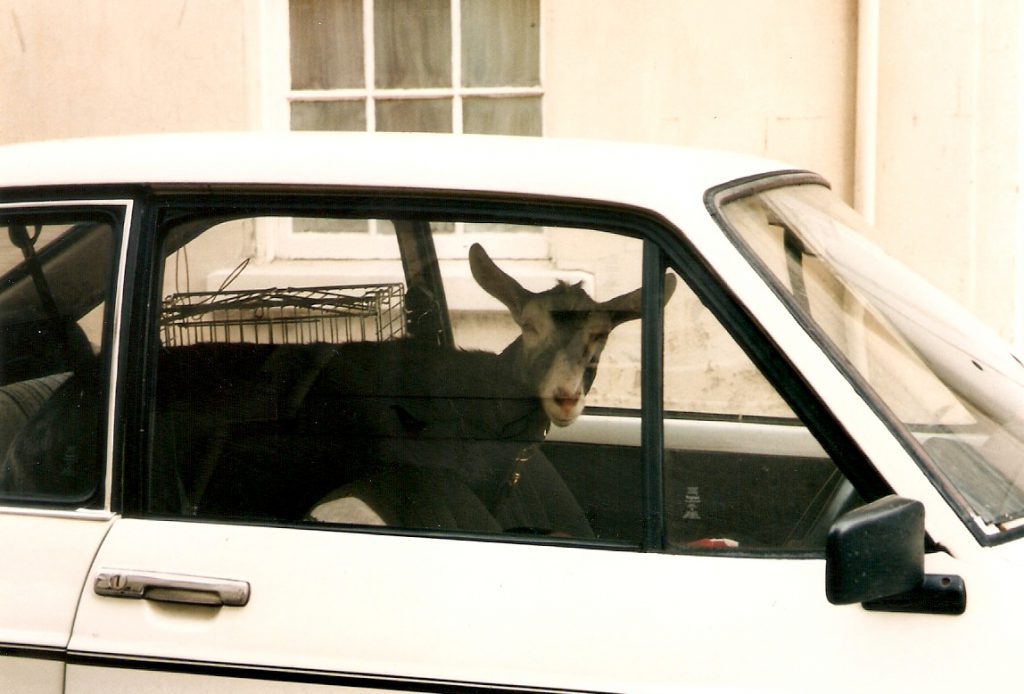 This image of Father Christmas was very popular in the early 1800s but was fully realised with the release of Dickens's A Christmas Carol, published in 1843. Dickens depicted the Ghost of Christmas Present as a jolly pagan giant, with a crown of holly and an evergreen robe, surrounded by food and a wassail bowl.
Early examples of Father Christmas were more focused on grown-up merriment, but as times have changed, his portrayal has shifted to being more of a gift-giver, providing presents for good children and leaving lumps of coal for naughty ones.
From all of us at The MERL, we would like to wish you a very Merry Christmas. For more Christmas stories, check out our blog about the history of Christmas servants' balls, or read about why we give each other socks.
References
[i]
Morgan, R. 'Sealed Bottles', pp. 24-30
[i]
Buckingham Advertiser and Free Press – Saturday 28 October 1950
[i]
Information from Laura Peers https://www.laurapeers.com/
[i]
http://devonclosewool.com/about-the-breed/
[i]
http://www.nationalhorsebrasssociety.org.uk/Core/Horse-Brass/Pages/brasses_information_-1506.aspx
[i]
Reading Evening Post – Monday 03 March 1969
[i]
https://www.ebay.co.uk/itm/324641663166
Share This Post :