The Outside In: A Q&A with Steven Claydon on The MERL
Artist Steven Claydon is interested in the cultural histories and narratives acquired by objects and artworks over time – like objects in The MERL collections, which have been removed from everyday life, put on display in a museum, and given new value as artefacts of cultural heritage. Through playful juxtapositions and manipulations of material and context, Claydon's work explores the extent to which meaning is endlessly changeable, versus the innate power that rests in any object as a thing.
Claydon's new exhibition The Outside In takes the form of three sculptural installations in The MERL galleries. By introducing "outside" and, in particular, non-English objects from New Guinea and Melanesia into the displays, he prompts viewers to question the process through which the Museum has constructed meaning (and Englishness) around its own collections. How does this change when brought together in a new display context with "outside" objects? What similarity can be found across time, space and function?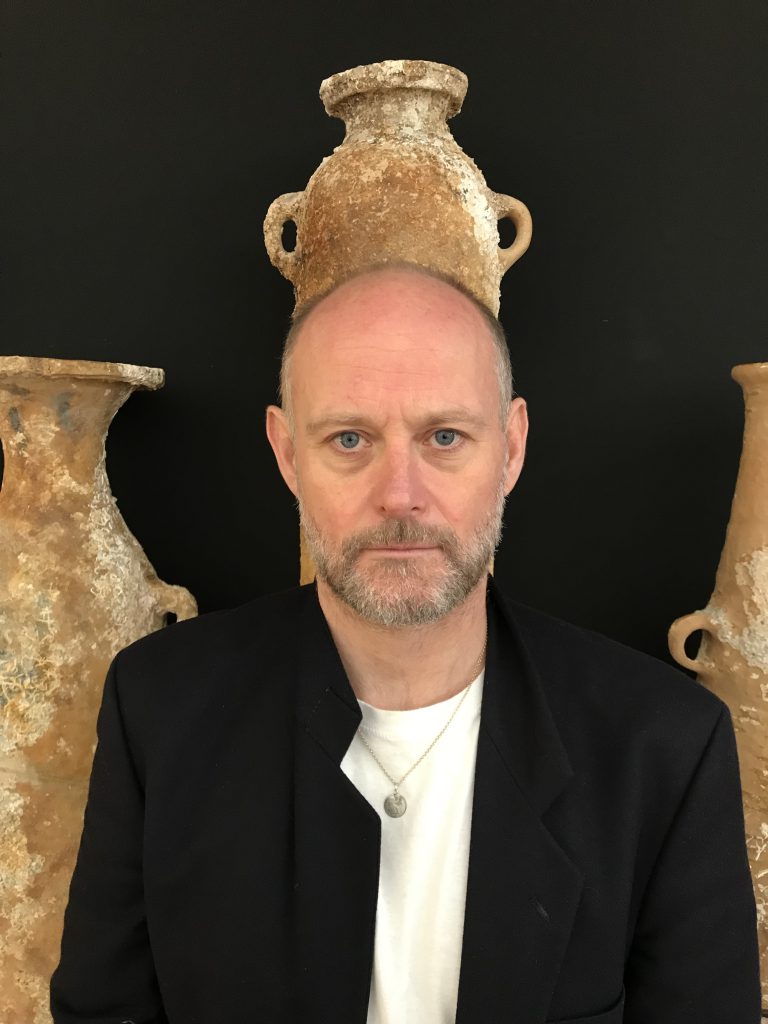 Curator of the University of Reading Art Collections, Dr Naomi Lebens, asked Steven about his process behind curating and creating work for this exhibition, and his experience of working with The MERL.
NL: Can you describe your first impressions of The MERL?
SC: As an exhaustive resource…the gleaning and subsequent regimentation of vernacular and colloquial artefacts, that are then characterised and identified as a collection, fascinated me. The very act of assembly and designation brings a host of possibilities and contradictions that shed light on the nature of the institution as an educational and historical safeguard.
NL: Why did The MERL appeal to you as a venue for your work?
SC: It's a rare opportunity to work with such an important collection. The variety of options are endless as it touches on so many aspect of my practice as an artist. There is something intrinsically potent about amassed objects in situ that take on an ontological or magical character… like a massive, complex personality. What, in essence, interests me most is the transformation of the objects' use-value from its utility or tool-like nature to its role as narrative instrument and artefact of cultural significance.
NL: You've introduced a number of pieces from your personal collection into the galleries. What inspired your interest in Melanesian artefacts?
SC: There is a directness, an intensity to New Guinean and Melanesian folk objects that seems at once exotic and familiar. The remoteness of the location where these artefacts were made and ritually 'used', and from which they then globally migrate, adds to their intrinsic activity and agency. I was interested in that physical journey and in the conceptual journey from local, everyday efficacy to ethnographic objet d'art. Objects have a curious way of adapting and enduring through the changes inferred and imposed on them.
I wanted the pieces from my collection to be able to shed new light on the indigenous objects at The MERL through their similarities and their alterity or 'otherness'; to catalyse a re-reading via an altered context.
NL: In addition to pieces from your collection, the exhibition combines sculptures built for the space and existing works shown in a new context. Could you say something about how you went about choosing and creating pieces for this show?
SC: My work has always been concerned with the ways objects are housed. This might be a storage crate or shipping container, a vitrine or a pedestal. The way we present objects in domestic, commercial and institutional settings affects the way things are read and the way they speak. I think of objects as 'live' but I am also keenly aware of the way they are pressed into the service of a noble cause or cultural conceit. I use and confuse the language of museum architecture, window display and logistics/storage to highlight the activity of objects and reinvest them with a kind of urgency or tension that is sometimes lost.
I use installation and context and notions of preservation and security in a dramatic way in order to allow objects to perform.
NL: How would you describe the experience of curating an installation in The MERL's galleries, both as opposed to a contemporary art gallery and in relation to other museums and galleries you've worked with before?
SC: I think I may have answered some of that question in answer to the previous but I will say again that these opportunities do not present themselves very often and the privilege of working with the institution and the experience and expertise of the staff has taught me much and allowed my work to develop and grow into the crevices of the collection.
NL: If you could develop a second show based on The MERL's collections, what might you choose to focus on?
SC: The possibilities are endless. I'm interested in the crossover between decorative art and utility… ceramics in particular but the museum has multiple examples of objects whose ambiguity renders them fascinating. I would love to explore 'cusp' objects, that is, objects at the point of transitioning. There is the Sanctus bell and the woven birthing mattress that was perhaps used as an apotropaic object to ward off evil in the eaves of a dwelling. That mysterious space or recess where things develop their own identity without the direct light of social orthodoxy… that's where I would concentrate.
The Outside In
 opened at The MERL on October 20th 2018. Steven Claydon appears
in conversation
with audiences at The MERL on November 28th, 2018. Admission is free but booking is recommended for the events.

Written by Dr Naomi Lebens, Curator of University Art Collections
Share This Post :