Autumn is Here: Grab Your Mattock, People!

September. The darker nights are drawing in, casseroles will soon be making a triumphant return to our kitchen tables, and mattocks are having a moment.
That's right, mattocks. The ultimate Autumn tool for farmers everywhere.
But what are these mysterious tools, and why have they been so important to agriculture through the ages?
What's the mattock's story?
For hundreds of years, September has marked the start of the agricultural year. Known as Michaelmas, this was a time for the drilling and sowing of winter wheat, the weaning of lambs, and preparing the land for the winter and the following spring.
That's where our mattock comes in. Used to break up large clumps of soil in the fields after ploughing and unearth roots when cutting back plants in the autumn and winter, mattocks helped to prepare the land for growth the following spring and summer. Although our 21st century farmers have dead fancy machines to do all of this now, to the twelfth century farmer mattocks were a tool of the trade, with accounts of the period painting a picture of medieval agriculture and the mattock's starring role.
'after the plow there goeth some three or four with mattocks to break the clods'.
The mattock's history does not start here however. Archaeologists have unearthed mattocks made from deer horn in the British Isles, dating as far back as the Late Mesolithic period.1 These discoveries have been linked to the rise of agriculture in Britain around the same time, so it comes as no surprise to see mattocks a plenty lining the store walls here at The MERL. Now a firm favourite of the avid gardener, the mattock's shine shows no signs of fading.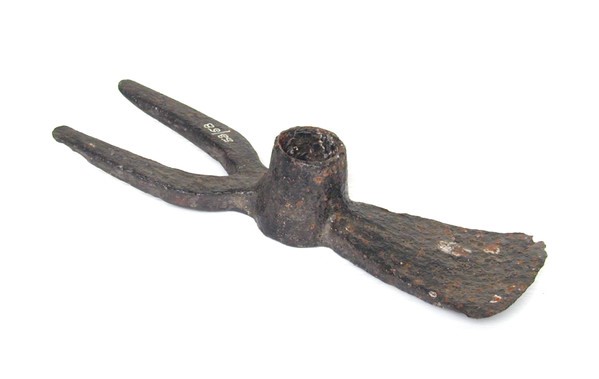 What does the mattock do?
With an adze (a cutting tool, similar to an axe) on one side, mattocks come in all shapes and sizes. Depending on their purpose, axes, pronged forks, and picks were all common additions to the mattock. Axes allowed the user to chop at roots and shrubbery. Pronged forks helped in scraping the earth to locate clumps of earth and stones, and picks allowed stones and denser areas of the land to be chipped away. From hop mattocks to cutter mattocks, miniature mattocks to just good ol' mattocks, The MERL's seventeen examples show the mattocks versatility and the role it has played in the life of rural England.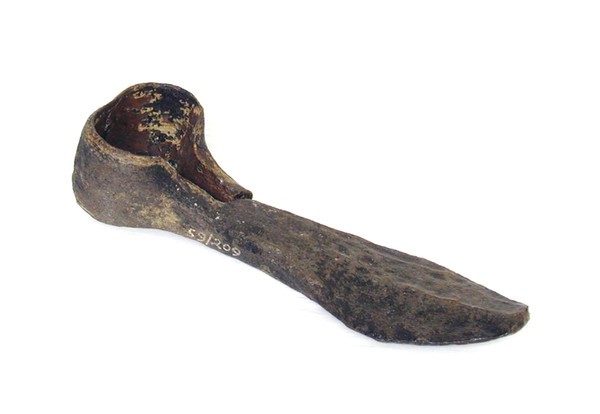 So whether you're an avid gardener whose soil is in need of a good de-clumping, or a farmer who wants to get back to their roots (excuse the pun), grab your mattocks this September and see your land flourish next Spring.
---
1  William Henry Ricketts Curtler, 'A Short History of English Agriculture', pg. 107.
2 I. J. Thorpe (1996). "The introduction of farming to Britain and Ireland". The Origins of Agriculture in Europe. Material Cultures Series. Routledge. pp. 94–118. ISBN 978-0-415-08009-5.
Share This Post :