Changes to reading room bookings and self-service photography

If you've visited the reading room recently, you may have noticed that we've been rather busy.
It's terrific to see so many people, especially new visitors, making use of the collections. All the work we do behind the scenes is so that our collections can be accessed and enjoyed by the public. These range from international scholars travelling half way across the world, to Museum visitors curious to find out more about what they have seen in the galleries.
There's one 'small' problem though – space. There is space for 20 seats around our reading room table but we can easily reach capacity with 10 researchers. The reality is that collections need space to ensure that they don't become damaged and to avoid the risk of cross-pollination between different collections. A researcher consulting a box of files and using a laptop will take up the space of two chairs. A researcher consulting large drawings will require at least four spaces.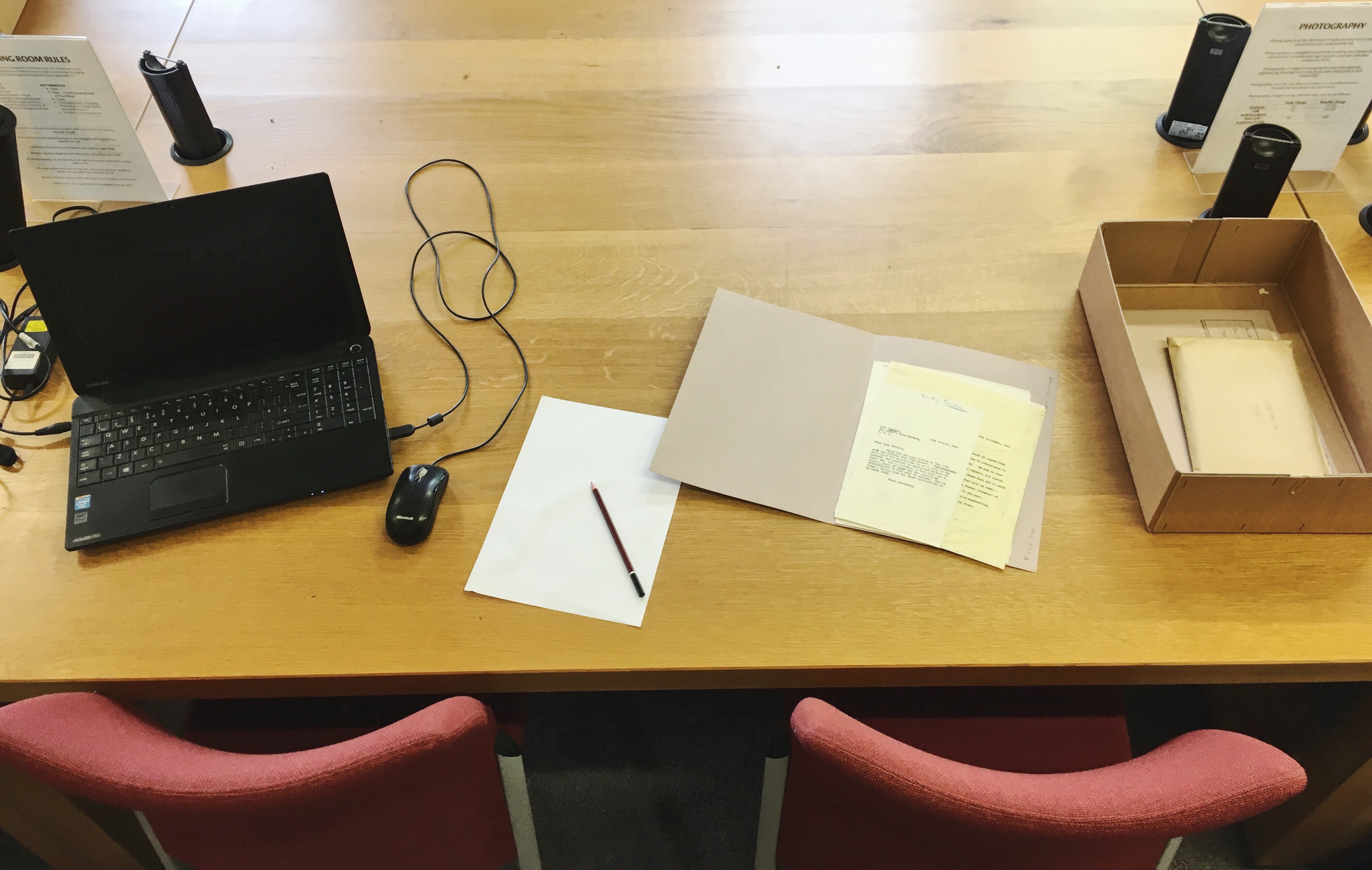 If we squeeze too many researchers in, aside from being cramped, we run the very real risk of documents becoming mixed up and damaged. You can find more about the advice we offer researchers about handling collections here.
So how can we increase capacity?
We're introducing a new half day booking option. If you only want to visit for a morning or afternoon then we can offer up an extra space to another researcher. You may need to spend a whole day in the reading room and you can still do that. You may not know how long you'll need because you don't know how useful and how much material there is to see. That's also absolutely fine. We understand that using collections can throw up surprises and open up avenues you weren't expecting. It's one of the exciting things about collections.
So when you book a spot in the reading room we'll be asking when you expect to arrive and how long you'd like to stay. We'll be splitting the day into sections: 9am-1pm and 1-5pm (with 5-9pm during late night opening). If you will be arriving at lunchtime we can allow your space to be used by another researcher in the morning. If you want to spend all day in the reading room we'll simply book two slots for you.
Do keep in mind that we cannot collect material from our stores between 1-2pm so, if you arrive during this time and haven't pre-ordered material, you will need to wait until 2pm before we can fetch items again.
We always advise researchers to book a space in advance if possible. We hate to disappoint anyone wishing to access the collections. This is particularly important during term time. This might not be possible and we'll do our very best to accommodate you.
Changes to self-service photography
We review our reading room policies and procedures every year. We have decided to make some changes to the self-service photography permits which will make things easier for researchers.
Each researcher wishing to photograph any material using their own device in the reading room has to sign a copyright declaration form.
The current prices for photographing material are as follows:
| | | |
| --- | --- | --- |
| | Daily | Weekly |
| Students | £3 | £7.50 |
| UoR academics/staff | £5 | £12.50 |
| Other | £8 | £20 |
The charges above will remain the same for closed access material (collected from one of our repositories by a member of staff) but we will no longer charge researchers for photographing open access library material (from the open shelves).
Researchers photographing open or closed access material will no longer have to detail each item they photograph. Completed forms will be collected in by reading room staff instead of remaining with the reader at their desk.
If you have any questions at all about the above, speak to a member of reading room staff who will be more than happy to answer them.
More details about our facilities can be found on our reading room page.
Share This Post :