COVID UPDATE: Please note that in line with the Government's roadmap, the gift shop is now open! Please see Visit Us for details.
No museum visit is complete without a browse in the gift shop. At The MERL, we are delighted to offer a choice range of cards, gifts and treats, inspired by the themes of our galleries, collection and rural history. So whether it's a little something for the kids, or a souvenir to remember your visit, we're sure that there's something for you.
New 'MERLchandise' in stock now!
We're delighted to stock our new, exclusive range of products, developed in partnership with Art UK, featuring the famous 'Absolute Unit', other archive images and popular livestock paintings. Come and see the new displays! You'll also find our limited edition 'Absolute Unit' T-shirts.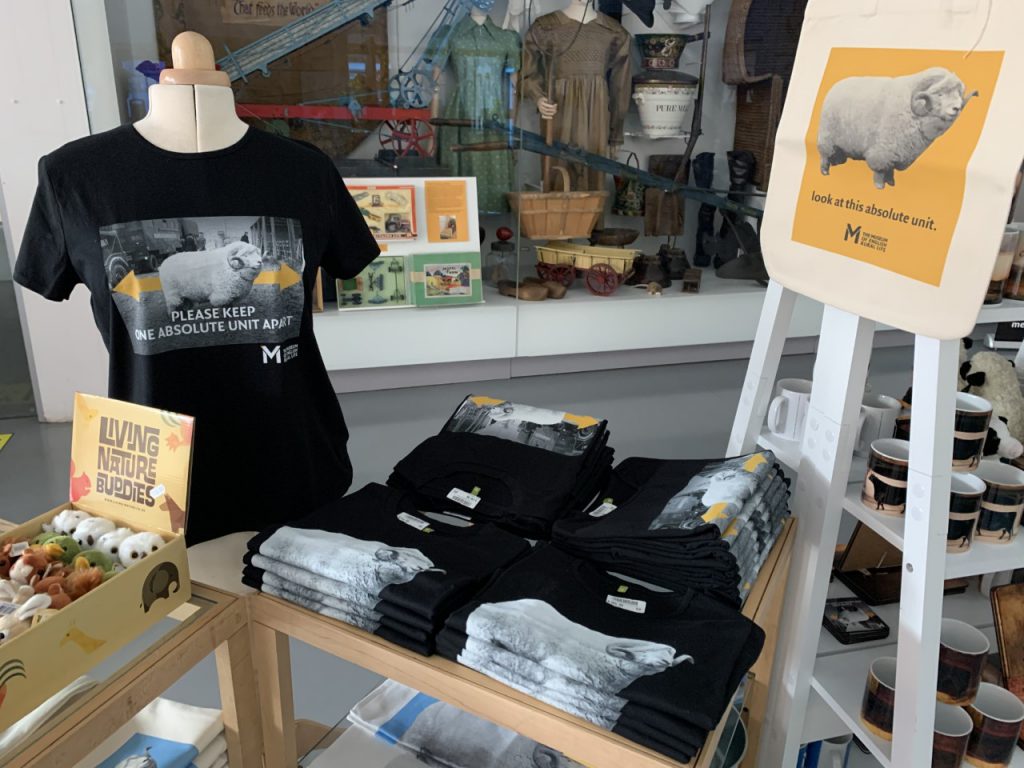 THE MERL MAKERS
The MERL gift shop also features handmade products created by local and regional artists and makers, as well as our own very talented staff.
Currently, shoppers can enjoy knitted and crocheted items handmade by the Museum's 'Mewes Knitters' group, beeswax food wraps, and, of course, face coverings made from fantastic rural-themed fabrics!
CARD AND CONTACTLESS PAYMENTS ONLY
From the 8th September 2020, we are no longer able to accept cash payments at the on-site shop. This is to reduce the risk of spreading the coronavirus through the handling of cash, and is in line with other outlets across the University of Reading.
We are still able to accept cash donations, and University of Reading staff and students can us their Campus Cards to make payments in our gift shop.
We offer a discount of 10% to University of Reading students and The MERL volunteers.
All shop purchases go towards supporting The MERL's activities and programming.
If you'd like to support us with a cash donation, you can now do so online via our online donations page! Thank you!