Winter Display
Tap the yellow hotspots to see more information on the selected object.
Start Exploring now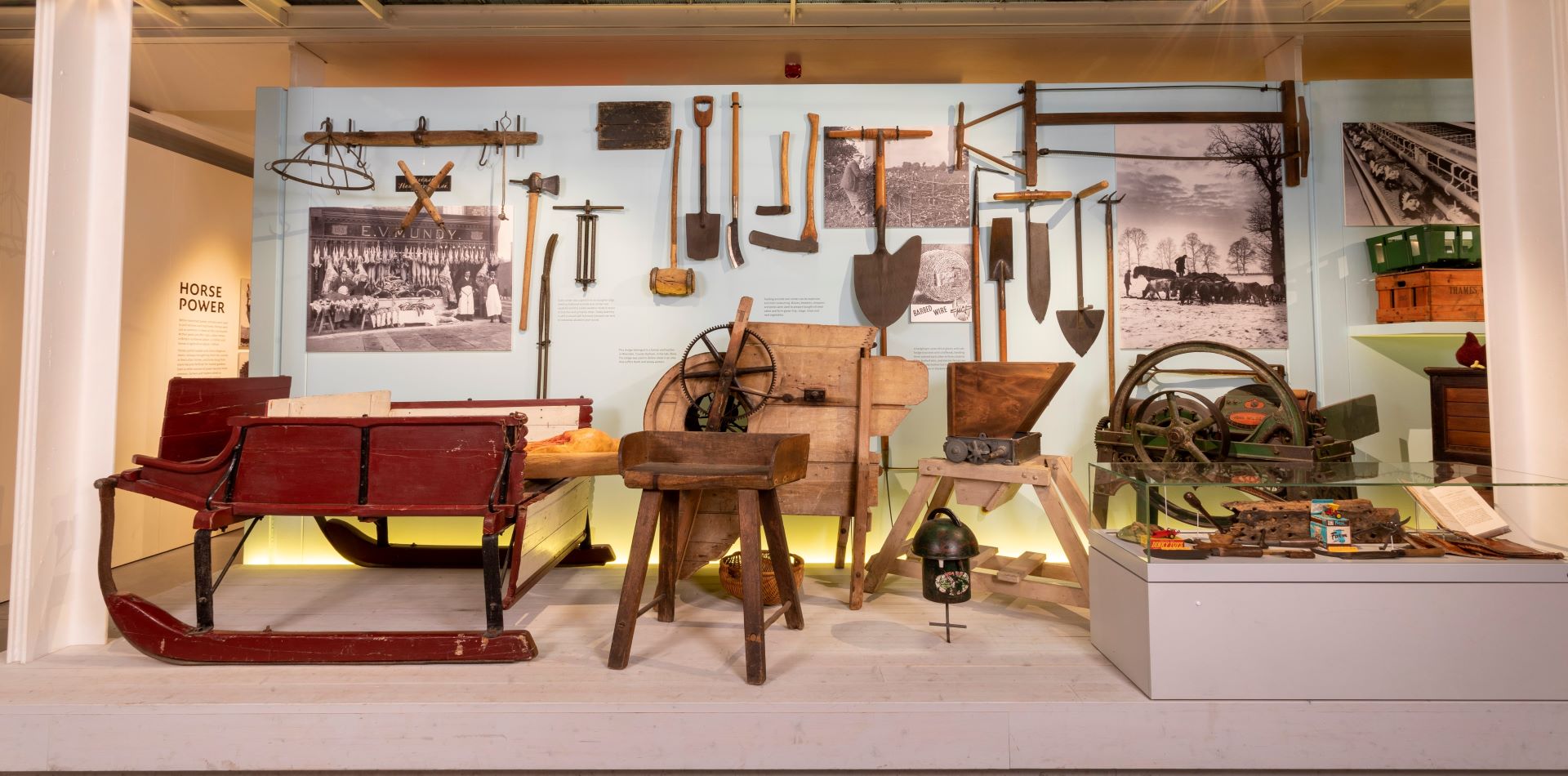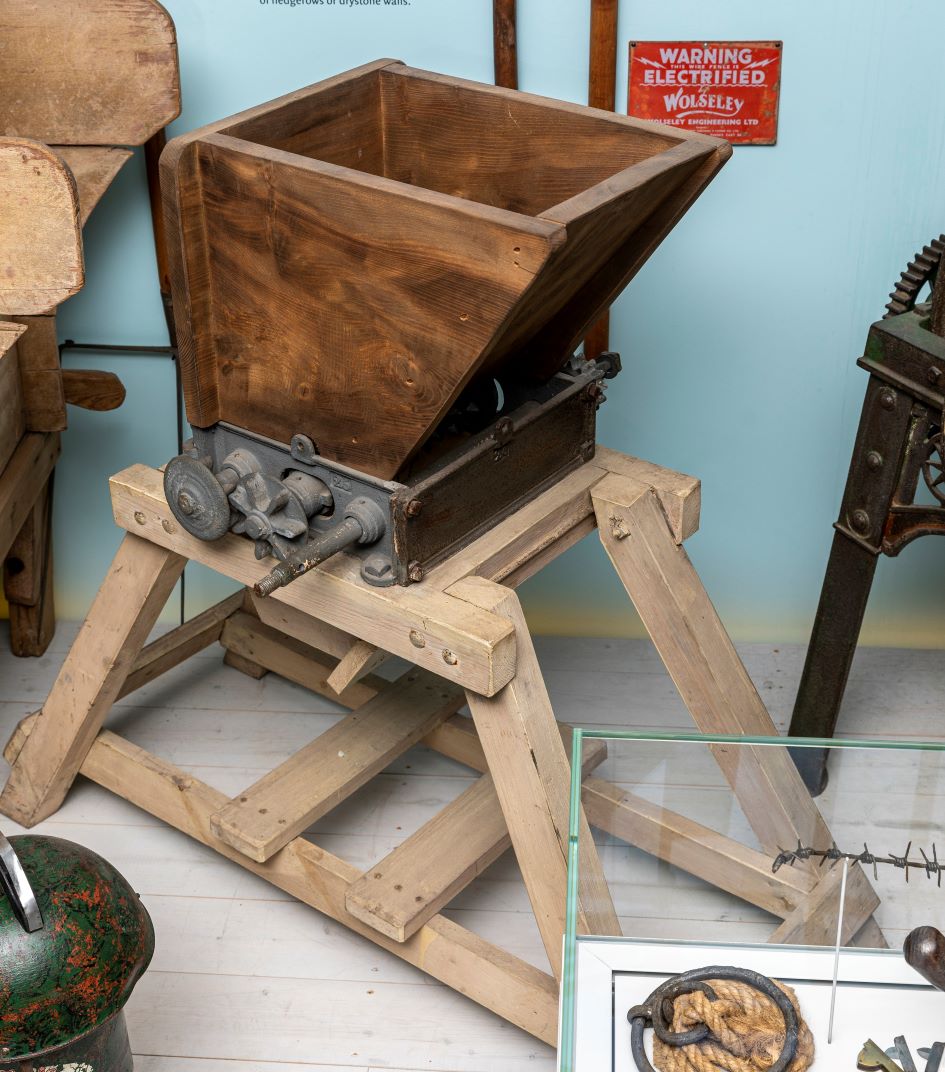 Cake breaker
This equipment is a cake breaker, a device used for breaking oil cake into smaller pieces so that animals could eat it. Oil cake is less appetising than it sounds – at least for human consumption! After liquid oil is extracted from rapeseed and linseed, the leftover solid material is made into oil cakes. These cakes provide a key source of protein.
However, it is important to know your plants before feeding the cakes to livestock, as some oil cakes – such as those produced from castor beans – are toxic and used for fertiliser instead.
MERL 53/197
close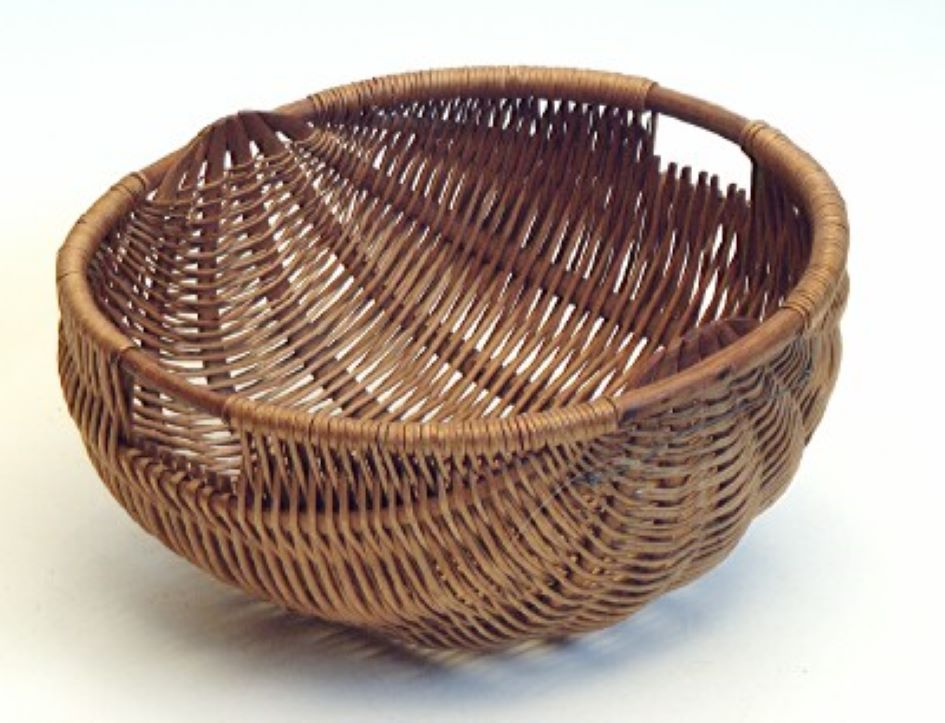 Potato skep
This is a potato skep, a basket used when planting potatoes. It is made from ash and willow, and was constructed by a basket maker in Ceredigion in around 1945.
The variety of baskets available in this region of Wales was widespread. For example, a 'cyntell' was a multi-functional basket used to carry items around the farm. Potato baskets of other regions often have different names and slightly different appearances. For instance, a 'skib' is a basket of Irish origin with a circular shape and flat base.
MERL 60/768
close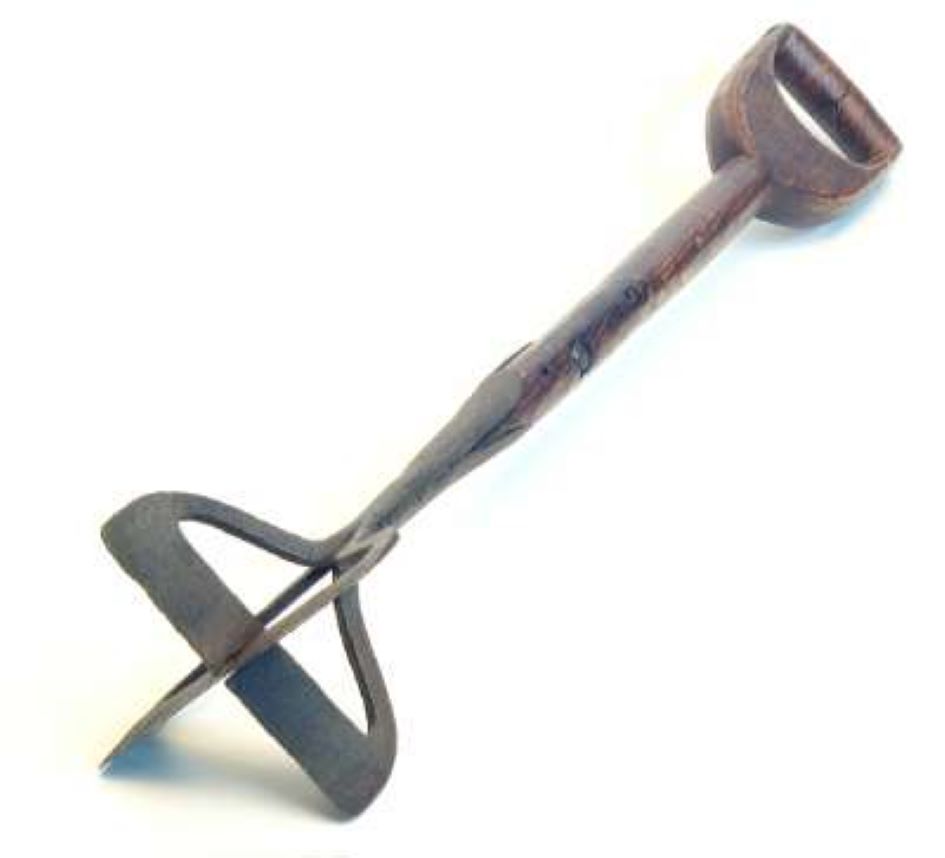 Root chopper
Root choppers are used to cut turnips and the roots of vegetables to feed to animals. The discovery that farm animals thrive off the roots of certain vegetables revolutionised livestock farming in the medieval period. Previously, animals such as pigs were not kept in significant numbers throughout the winter, as there was not enough grass to sustain them. Instead, all but the breeding animals were slaughtered. Once turnips and other root vegetables were grown to feed them, meat was more generally more available to the British population, even in the coldest months.
MERL 68/151
close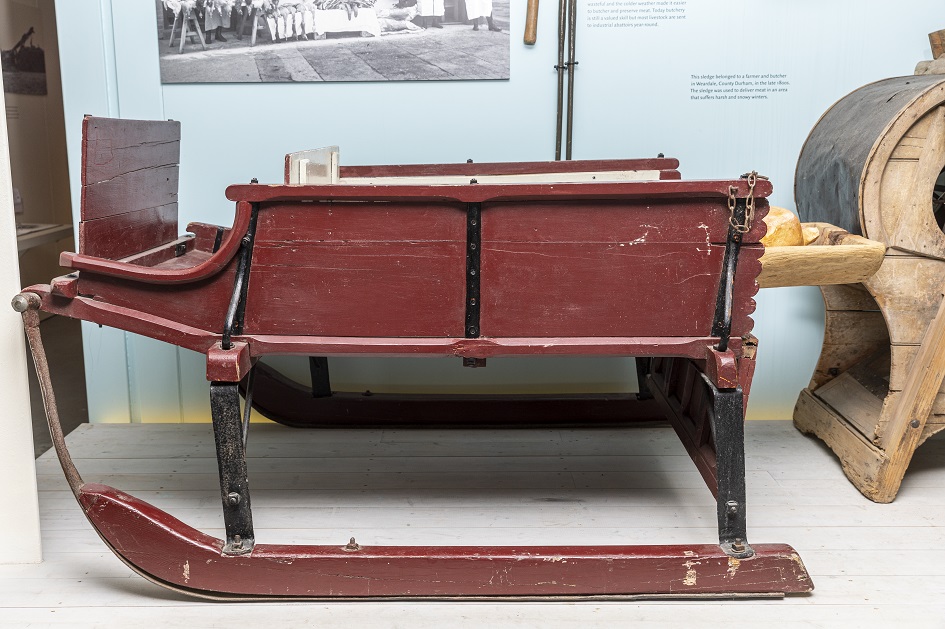 Butcher's sledge
Used in the Weardale area of County Durham, this sledge was used by a 19th century butcher to deliver meat. Meat-eating became widespread in the Victorian period, although the quality of cuts available to rich and poor differed greatly. Shopping at a butcher was typically a daily occurrence, as without refrigeration it was difficult to keep meat fresh. Heavily salting the meat was one way to combat this, although many thought salting spoiled the flavour. Delivering meat via sledges would have been more commonplace in rural areas. In cities, the close proximity to a large customer base made this unnecessary.
MERL 57/208
close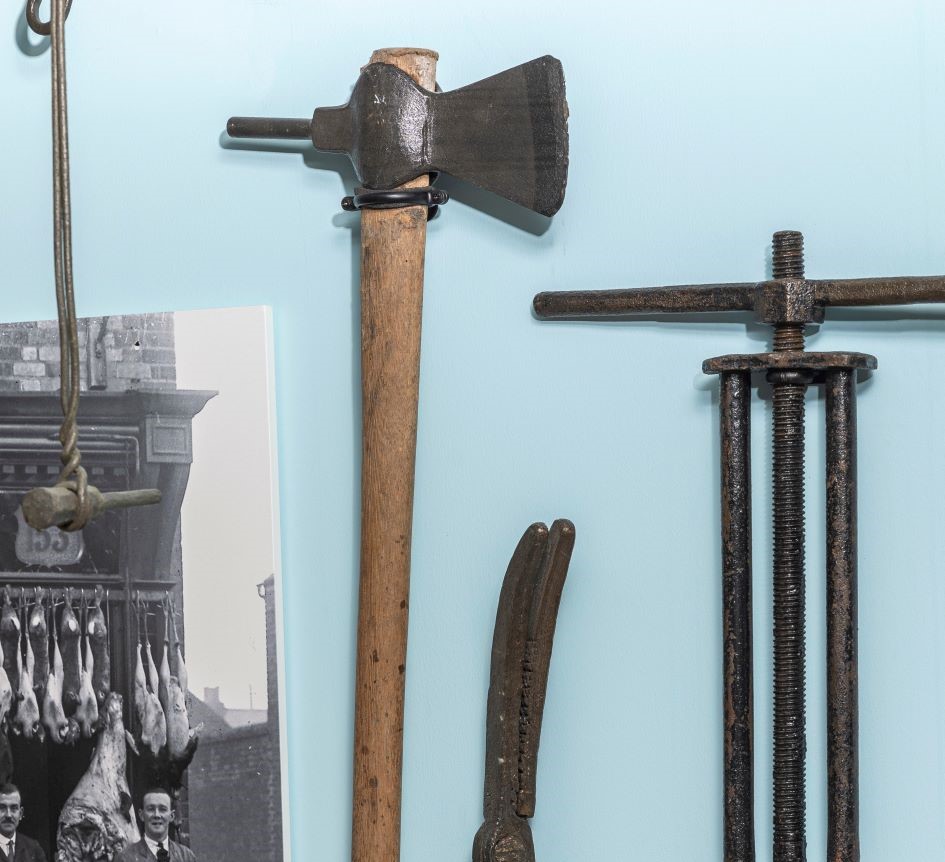 Pole axe
This pole axe was kept by a local family butcher in Halesworth, Suffolk. It was used to stun animals into unconsciousness during the slaughtering process, in order to reduce their suffering. However, as it depended on the strength of the wielder to be effective, it was not a particularly humane method. Percussive bolt guns are now used which are more reliable. Using a poleaxe for stunning was outlawed by the 1933 Slaughter of Animals Act.
Pole axes are perhaps better known for their use as a medieval weapon, as their weight and versatility made them effective against armoured knights.
MERL 65/7
close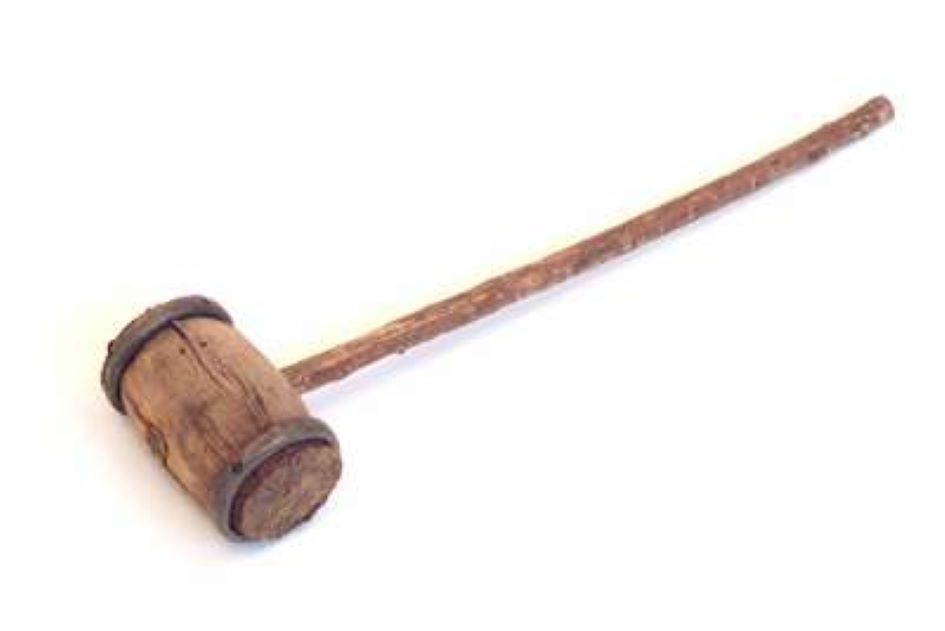 Fencing mallet
This fencing mallet, also known as a 'Beetle', was used to hammer in stakes for either hedges or fencing. Fencing on farms not only keeps animals in to prevent them from trampling on crops, but also deters thieves and predators. It is important for a farmer to recognize the ideal fence for their livestock. Barbed wire fences, which became popular during the industrial revolution, are ideal for sheep and cows but not for fast moving animals such as horses.
MERL 75/121
close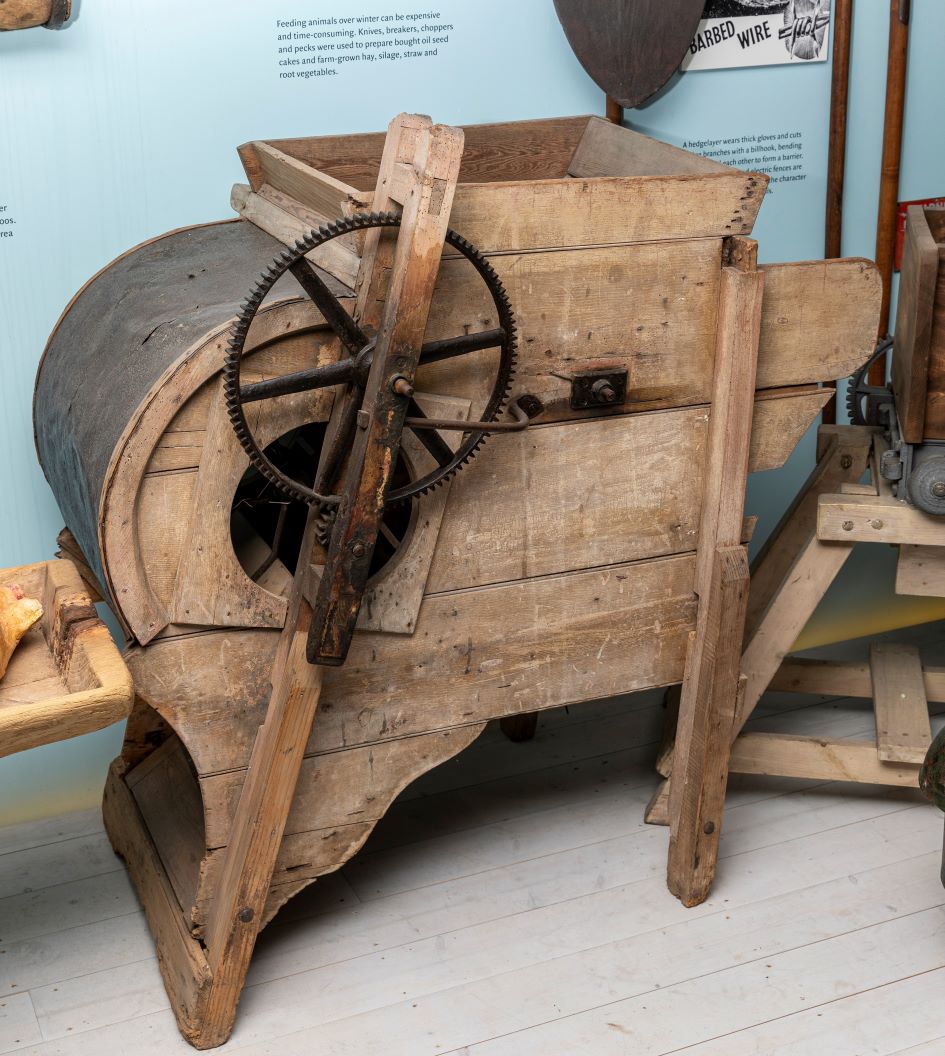 Winnowing machine
This is a winnowing machine, used to separate wheat from chaff. It was used on a farm in Stratfield Saye between the 1920s and 1950s. Winnowing is the stage of the harvesting process after reaping and threshing; when the grain has been cut and removed from the straw.
Before mechanisation, a basket known as a winnowing fan was used for the process. The grain would the thrown into the air and the chaff blown away. Early winnowing machines, which used a hand crank to produce an artificial airstream, were first invented in Ancient China but were not seen in Europe until the 18th century.
MERL 55/218
close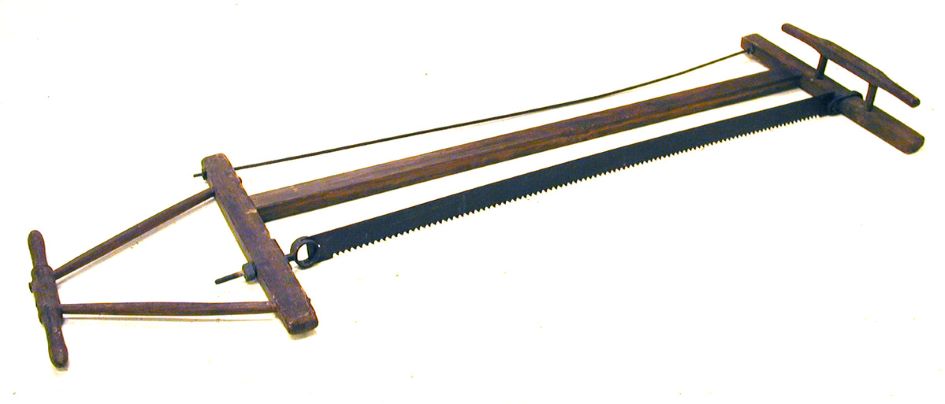 Pit saw
Pit saws are large saws set within a wooden timber frame. They are designed to be used by two people to cut a tree trunk into manageable pieces. This saw was used at a wheelwright shop in Eddington.
Different types of British timber can be utilised in different ways. For example, ash is the strongest and is used for tool handles and other items that need to survive heavy wear. Oak, meanwhile, has a variety of uses. Higher quality oak is used for furniture, whereas lower quality oak is often used on the farm for fence posts.
MERL 51/317
close