Welcome Case – KG
Our Welcome Case holds a cross-section of what we have in the collection. Tap on the yellow circles to find out more about individual objects.
Start Exploring now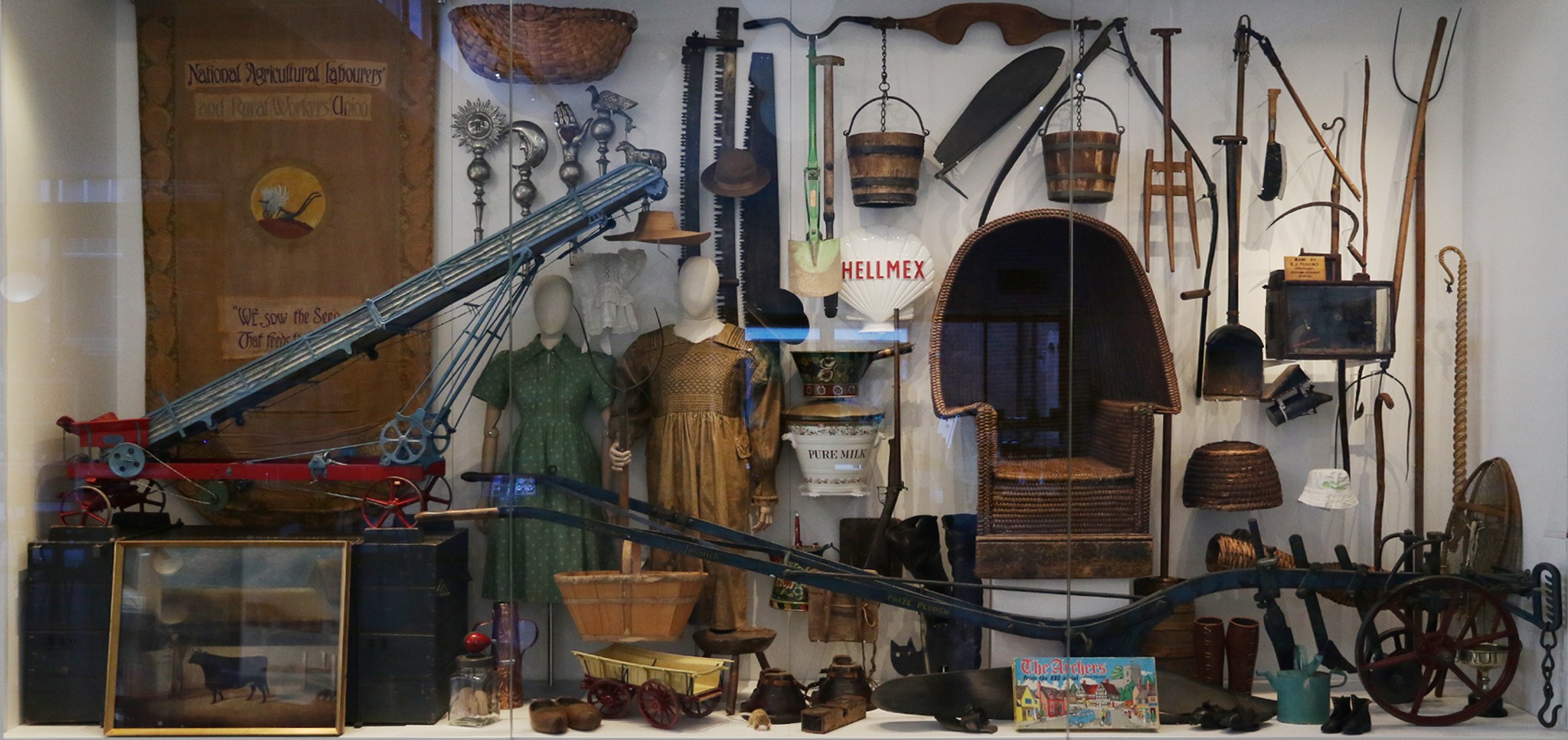 Where is this banner from?
+
Who designed this dress?
+
What were these used for?
+
What is this vase's origin?
+
What are these made from?
+
What do we know about this?
+
What type of saws are these?
+
The Archers and The MERL
+
What do we know about this?
+
How did this eel trap work?
+
What do we know about this?
+
What were flails used for?
+
What were these used for?
+
What is different about this?
+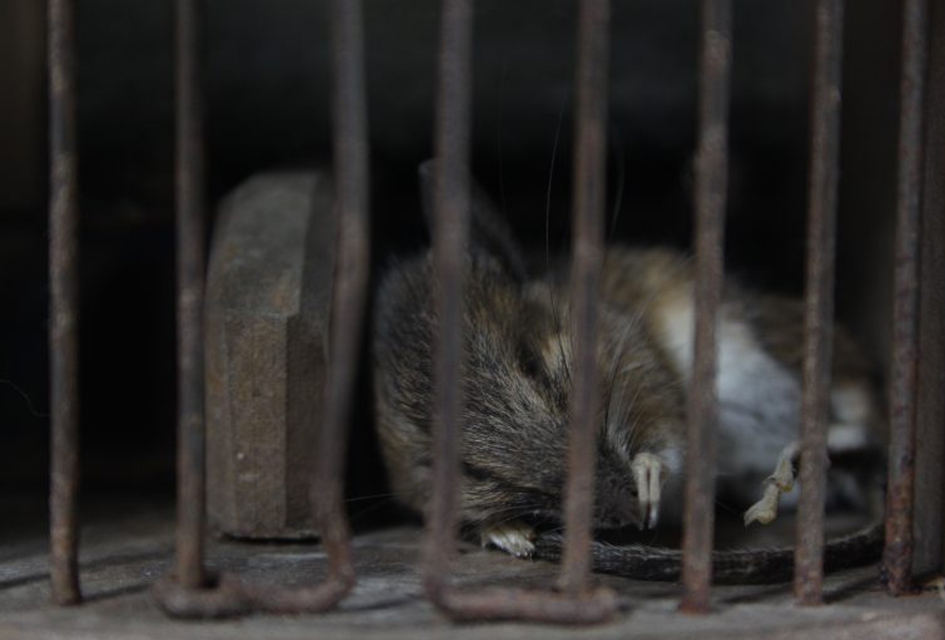 What happened when a mouse sneaked into our store?
In February 2016 a mouse sneaked into our upstairs object store. Out of c.30,000 objects – she managed to find a shelf that held nothing but historic mousetraps!
It was a 'humane' trap—not intended to cause harm—but we don't expect to mice to be in the objects so she wasn't released. Our curator found her body and the sad tale was shared around the world on the Buzzfeed website.
The trap was produced by Colin Pullinger and Sons of Silsey, West Sussex, to a design patented in 1861. This example was made in the early-twentieth century.
close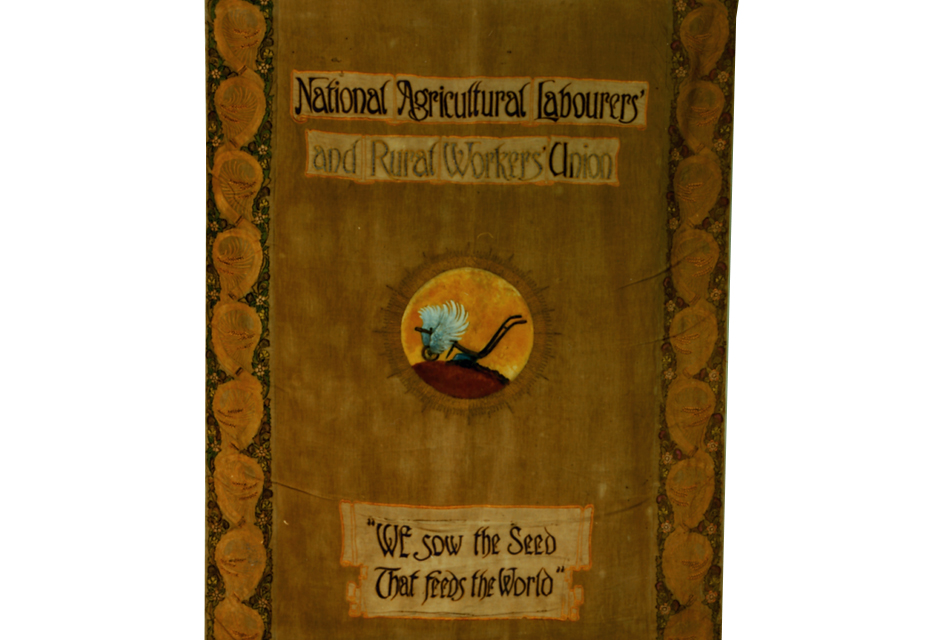 Where does this banner come from and what was its purpose?
This was the first banner of the National Agricultural Labourers & Rural Workers Union (NUAW), designed by Walter Crane and made in 1913.
This came from the Norfolk area and was used in the annual marches and demonstrations. In some societies, banners were unfurled after roll call. To carry the banner was an especial honour. In certain clubs the task was given to the senior members, other unions auctioned the privilege and labourers saved up to carry the first flag. The sentences on the banners are usually either the motto of the club, references to work or unity within the club.
close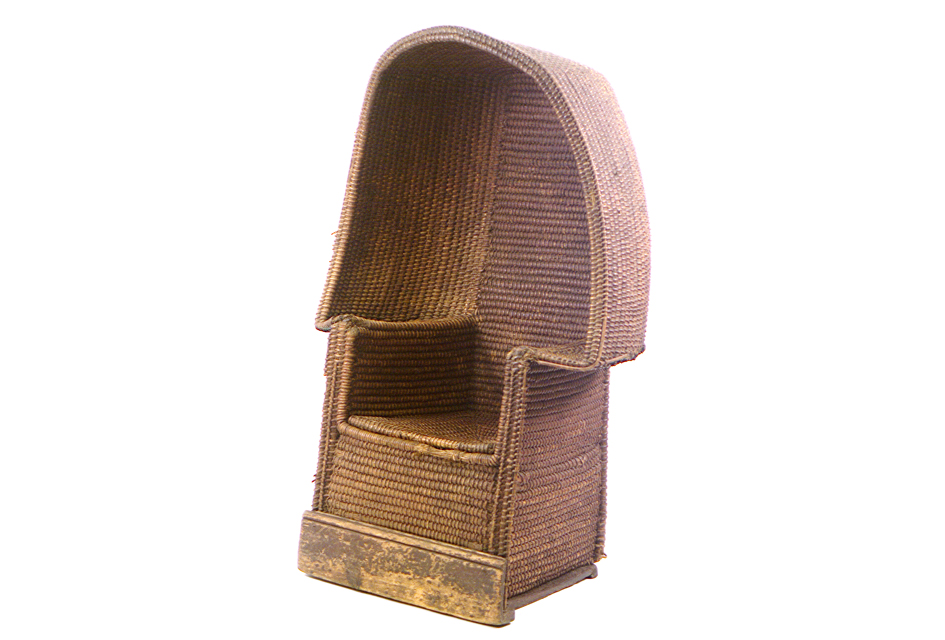 What was this 'Beehive' chair made from and used for?
This 'Beehive' chair is probably from nineteenth-century Gloucestershire, and is made from straw bound with wapping cane, with the edge of the seat hole is bound with bramble.
The back is extended into a hood or canopy joining the wide arms so that it was draught-proof. The seat is low and lifts out to show a square hole, probably intended as a commode.
An employee of Gloucester Folk Museum said the making of these chairs was an off-shoot of the local Severn fishery weaving of straw. Makers of these chairs were called lip-workers.
close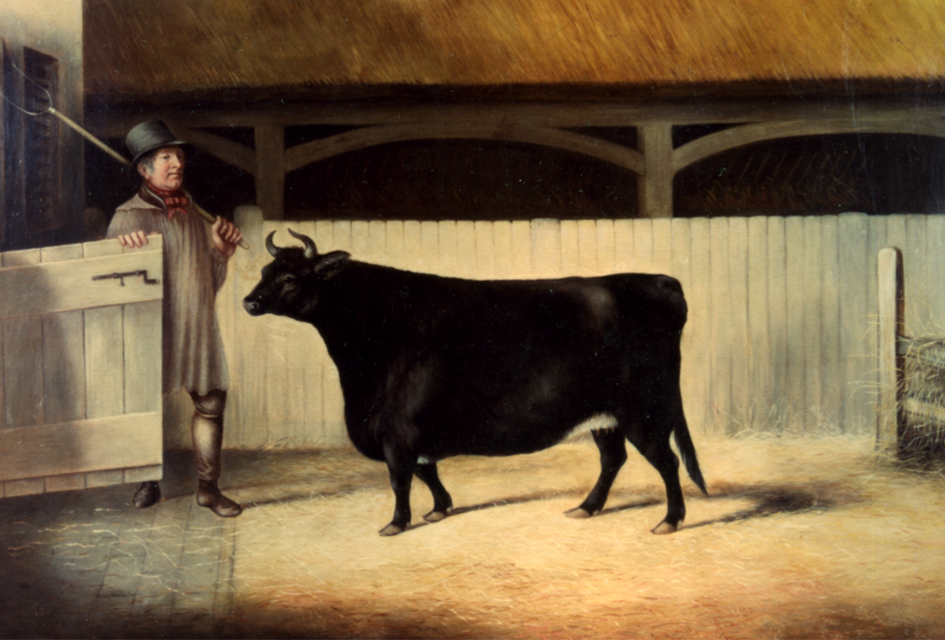 Why did people paint such pictures of livestock?
This nineteenth-century painting by an unknown artist shows a small black cow being led into a building by a man wearing a smock, a handkerchief and a hat, holding a pitchfork.
Portraits of livestock were usually made to celebrate prize-winning animals, both as a mark of pride and – through the production of print copies – spreading word of the farmer's achievements.
close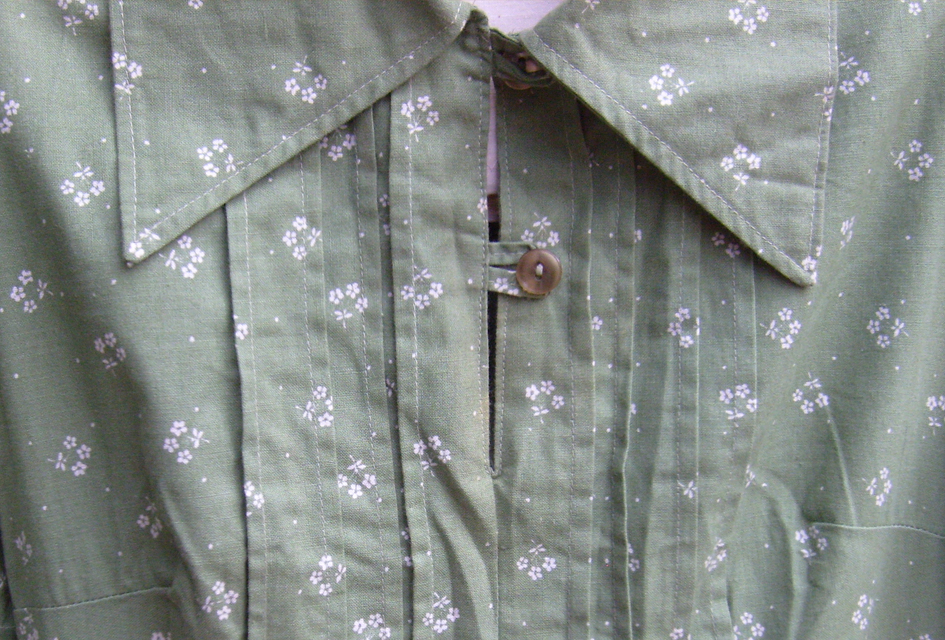 Which company designed this dress?
This 'folk' or 'prairie' dress was manufactured by Laura Ashley in the 1970s and made in Wales. It is made of light green cotton, with a white floral detail.
It has puff sleeves, loop button enclosures and a pleated bodice – note some of the similarities to the traditional smock next to it.
close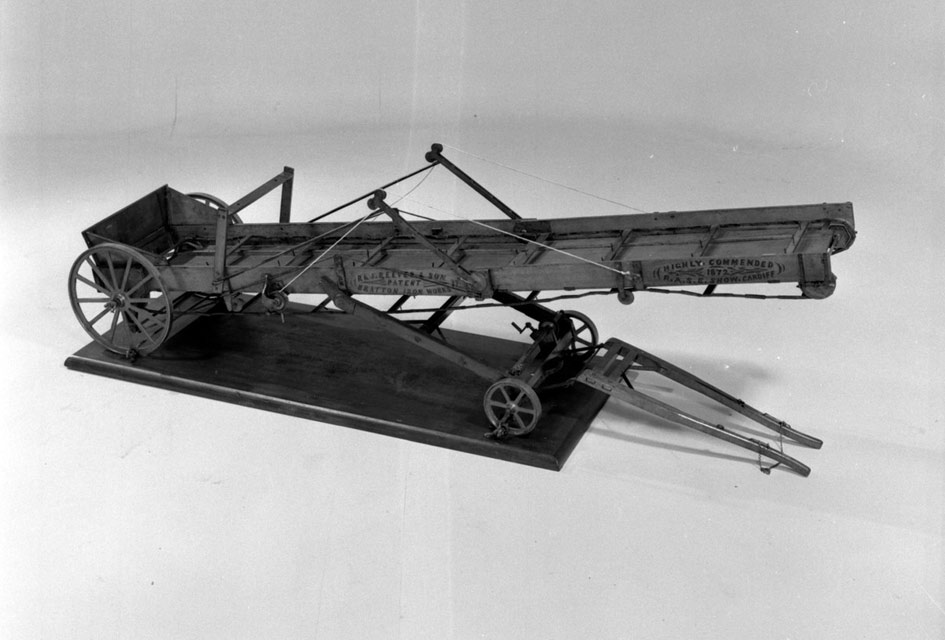 What were hay elevators used for?
This is a model of an Advance Elevator, made by Messrs Reeves. Elevators were used for transporting material from the ground to a higher place, and were often used for carrying grain up to a threshing machine so that the seeds can be separated from the stalks and husks. Models such as this one would have been used for advertising purposes.
close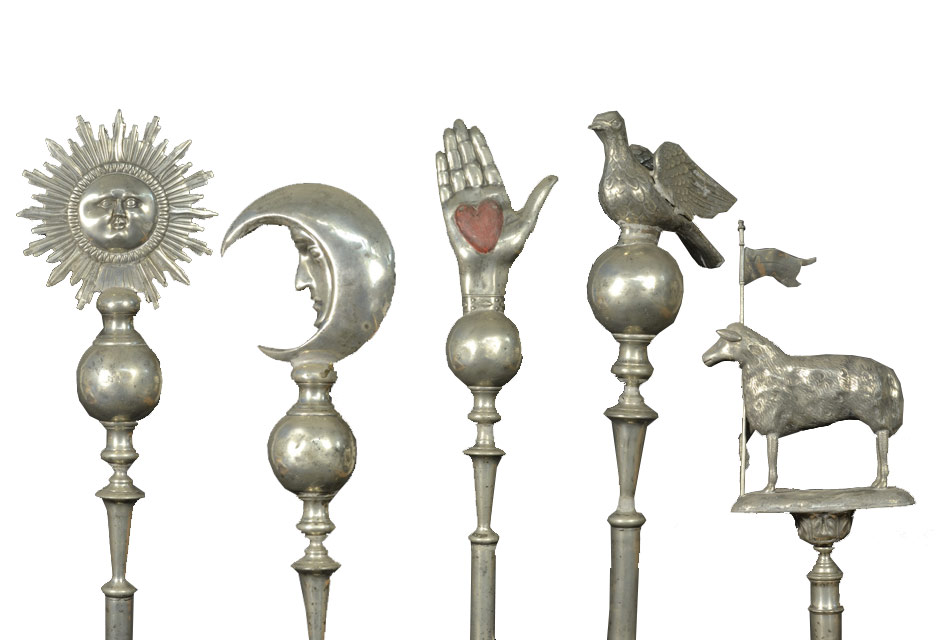 What are these ornaments and how were they used?
This is a selection of Friendly Society poleheads, all made of pewter. When mounted on poles, they would be carried in procession on annual 'walks'. These parish friendly societies were formed to provide some insurance for their members against sickness or death, though in addition they played an important part in the social life of the village.
The majority of these societies dated from about 1793 when the Government passed an act to encourage their foundation. Several more acts followed during the first 60 years of the 19th century, until excessive government protection led to the decline of the clubs. A few however remained in existence until the National Insurance Act of 1911. Most clubs had a strict code of behaviour laid down in their constitutions and usually the annual meeting was followed by a church service and a 'walk' round the parish. Although poles were carried in this procession in many districts, the use of brass heads was confined to Somerset and the adjoining counties. The design of the brasses was sometimes conventional or sometimes represented an interest of the club such as the inn in which the meetings were held.
close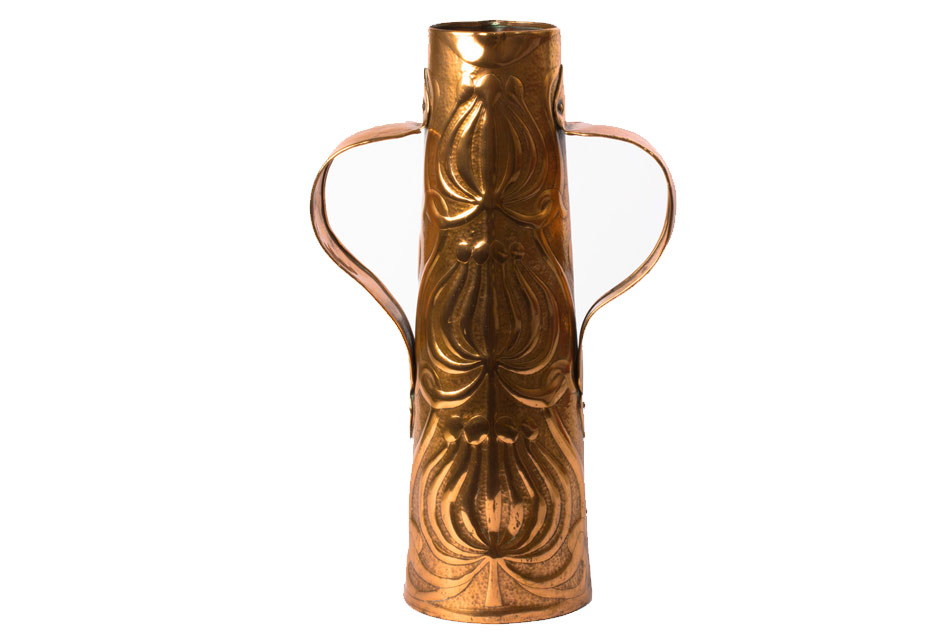 What is the origin of this copper vase?
This copper vase was designed by Elizabeth Waterhouse (1834-1918), and made by Harry Smith at the Yattendon Evening Class. Waterhouse set up the evening metal-working class for young men in the early 20th century, and it ran until the start of WWI.
The evening class was affiliated to the 'Home Arts and Industries Association' which came together in 1884 with philanthropic aims to stimulate handicrafts in rural districts. The Yattendon class made a range of repoussé copper and brass items. Over 5,000 pieces were made, and sold through a shop in the village and at Liberty's in London and other outlets.
close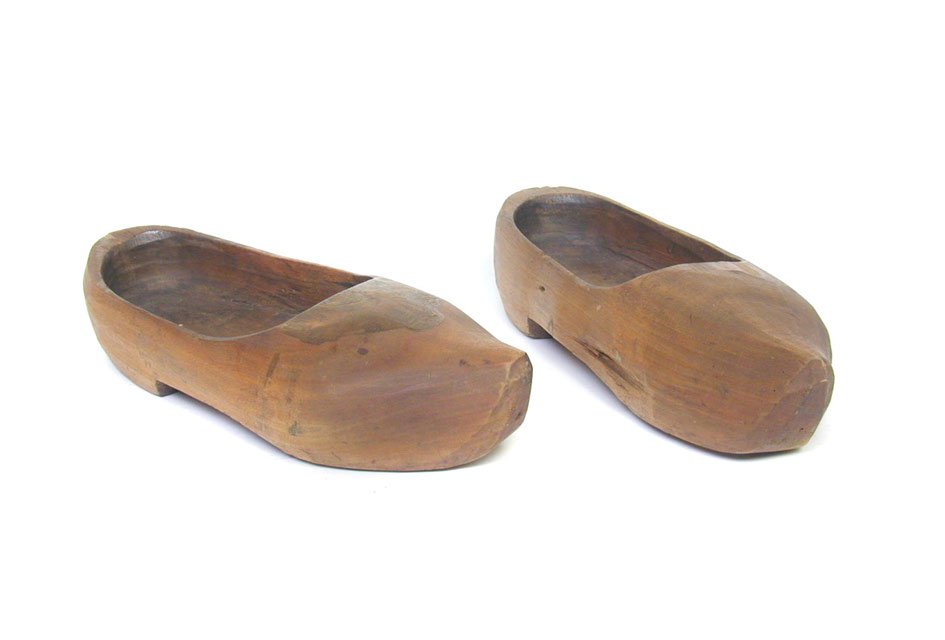 What material are these shoes made from?
This is a pair of clogs, each carved from one solid block of whitewood. They were used by the Guild of the Red Rose for a dramatic production, and are thought not to be English in origin. Clogs are a traditional form of footwear both in the countryside and the town, as they were relatively inexpensive to produce and hardwearing.
close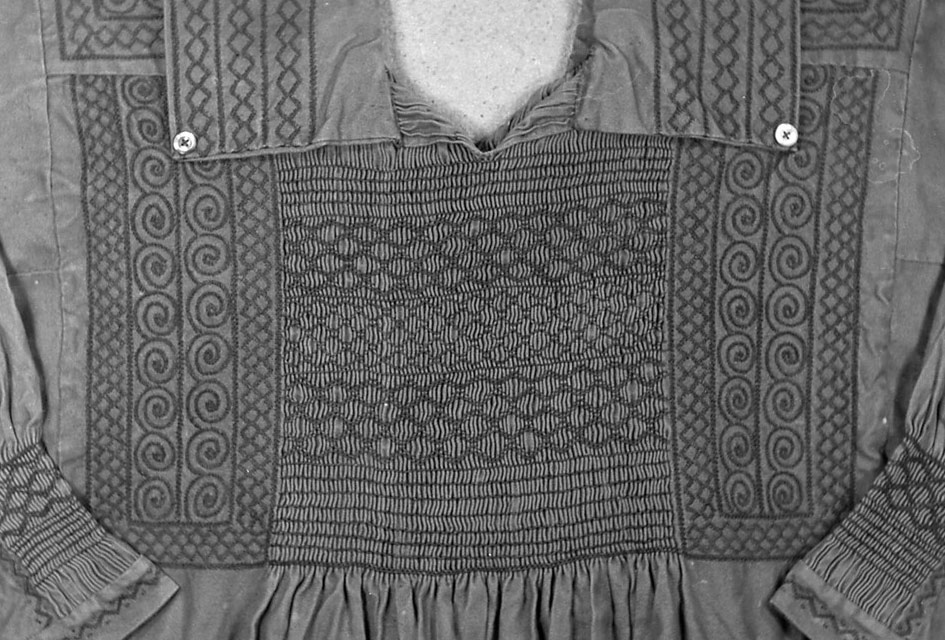 What do we know about this dress?
This Sussex smock came from Rogate and was collected by the donor's husband. It is reversible and is made of thick brown drabbet (a coarse linen) smocked with dark brown thread. It is embroidered on the front, back, shoulder straps and cuffs with feather stitch in designs of rectangles, diamonds, scrolls, and wavy lines, and the cuffs are embroidered with french knots. The date of this smock is not known.
close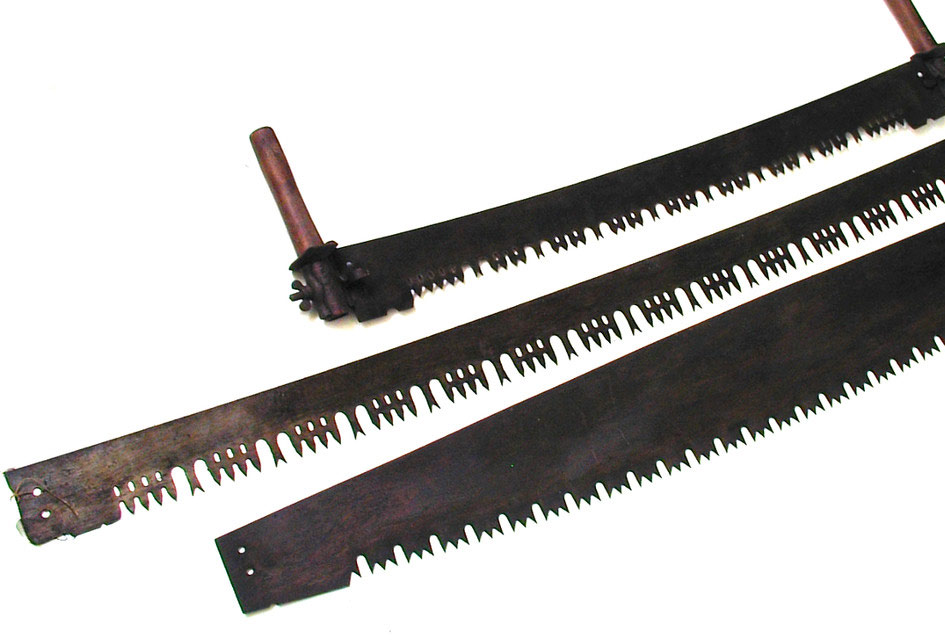 What type of saws are these?
These are three crosscut saws, all used by Harry Smith, a builder and carpenter of Earley, Reading. A crosscut saw has specially designed teeth to cut across the grain of a piece of wood.
close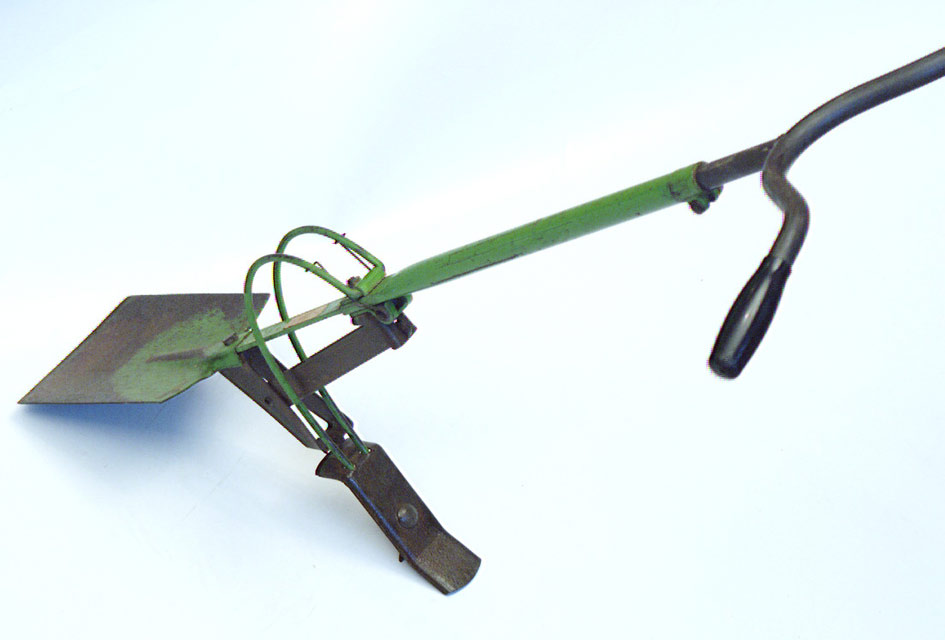 What is this object?
This is a 'WOLF-Terrex Spade' – a semi-mechanical spade made by Wolf Tools. The spade is designed to enable the user to dig without having to lift either the soil or the spade. It is believed to have been purchased in Reading some time in the late 1970s.
close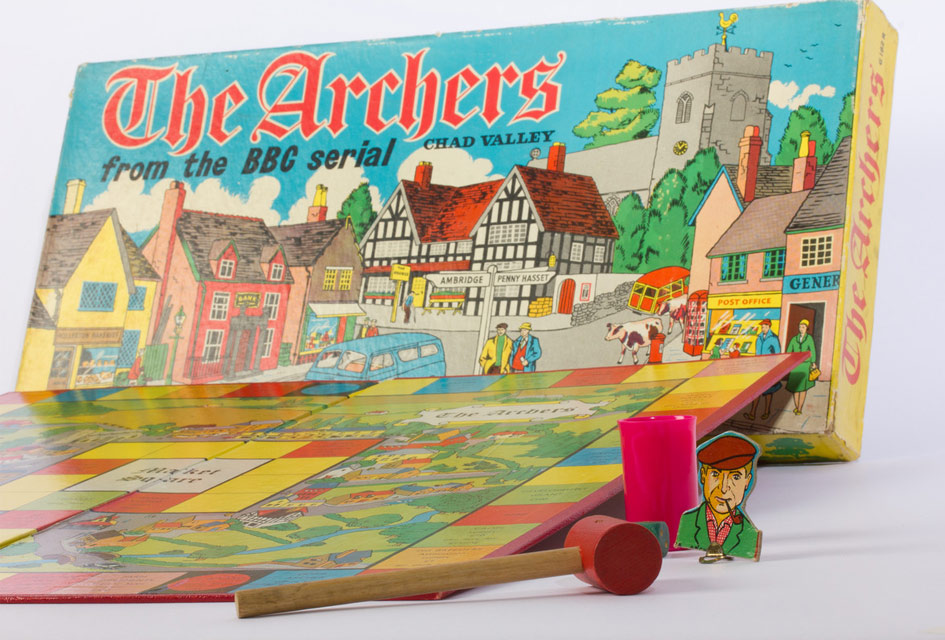 What is the connection between 'The Archers' and The MERL?
The Archers broadcast its first episode on the same day The Museum of English Rural Life accessioned its first object on 1 January 1951. While the Museum originally looked to the past, The Archers was intended to promote future farming techniques and processes to the farming community. This board game was produced in the 1960s by Chad Valley of Harborne.
close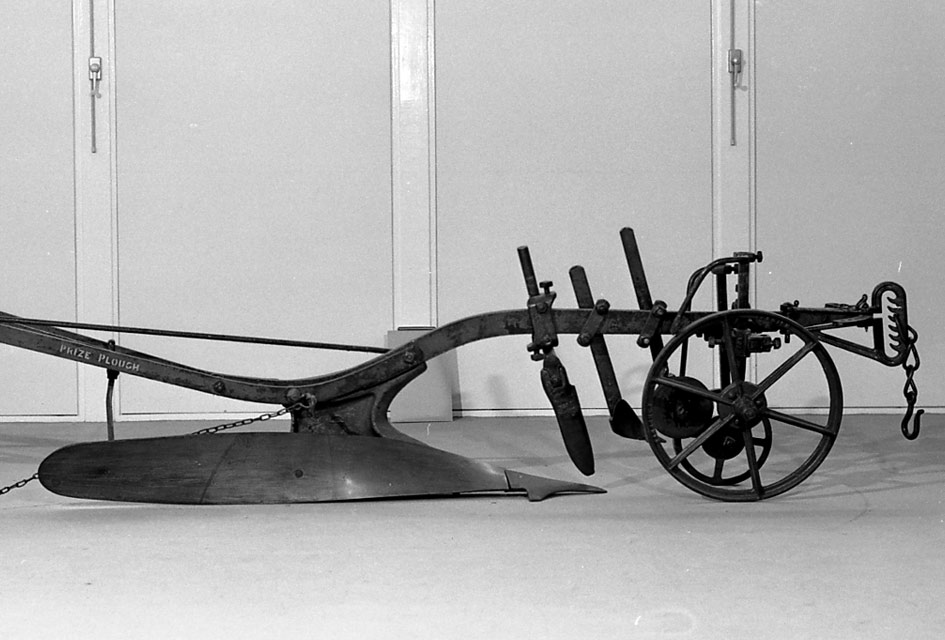 What do we know about this Newcastle plough model?
This metal match Newcastle plough, made by Ransomes, Sims & Jefferies, is inscribed 'R. N. E. 7', which refers to the model. It was initially loaned to the University of Reading's Farm Mechanisation Department by plough manufacturer's Ransomes, Sims & Jefferies, sometime before 1939, where it was used for demonstration. It was later transferred to the museum, and was exhibited in Spring 1974.
Ransomes introduced the 'Newcastle' series in 1864. That year Ransomes won 4 of the 6 awards at the Royal Agricultural Show in Newcastle, associating the Newcastle name with horse ploughs made in Ipswich.
close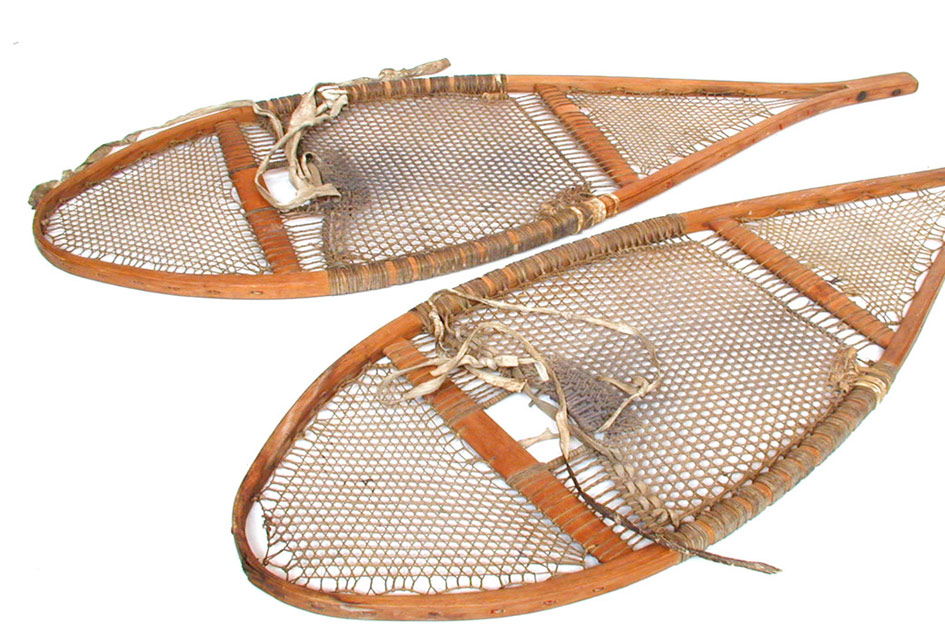 What is this object?
This is a pair of snow shoes with bent wood (possibly ash) frames and a webbing of woven gut stretched across the frame which has been strengthened in some places with leather thongs. They were worn by Dick Lewis, a gamekeeper, on the Copes Estate in Bramshill, Hampshire in the 1930s and 1940s.
close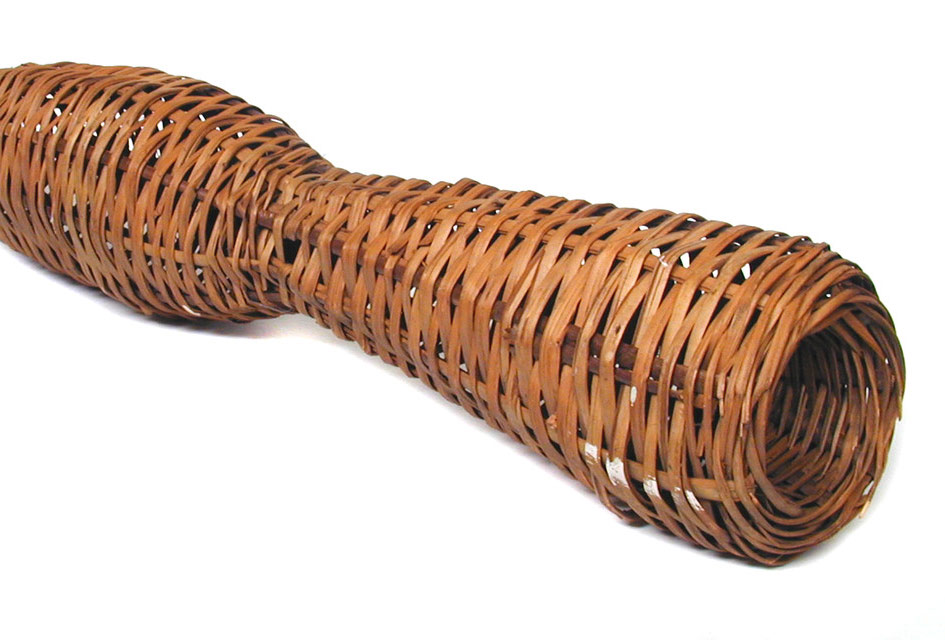 How did this eel trap work?
This eel trap was possibly made by a man called Jenkins in Gloucestershire. This type of eel trap was baited, then weighted so that it would sink, and tethered to the bank of a river. It is made of split hazel and is an elongated bottle shape with a funnel, and with a cork bung fitted to the neck to make a non-return valve. It is weighted with flints sewn into the funnel. Other names for the eel trap include 'eel pot' in Norfolk, 'putcher' in Gloucestershire, 'grig' in Sussex, the Fens, Oxfordshire and the River Severn, and 'hive' in Cambridgeshire.
close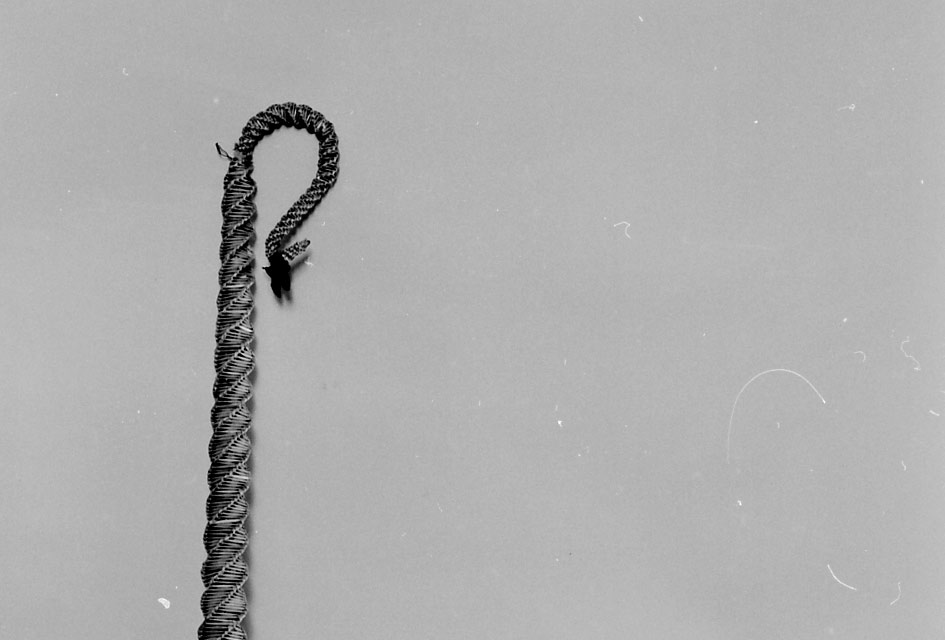 What do we know about this straw dolly?
This straw dolly, in the shape of a shepherd's crook, was made by Fred Mizen at Great Bardfield for the Festival of Britain. The Festival of Britain took place in 1951 on London's South Bank and other sites around the country. One hundred years on from the Great Exhibition it celebrated British achievement during a period of post-war austerity. The Festival explored people, science, arts, architecture, industry and agriculture.
close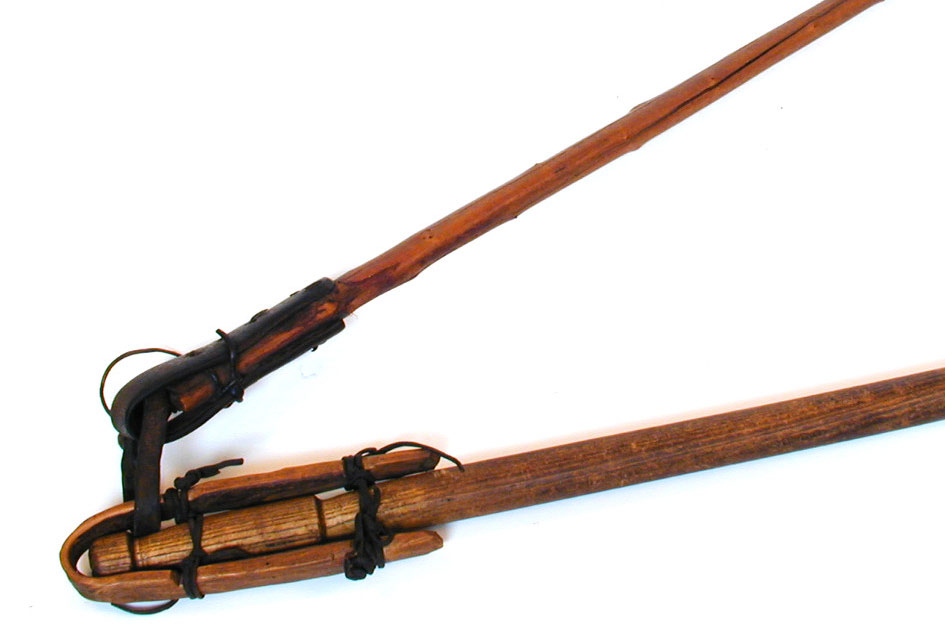 What were flails used for?
Flails were commonly used to thresh corn and other crops to separate the grain from the husks, before the development of threshing machines. This flail came from Lower Farm in Hadstock, Essex, where it was in use until about 1937.
It was used for threshing small quantities of corn for feeding fowls. A flail usually consists of a handle, a 'swingel' (the swinging part of the flail which hits the grain) and a 'swivel' joint to join the two together. This flail has an ash handle and a willow swingel but no swivel – instead the two parts are joined together by a leather thong.
close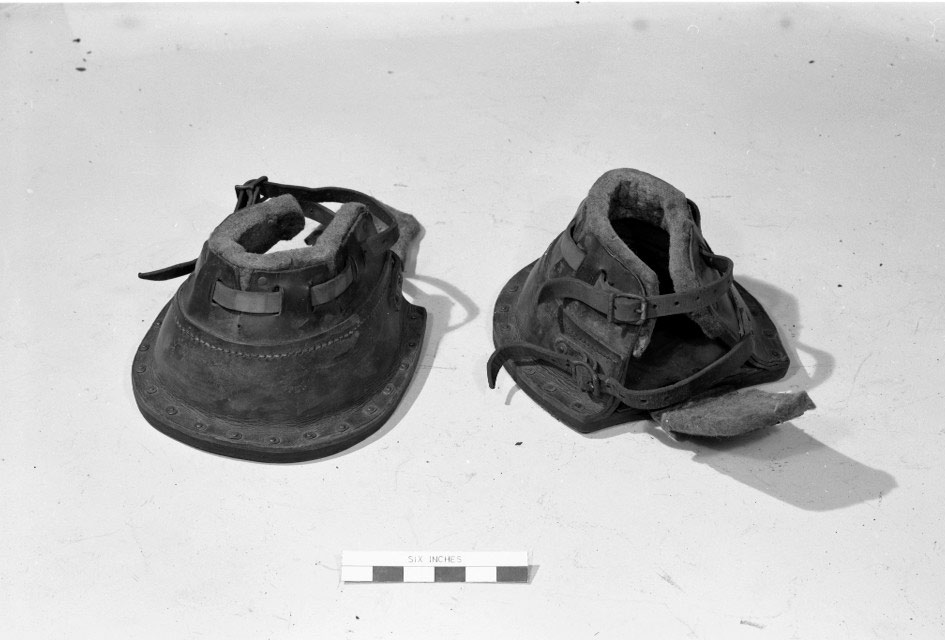 What were these shoes used for?
These overshoes were known as 'lawn shoes' as they were worn to prevent the hooves of horses damaging the lawn when mowing.
close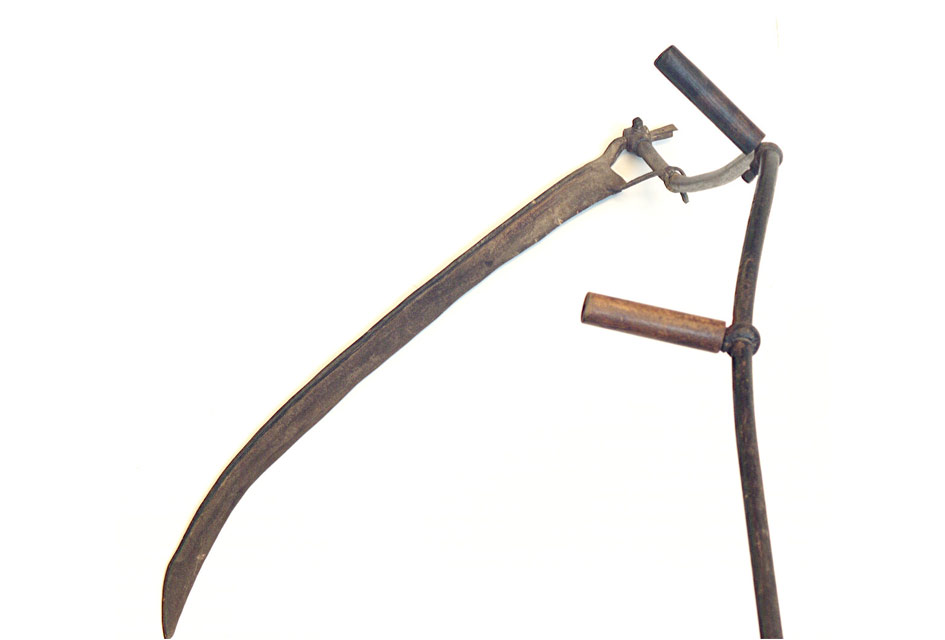 What makes this scythe different from others in the museum's collection?
Most of the scythes in the Museum's collection have a wooden handle (called a 'snath'), but this one is entirely made of metal apart from the two wooden hand grips (called 'nibs'). Scythes were used to cut crops and grass by hand.
close