Traditional Revival Case
Tap the yellow hotspots to see more information on the selected object.
Start Exploring now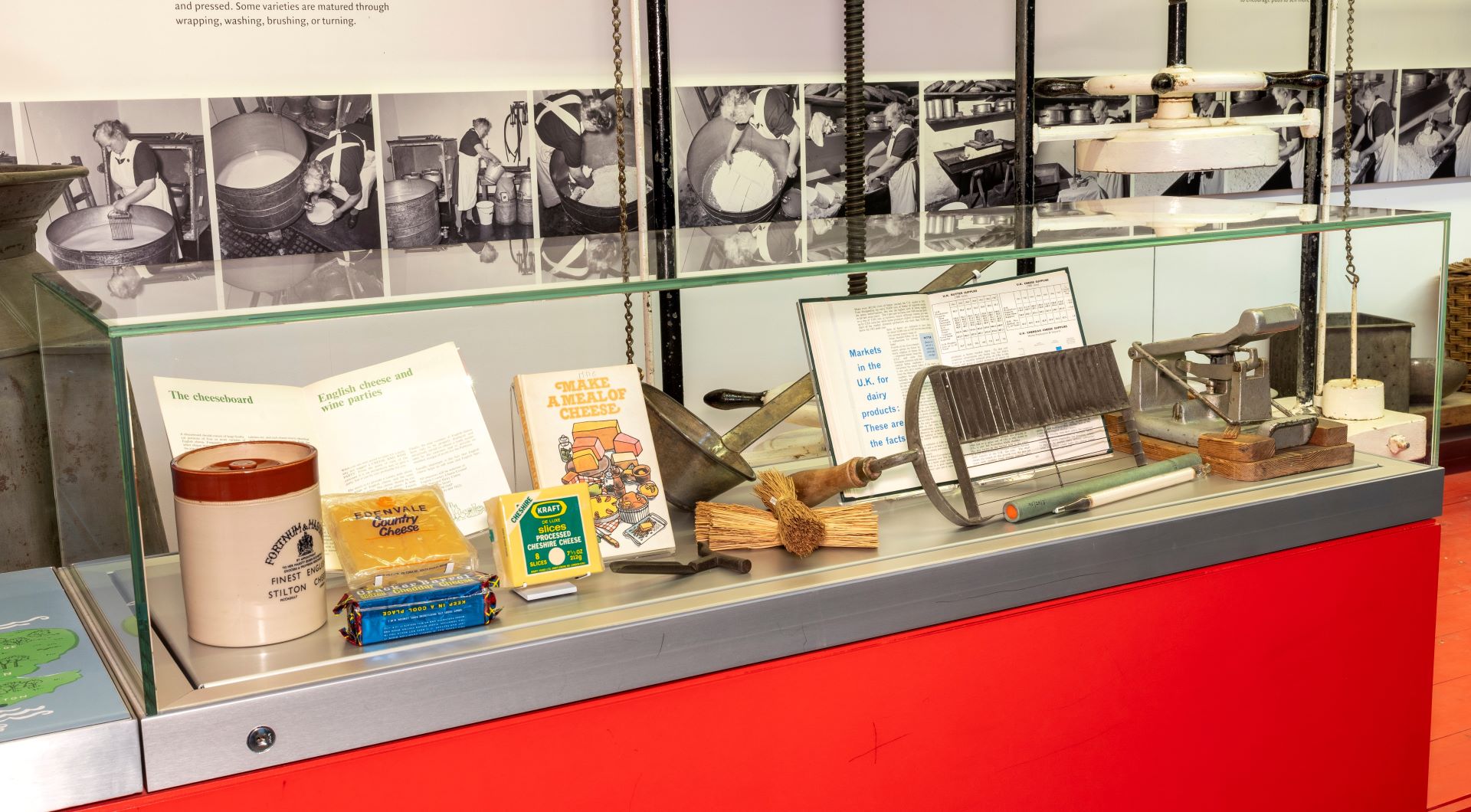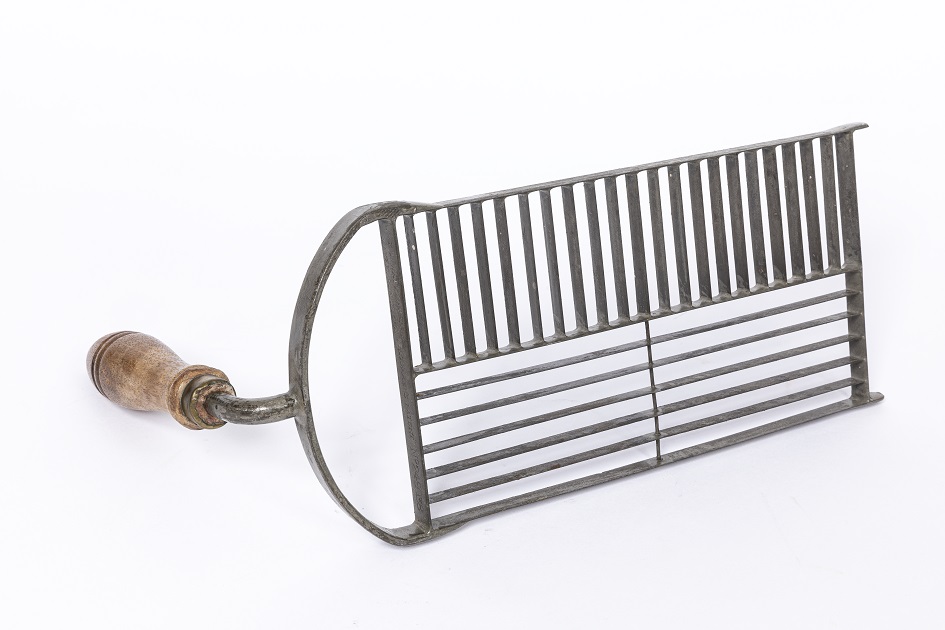 Curd cutter
This curd cutter was used for dicing curds in 12 gallon vats. Its inscription implies it was made by F. T. Whitmarsh of Blandford, Dorset.
Milk is split into curds and whey via the application of acidity and rennet. At this stage, the curd cutter is applied to cube the curds and allow more whey to drain. For particularly hard cheeses, the process is accelerated by heating the curds. They are then salted, pressed and ripened to form cheese. Some soft cheeses, such as cottage cheese, do not require a curd cutter as they do not need all the whey to be drained.
MERL 74/85
close

Thermometer
This mercury 'floating head' thermometer was used for cheesemaking in the 1920s. Heating milk to the correct temperature is the first stage of making cheese; it allows important lactic acid bacteria to multiply. Precision is essential to producing the desired firmness of cheese. 34˚C creates a very soft cheese whereas 39˚ leads to a firm cheese. As such, the margin for error is very low.
Mercury thermometers are considered vintage these days, and since 2009 have not been sold to the general public due to the risk of mercury poisoning.
MERL 95/29/2
close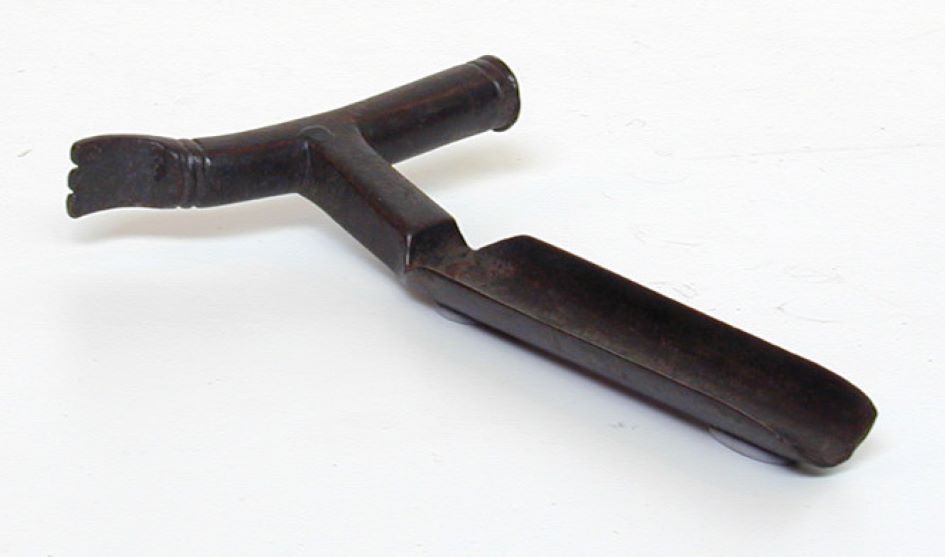 Cheese sampler
The long, trough-like blade of this cheese sampler would have been used to extract a section of a large cheese to taste it. Sampling was an essential part of the cheese ripening process, particularly before refrigeration when conditions were less controlled.
Cheddar cheese can be ripened for as little as 6 months and as long as 18 months, so frequent testing would have been crucial to ensure the desired maturity. Dating from the 18th century, this sampler was used in Kensington and Chelsea.
MERL 51/1200
close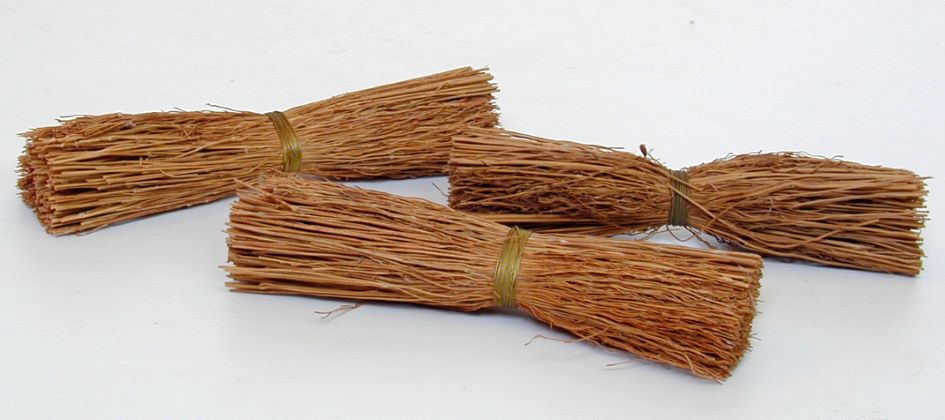 Cheese brushes
Made in France, and used in Somerset, these brushes removed mould from stored cheeses. Although some hard cheeses can be kept outside the fridge, it significantly shortens their lifespan. Before refrigeration, some households would use brushes to remove as much mould as possible from cheese. In an attempt to keep their cheese cool and prevent mould growth, many Victorians would keep it on a large piece of slate in their pantry.
The brushes are crafted from bundles of flax grouped in the middle by brass wire.
MERL 68/83
close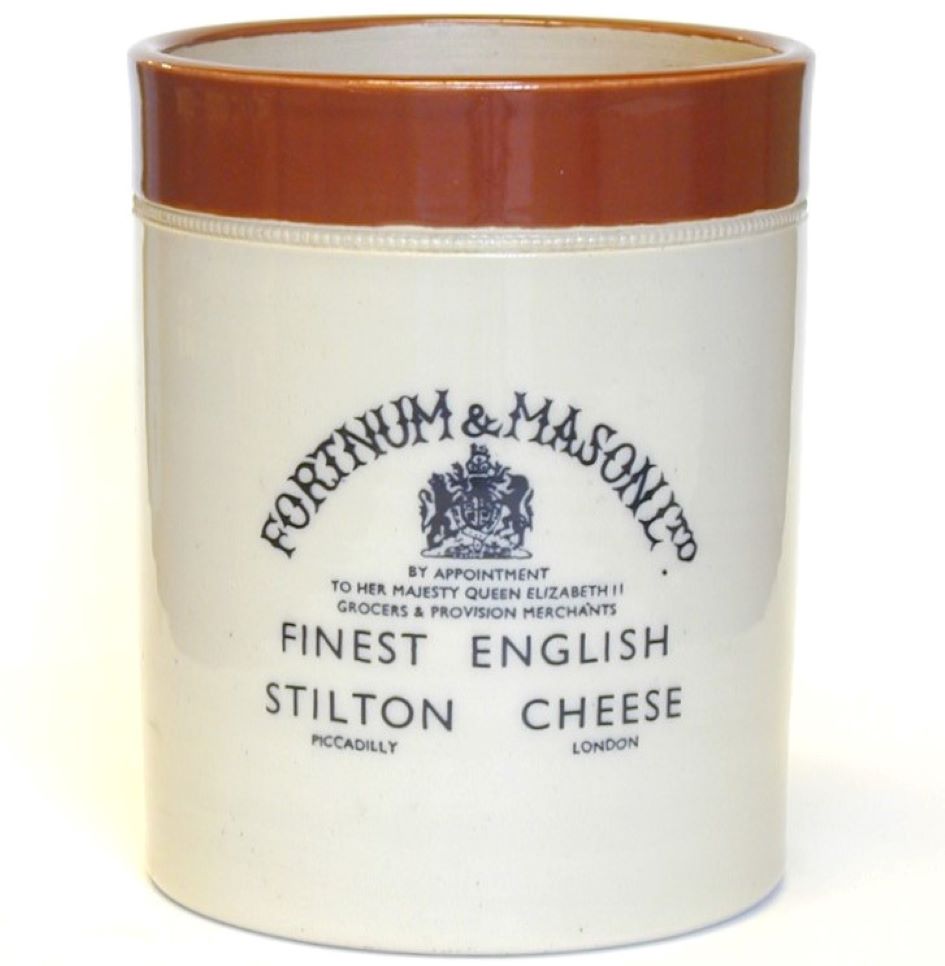 Stilton jar
This ceramic jar was used to store Stilton cheese by Fortnum and Masons, a luxury department store in Piccadilly, London. Stilton has always been a luxury product; in the 1790s half a pound of Stilton cost more than double a farm labourer's daily wage. In fact, such was its reputation for quality that in 1724 Daniel Defoe referred to it as the 'English Parmesan'. At this point, it was likely a matured cream cheese made with whole milk and additional cream.
The cheese's protected status means that it can only be made in Derbyshire, Leicestershire and Nottinghamshire. Peculiarly, this does not include the Cambridgeshire village of Stilton where the cheese likely originated.
MERL 67/13/1-2
close