Threshing machine
Tap the yellow hotspots to see more information on the selected object.
Start Exploring now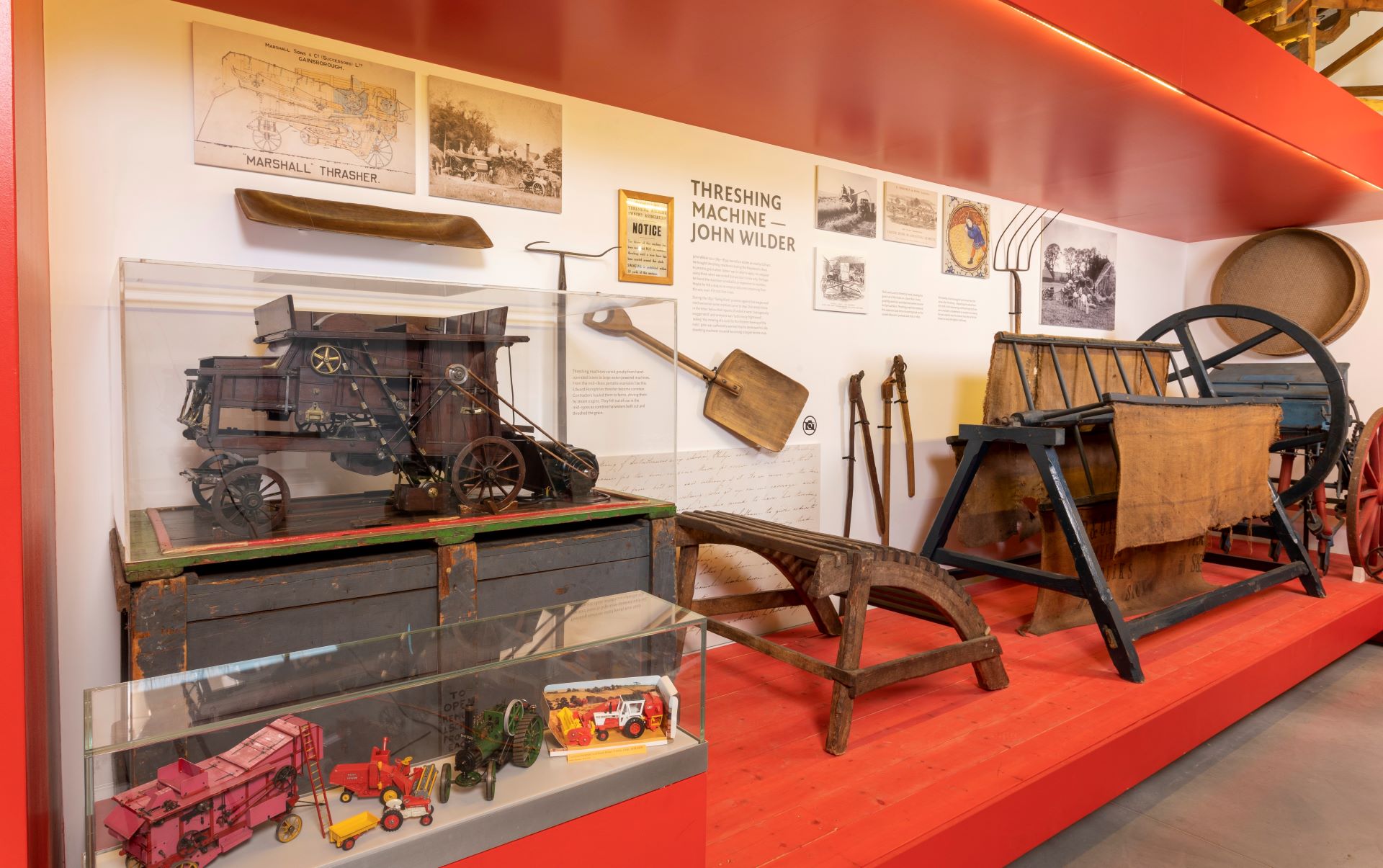 Great exhibition catalogue
+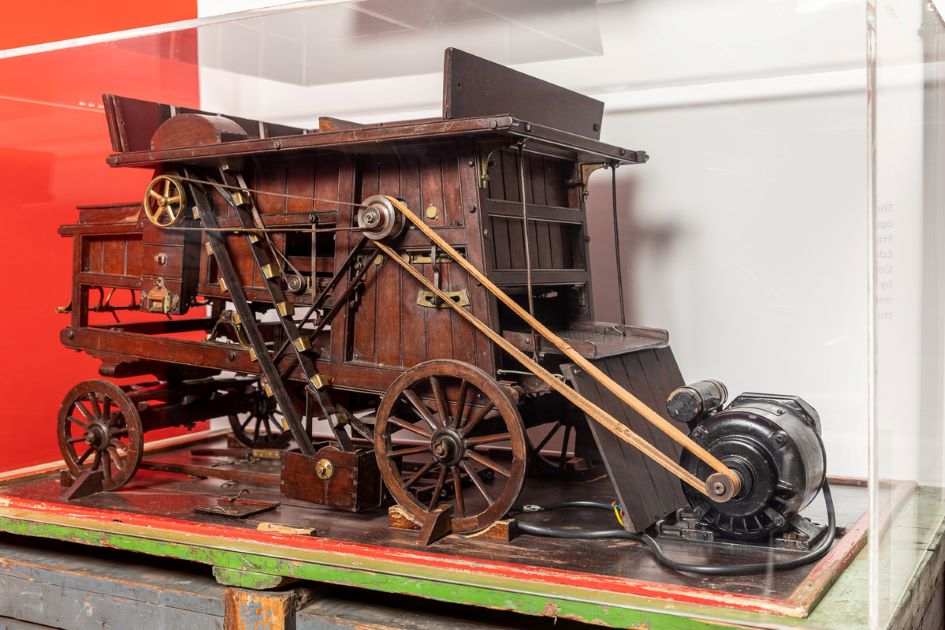 Threshing machine model
This model is made by the same company who made the full size thresher on your left. It was made in 1880 by the manufacturer to take to shows to display their new machine and show how it works. The box which the model is standing on was used to transport it. In 1880 this was new, state of the art technology. The salesman would have demonstrated how the machine worked to prospective buyers by turning a handle to show all the moving parts inside.
MERL 2007/61
close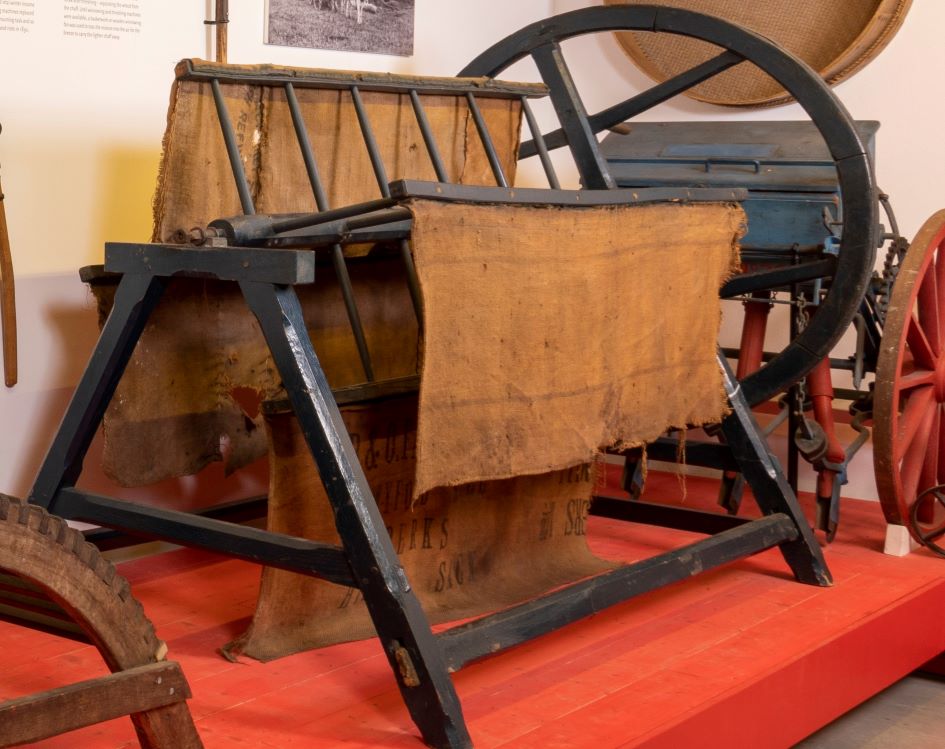 Winnowing machine
This large machine was used to separate the chaff (the outer husk of the corn) from the seed itself. Once separated, the corn would be fed to animals or kept to be sown for next year's harvest. The chaff wasn't needed so probably just blew away. The large wheel would be turned by hand; the idea was to create enough wind to blow away the chaff which is very light.
When turned, the sacking would have whirled round and the current of air it created would have blown away the chaff. This would have been hard and dusty work but faster than doing it by hand. Turning the wheel would have certainly been monotonous work.
MERL 52/201
close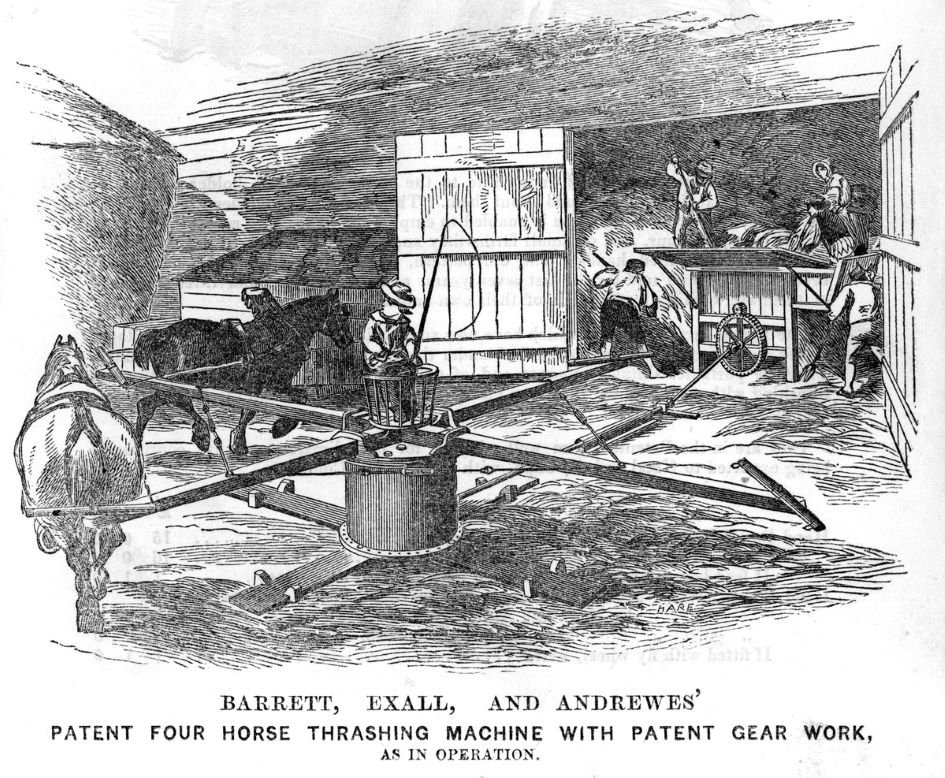 Great exhibition catalogue
This is from a catalogue of agricultural machinery produced for the Great Exhibition in 1884. The machine was made in Reading, by Barrett, Exall, and Andrewes later the Reading Iron Works Ltd. The foundry was built in Katesgrove in 1818, they produced agricultural implements and also machines for the bakery trade developed for George Palmers biscuit factory.
This machine was powered by up to four horses walking round in a circle, it was portable and could be moved. You will see that there is a child sitting in the middle of the machine holding a whip – to ensure that the horses kept walking round. One of the "safety features" of the machine was the metal frame round the child, this was to stop the child falling off and being injured by the machine.
MERL TR RAN P1/B1/11
close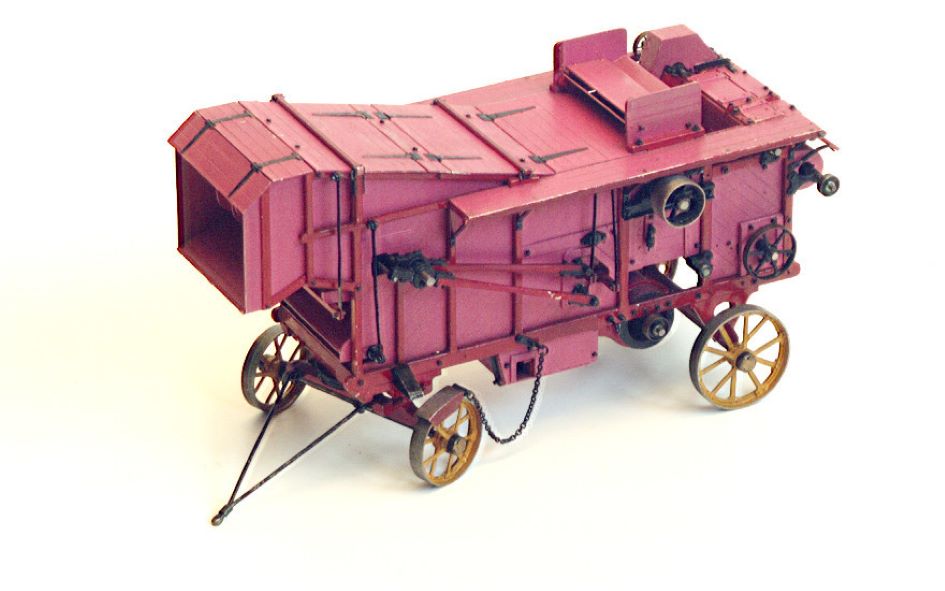 Threshing machine working model
This thresher and the traction engine near it were made by George Froud – it was his hobby. They were built as working models: the engine steam would power the thresher. Although the thresher looks as if it is wood, it is metal (duralunium) made to look like wood.
It isn't a copy of a particular make of machine. The design of the internal part of the machine was from Ransomes and Marshall thrashers and the outside was from a Wallis and Steevens machine which he saw standing in a field. The models were thought to be so good that they were described in detail in the Model Engineer magazine in 1960.
MERL 63/183
close