Summer Case
Tap the yellow hotspots to see more information on the selected object.
Start Exploring now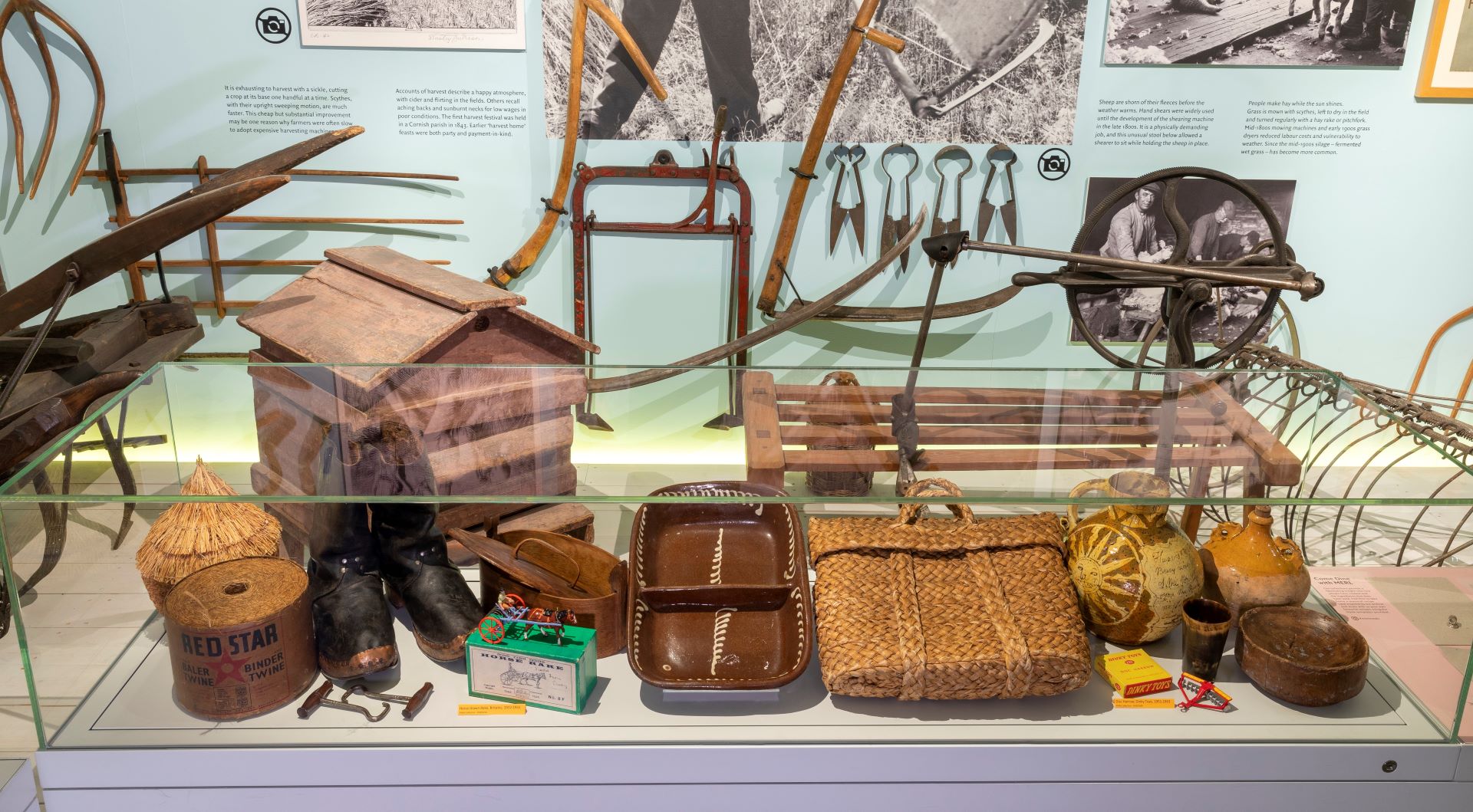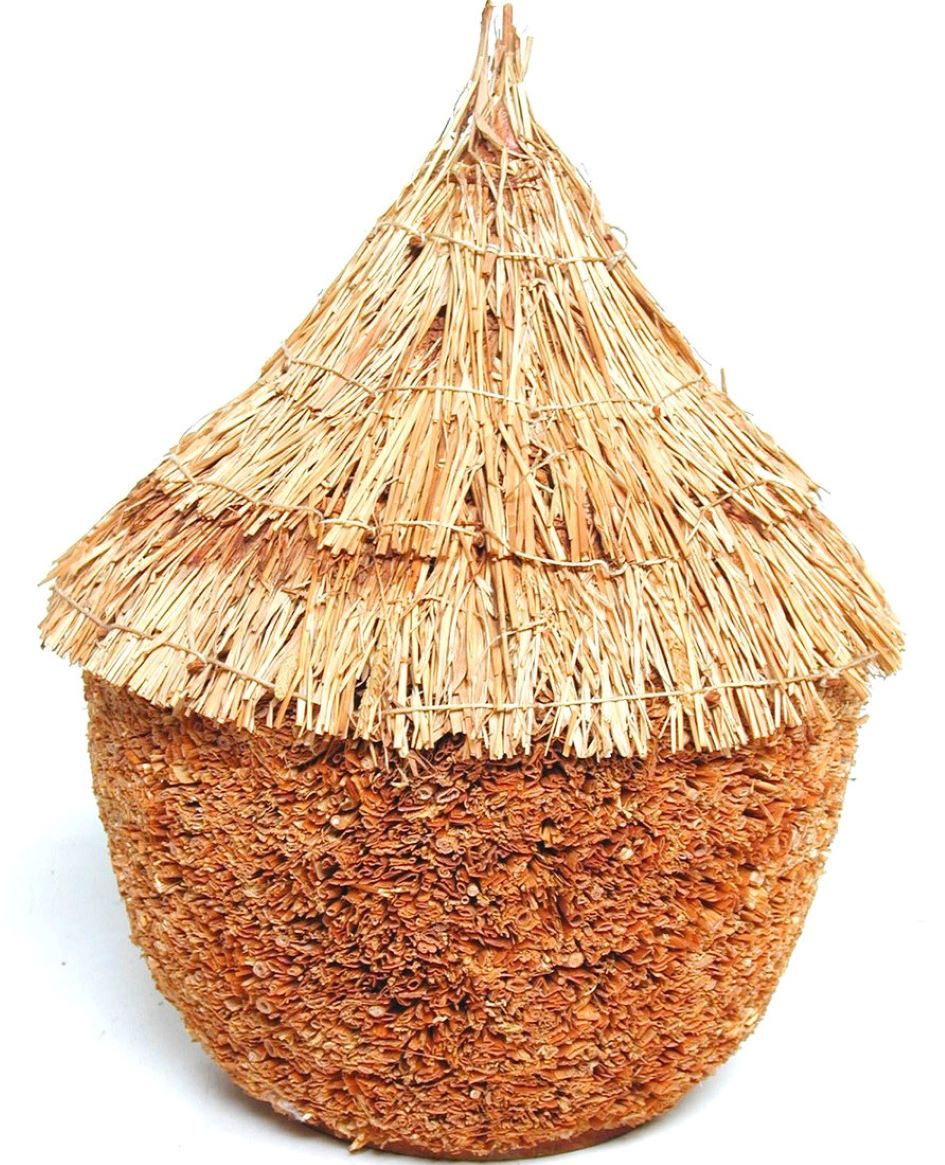 Model hay rick
This corn dolly is in the form of a hayrick. 'Corn dolly' is a term which includes figures and tokens made from 'corn' straw, using tying, plaiting, and weaving. In many parts of the world, it was believed that the 'Corn Goddess' lived in the crop and died when it was harvested. Images of the Goddess were woven from the last sheaf to be reaped and carefully preserved to ensure an abundant crop the following year.
The term hayrick is often interchanged with haystack. They both mean a storage pile of hay –usually carefully shaped and even thatched for protection.
MERL 86/142
close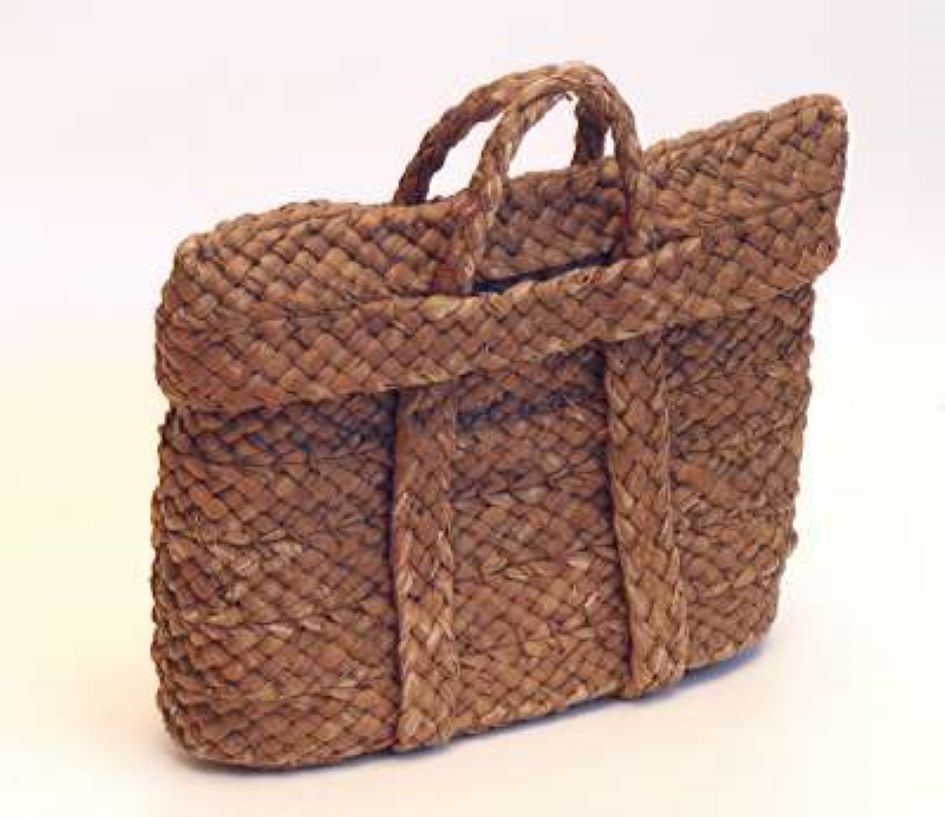 Lunch basket
This is a 1920s flail or 'frail' basket, made of plaited rush sewn round and round to form a flexible flat basket with a cover and two carrying handles. In the 17th and 18th centuries farm labourers had very long hard days but were allowed meal breaks. These baskets were used to carry their meals – breakfast, elevenses, fourses and 'beaver'– and also their tools. There would also be room for a beer bottle and, if they were lucky, a rabbit they managed to catch. They were usually carried over the shoulder with a short, curved stick through the handles.
MERL 66/346
close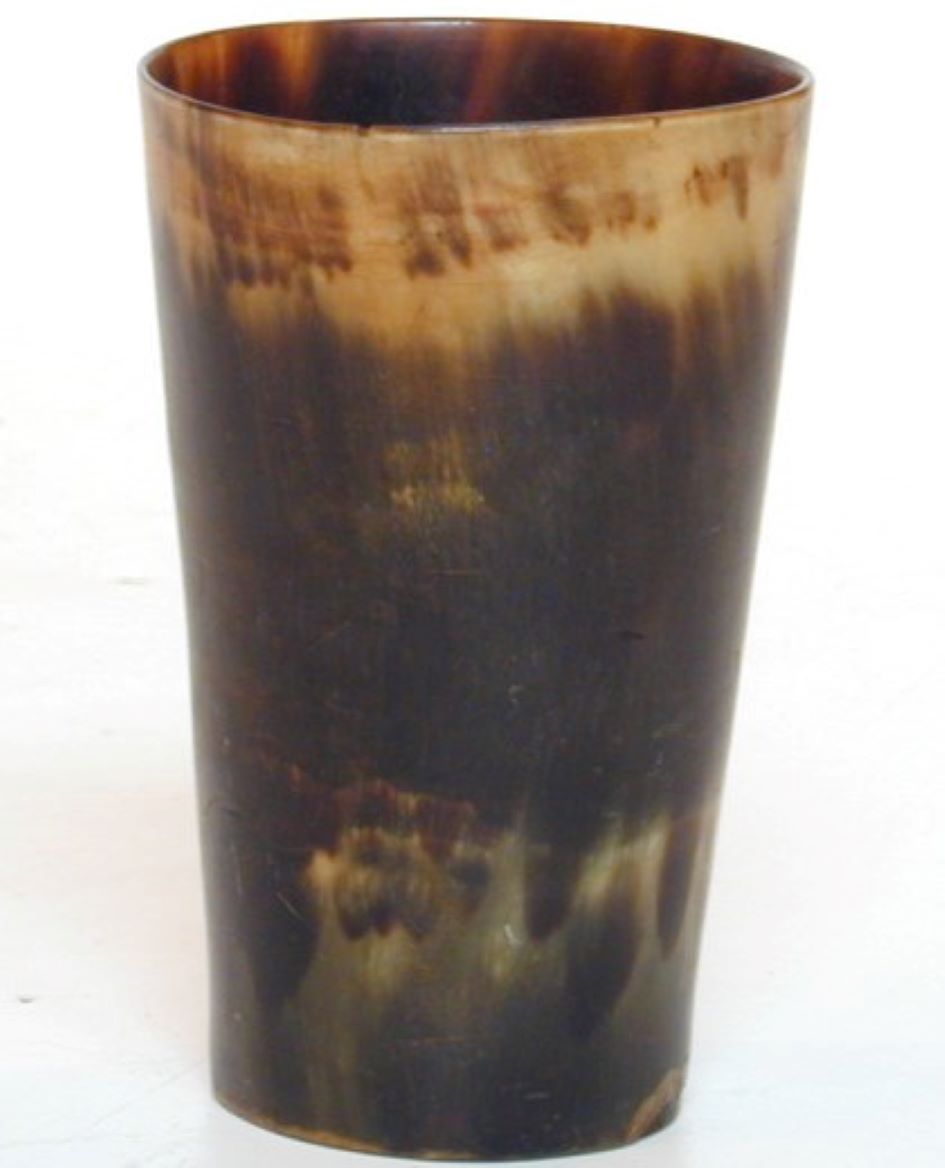 Horn beaker
This is a horn beaker for serving drink. Horn was popular because it was a cheap, robust and easily available material. When horn is subjected to heat and pressure it becomes translucent or transparent – enabling objects to be made that are tactile, attractive and versatile.
In its simplest form, as with this beaker, horn would be used in the poorest households, but it could also be used to make elaborate and expensive luxury items incorporating silver or gold. The use of horn products has been in decline for 100 years, but some items are still made in the UK.
MERL 58/76
close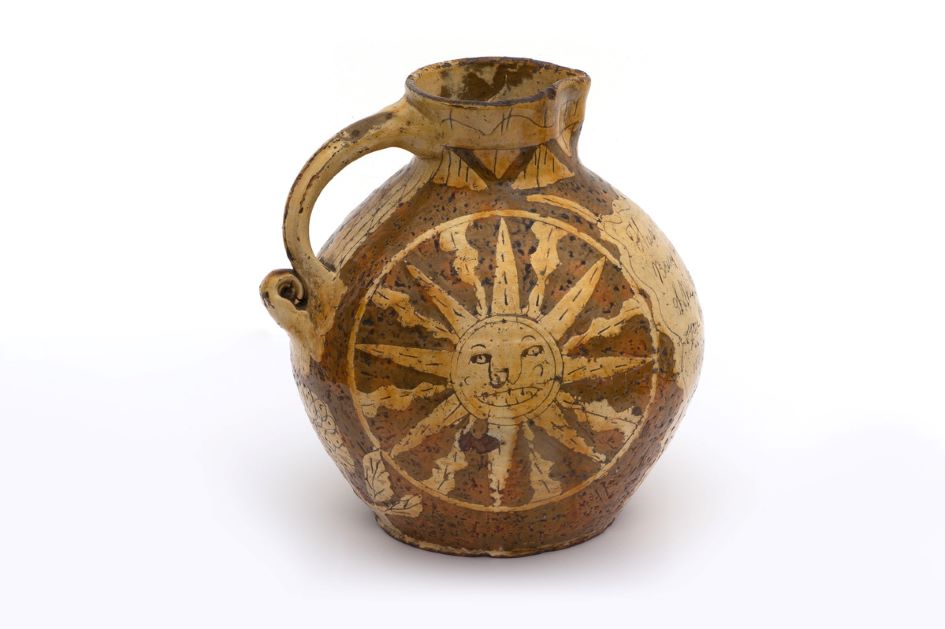 Barley mow harvest jug
This earthenware jug was made for the celebration at the end of a successful harvest and is typical of Barnstaple ware. On one side is the baking sun inside a mariner's compass, a design often used in the seafaring county of Devon, and on the other side a cockerel sits amongst flowers. The designs are scratched into the glaze – a technique known as "sgraffiato". On the rear is the verse:
Harvest is come all / busy now in the making
Of the Barley mow if / you the Barley mow
Neglect of Good ale you / can not then expect
August 1838 / John Prouse / Hartland
MERL 60/146
close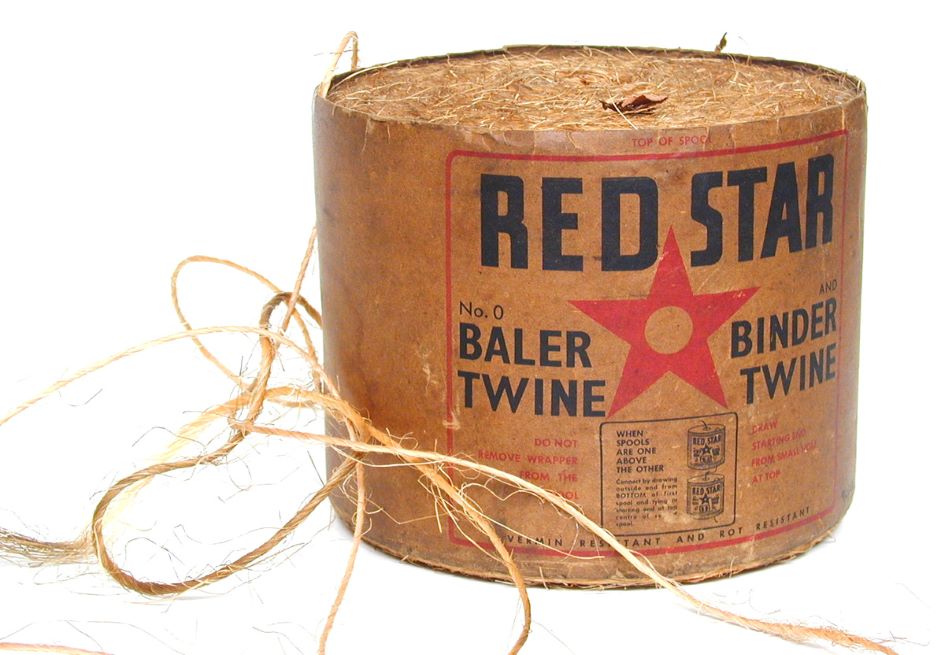 Binder twine
This is a ball of sisal baler twine. Originally hay was stored loose in farmers' barns which took up valuable space. Hay balers were developed in the late 1800s, to compress cut crops into compact bales that were easy to handle, transport, and store. Bales have been bound with twine, strapping, netting, or wire.
An automatic knotting mechanism for twine was developed during the 1860s. When coupled with cheap sisal twine from Mexico in the 1880s, twine tying binders quickly took over from the wire tying variety. Sisal twine itself was largely replaced by polypropylene twine in the 1960s.
MERL 90/22
close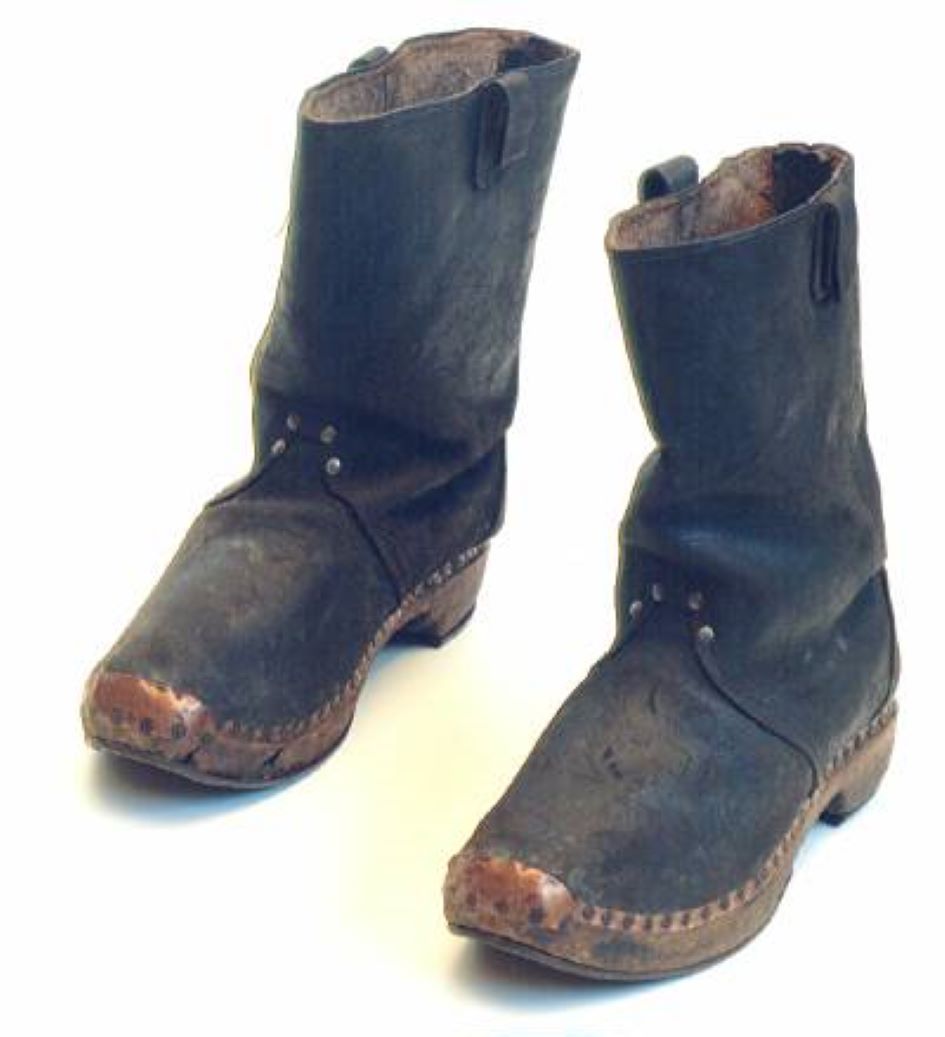 Farm worker's clogs
This is a pair of Wellington type clogs, worn by agricultural workers. They have wooden soles, leather uppers, and copper toe caps. Clogs are a type of footwear made in part or completely from wood and have long been associated with the shoes of the rural working class. This association as the footwear of the poor is a key factor in their much-reduced popularity today.
Clog wearing in Britain became popular during the industrial revolution when there was a need for very strong, safe but cheap footwear, and was at its peak between the mid 18th century until the 1920s.
MERL 79/106
close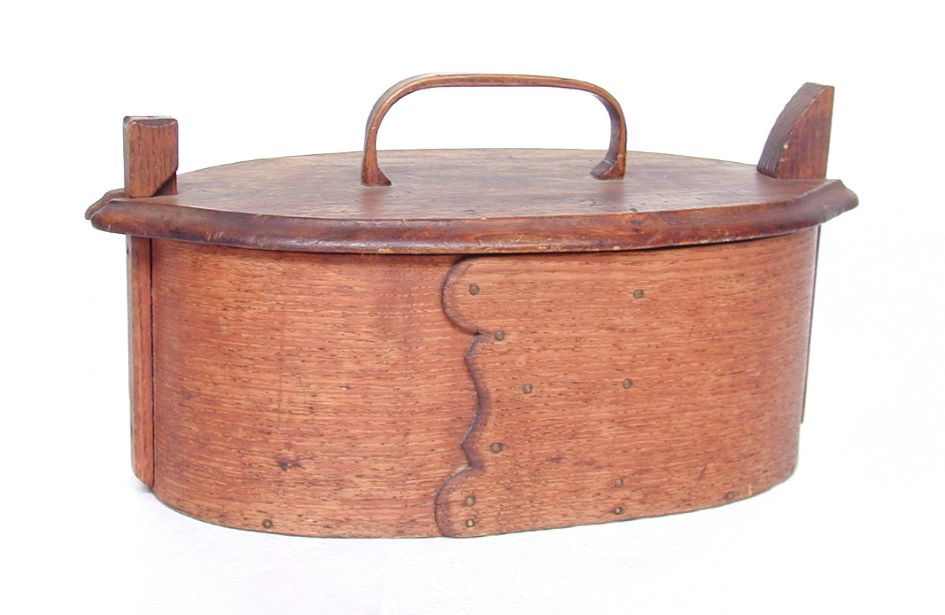 Food box
This box, made of ash with a birch lid, came from Gloucestershire. It was used to carry food into the fields for the workers. In northern Scandinavia similar molded containers have been used as storage or provisions boxes, known as Tine boxes. Scandinavian boxes are distinguished by their great variety of shapes and colourful decoration; they are also known as snap boxes from the way the lid clips to the body of the box.
This object is part of the MERL Bernard Miles Collection. Bernard Miles (1907-1991) was a British actor and director, famous for founding the Mermaid Theatre in London in 1959.
MERL 54/94
close