Spring Display
Tap the yellow hotspots to see more information on the selected object.
Start Exploring now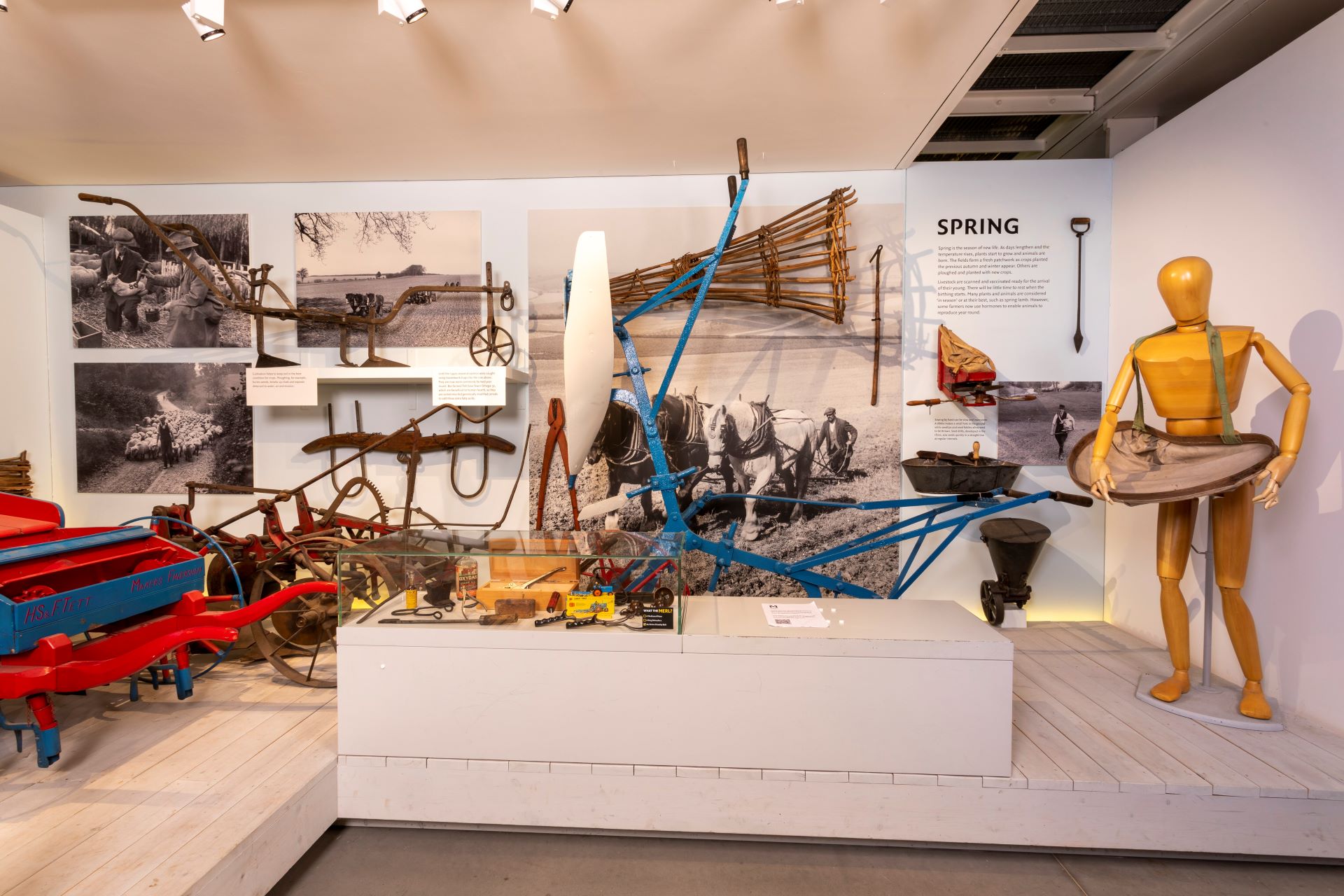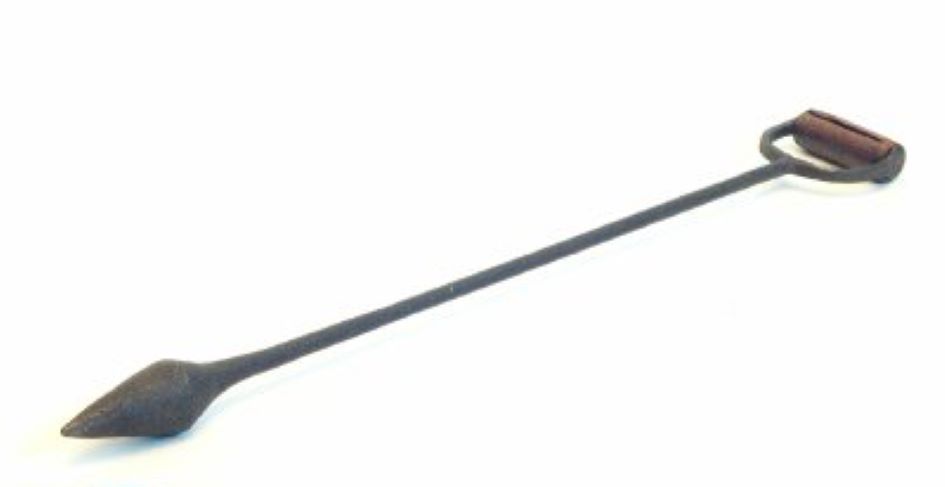 Dibble
This dibble was probably made in the Gravenhurst area and used there for around 150 years, before being deposited at the museum in 1954.
Dibbles were utilised by farmers hand sowing their seeds to ensure the seeds were properly covered by soil. The usual practice was for the farmer to walk through a ploughed field with a dibble in each hand, making holes to the left and right. A child would follow, placing seeds in the holes and covering them with soil. Dibbling was popular in the 19th century as it provided employment for children from large families. These children were otherwise in danger of ending up in workhouses.
MERL 54/361
close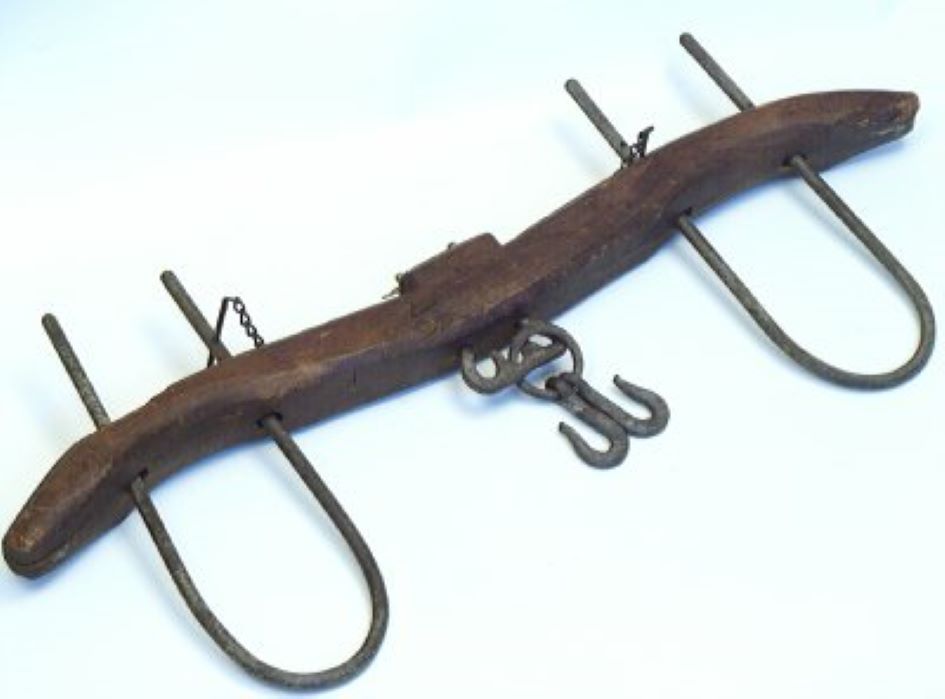 Ox yoke
Ox yokes are wooden beams which are tied round the necks of two oxen and are then fastened to a cart or plough so the oxen can pull it. This yoke was used on a farm in Wilcote, Oxon until 1912. At this time, oxen were used to draw the water cart.
Oxen were traditionally favoured for farm work because they were low maintenance and highly robust, being able to survive on low quality straw. However, they were gradually replaced by horses in the 19th century. Once the traction engine was invented, oxen were phased out – apart from when they had to haul the machines out of a ditch!
MERL 53/94
close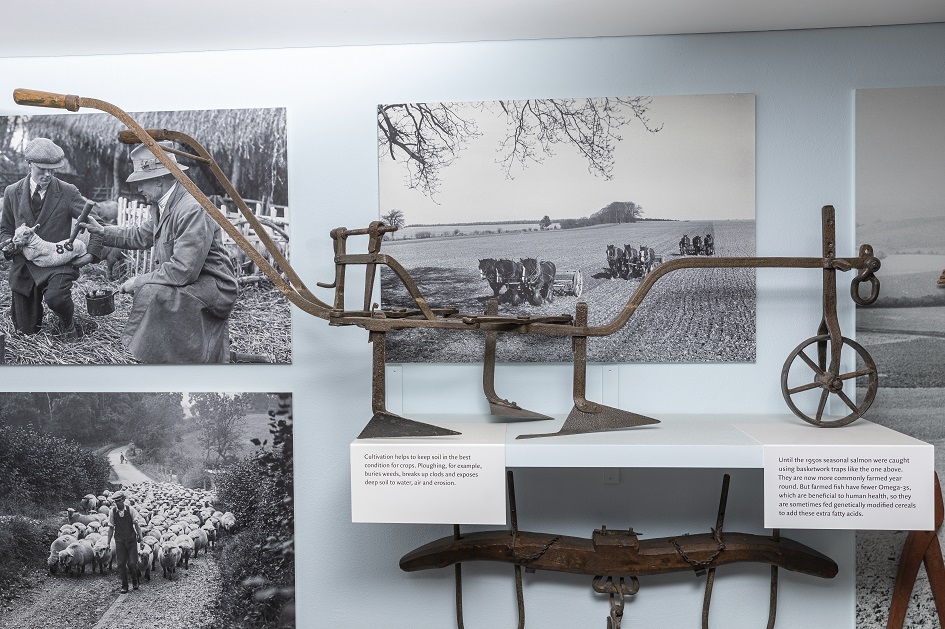 Horse hoe (scuffle)
A 'scuffle' is a horse drawn hoe used for weeding. British agriculturalist Jethro Tull is credited with inventing horse drawn hoes, which often doubled as ploughing equipment. As well as killing weeds, they would break up the soil to enable better crop growth. 'Scuffle' hoes can be identified by their triangular heads with blades on two sides. This example was used at Hopgoods Farm in Stoke.
The hoe is one of the oldest agricultural tools in the world, predating even the plough, with evidence suggesting they were used over 4,000 years ago.
MERL 55/298
close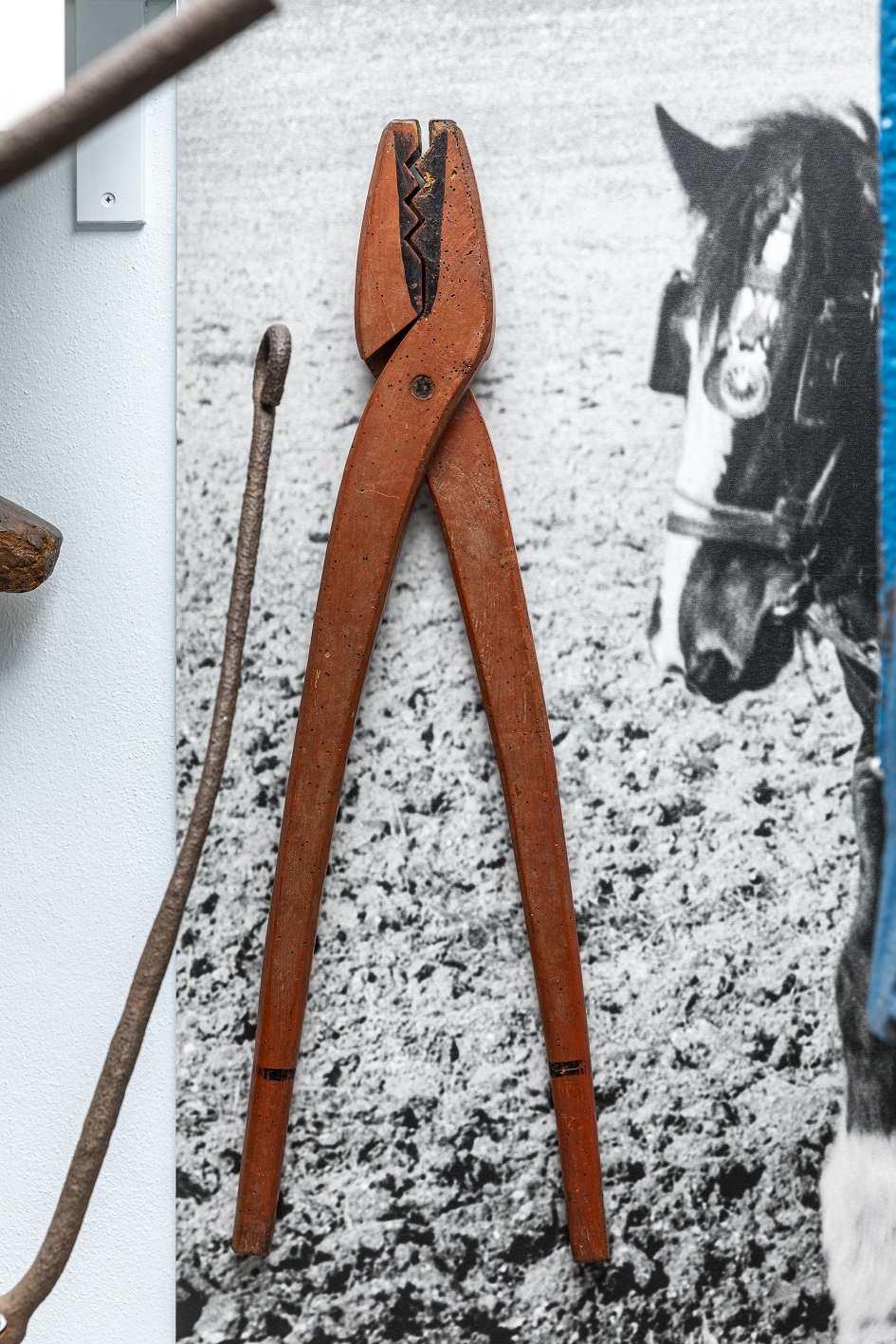 Weeding tongs
Found in a farmhouse attic on Pool Farm, Hinton, these weeding tongs were likely used on the farm to pull up thistles.
For thousands of years, basic cutting tools and pulling by hand were the best way to combat weed growth. New methods have emerged to combat weeds, each with their own challenges. Grazing animals can be introduced which only eat weeds, but these are expensive to maintain. Herbicides must be used with caution to avoid damage to crops. Weeding through tillage is now the most popular method, via precise weeding knives attached to the tillage implement.
MERL 55/350
close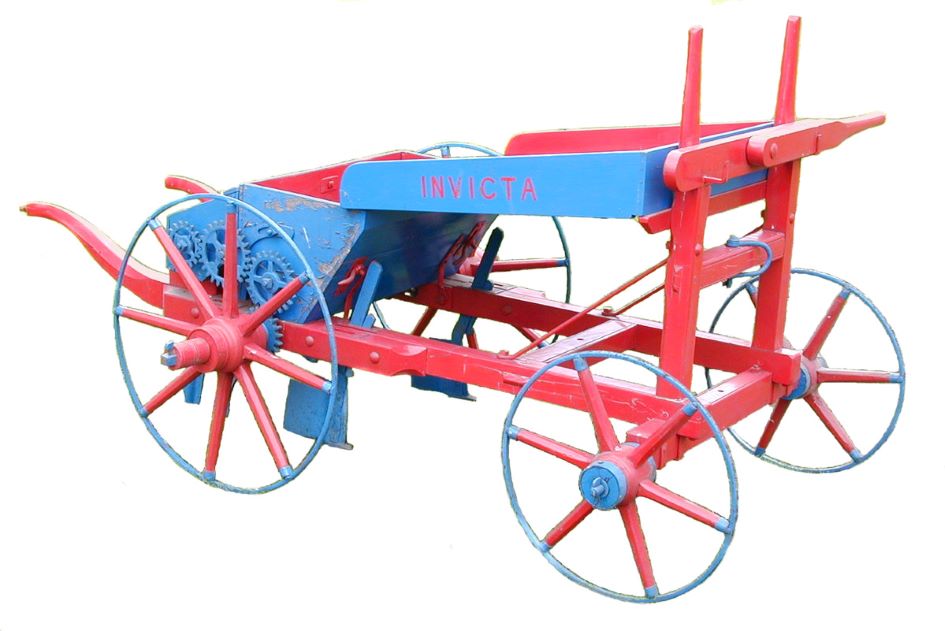 Seed drill
Named 'Invicta', this seed drill was manufactured by Henry S. Tett & Co. Ltd. of Faversham, Kent. Seed drills are mechanical implements that distribute seeds with the correct depth and spacing, then cover them again. This drill would have been pulled by a single horse, though modern versions are much larger and hauled by tractors.
Seed drills were invented in China in the second century BCE. They were a marked improvement over the previous method of hand sowing seeds, as they ensured that crops would grow within furrows. Jethro Tull improved on the design and invented the first mechanised seed drill in 1701.
MERL 77/263
close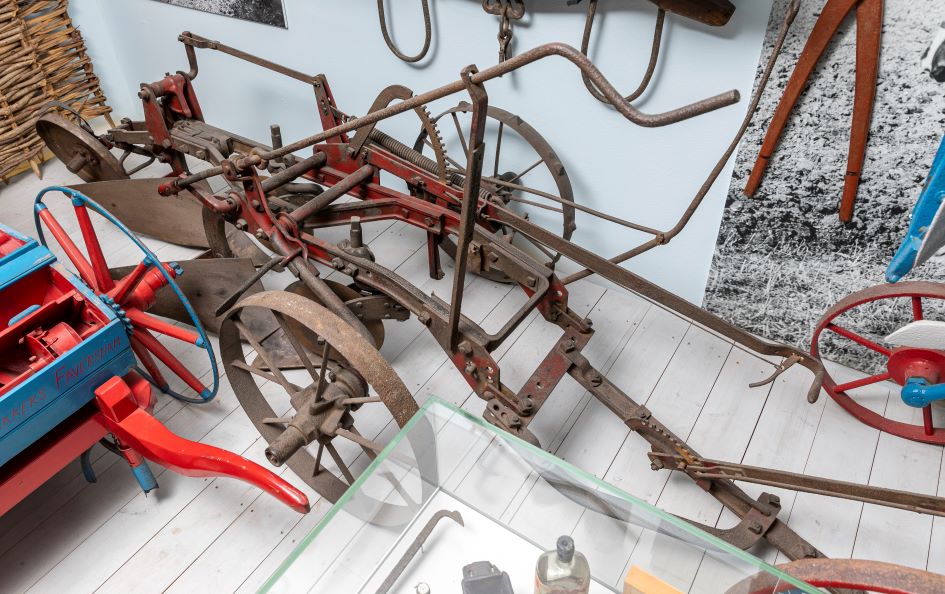 Tractor plough
Manufactured in Ontario and imported to the UK in around 1940, this tractor plough was then used at Low Farm, Hemingfield for the next 40 years.
By this time, internal combustion engines had become the dominant force in British ploughing. The mass-produced Fordson tractor was more compact and efficient than steam ploughing equipment, and faster than horse ploughing. It was also cheaper than either of these options. It worked on the same principle that the Ford Model T had used to dominate the motor car industry; that an everyday person should be able to afford one.
MERL 79/68
close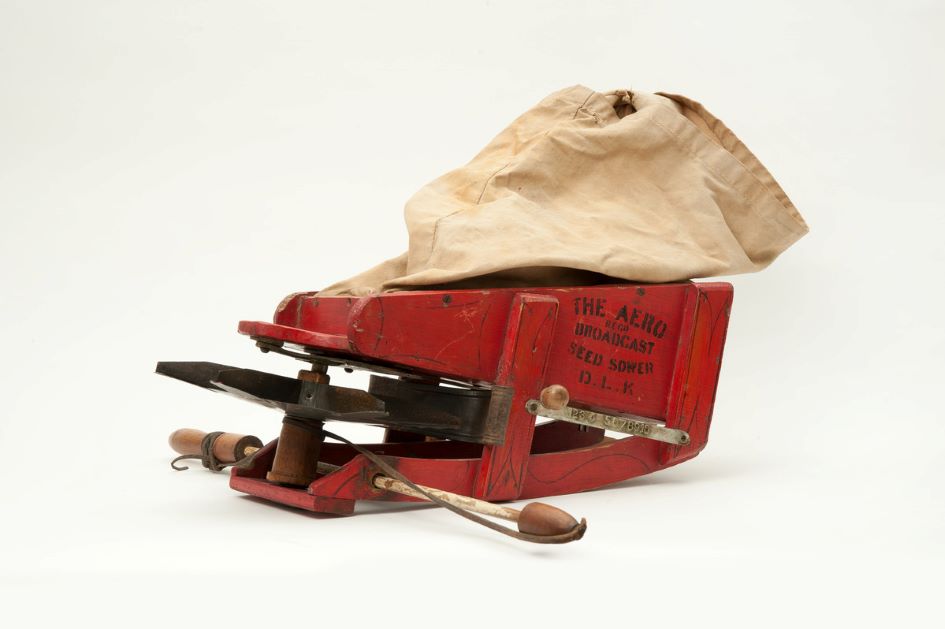 Seed fiddle
This seed fiddle was made by DLK of Kilmarnock, possibly in the 1950s. This particular model is named 'The Aero' and was used by a smallholder in Haddiscoe, Norfolk.
Seed fiddles were invented around 1850 in the USA. Moving the device's bow backwards and forwards would drop seeds onto a spinning disc which were scattered in a wide arc. It was hand powered and therefore a direct improvement on hand sowing. Making its way into the UK in the 20th century, the seed fiddle was popular on small farms where seed drills and tractors were not cost efficient. They were typically used to broadcast grass and clover seed.
MERL 98/12
close