Seed Drill Display
Tap the yellow hotspots to see more information on the selected object.
Start Exploring now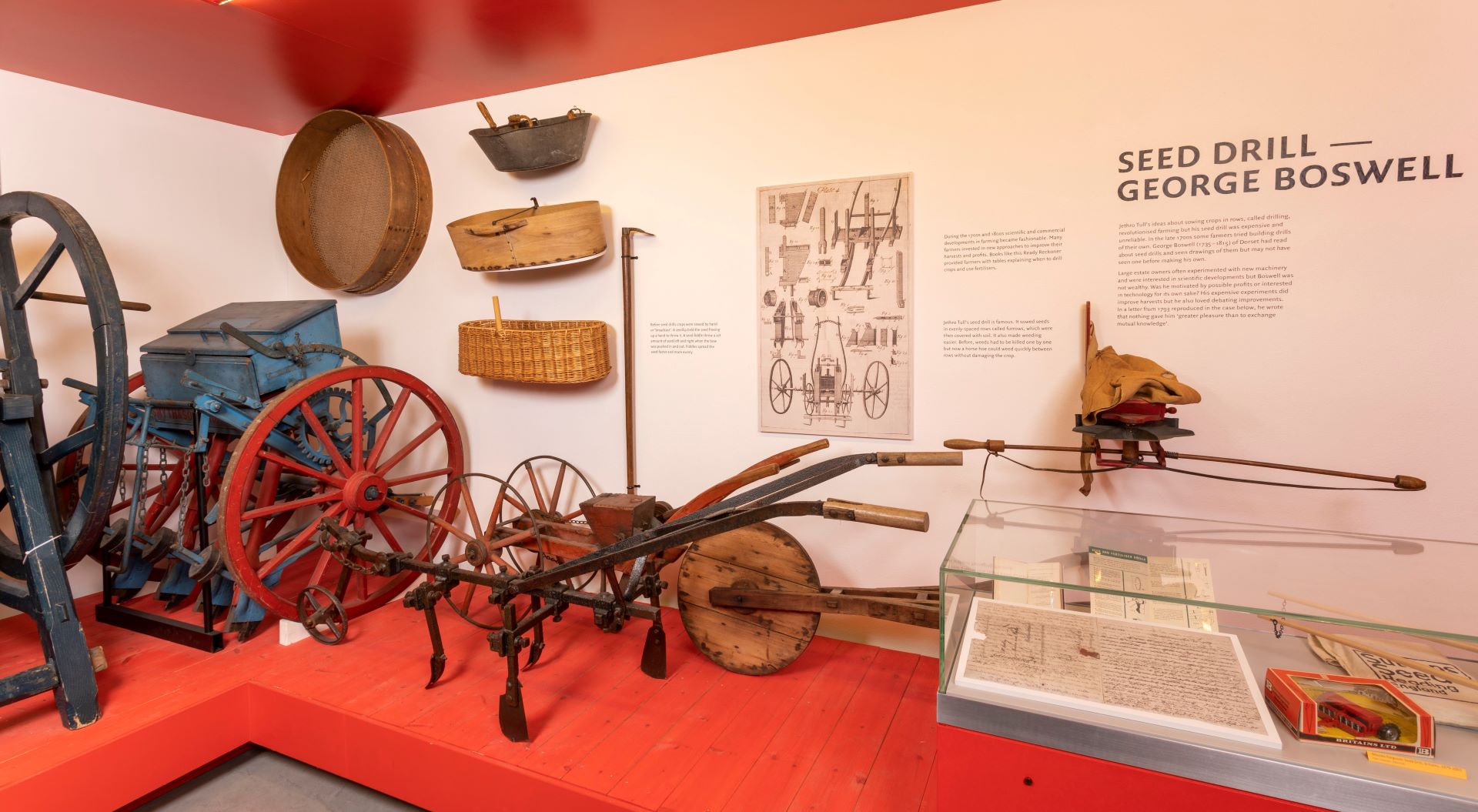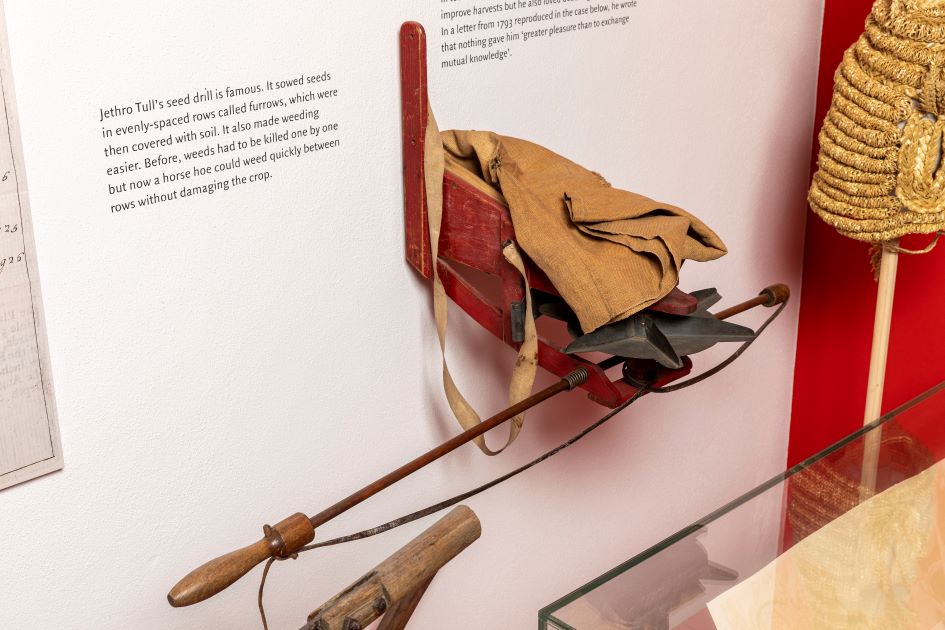 Seed fiddle
This is the 'Perfection Aero Sower', a seed fiddle used in Cornwall. Seeds would be stored in the hessian sack and dropped onto the metal plate, which would be rotated via the wooden handle, dispersing seeds in an arc in front of the sower.
Seed fiddles were an improvement on broadcasting by hand as they allowed for greater dispersal and an even spread. They were named 'fiddles' because drawing the handle back and forth was reminiscent of playing the musical instrument.
MERL 73/180
close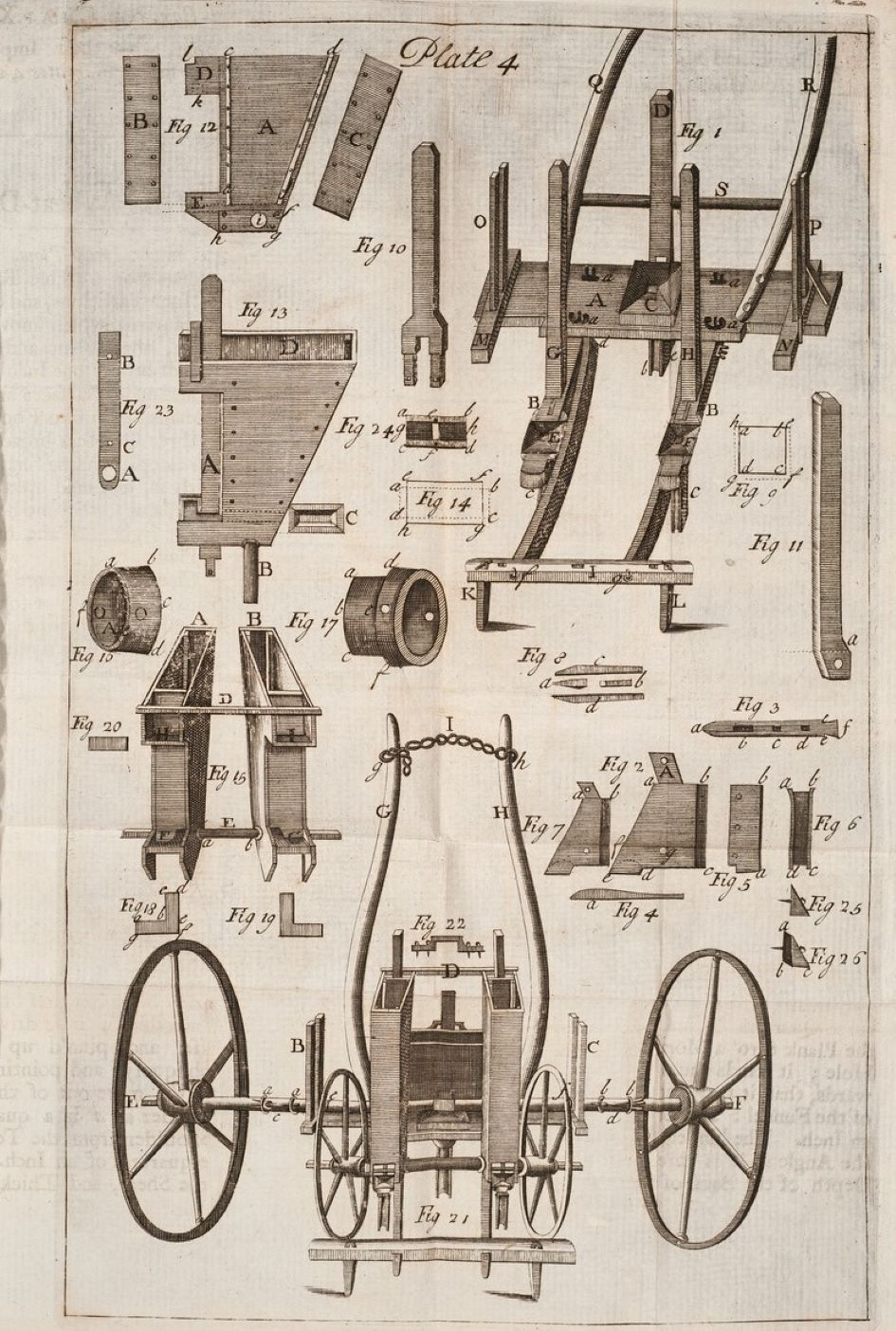 Horse-hoeing husbandry
This plate is from a book entitled The horse-hoeing husbandry, written in 1731 by Jethro Tull, the inventor of the modern seed drill. It depicts the various components for the machines mentioned in his book.
Tull's objective was to introduce "a sort of vineyard culture into the corn-fields". His pioneering horse drawn hoe allowed farmers to combine the task of weeding and ploughing into one piece of equipment, and his practice of adequately spacing crops prevented overcrowding. The publication of this book caused controversy, mostly because Tull disapproved of using manure as fertiliser. As a result, his inventions were not widely used until the 19th century.
MERL LIBRARY RESERVE 3515-TUL
close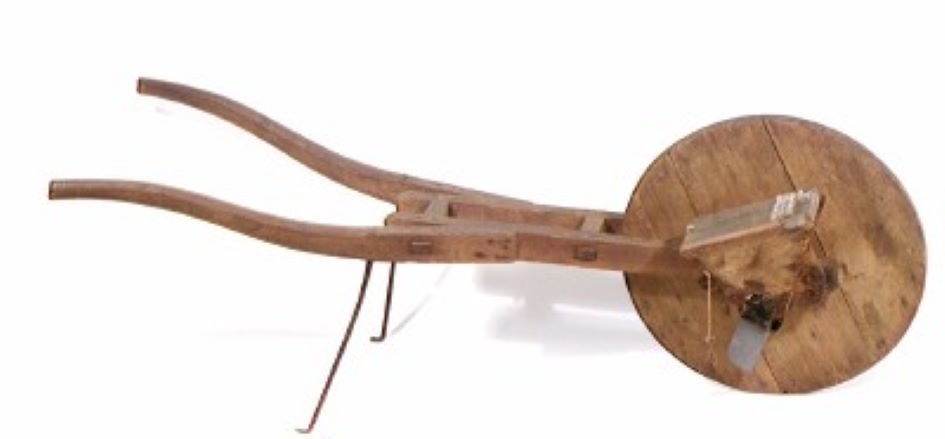 Seed drill
This hand powered seed drill was used at a number of farms around Rowhook, West Sussex, up until 1953. It manually sowed seeds at measured intervals.
Jethro Tull's invention of the seed drill in 1701 introduced a more efficient method of sowing to British farmers. Using a drill such as this one would ensure that the seeds remained within a narrow furrow. As a result, they were easier to cover with soil, and less water was required to germinate them. Additionally, less tillage of the soil was needed which protected it against erosion and reduced the pressure on farmers at a hectic time of year.
MERL 61/48
close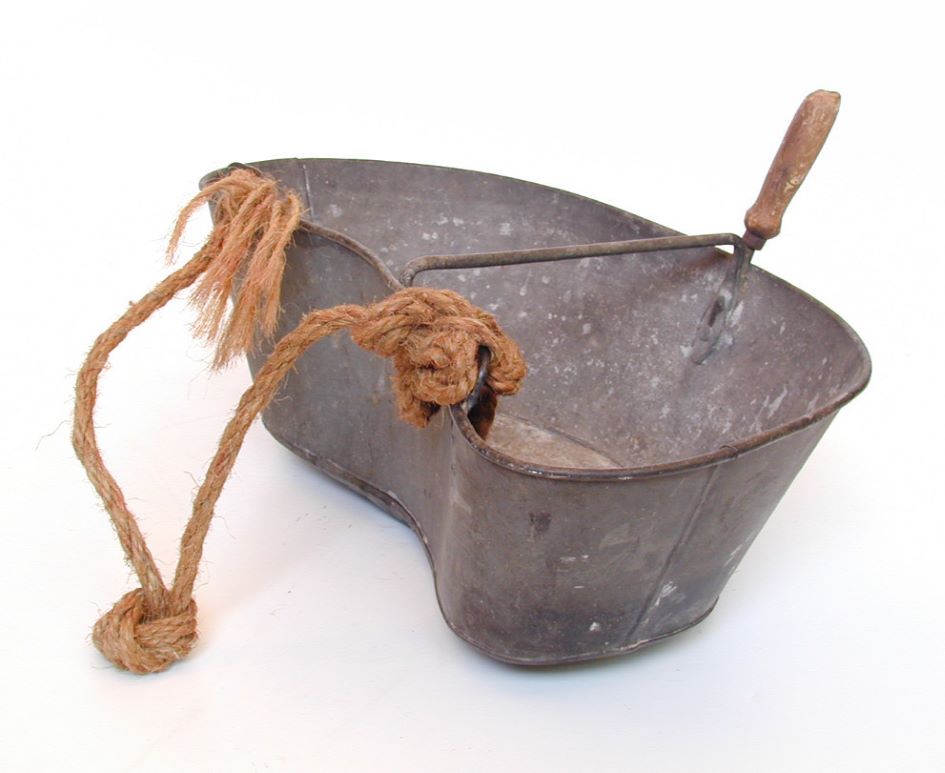 Seedlip
Used at Home Farm in Middle Assendon, Oxfordshire, this seedlip would have been hung around the wearer's neck. 'Broadcast' seeding is the oldest method of sowing and is still popular where using machinery is not practical or affordable. Effective broadcast seeding is not as simple as haphazardly throwing seed around your field or allotment. It is essential that the seeds are evenly spread, and moisture must be applied to the seeds soon after they fall. Sowing with the wind to your back also guarantees a better range on your throws!
MERL 92/81
close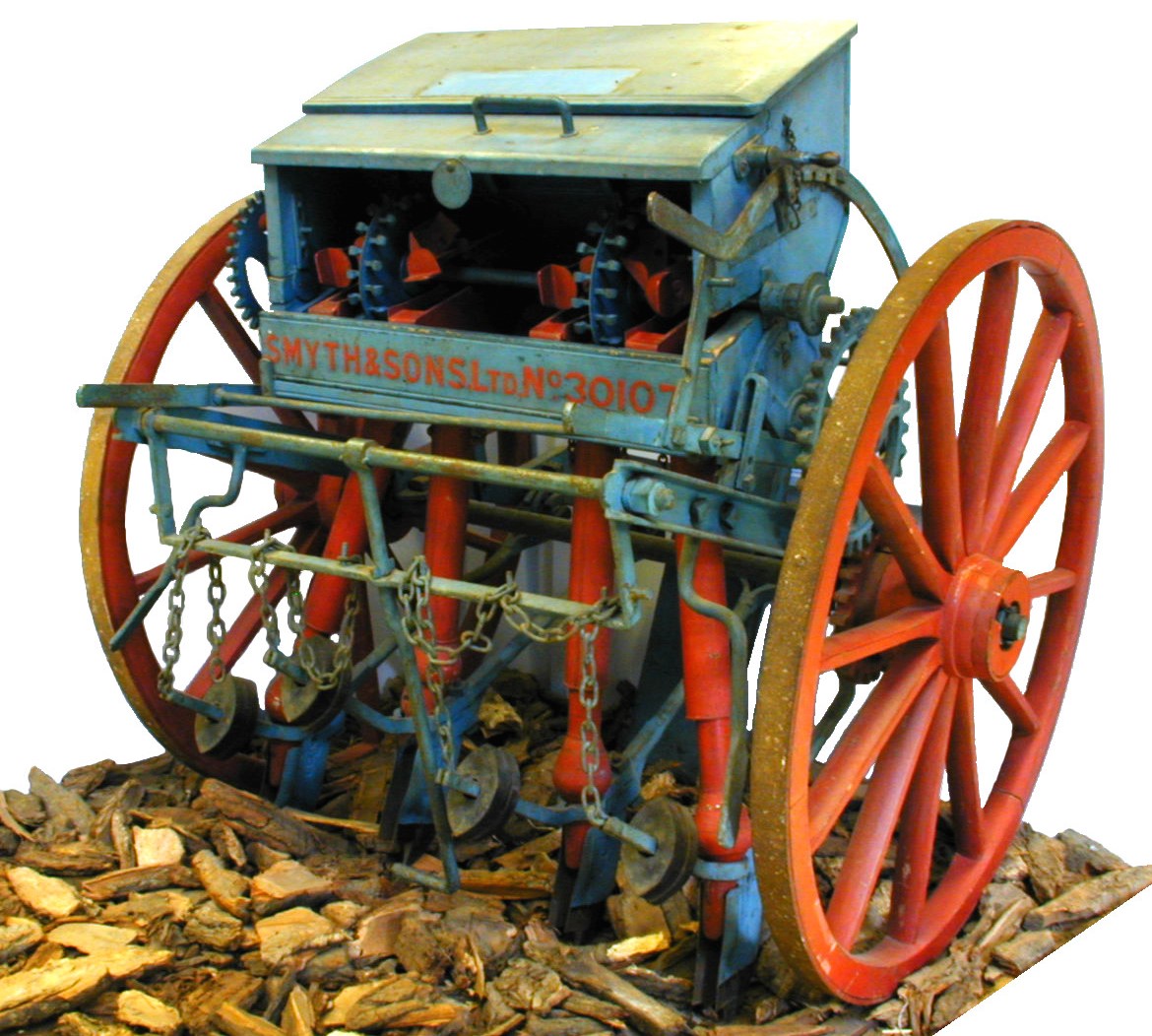 Seed drill
This seed drill was produced by James Smyth and Sons Ltd, a manufacturer of agricultural drills. It has works number 30107. Smyth was a wheelwright who was living in the village of Peasenhall, Suffolk in 1801. He noticed the potential of agricultural drills and formed a company which was fully focused on building them for dispatch around the country.
Over the course of the 19th century their workshop evolved into a factory and they exported internationally across Europe and Africa. Having established themselves as a prominent manufacturer of agricultural machinery, the company was later acquired by Ransomes, Sims & Jeffries.
MERL 65/326
close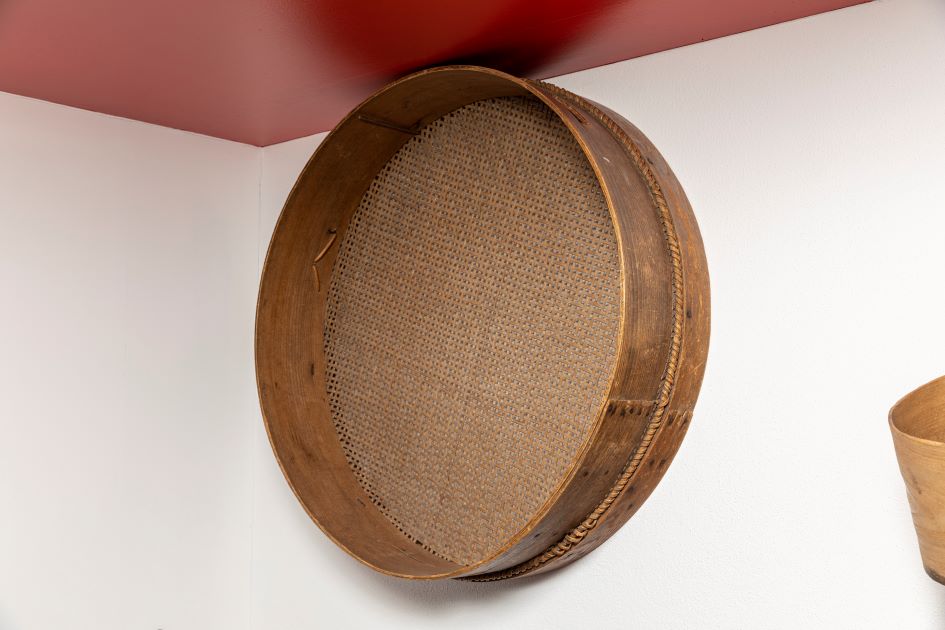 Sieve
Obtained from T. & R. G. Grace, a group of corn millers, maltsters and merchants, this sieve would have been used in the malting process. Malting consists of steeping certain grains – such as barley or rye – in water to induce germination and produce malt enzyme. This malt is then used for brewing or to make malt vinegar. Sieving is a crucial element of the cleaning process that must take place both before and germination. It removes unwanted objects from the grain, such as straw, rocks and sand.
Malting has been in demand for as long as beer has! Ancient malting would typically consist of steeping bagged barley in a stream, before leaving it to germinate and drying in a kiln.
MERL 65/219
close