Rural Healthcare Case 2
Tap the yellow hotspots to see more information on the selected object.
Start Exploring now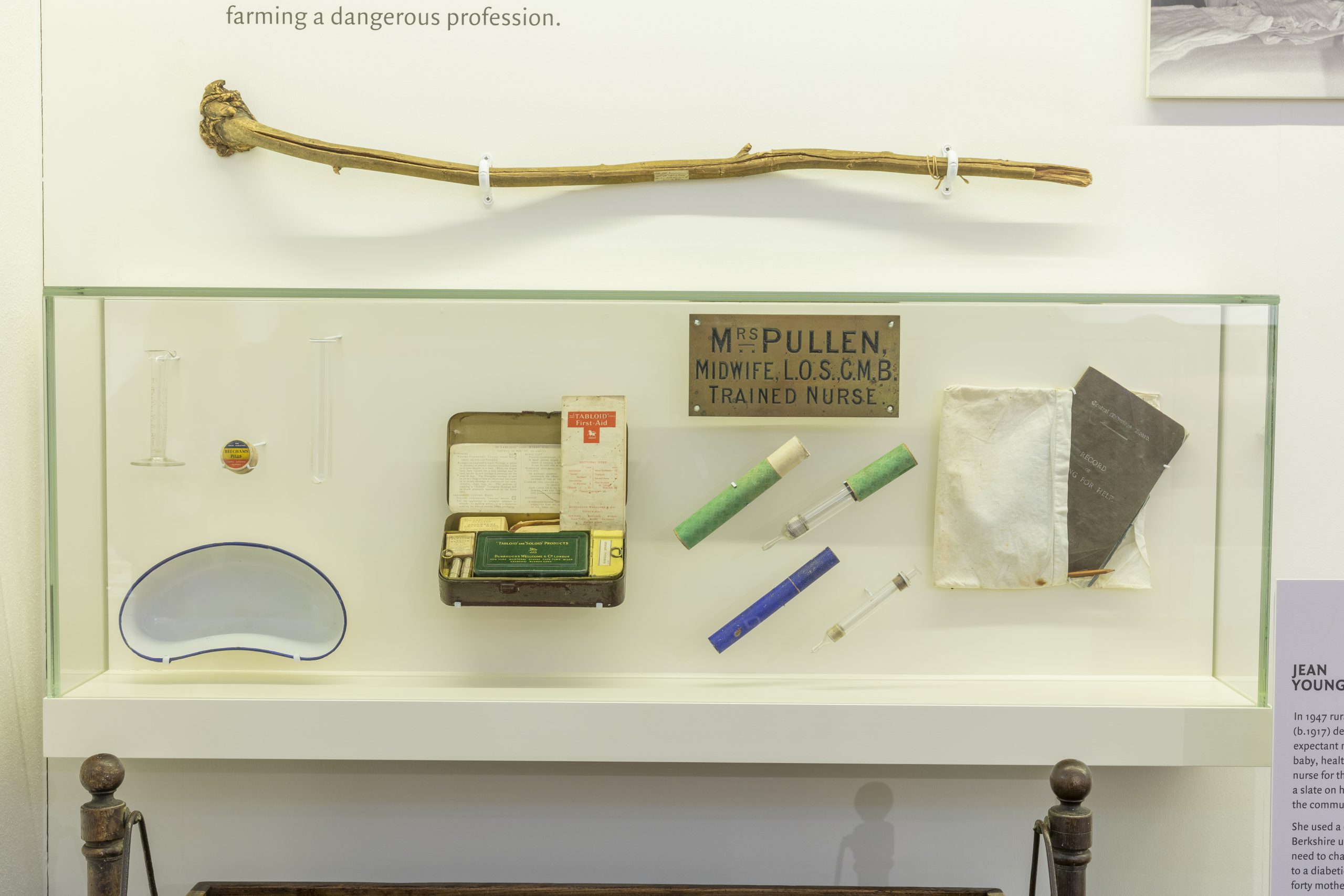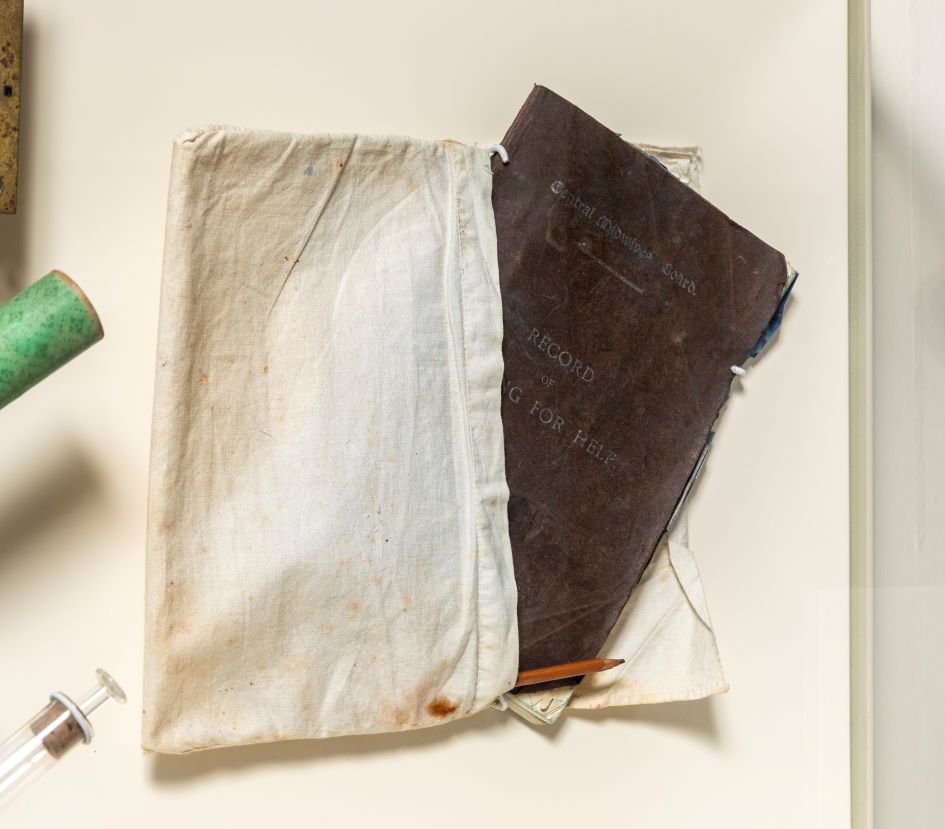 Midwife's Notebook
The Central Midwives Board was set up by the Midwives Act 1902. This prohibited unqualified and unregistered women from practising midwifery. The aims of the act were 'to secure the better training of midwives and to regulate their practice'. Each registered midwife had to keep a record in the notebook of when they sent for help from a doctor, during labour and childbirth while performing home deliveries. The notebook cover has an inscription reading "Central Midwives Board, Record of Sending for Help".
This notebook was used by Georgina Pullen. She trained and registered as a midwife in 1904. One case recorded in the notebook states that on "October 16th Dr. Farr sent for on behalf of Mrs. Bell who has a ruptured perineum."
MERL 2010/25
close

Sapling
Until the 1920s many traditional remedies were used which were a mixture of common sense combined with inherited lore about the healing properties of plants. This split ash sapling comes from Sussex. It was believed that a child could be cured of a hernia by passing it through the gap in a split ash sapling. The sapling was then bound and grafted back together and it was thought the hernia would repair as the sapling did.
Ash saplings were mainly used for this ritual cure because it was generally considered to be a magical tree. A spoonful of ash sap was once given to new-born babies in parts of England as a protection against ill health and witchcraft. The local wise man or woman carried out this magical healing although it might also be attempted by a relation. Many thanks to the Folklore Society for loaning us this item.
FLS 1905.3
close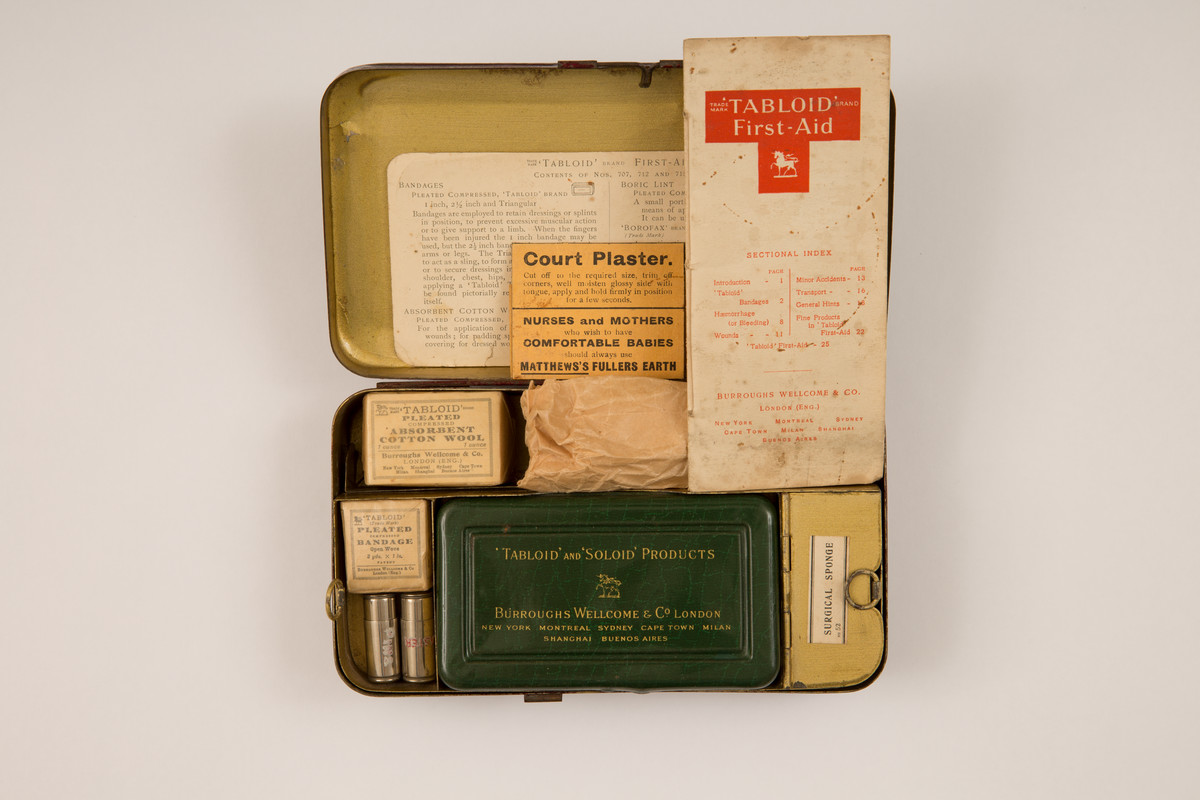 Tabloid First Aid Kit
This First Aid kit was made by the pharmaceutical company Burroughs Wellcome, which produced a wide range of specialised kits – for explorers, the army and civilians, of which this is one. The contents include; tweezers, scissors, smelling salts, adhesive plasters, cotton wool, triangular bandage, antiseptic, remedies for stomach upsets, surgical sponge.
The first aid kit was used by Georgina Pullen of Andover, Hampshire and Hambleden, Buckinghamshire, during her work as a rural nurse and midwife in 1904-17. Furthermore, this model of First Aid kit No. 715 was used by Alcock and Brown on their first transatlantic non-stop flight on 14-15 June 1919.
MERL 2004/17
close