Into the Country Case
Tap the yellow hotspots to see more information on the selected object.
Start Exploring now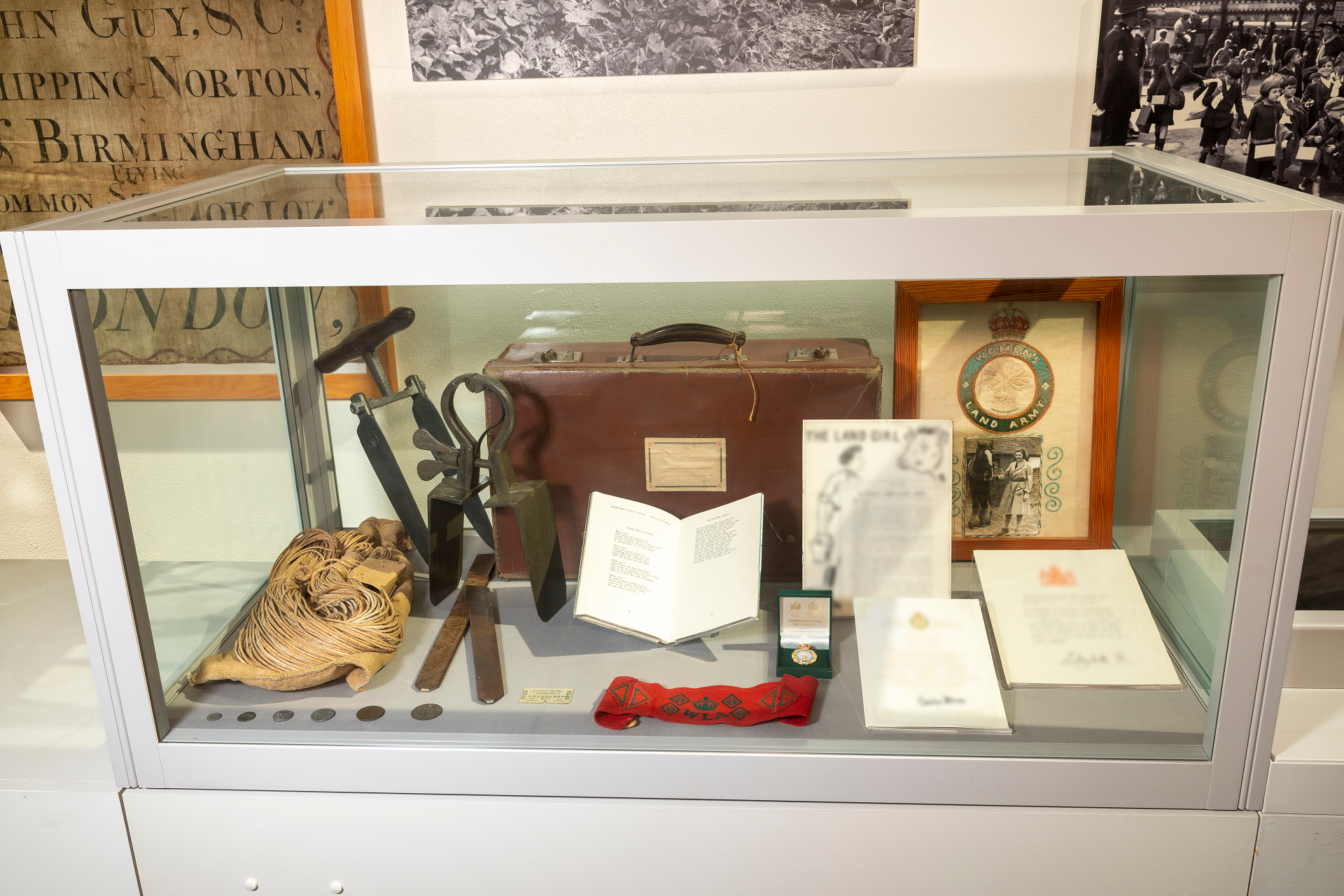 WLA Embroidery and Photograph
+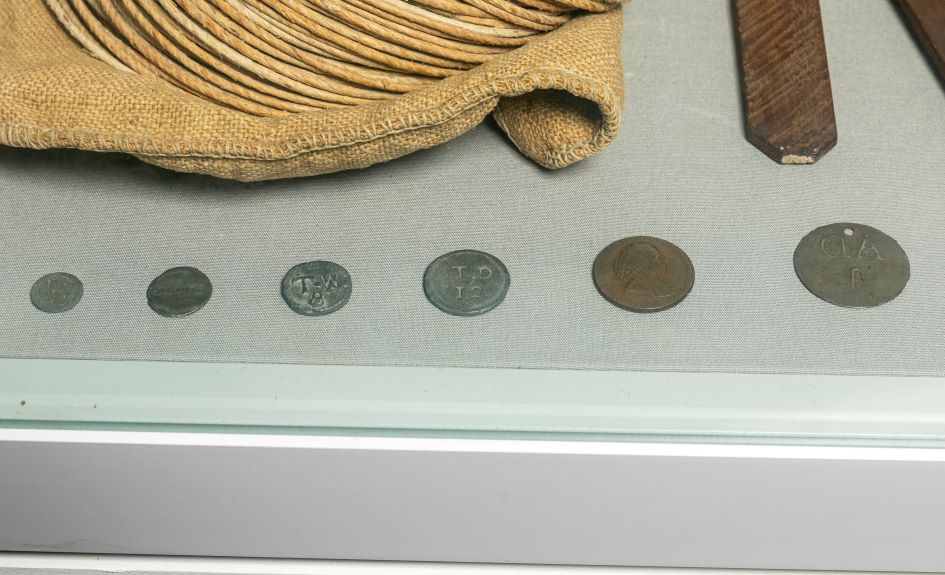 Hop Tokens
Hop tokens were given to pickers as their baskets were measured and emptied. Payment was made at the end of each week according to the number of tokens each picker possessed. One token, which is a thin piece of metal 1 inch in diameter, has the letters 'J.M.' stamped on it and came from Hereford.
MERL 54/128
close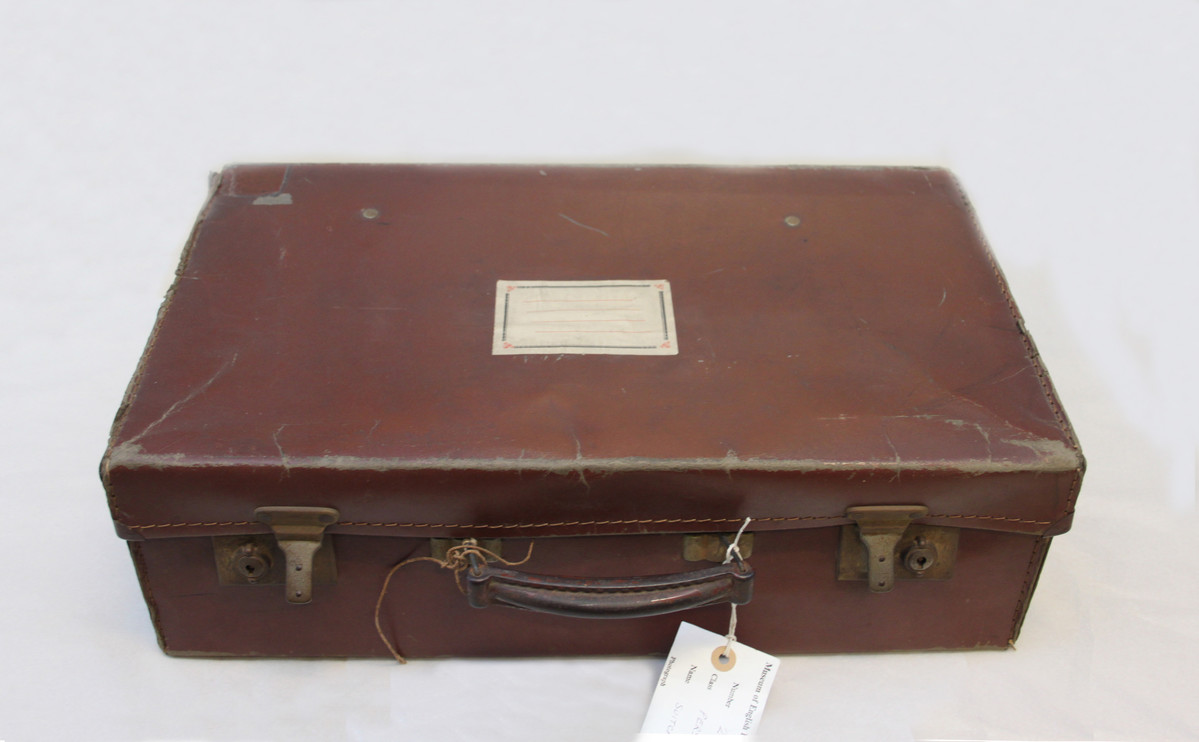 Evacuee Suitcase
This small suitcase is of the type used by evacuee children during World War II. On the 1st of September 1939 evacuated children arrived in Reading. These were children mainly from South West London, Lambeth, Battersea and Wandsworth. London was a city that suffered with pollution and many of the children may have felt a very strong difference in the City to the countryside town of Reading.
MERL 2008/88
close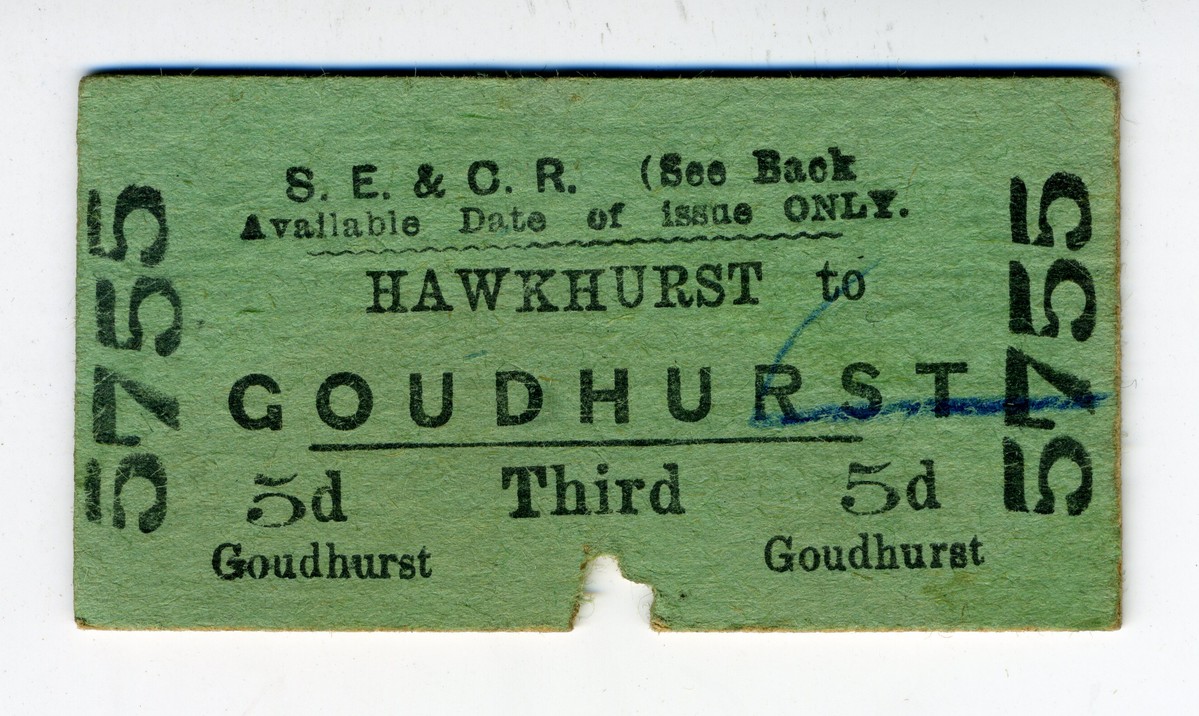 Railway Ticket
This is a railway ticket, costing five pence, for third class travel between Hawkhurst and Goudhurst stations in Kent. It is printed on green card, has been punched, and is dated 4 January 1907. It was issued by South East and Chatham Railway.
The Hawkhurst branch line, an 11 mile single track line, was opened in 1893 and closed in 1961, and linked Hawkhurst to Cranbrook, Goudhurst, Horsmonden and Paddock Wood. One reason for the light traffic on the line, apart from its very rural nature, was that the stations were inconveniently placed. Hawkhurst station, for example, was over a mile from the centre of the village and technically not in Hawkhurst at all. At hop and fruit picking time the line was busier, but by the 1950s competition from road transport was rising fast.
MERL 2010/45
close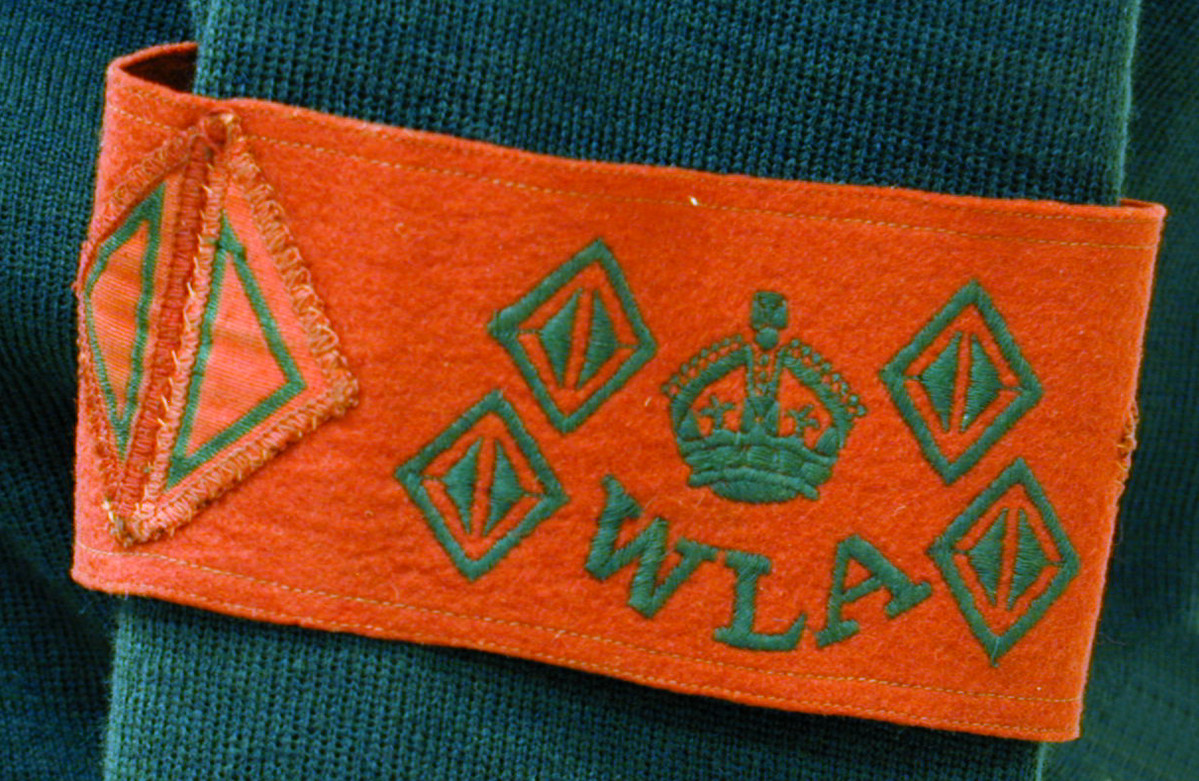 WLA Armband
This is a long service armband issued by the Women's Land Army to Doreen Thorp. It has a green crown, green letters (W.L.A) and four small green diamonds. Also stitched on it are four red half diamonds outlined in green. Each half diamond was awarded for six months satisfactory service with the Women's Land Army. The armband represents six years service.
Doreen recalls: "In September 1939 I joined the Women's Land Army and in October I started two months training at the Midland Agricultural College in poultry, milking (hand & machine), stock and general farm work."
MERL 88/62
close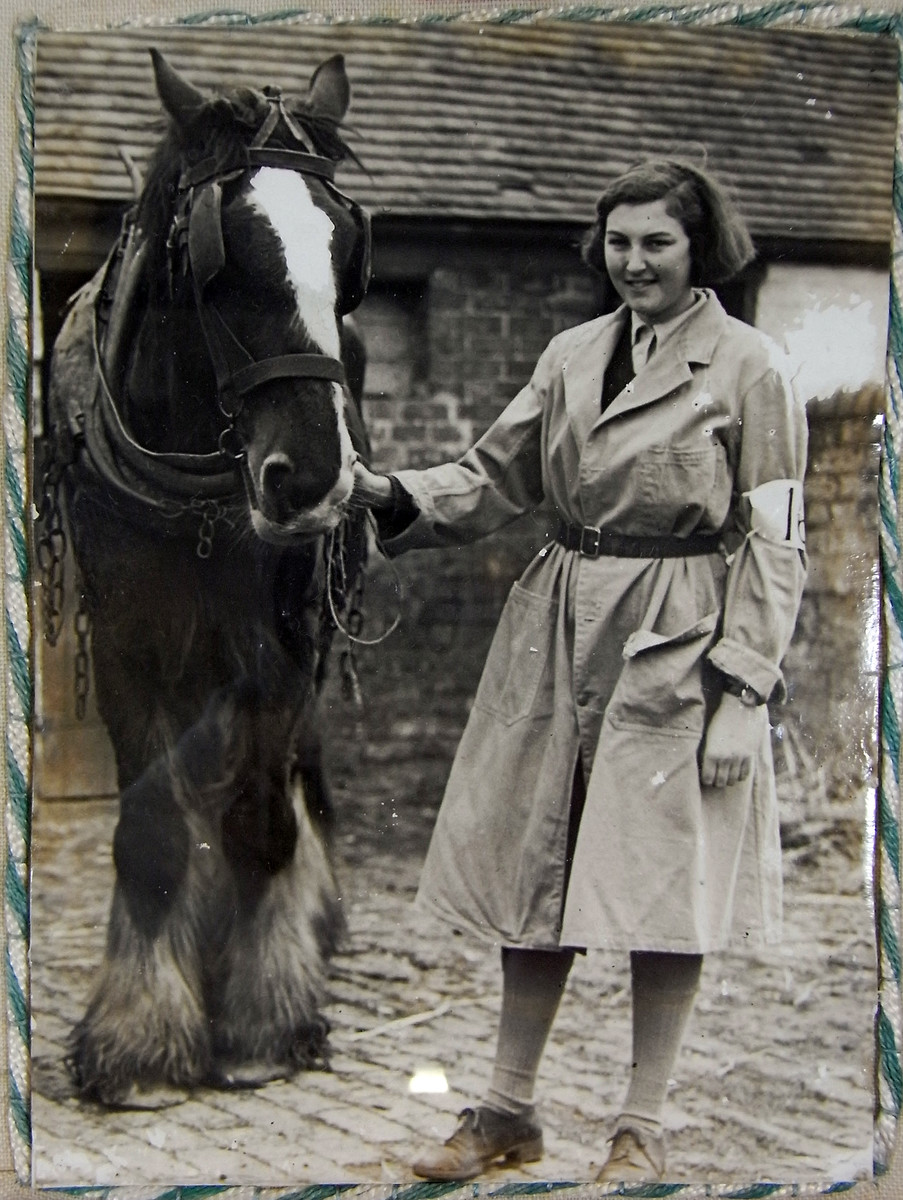 WLA Embroidery and Photograph
The photograph shows Barbara Whitaker, who joined the Women's Land Army in 1939 at the age of 16. As a farmer's daughter she knew the work involved and was therefore accepted at a young age. After leaving the Women's Land Army she carried on farming on a small scale until the 1960s. The embroidery depicts the standard logo of the Women's Land Army. She worked at Manor Farm, in Southam, Gloucestershire, and also spent her evenings as an ARP 'Fire Watcher' and collecting money for the 'Penny a Week Red Cross Fund'. She left the WLA when it disbanded and received the gold armband from the Queen in person.
MERL 2007/59
close