Hearth and Home Display
Tap the yellow hotspots to see more information on the selected object.
Start Exploring now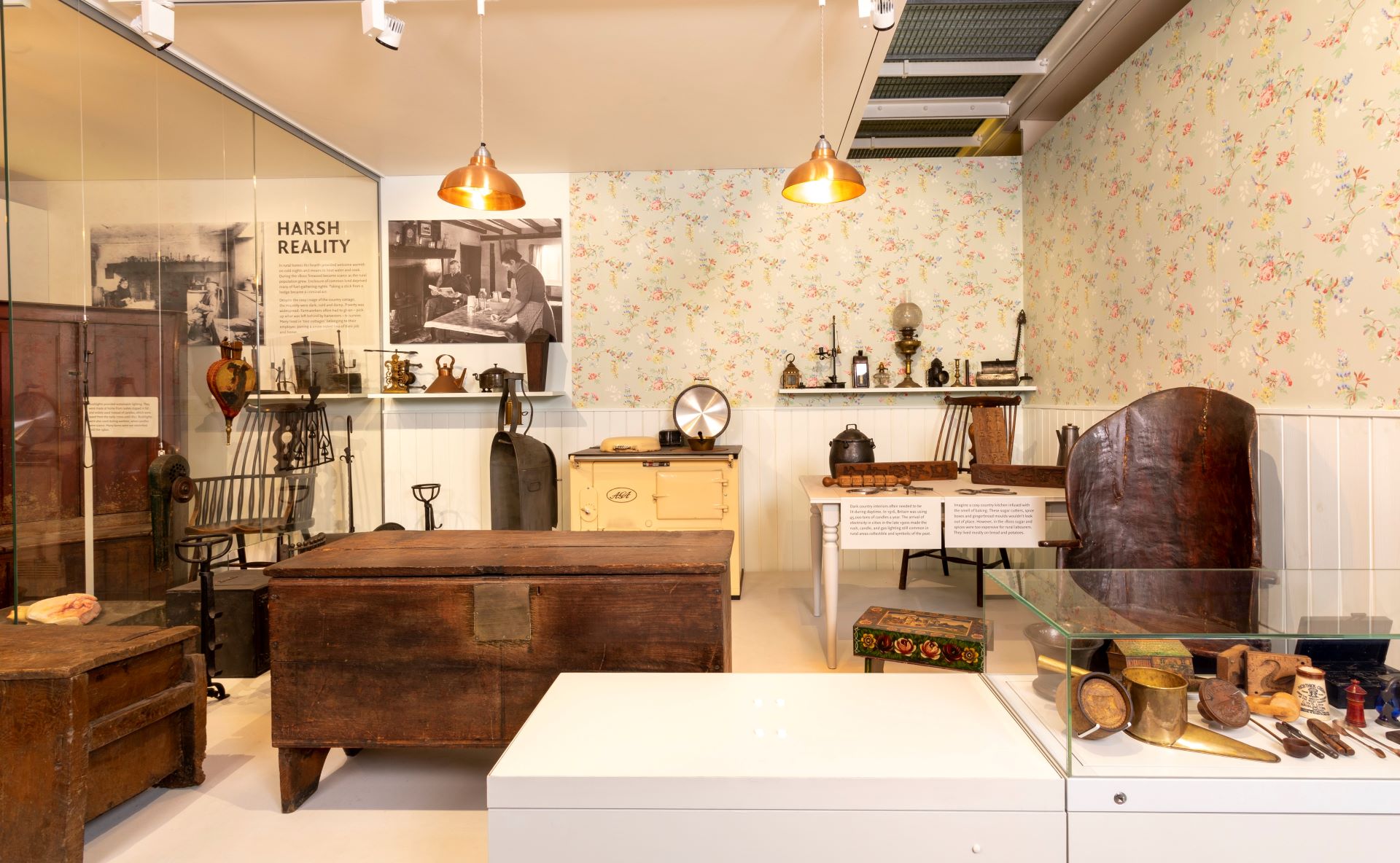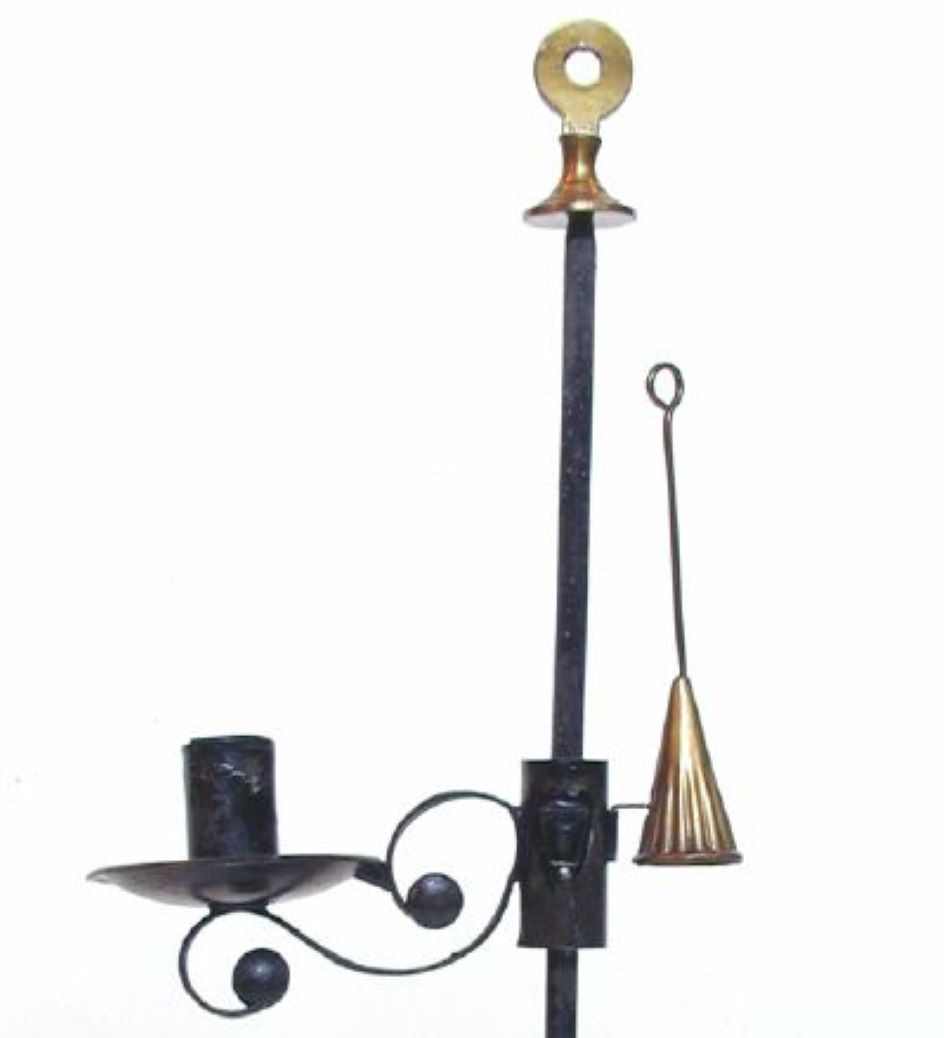 Candlestick
This candlestick is accompanied by a brass 'snuffer' which is placed atop the candle to extinguish the flame. It was bought by Lavinia Smith for sixpence in 1924.
It was not until well into the 20th century that electric lighting replaced candles and oil lamps in most homes. Though candle-making is an ancient craft, its scale was transformed by the industrial revolution. In 1834 Joseph Morgan patented a machine that could make 1500 candles in an hour.
MERL 51/478
close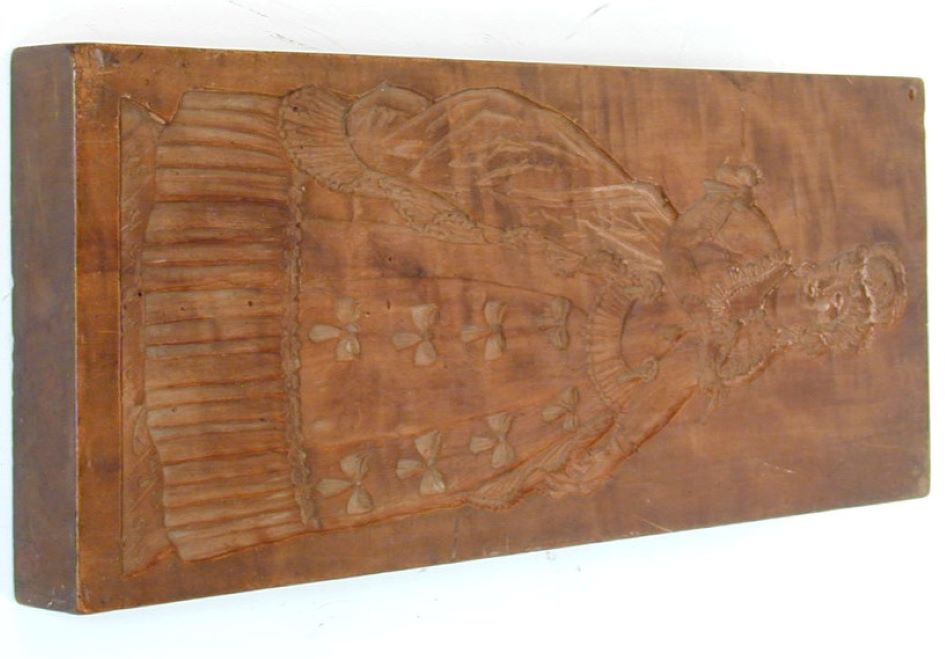 Gingerbread mould
Gingerbread moulds like this were commonplace across Western Europe in the 19th century. This French mould features a large imprint of a woman on one side, and nine figures – three military, three rural and three musical – on the other side.
Gingerbread has been enjoyed by British people for hundreds of years, ever since the introduction of ginger around the 11th century, when Crusaders returned from the Middle East with recipes for spiced bread. Biscuits known as 'fairings' were baked and sold at medieval fairs. By the 18th century gingerbread was always readily available.
MERL 51/108
close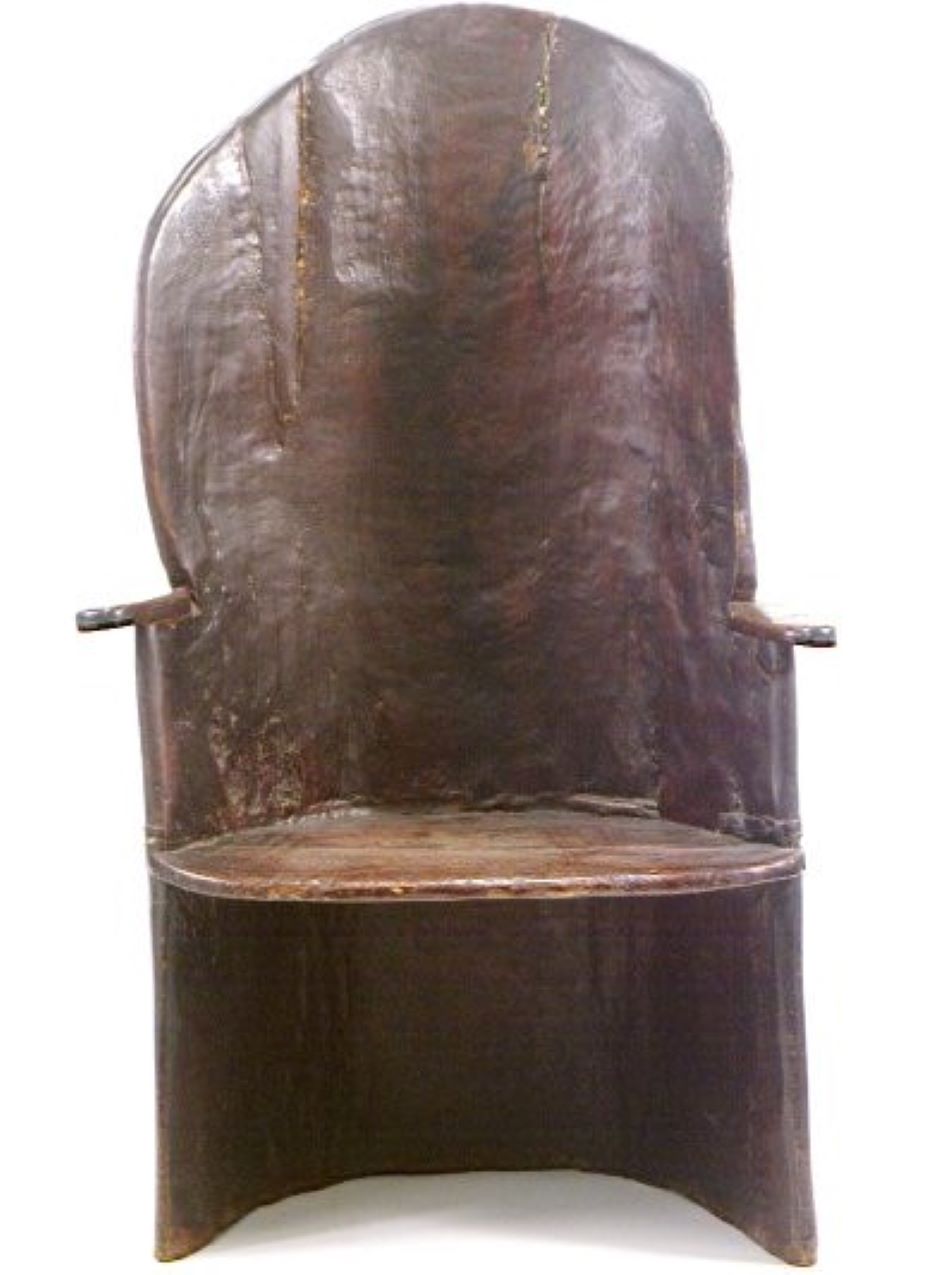 Dug out chair
Crafted in Shropshire between 1760 and 1850, this chair was shaped using the natural hollow of an elm tree trunk to produce the curved shape of the chair's back. This style of chair was fairly popular in the 18th century but few examples survive in good condition. An older or rotting tree would be ideal for this type of furniture, as the central sapwood was less firm and easier to remove.
MERL 53/53
close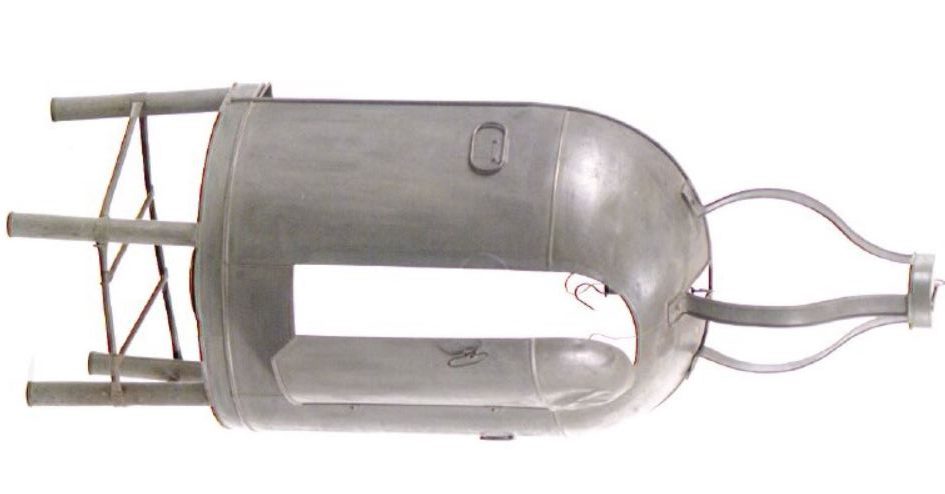 Dutch oven
This is a Dutch oven, which is designed to be stood in front of an open fire to cook food. It was used in the early 20th century and contains a bottle jack and drip pan. The bottle jack is a vertical spit which would rotate within the oven to ensure even cooking. A drip pan is used to collect the juices that drop off the meat during cooking. Catching these 'drippings' would not have been simply to keep the oven clean. They could be used to roast vegetables in the drip pan, or they could be collected later and used as a substitute for butter or oil.
MERL 55/282
close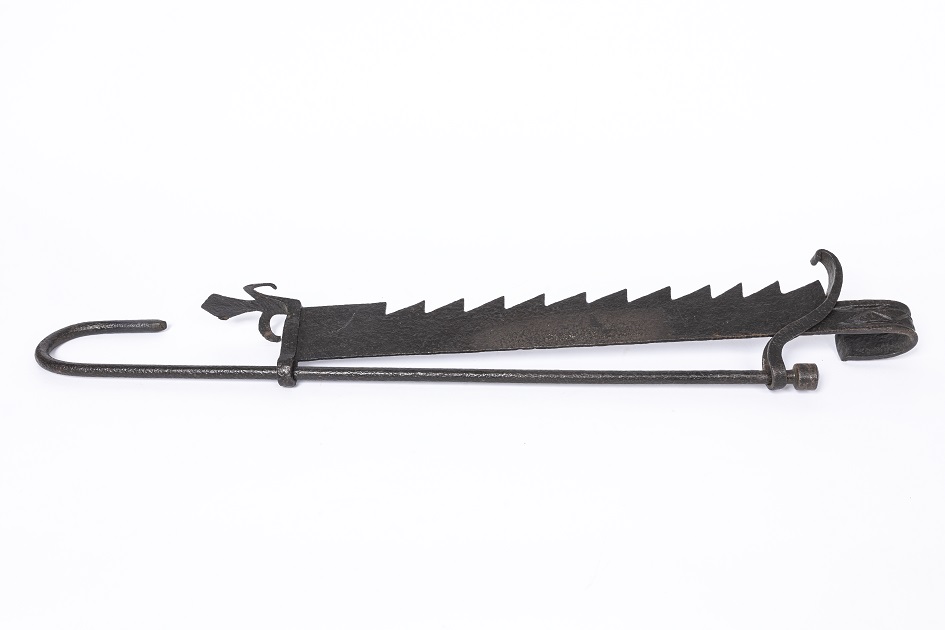 Ratchet hanger
This object, dating from the 18th century and made in Sussex, was used to suspend a cooking pot over a fireplace. The hook was attached to a chimney beam, and the pot hung from the other end. The saw-like ratchets were used to adjust the height of the pot. Essentially, they were the Georgian equivalent of a hob temperature dial on a modern oven. Using a lower ratchet would bring a liquid to the boil, and relocating to a higher ratchet would allow it to simmer.
MERL 59/252
close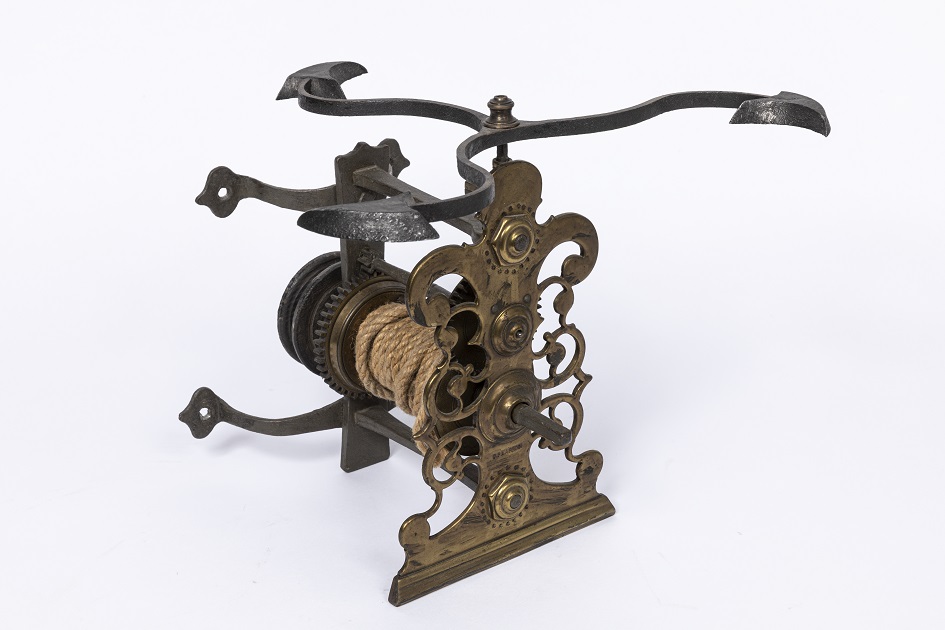 Spit jack
One of the older objects on display, this spit jack dates to the 17th century and would have been used to turn a spit. Otherwise known as a roasting jack or weight jack, this weight-driven device contains gears which would turn the top 'wheel' and therefore rotate the spit.
Various mechanisms have been used to turn spit roasts since they became widespread in the medieval period. Initially they were turned by hand, usually by a boy – this is where the name 'spit jack' derives from. Dogs on treadmills, clockwork jacks and steam powered jacks have all been popular as the design developed.
MERL 59/257
close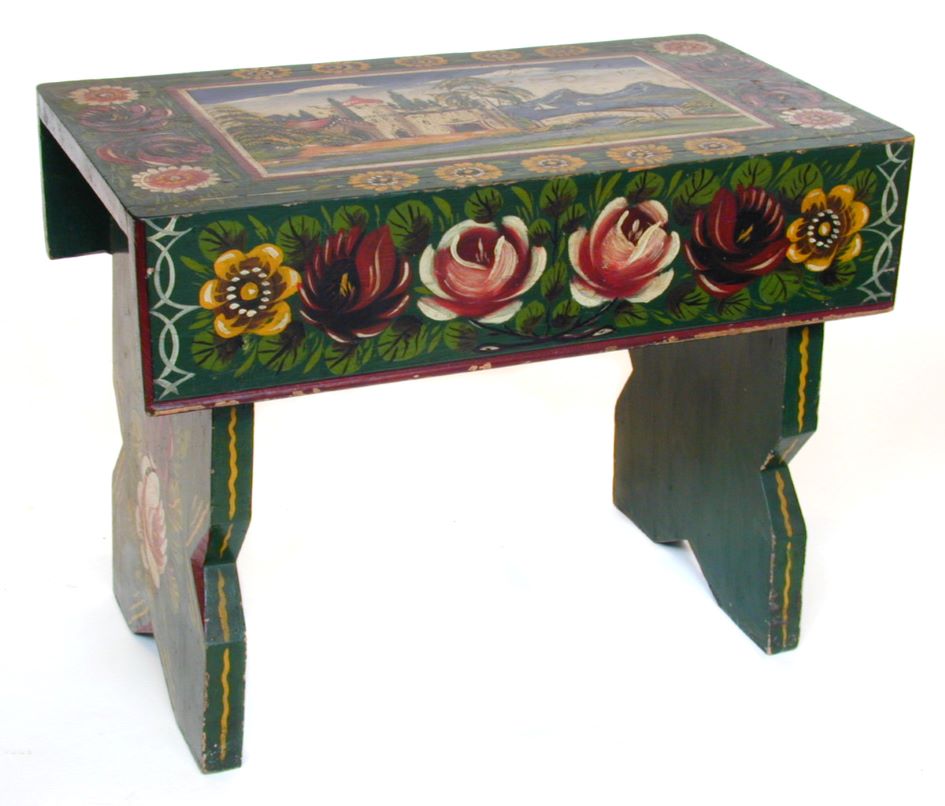 Narrowboat stool
This stool was built for use on a narrowboat, the craft that traverse canals. Throughout the 19th century, many families lived most of their lives on canals as they transported goods from one place to another.
The rose and castle designs of the stool are similar to gypsy art, which led to a popular misconception that canal folk were gypsies, but there is no real evidence to suggest this. However, like gypsies, canal folk were treated poorly by urban dwellers, often being scapegoated for crime and being viewed as uneducated. There is no longer a living population of canal folk, but their art remains a testament to their unique culture.
MERL 60/437
close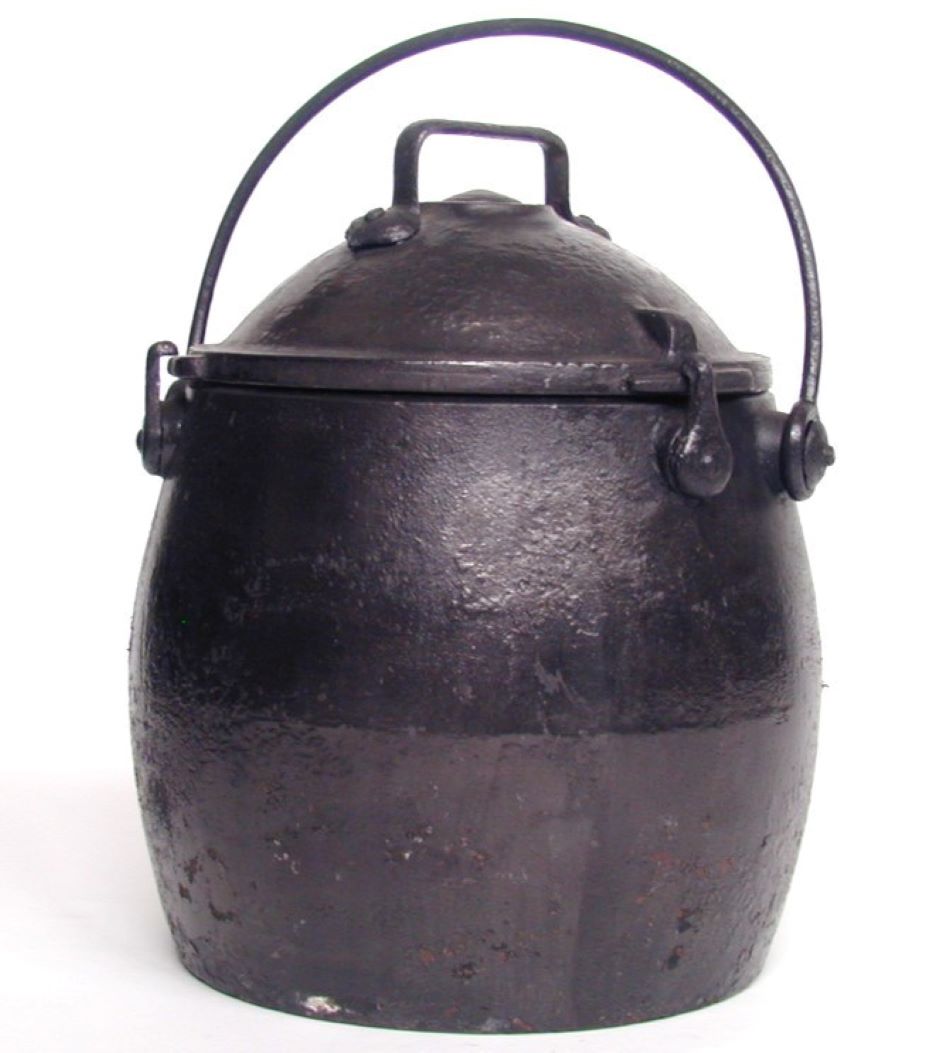 Pressure cooker
Pressure cookers are designed to cook food without any steam escaping, which raises the pressure inside the pot. This increases the boiling point of water and therefore quickly cooks the food without over-boiling it. This cooker is Victorian, but they only became widespread during World War 2. At this time it was realised using a pressure cooker could save fuel, as it cooked food much faster than a regular pot.
Old pressure cookers could be dangerous, as they would violently explode if the steam escape valve became clogged. However, modern models are far safer and must go through rigorous testing before manufacture.
MERL 61/89
close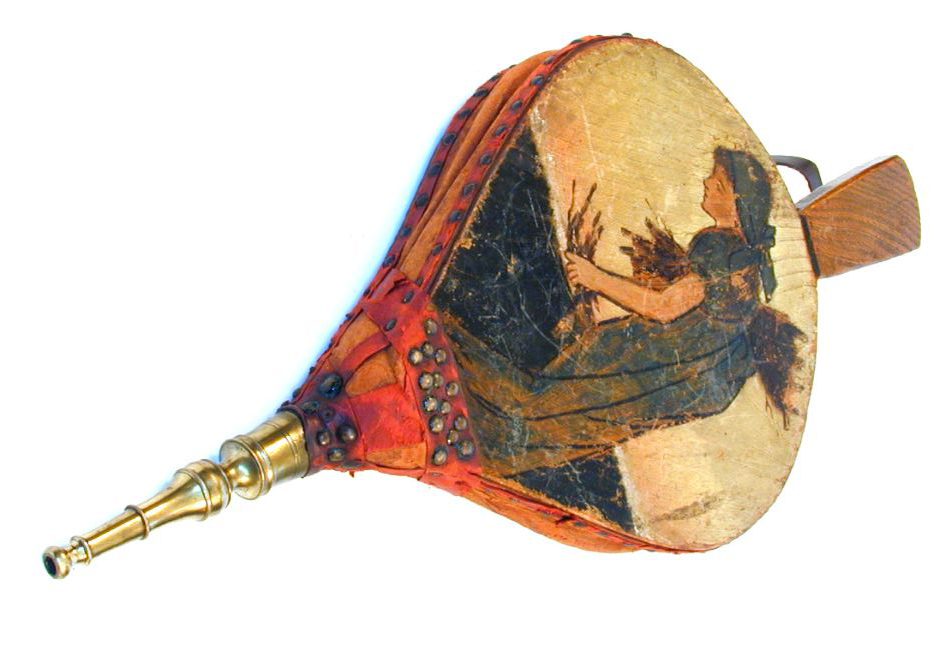 Bellows
These are hearth bellows, used to blow air onto a domestic fire and maintain its temperature. This element of temperature control made bellows useful for cooking, and an essential tool for blacksmiths who needed a particularly hot furnace. Whilst blowing air onto a fire may seem counter-productive, fire needs heat, fuel and oxygen to continue burning. Bellows provide a burst of oxygen.
Fireplace bellows were usually on display for visitors to view, and so they were often decorated to match the style of the room. For example, these bellows were painted by the donor's grandmother.
MRL 68/511
close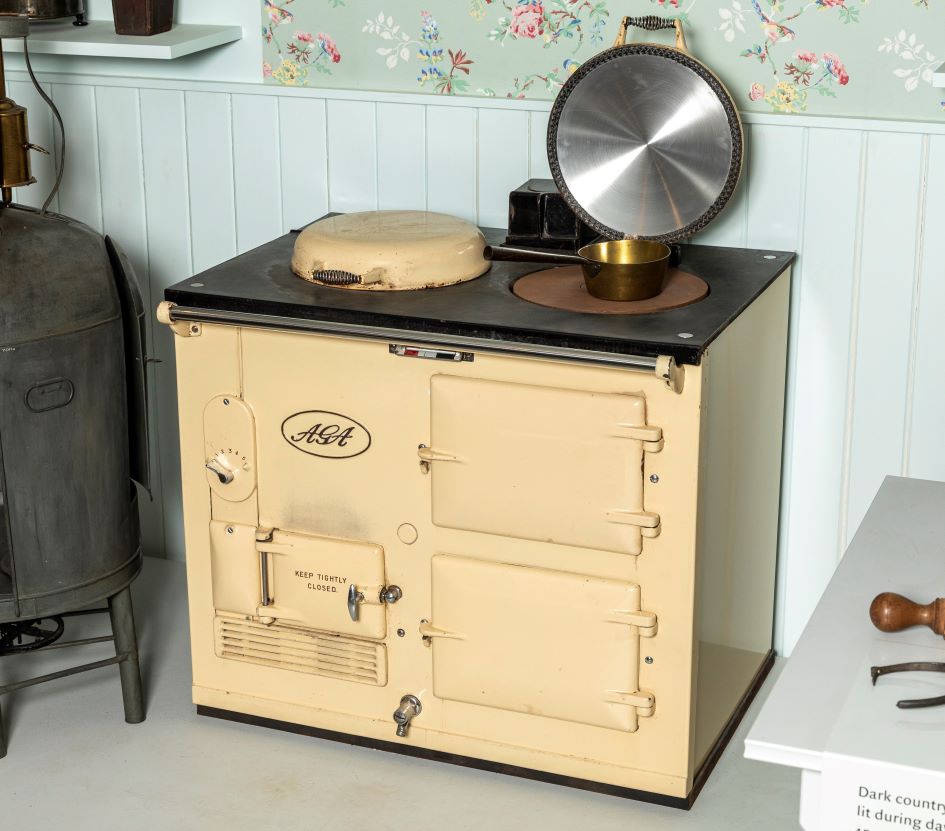 Kitchen range oven
This range oven is made from cast iron. Ovens like this were frequently seen in country farmhouse kitchens in the 20th century. Until the iron casting process was refined by Abraham Derby in 1709, food was typically cooked over open fires which wasted heat and fuel. Cast iron stoves – situated in the fireplace – were gradually developed until the mid-19th century. At this point, rail transport allowed easy delivery of heavy goods and so complete cast iron ovens became more accessible. Different ranges gained popularity with different types of people – for example, the Cornish range was often a staple of mining communities.
MERL 2016/13
close