Country Potters
Tap the yellow hotspots to see more information on the selected object.
Start Exploring now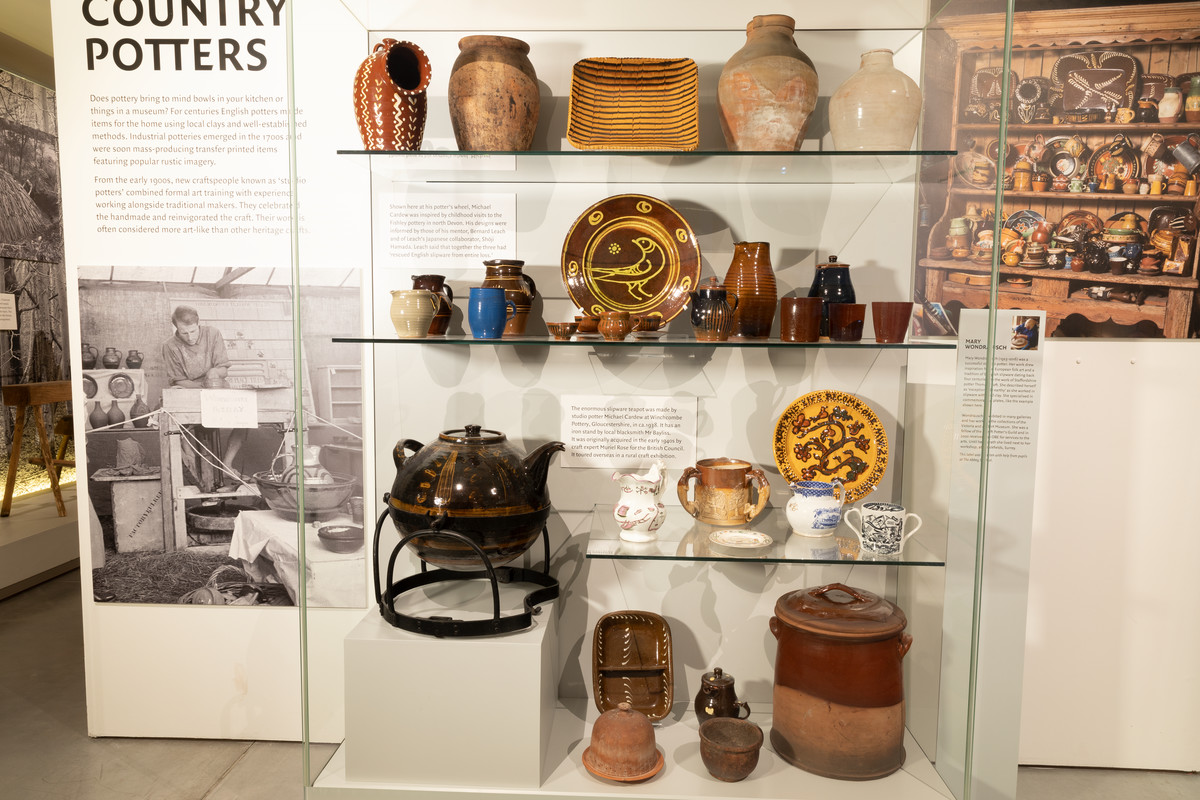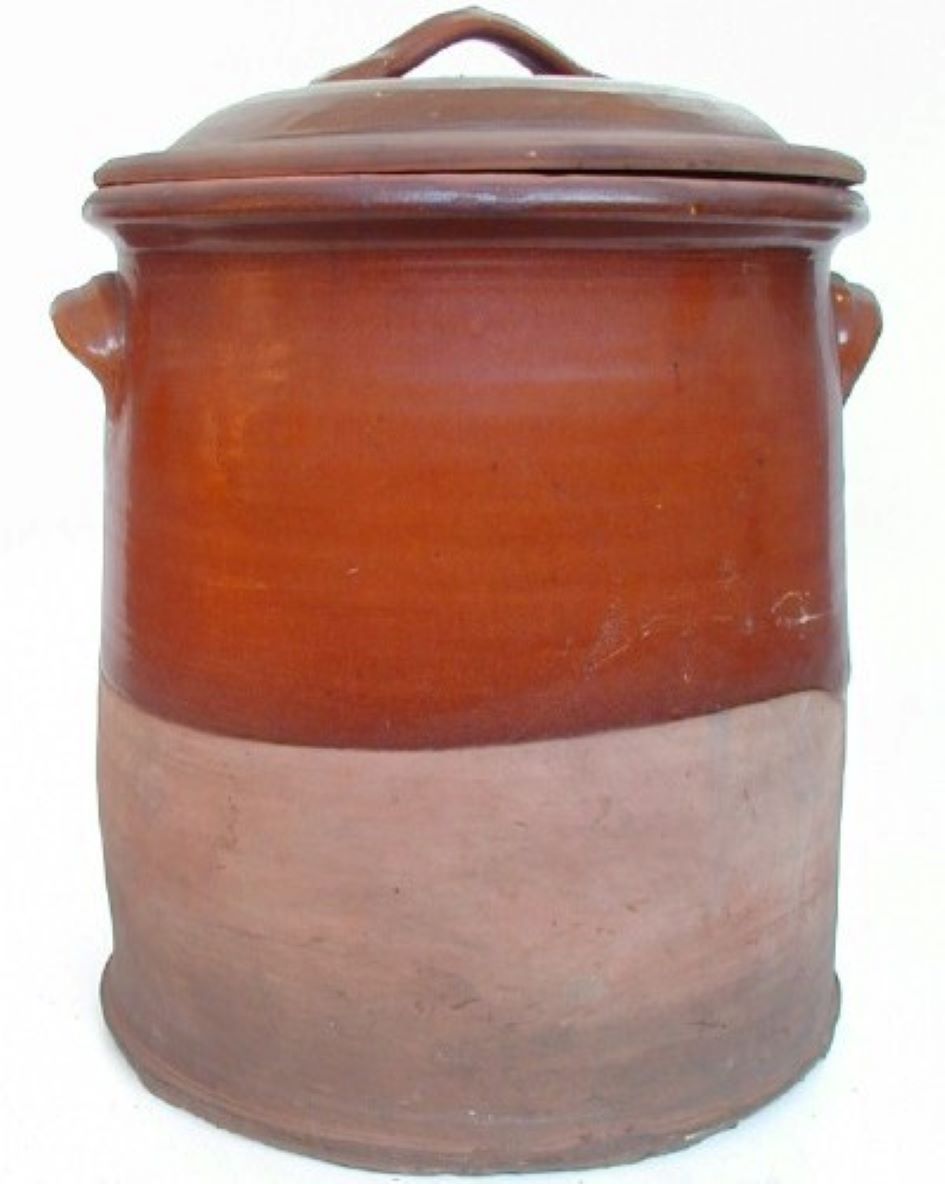 Bread Bin
This pottery bread bin with lid and two handles was made in 1947 by A. Schofield at the Wetheriggs Pottery in Clifton Dykes, Cumbria. They were needed until bread started being made with food preservatives and wrapped in plastic.
Breadboxes are designed to keep the contents are room temperature, prolonging edible storage time. They have lids loose enough to allow airflow, reducing condensation, which helps prevent the formation of mould and yet have a lid tight enough to slow the drying process as well as to protect the contents from mice and all other pests. Michael Cardew was an English studio potter who worked in West Africa for 20 years.
MERL 60/61/1-2
close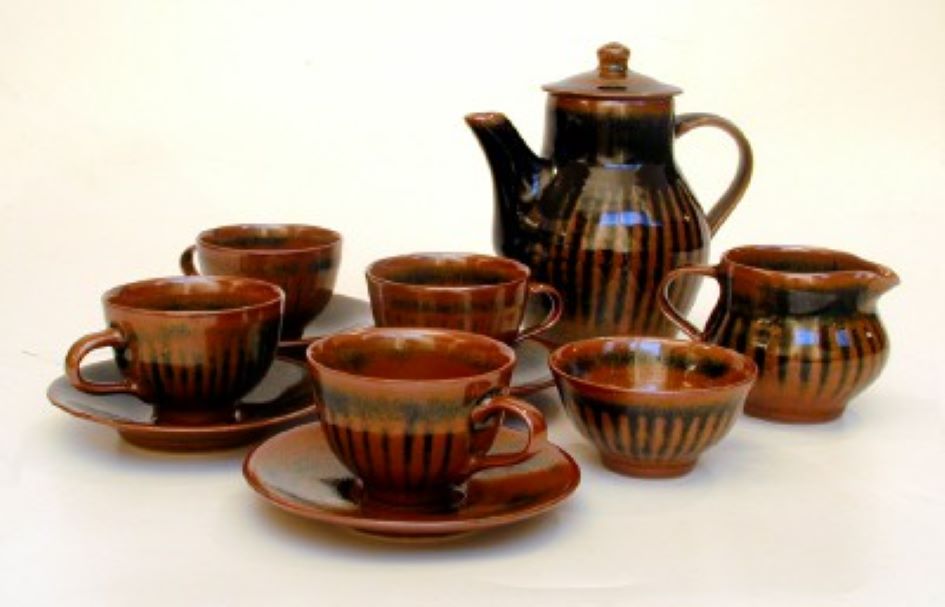 Coffee Set
This set was made c.1945-60 by Harry and May Davis at Crowan Pottery, Praze-an-Beeble, Cornwall. Each piece has a brown tenmoku glaze – a dark glaze with a surface which resembles oil-spotting – and, with the exception of the saucers, each piece is fluted, with the concave portions shaded dark green.
Harry studied art and pottery from his university education onwards. He left St. Ives in 1937 to become Head of the Art School at Achimota College on the Gold Coast (Ghana) where he examined the feasibility of manufacturing tiles, bricks and pots. He recommended Michael Cardew succeed him.
MERL 60/742
close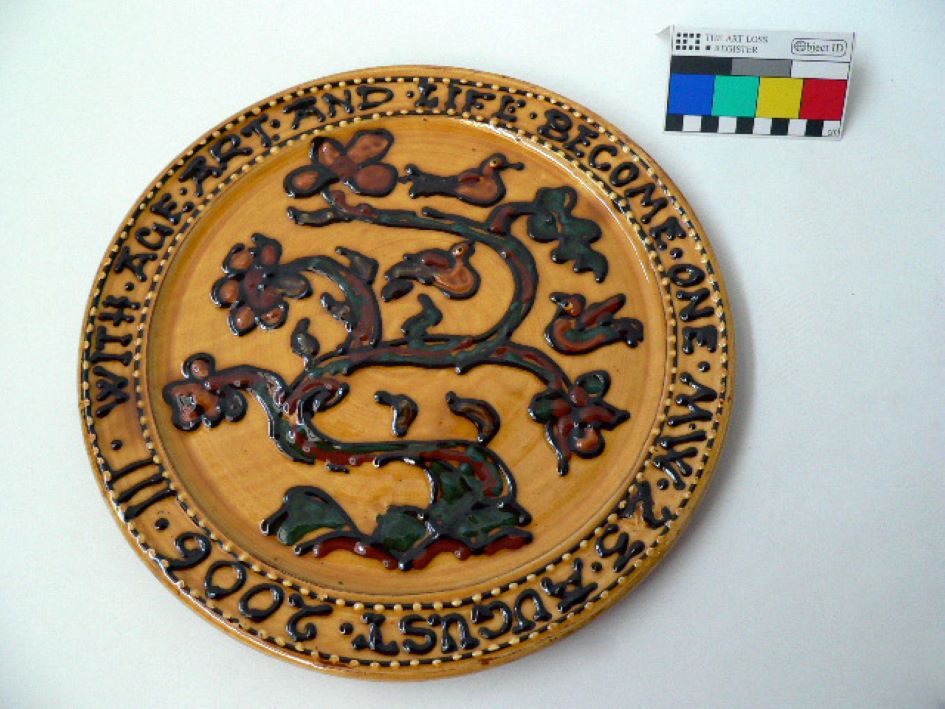 Plate
This plate was created by Mary Wondrausch for the museum in 2006. This is a slipware plate, known as a 'charger', with a honey glaze, a 'tree of life' pattern in the centre and the words 'With Age, Art and Life Become One, MW 23 August 2006'. The tree of life is a fundamental archetype in many of the world's mythologies, religious, and philosophical traditions. It is closely related to the concept of the sacred tree.
The plate was crafted as part of the 'Rural Crafts Today' project run by the MERL from 2006 – 2008.
MERL 2006/66
close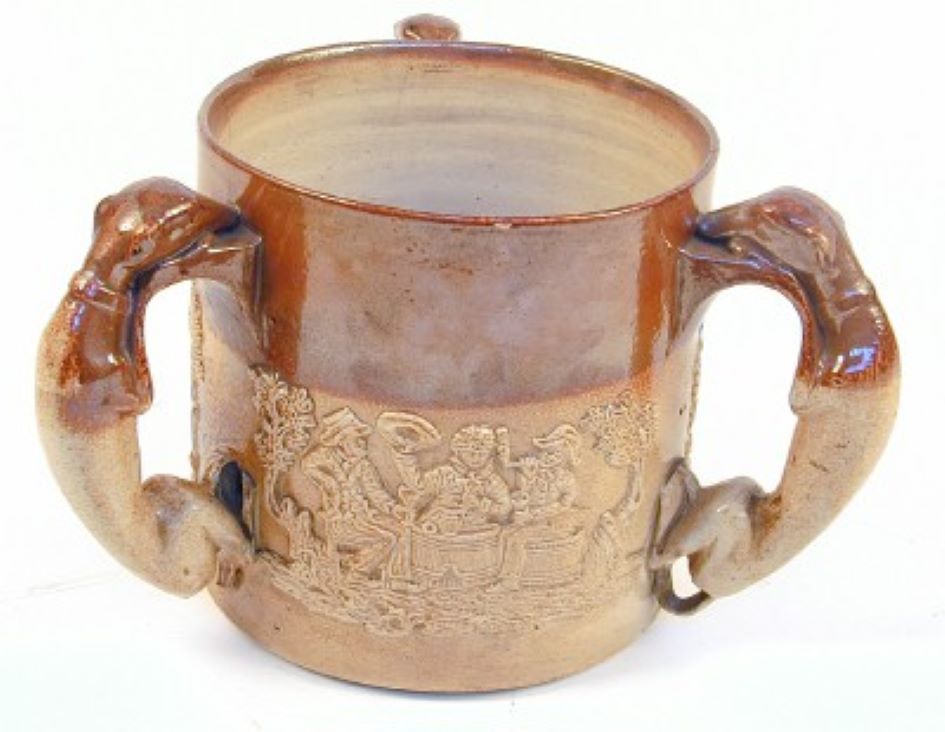 Loving Cup
Believed to have originated in Chesterfield, Derbyshire, this cup was the biggest in an original set of three. Known as a loving cup (two tone brown earthenware) the handles are shaped like dogs and the cup is decorated with scenes of 'rural merriment'. A loving cup is a shared drinking container traditionally used at weddings and banquets. It usually has two handles and made of silver. Loving cups are also given as trophies to winners of games and other competitions.
MERL 62/313
close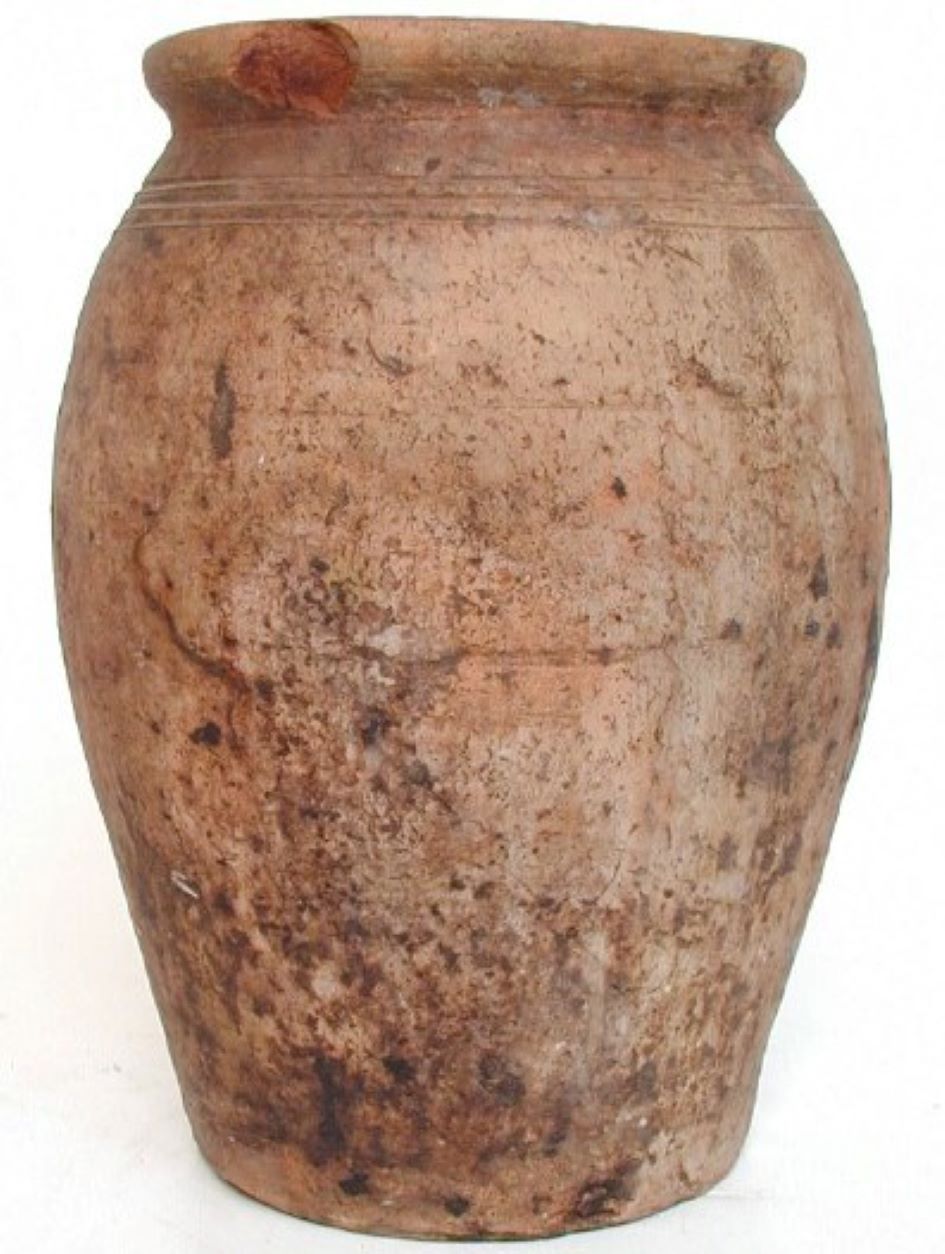 Lard Jar
This lard jar was used by the donor's family at Polventon in Cornwall for holding lard after pig killing until c.1950. It was used by the Wherry Family and made by Andrews, an employee of the Chapel Hill Pottery, Truro c1880.
Lard is a cooking fat and can be used much like butter. It is sourced by rendering the fatty tissue of a pig. It was used as a butter substitute during WW2 and was much cheaper than butter until the introduction of vegetable oils.
MERL 62/328
close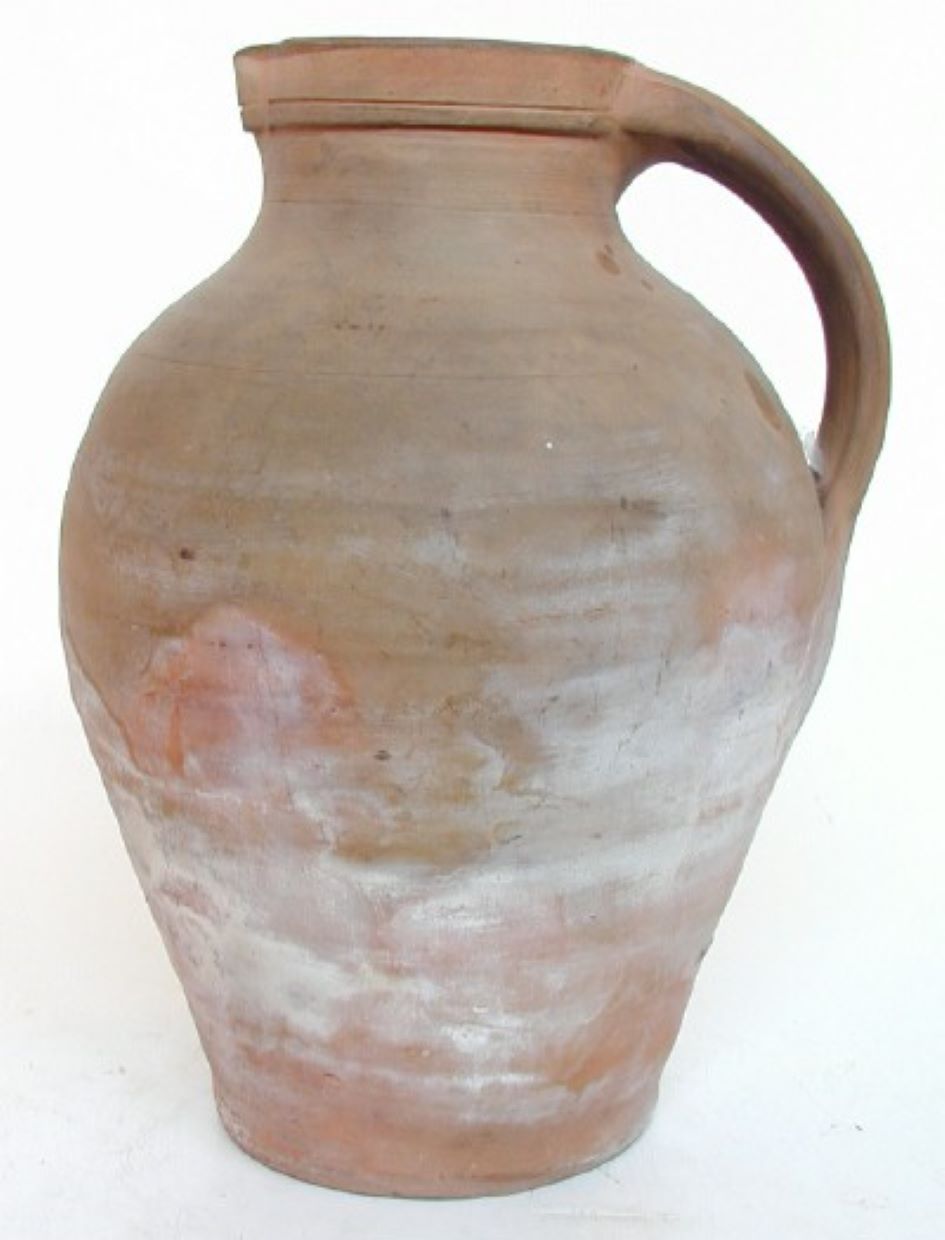 Jug
This earthenware jug with a deep orange-brown glaze on the inside was made by W. H. Lake & Son Ltd. at Chapel Hill Pottery in Truro, Cornwall, c. 1945–6. Jugs of this shape were made at Chapel Hill Pottery for over 400 years. In its 1950s heyday, Lake's Pottery was producing hundreds of items for domestic use including plant pots, pitchers, bread pans, cream pans and salters.
MERL 60/620
close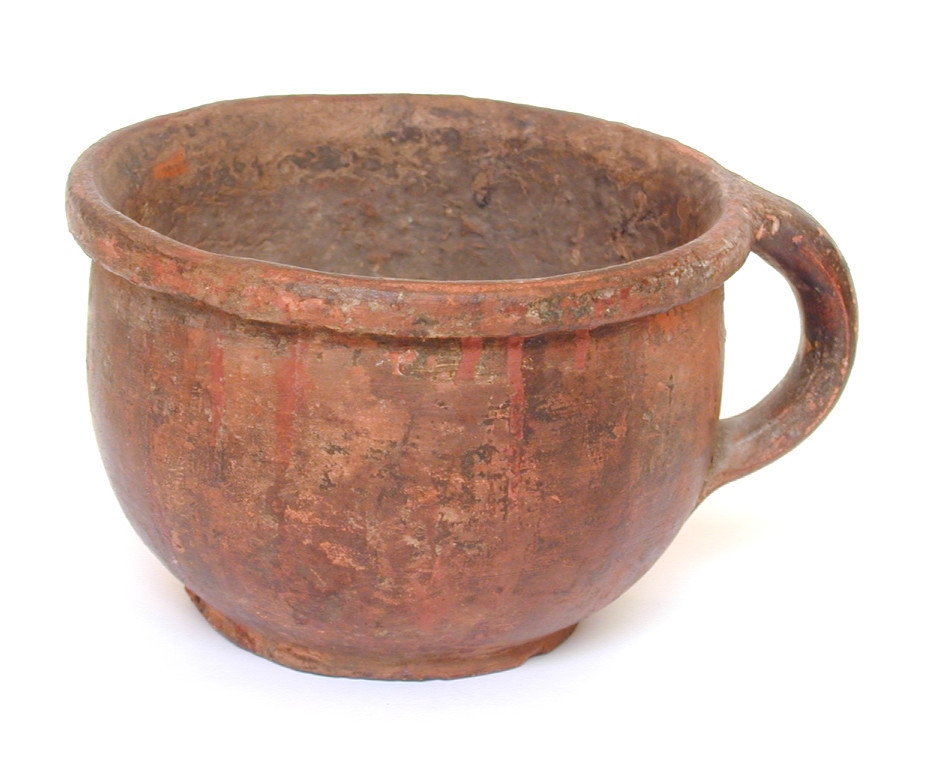 Lacemaker's Warming Pot
Warming pots were used for warmth by lacemakers instead of fires, the smoke and dust of which might soil their work. The pots were filled every morning with hot wood ashes obtained from a baker and placed at the feet of the lacemaker, or under the candle block. This warming pot is made of rough brown earthenware.
Lace became very popular in English fashion during the court of Elizabeth I. Lacemaking industries took of in Devon and part of the South Midlands. All these areas were influenced by immigrants from Belgium, French Huguenots and later the French escaping revolution. Queen Victoria married in white lace, influencing the wedding dress style until the modern day.
MERL 51/749
close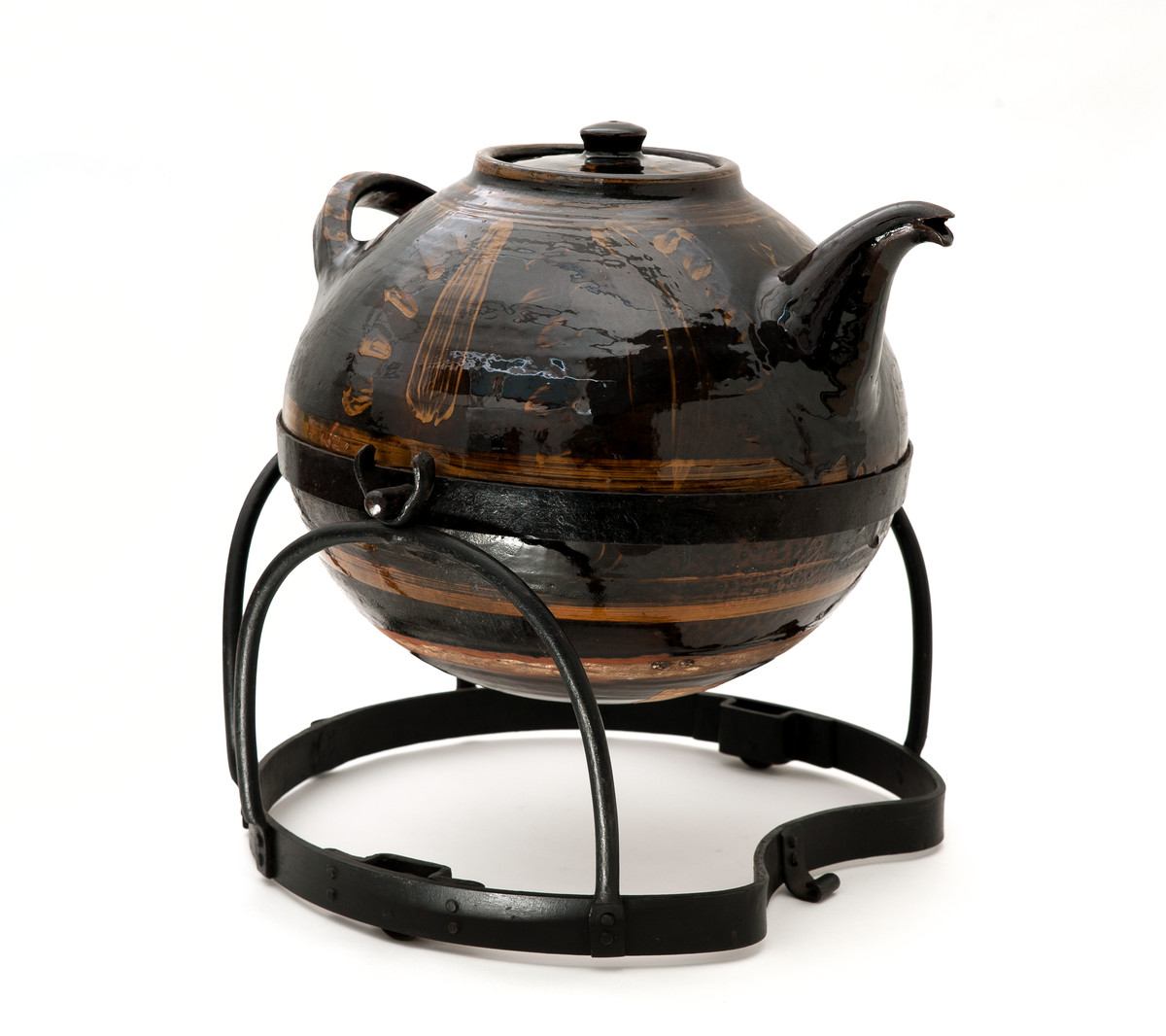 Teapot
This 6.5 gallon teapot was made c. 1945–6 by Michael Cardew at Winchcombe Pottery in Winchcombe, Gloucestershire. It is oval in shape and is supported on an iron frame on which it can be tipped. It is dark brown, with a design in yellow slip. The pot can hold 29.5 litres of tea, and is supported on an iron frame which allows it to be tipped and also maneuvered thanks to small wheels at its base. It is not an anomaly, but is actually a type of teapot reputed to have been used at various types of large meetings across the countryside.
MERL 60/638
close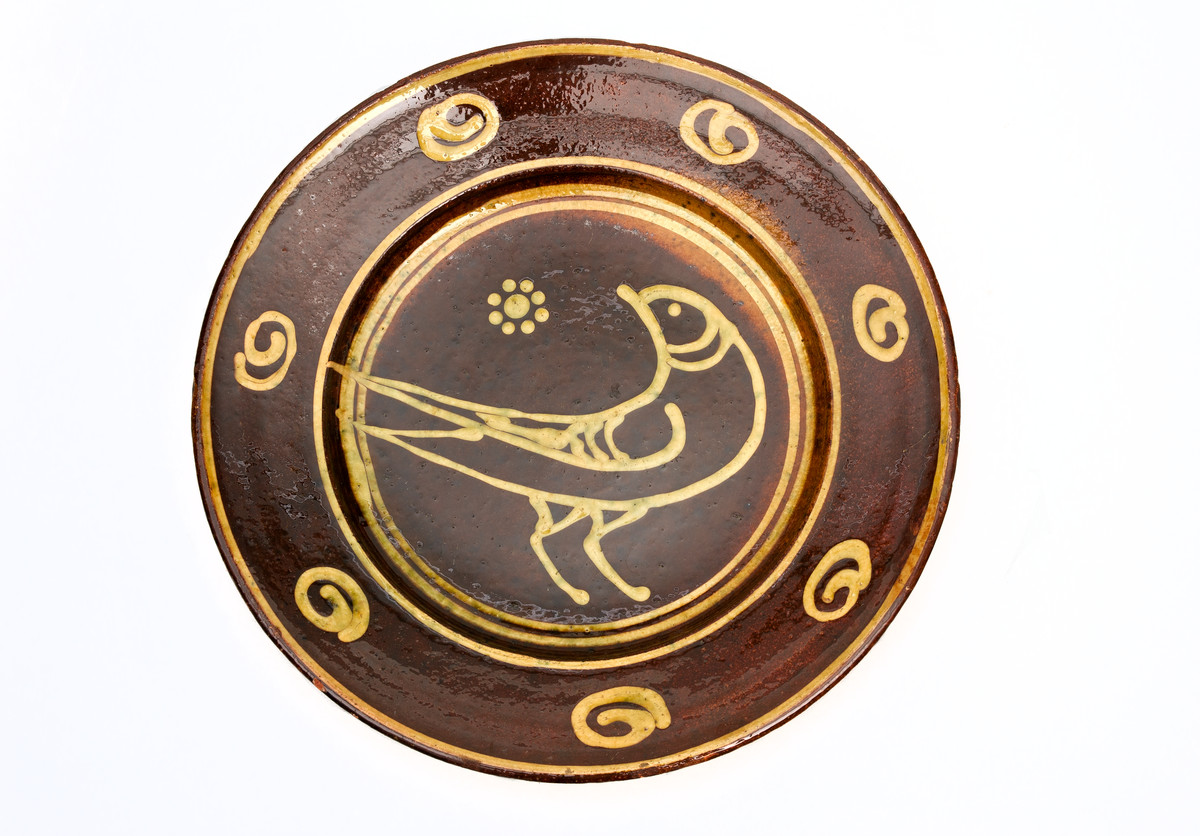 Dish
This large round dish was made c. 1926–39 by Michael Cardew at Winchcombe Pottery in Winchcombe, Gloucestershire. The bird was created using the slipware style of pottery decoration. Cardew was employed by the Colonial Service to teach ceramics at the Achimota School (an elite school for Africans in the Gold Coast (Ghana)).
It was suggested after the outbreak of World War Two that importing crafted goods was impossible due to attacks on shipping. It was therefore suggested that the Colonial Office promoted 'indigenous industries' for which Cardew was in charge of developing. It was a failure. He then set up his own pottery in Vume which was also seen as a failure, but is now regarded as some of his finest work. It was said the clay was very difficult and there were a number of kiln failures.
MERL 60/637
close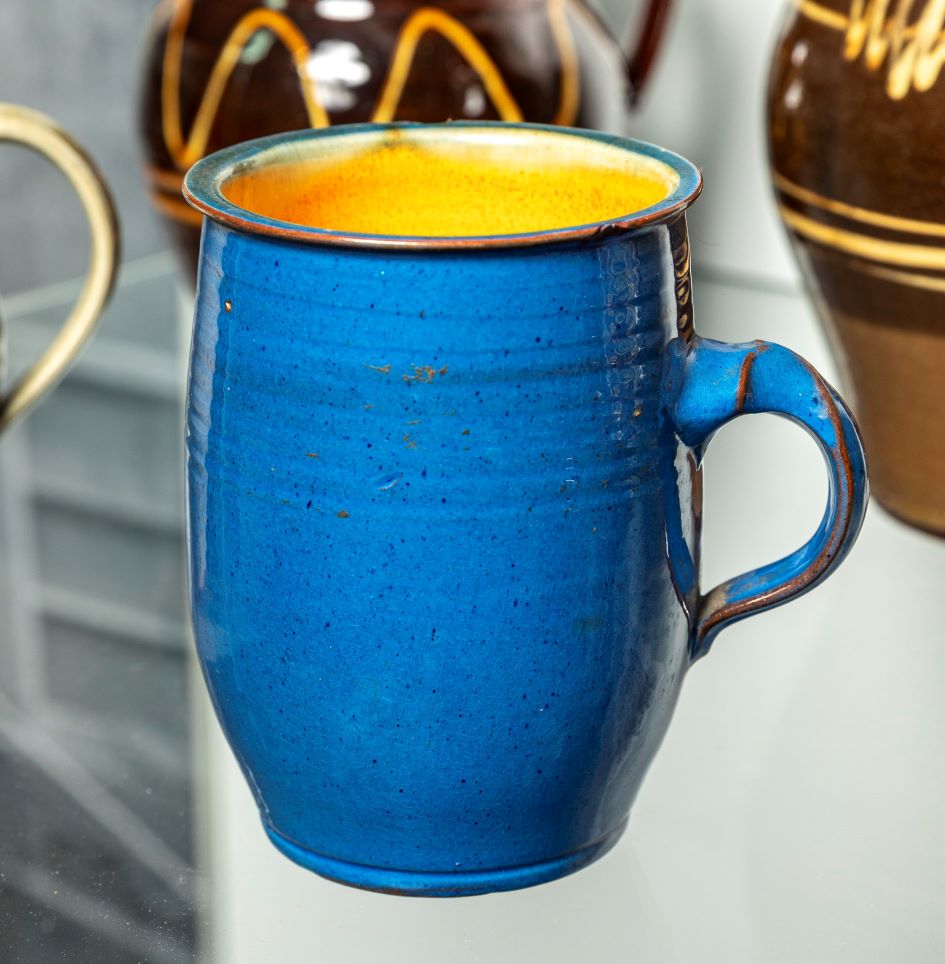 Tankard
This glazed pottery vessel features a distinctive pinched design on the handle. A combination of size and form mean that this object was probably intended to function as a mug or ceramic tankard. However, due to a lip running round the entire upper rim this item was described by its owner as a vase. It was made by Fishley Holland.
The word "tankard" originally meant any wooden vessel in the 13th century and later came to mean a drinking vessel. The earliest tankards were made of wooden staves, similar to a barrel, and did not have lids. A 2000-year-old wooden tankard of approximately four-pint capacity has been unearthed in Wales.
MERL 2016/12
close