Animal Health Display
Tap the yellow hotspots to see more information on the selected object.
Start Exploring now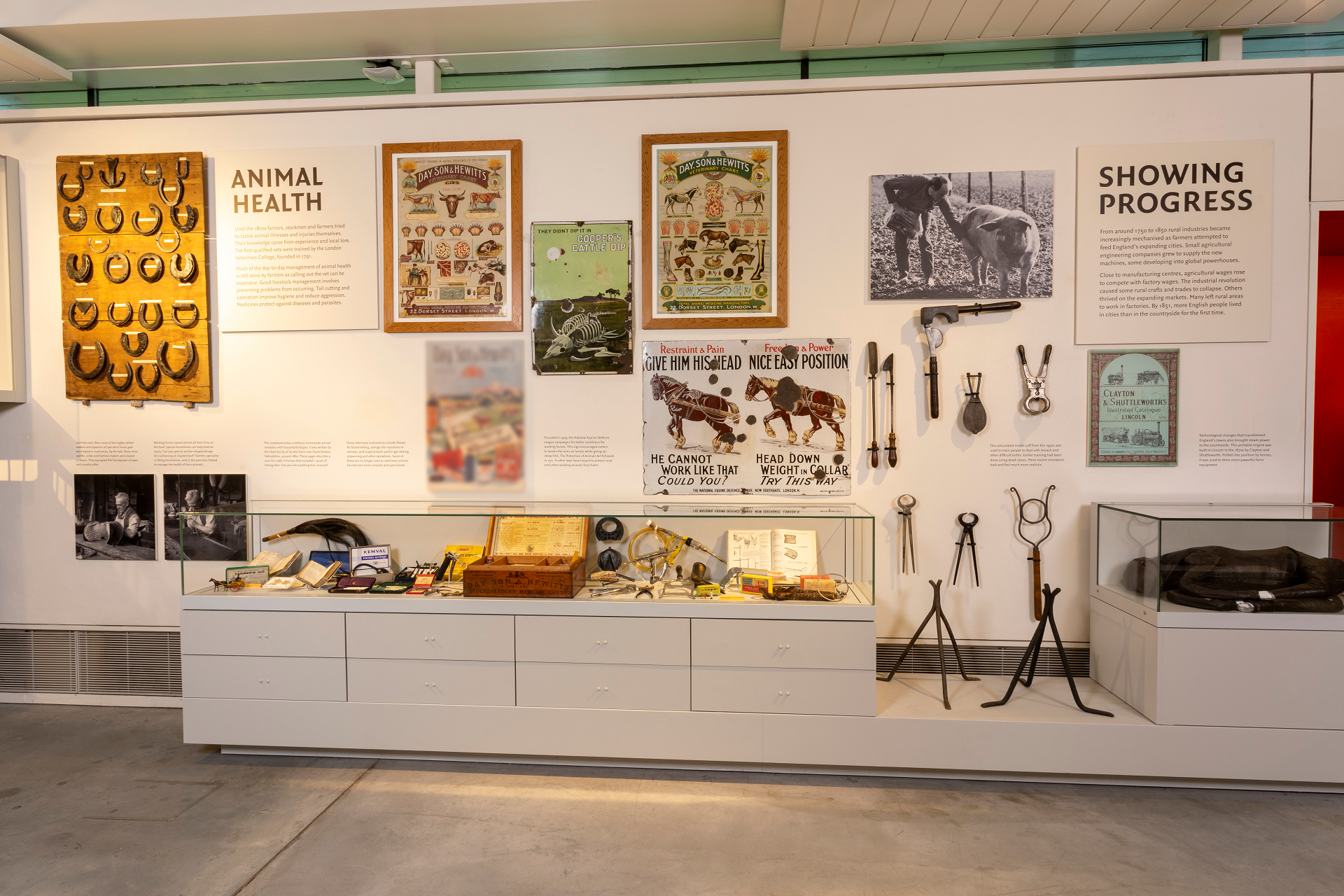 Cooper's Cattle Dip Sign
+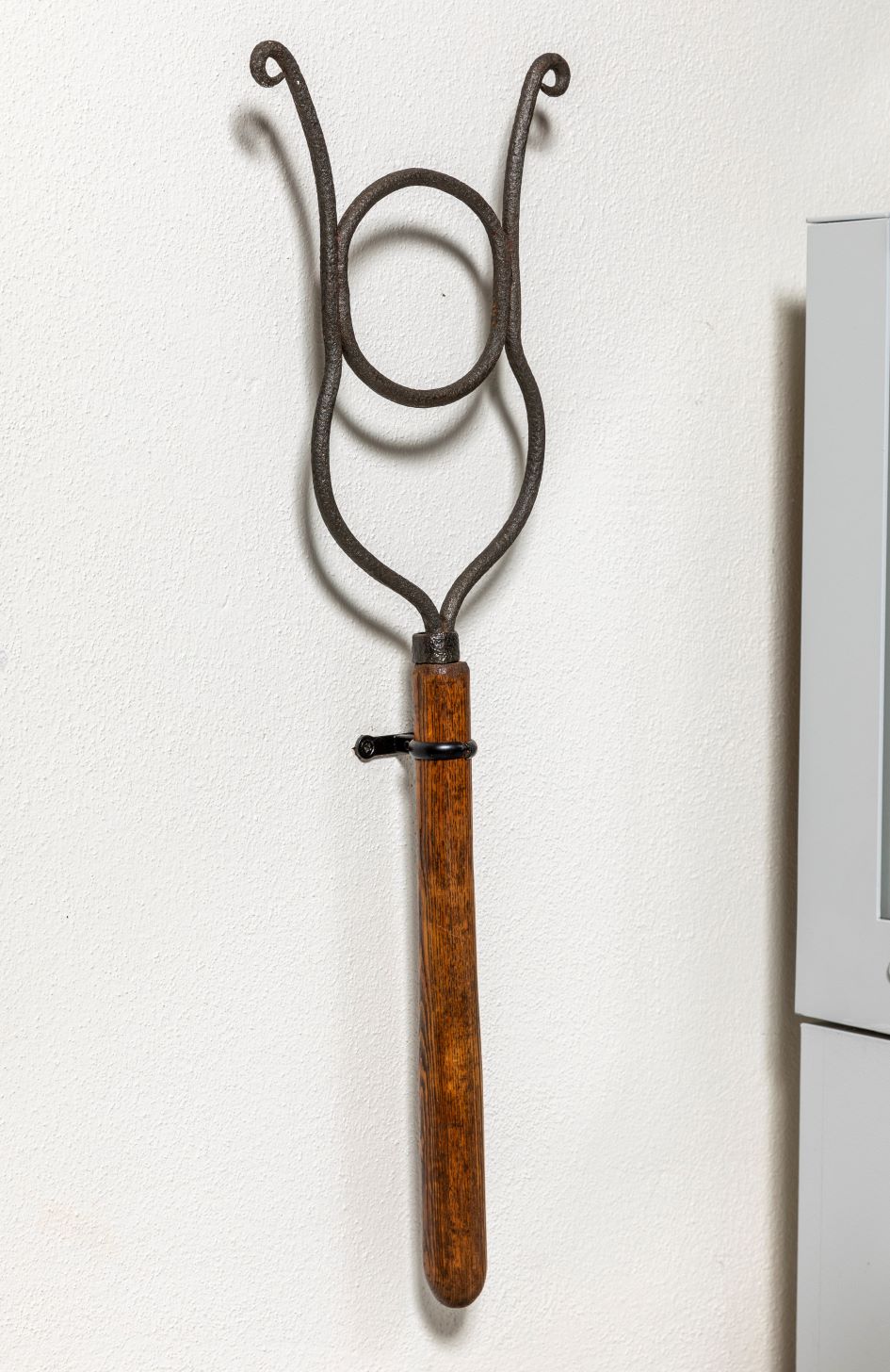 Horse Gag
This horse gag was placed in a horse's mouth to keep it open whilst dental work was undertaken. Throughout the 20th century, some uncertainty existed as to who was responsible for equine dentistry. Livery stables and blacksmiths had traditionally performed this work, but as they declined, their knowledge was lost. It was often up to farriers to do the best they could. In the modern day, equine dentistry is more widely practiced by veterinary professionals.
68/106
close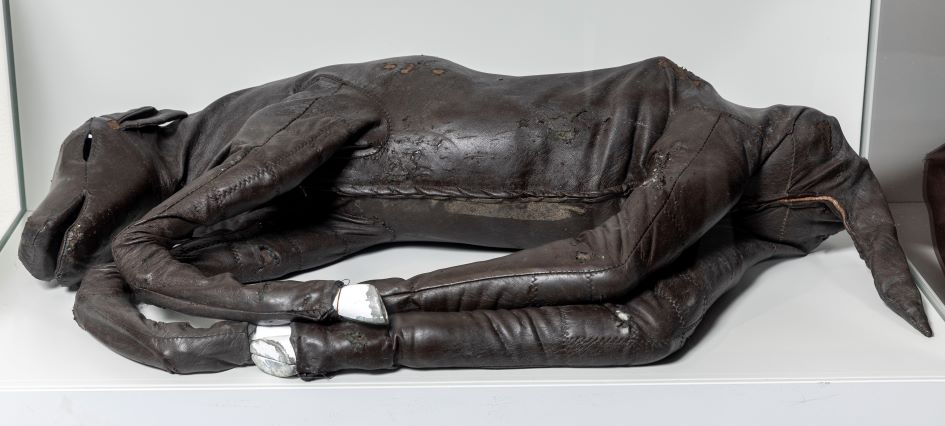 Model Calf
Probably used by the Agricultural Training Board, this leather covered metal calf was used to aid cowmen in learning to birth calves. It would be placed in a wooden or plastic uterus in various positions that mimicked birthing complications, to train subjects in manoeuvring calves to a safer birthing position. The correct position for a calf to be born is back side up, with legs stretched along the birthing canal. In 95% of births this occurs naturally, but sometimes the calf must be moved into this position and pulled out.
2014/15
close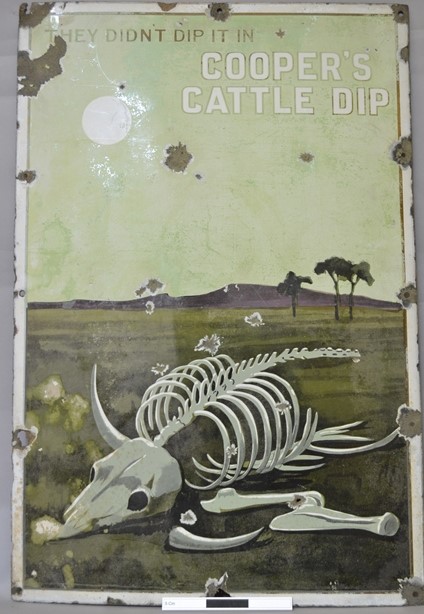 Cooper's Cattle Dip Sign
Advertising Cooper's Cattle Dip, this sign predicts a grave fate for cows not submerged in their product. Next to a cow skeleton is written "They didn't dip it in Cooper's Cattle Dip."
William Cooper started his business in 1840 in Berkhamstead, becoming a pioneer in the production of chemical sheep and cattle dips. These would submerge livestock in a concoction of chemicals, killing parasites such as ticks, flies and lice. Becoming Cooper, McDougall and Robertson in 1925, the company expanded from livestock dips. During World War 2 they produced an anti-louse powder to kill a parasite which had caused trench fever and typhus among the troops.
76/284/1
close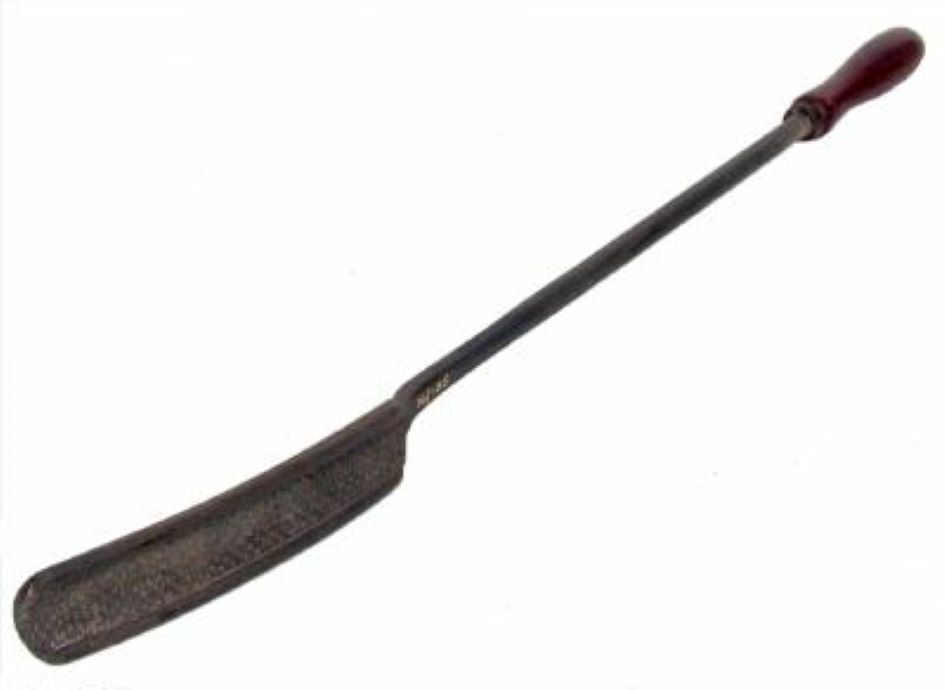 Tooth rasp
Used by a family of horse dealers in Reading, this tooth rasp was applied to wear down a horse's teeth, in order to blunt the points and balance the horse's mouth. Before rasping, the mouth must be held open by a gag and a thorough examination conducted to check for broken or missing teeth. The frequency of these examinations depends on the horse's health and age.
The teeth can actually be used to tell how old a horse is. If it is younger than 11 years, its incisors are rounded. Older horses have triangular or rectangular incisors.
MERL 54/455
close