Creating an Inclusive Museum
In 2013, The MERL began to collaborate with Dr Kate Allen from the University of Reading's Department of Art who was leading an AHRC (Arts and Humanities Research Fund) "Sensory Objects" project. This initiative, which ran from 2012-2015, aimed at engaging young adults and others with learning difficulties in thinking about interpretation in museums. The project, along with key partners hosted a showcase at The MERL for Universities Week in 2014.
Research in Action: Buckets, baskets and boots
A drop-in session 'Buckets, baskets and boots' was led by Reading College Learners with Learning Difficulties (LLD/D), researchers from the University of Reading and the RIX Research and Media at the University of East London who presented their research into interactive sensory objects: creating alternative forms of museum interpretation. Find out more about Reading College's work at The MERL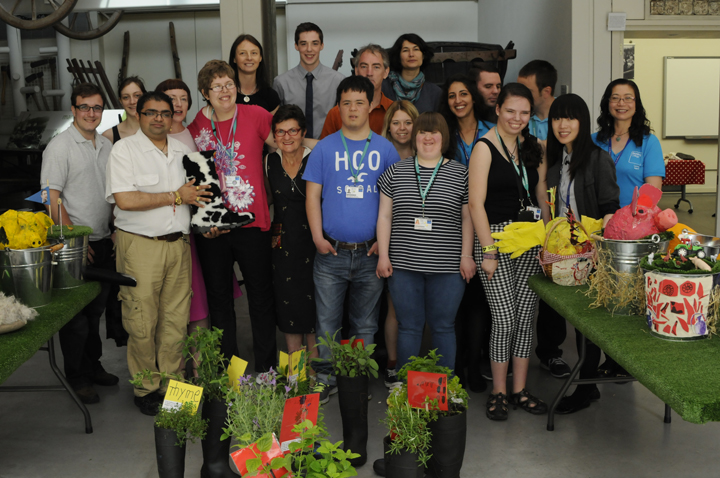 Introducing the Sensory Cow
While the Sensory Objects project was developing, The MERL was in the middle of a major redisplay of the main galleries, looking at relevant themes for contemporary audiences and new interactive methods of connecting with them. In 2016, The MERL commissioned Dr Allen and LLD/D students at Reading College to work on a sensory cow. The resulting interactive gives visitors the opportunity to explore the cow through the senses, as well as providing it with a voice through software known as the "Moo manager." The Sensory Cow project was funded by the University of Reading's Arts Committee and the CLA (previous known as the Country Landowners Association). The cow is still very popular with all visitors to the Museum and makes frequent appearances at events for families and adults alike, when visitors are able to record their own 'moo'. She has even delivered a talk at the MERL Late: 'Milking it'!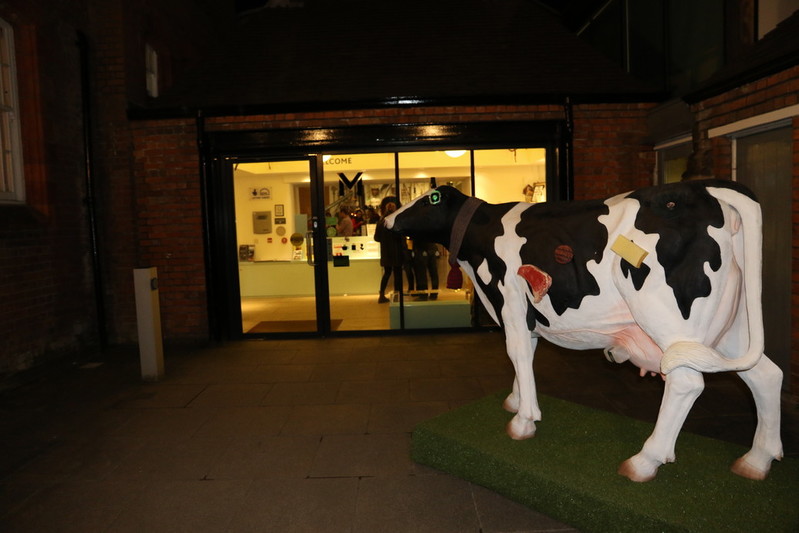 PurpleSTARS
By 2017 Dr Allen had attracted follow-on funds from the AHRC to work on a start-up enterprise, PurpleSTARS . Its name features the colour purple as it has become associated with people with disabilities, and STARS stands for Sensory, Technology & Art Resource Specialists. PurpleStars described themselves as a team of artists and technologists with and without disabilities who work with Museums to see how we can get them to make their displays appeal to all of our senses. We think this will make Museums more interesting for all types of visitors.
"We think that being able to touch and feel things in Museums makes a visit more interesting. We think we should be able to even smell and taste things in museums, as well as seeing and hearing them. That is our idea of a really interesting Museum!"
Staff at The MERL were keen to work with PurpleSTARS to continue the positive journey towards creating a more inclusive and interactive museum for all. Following the opening of The MERL's new galleries in 2016, PurpleStars, working with Reading College students once more, were commissioned, with funds from the local Earley Charity, to create more interactive experiences in the galleries.
This resulted in more sound effects connected to sheep and horses to be discovered as visitors make their way around the Museum. Two dedicated interactive experiences, based on Oculus Virtual Reality (VR) headsets, were also added; a 3D version of the Museum's popular 'Seasons' animation that sets the scene at the galleries' entrance (it can also be accessed remotely via the MERL app), and a journey through Dartmoor on a quadbike, rounding up sheep – virtually.
The exhibits were launched at Making SENse, an event held in September 2019.
Find out how the quadbike experience was created in this video:
And watch the Dartmoor film here:
New experiences at The MERL
All these exhibits have proved very popular with a board range of museum visitors. Families have been able to enjoy them at 'Virtual vs Reality' holiday events since Summer 2019, and the quad bike experience also featured on the University of Reading stand exploring the senses at the Royal County of Berkshire Show in 2019.
As well as in our public programming, we are using the sensory interactives as part of our onsite SEND Farming Life school session.
The interactives enhance everybody's visit to the museum and tell stories that complement our collections in really inspiring and exciting ways. By identifying the need for more tactile, hands on, exploratory opportunities in the galleries, and devising and developing the multi-sensory interpretative experiences which have resulted, the purpleStars and all the collaborators have helped The MERL become more accessible, enjoyable and fascinating for so many of our diverse visitors.