Mysterious Objects is a collection of descriptive writings from local primary school students in response to The MERL's collections in collaboration with local children's author, Clare Rees. Ten objects which connect with the museum's founding year, 1951, were chosen either because of their uncertain history, or their potential as an interesting source for a story, real or imagined. Those objects included:
Horse brass (2011/8/3) 
Sheep bell (54/92) 
Woodcraft folk badge (2009/83) 
Poultry basket (60/770) 
Sutton's Seeds Door Sign (2019/50) 
Ration book (2019/55) 
Tiny model of a pub (2019/85) 
Giant tea pot (60/638/1-3) 
Model of a threshing machine (51/2) 
Corn dollies (52/73) 
Using the objects as a stimuli for creative writing the students were tasked by Clare Rees with 'creating a history' for the objects.
During week one of the project a little boy dug up an object in his garden during lockdown – described to us by his mum as a 'weird spoon'. He recognised the Festival of Britain symbol from the Woodcraft folk badge he looked at during Clare's session. His family and whole class were delighted when the curator at The MERL confirmed his discovered treasure as a Festival of Britain tea caddy spoon.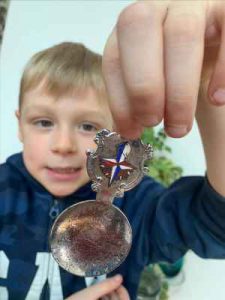 Approximately 400 children from two local schools participated in the writing project. Teachers were provided with videos and resources developed by Clare for use in their classroom teaching.
Here are the writings they inspired.  
Alexander And The Pure Gold Horse Brass

Clare's Reflections
'I learned a lot on a personal level from this task. I worked closely with one of the schools to try and make the resources as user-friendly as a possible. Although I loved promoting the objects and the museum, on a personal level I felt that the most useful thing I could be doing during the pandemic was to create videos and resources which would be easy for both schools and parents to use, during home education. I think I achieved this aim- but it was challenging.

On an artistic level, I am very pleased with the outcomes. The stories children have produced are fun, show their enthusiasm, and many are to a very high standard.'
 Clare wished more schools had participated…
'…but I also appreciate that at this time, during home education and lockdown, most schools were really struggling to just stay on top of their daily tasks. While I think my resources would have given them a break, I fully understand that just finding the time to read through the information about the project may well have felt like a luxury the schools didn't have time for.'

Particular thanks to Phillippa and Emma from The MERL, Clare Rees and all the staff and pupils at Geoffrey Fields Junior School.
Mysterious Objects was made possible through the generous support of Arts Council England and the Culture Recovery Fund. Although we've been unable to welcome our communities in to The MERL Galleries, we're still #HereForCulture.