Stapledon, R G (agricultural scientist)
Reference: D77/29Date: [c1920]-1961Extent: 18 documents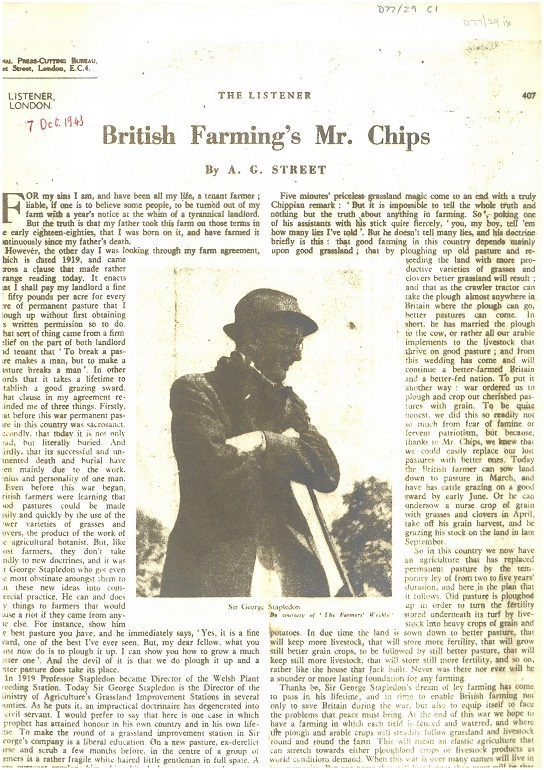 R.G. Stapledon's main interest in agricultural science was the improvement of grassland and the development of improved grass and clover varieties. He joined the staff of the Royal Agricultural College, Cirencester in 1910. In 1912 he was appointed Adviser in Agricultural Botany at the University College of Wales, Aberystwyth, subsequently beginning a systematic ecological survey of the grasslands of the Welsh hills. At the outbreak of the First World War he was appointed to the newly established Food Production Department, advising on the ploughing up and reseeding of old grassland. On the establishment of the first official Seed Testing Station he was appointed its director. In 1938 with William Davies and others, he made a comprehensive survey of the grassland of England and Wales. The Grassland Improvement Station at Dodwell near Stratford on Avon was established by the Ministry of Agriculture at his suggestion. Stapledon retired from the Seed Testing Station at the end of World War II; he subsequently joined a large commercial seed producer in Wiltshire as scientific adviser, later becoming director. Among his many achievements was the foundation of the Grassland Society. His publications include Land, Now and Tomorrow (1935), Hill Lands of Britain (1937), Ley Farming (1941), Way of the Land (1943).
The archive contains reports, memorandum, lectures, speeches, articles and biographical material.
More information
A full description is available on our online database.
A handlist for the whole collection can be found here.
Associated collections
Lady Stapledon (D LSC)
Lady Stapledon was the wife of Sir R.G. Stapledon (1882-1960), a prominent
researcher in agricultural science, particularly regarding grasslands. She kept his day
journal during the tour she made with her husband to Australia and New Zealand in
1926. The tour formed the basis for R.G. Stapledon's book A Tour in Australia and
New Zealand: grass land and other studies, published in 1928.
A full description is available on our online database.
A handlist for the whole collection can be found here.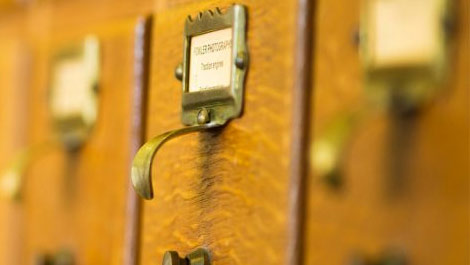 Looking for a specific item?
We are regularly updating the collections that we publish on our website but if you are after something specific that you can't find online, then drop by for a visit or feel free to contact us and we will be happy to help you.