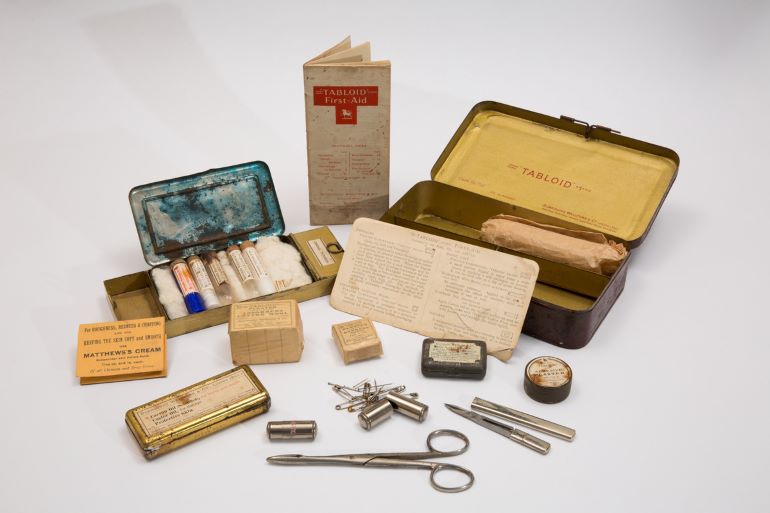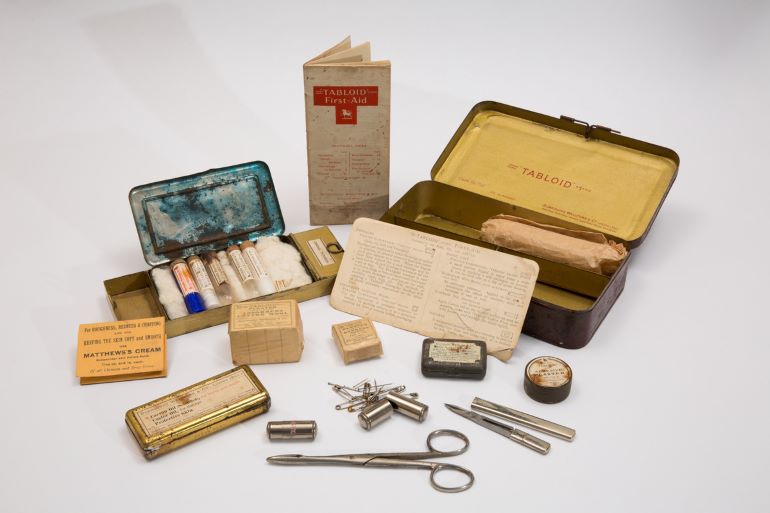 This first aid kit was made by the pharmaceutical company Burroughs Wellcome, which produced a wide range of specialised kits – for explorers, the army and civilians, of which this is one.
The Burroughs Wellcome & Company was founded in 1880, in London, by the American pharmacists Henry Wellcome and Silas Burroughs. The company produced a wide range of compressed pharmaceutical products which were sold under a variety of brand names. The manufacture of these products required special machinery which provided scientifically formulated medicines in standard dosages convenient for packaging. The most important of these brand names was 'Tabloid', a word invented by Henry Wellcome and registered as a trademark in 1884. As well as medicines, the 'Tabloid' brand name was applied to various products such as photographic chemicals, first aid kits and tea.
This model of First Aid kit, No. 715, was used by Alcock and Brown on their first transatlantic non-stop flight on 14-15 June 1919. This specific first aid kit, meanwhile, was used by Georgina Pullen of Andover, Hampshire and Hambleden, Buckinghamshire, during her work as a rural nurse and midwife in 1904-17.
This kit includes:
Scissors and tweezers.
'Vaporole' aromatic ammonia – also known as smelling salts.
'Tabloid' adhesive plaster.
'Tabloid' absorbent cotton wool.
'Tabloid' bandage – a triangular bandage.
'Soloid' products in tin, a range of drugs and nasal preparations.
Kit 715 included:
Boric Acid –  used as a mild antiseptic.
Bismuth Salicylate – an antacid medication used to treat temporary discomforts such as diarrhoea, indigestion, heartburn and nausea.
Chlorate of Potash – to soothe inflammation of the throat and mouth.
Soda Mint – peppermint oil and sodium bicarbonate reduces stomach acid. It is used as an antacid to treat heartburn, indigestion, and upset stomach. Sodium bicarbonate is a very quick-acting antacid.
Surgical sponge – used to absorb blood from wounds and operation sites.
Court plaster in envelope – isinglass was a transparent jelly prepared from the dried swimming bladder of a fish from the Black and Caspian Seas. It consisted mostly of gelatin. This, when spread onto silk, was called court plaster. It was used as a dressing material. It was named court plaster because it was used by upper class ladies to cover skin blemishes.
Carron oil – made from linseed oil and lime water for burns and scalds.
Castor oil – used as a natural laxative.
Protective skin – it is not clear what this is but it might be a collodion (pyroxylin in ether and alcohol). It was applied to surgical wounds, cuts, abrasions, and chilblains. When the solvents evaporate the pyroxylin forms a protective "skin" over the wound.
'Tabloid' first aid booklet.
Written by MERL volunteer Gillian Bandy.