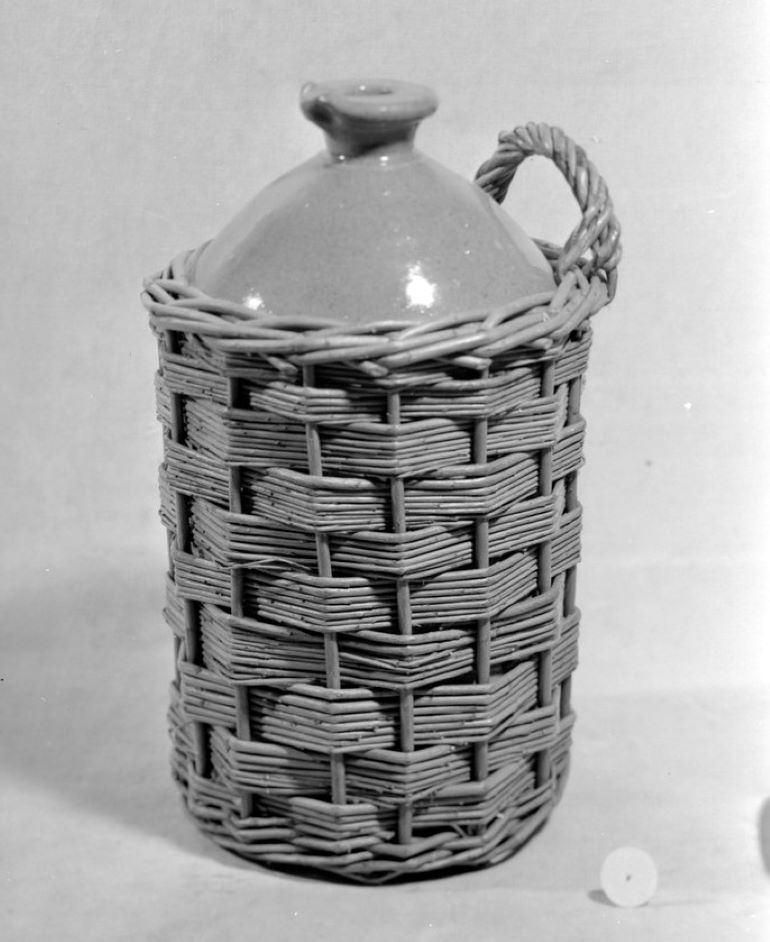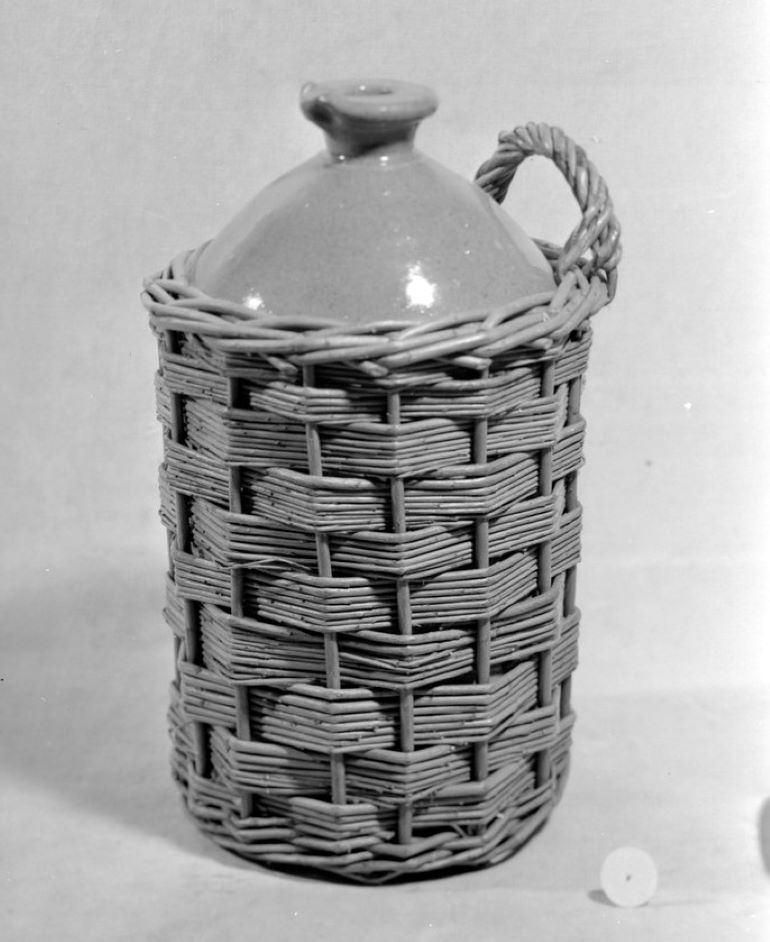 Before mechanisation, harvesting was hard manual work and often farms provided food and drink for all the workers who worked long hours in the fields. Typically, labourers worked from 5am till dusk, but were compensated by extra pay at harvest. They could double their wages at harvest time, and there was the possibility of a bonus payment as well. In addition, a midday meal was usually provided, plus all the beer or cider needed to keep going through a hot day. At the peak of harvest, it was not unknown for farmers to allocate a gallon of cider per labourer, with possibly ale in addition.
This is a stoneware jar, made by the Stockbridge Pottery Co. Ltd.in the mid 1940s at Burton in Lonsdale, North Yorkshire, with a basketwork cover. A cider jar was for carrying the cider to the fields for the harvesters to drink. Stoneware is pottery that has been fired at a high temperature until vitrified and impervious to liquid. It does not require a glaze as it is nonporous, so when a glaze is used, it serves a purely decorative function. The use of basketwork to protect jars and other fragile objects dates back thousands of years to at least Ancient Egypt. At its peak in the 1850s, the Burton in Lonsdale pottery industry had 11 working potteries. Today there are no potteries left, the last (Stockbridge) having ceased production in 1944, just after this jar was produced.
The practice of making payments partially in alcohol to farm workers was halted in Britain about the time of World War 1 and it is probable that this particular 1940s cider jar was never used in practice to actually take cider into the harvest fields.  However, the practice continued in other countries until much more recently. In South Africa the Dop System (Dop being Afrikaans for alcohol), was used in wine farms especially in the Western Cape and continued into the second half of the 20th century. Farm workers would have their wages supplemented by cheap wine, which encouraged alcoholism among the workers. The practice was finally largely wiped out by the end of the century, but legacy problems of alcoholism remained.
This cider jar was part of a collection taken by the British Council to Australia and New Zealand to demonstrate British craft products shortly after the end of the Second World War. It was one of several hundred objects purchased by The MERL from this collection in the early 1960s.
Written by MERL volunteer John.