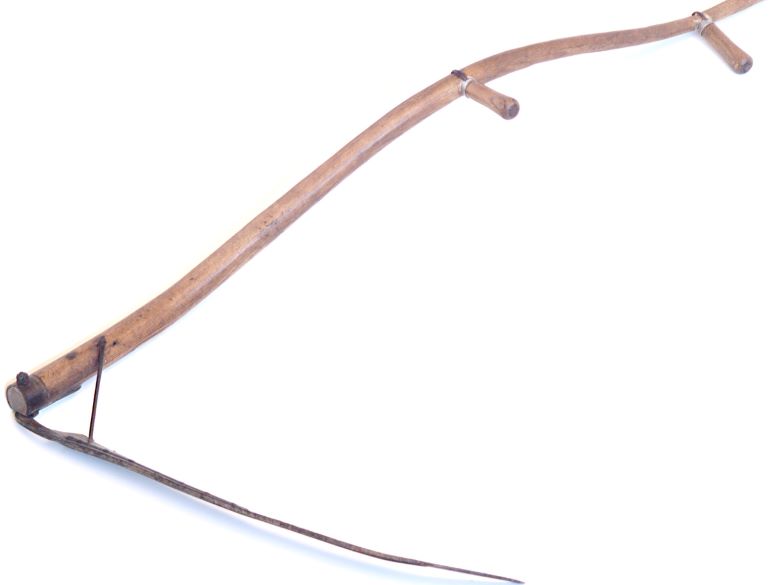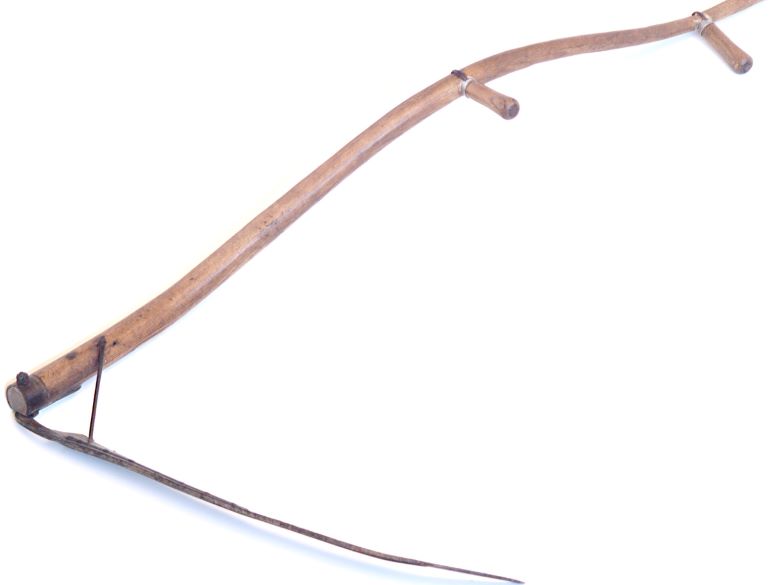 Scythes were used to manually cut crops or grass at harvest time. They replaced sickles and bagging hooks which required the user to repeatedly bend down low to cut the crops.  Scythes themselves have now been largely been replaced – firstly by horse-drawn and more recently tractor machinery and then combine harvesters, but they are still used in some parts of Europe and Asia. The scythe still remained in use even after the introduction of machines because the first machines, still needed the field to be opened up by clearing an area to give the mechanical mower room to start. The scythe was also very useful for cutting in the awkward corners of a field that machinery could not access. Using a scythe is a skilled activity with the large, curved blade swung through the crop to cut it. An experienced reaper could reap up to 2 acres of wheat in a day. The blade would need to be kept very sharp so a sharpening stone or whetstone would be carried, and the blade would need to be regularly sharpened.
In Western Europe scythes have long been associated with the Grim Reaper. Death has often been depicted as an animated skeleton since the time of the Black Death. The skeleton, usually shown carrying a scythe, was said to collect /reap the souls of the recently dead.
The donor of this object was a Mrs Monger who donated a collection of tools which had belonged to her father, George Ernest Brown, and grandfather, Charles Lesley Brown. The Browns were a well-known family of shop keepers in Bramley, Hampshire. The 1911 census shows their occupation as grocer and farmer. This scythe was probably made by the village blacksmith Alfred Willis. He had a reputation for taking old farrier's rasps and turning them into edged tools. Willis was described as the last manufacturer of hand-forged agricultural edge tools in central Southern England.
Written by MERL volunteer John.