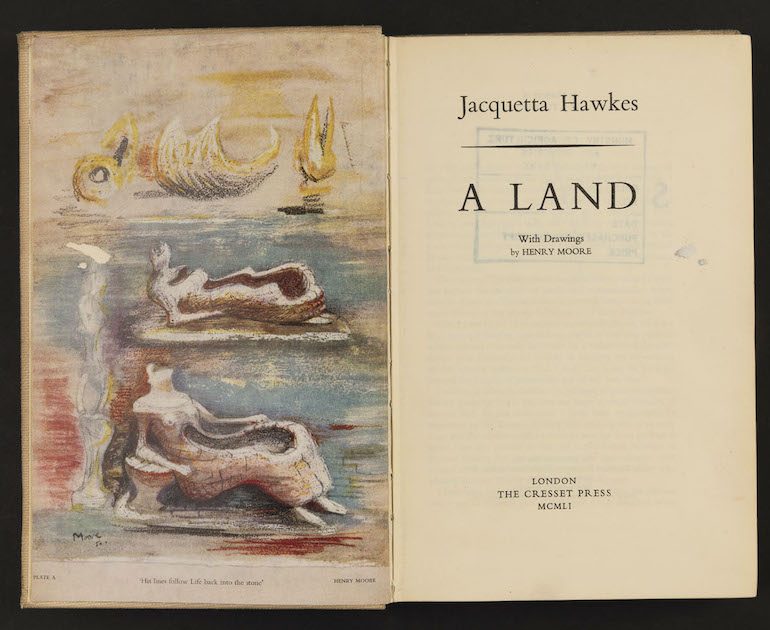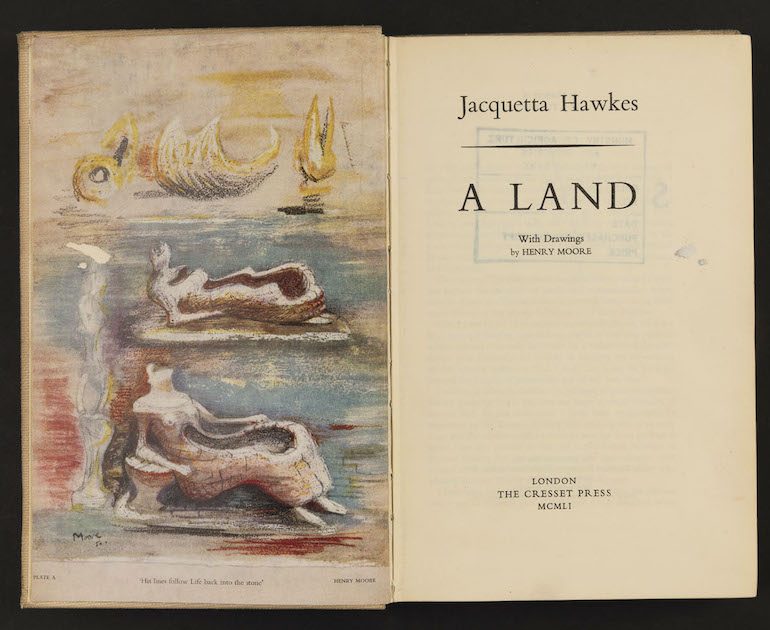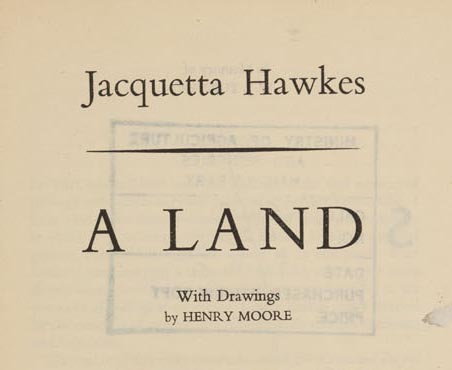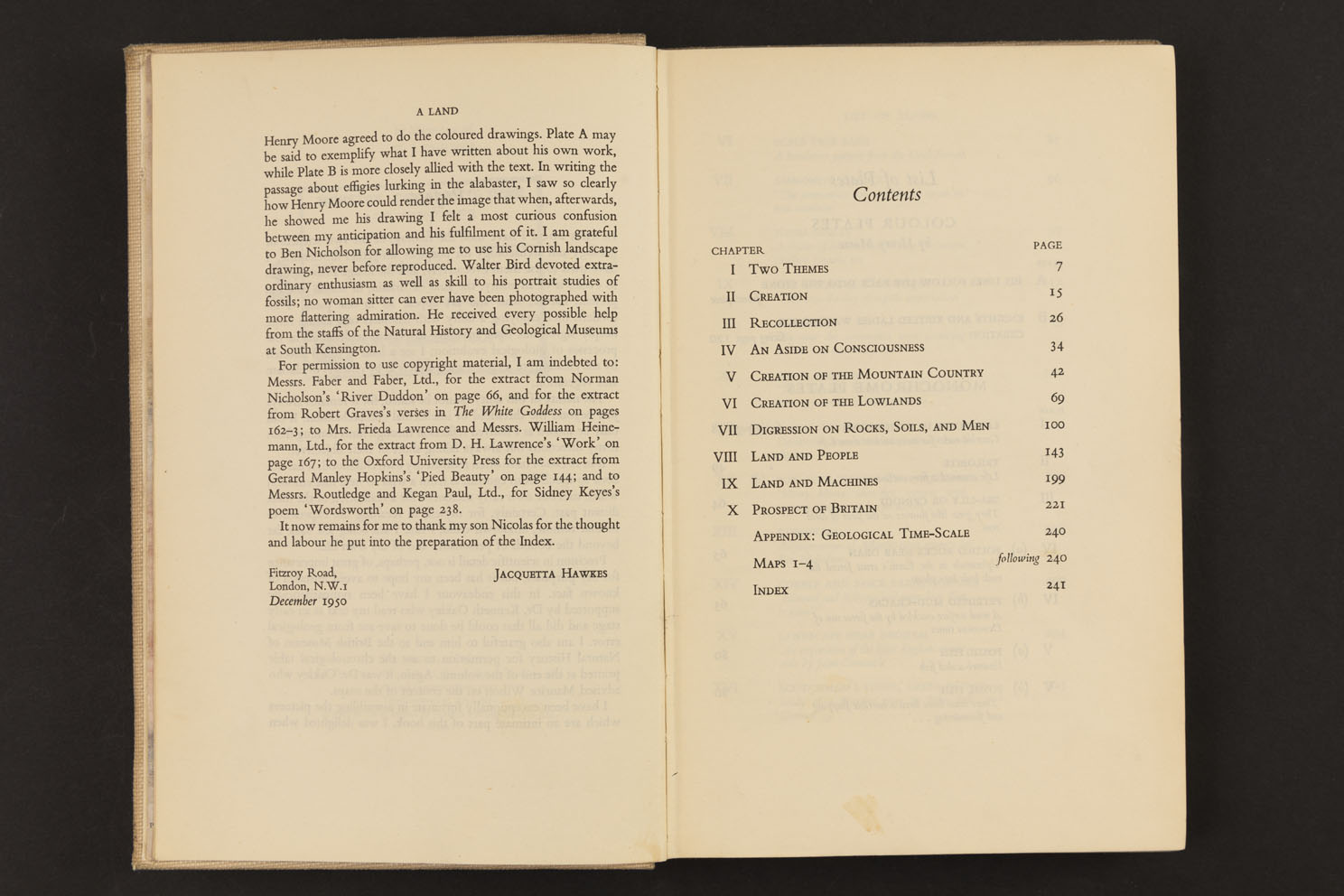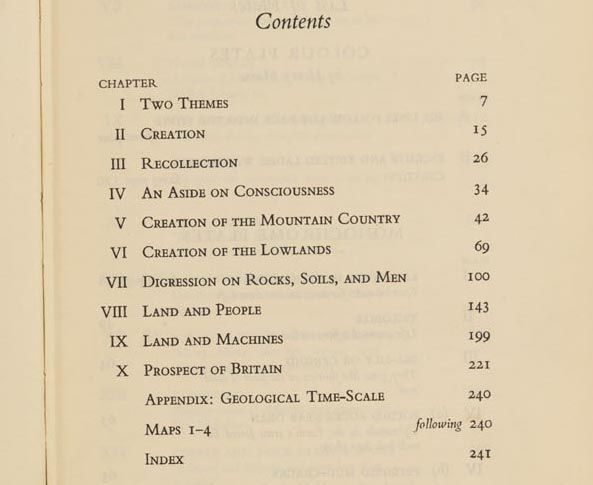 Jacquetta Hawkes, A Land (London: Cresset Press, 1951)
---
This book was published just one month after the opening of the Festival of Britain. Its author, Jacquetta Hawkes, was a significant figure in mid-twentieth-century archaeology. In the same year she was also feted for her role as convener of the Festival's People of Britain pavilion. Her book and Festival contribution both characterised the British people as a product of a deeply-grounded relationship with how the land had been shaped. In effect, it rooted the contemporary population by relating them to the material past.
The overarching narrative was one of migration, with successive incomers bringing new ways of life. The earliest hunters were followed by Celtic farmer warriors, and then in turn by Roman occupation, Anglo-Saxon deforestation, the arrival of Christianity, Norse and Danish invaders, and finally by Norman conquest. As the guide to Hawkes' Festival displays put it: 'relics of all this past are now part of our island—tools, weapons, ornaments, the dead still buried in the soil, Stonehenge, great tombs of the New Stone Age, the hill forts of the Iron Age Celts, the churches of the Saxons and the Normans—they are part of Britain.'
Although there were many women archaeologists in the 1950s, men held most of the paid positions. Hawkes' prominent role in the Festival perhaps offered a glimpse of a more inclusive world. However, the real story of Britain in 1951 and of its landscapes and cultures, was also one of influences not yet acknowledged in our shared heritage. Even the creative flair of Henry Moore, whose illustrations adorned the pages of A Land, did not give voice to these absent stories. The idea that successive migrations from Europe were the lifeblood of the modern nation was already out of step with the dismantling of Empire and the changing population of a post-war, post-Windrush Britain.